Adhiban's be(a)st game of the day in round 1 of National Teams 2020
Defending champions PSPB is on a hat-trick in both Open and Women's section of National Teams. While Deep is the only player from last year's championship winning team, PSPB is looking extremely strong. Adhiban got his 'beast mode' on in the very first round of the tournament. PSPB, RSPB-A, AAI, Telangana, Air India and RSPB-B each were victorious for their team. 10-year old Kshatriya Nitin Vekhande held GM Visakh N R to a draw after missing out a very good chance. Among the women, 14-year old Kritee Shah held Soumya Swaminathan to a draw. All top seeds PSPB, Air India, Tamil Nadu B, AAI and Tamil Nadu A scored victories. Photo: IA Gopakumar Sudhakaran
Top seeds sail smoothly in round 1
Defending champions PSPB made a smooth start in both Open and Women's section. Arguably the best game of the day or shall I say, 'beast' game of the day was played by 'The Beast' GM Adhiban Baskaran against Chandrajeet Singh Rajawat (1778) of All Rajputana C. Adhiban's team members Abhijeet Gupta, Karthikeyan Murali and Deep Sengupta, all four of them scored comfortable victories.
Adhiban unleashed a devastating attack after capitalizing on his opponent's mistake and checkmated him in just 21 moves.
Chandrajeet - Adhiban, Round 1
Mr.Commonwealth Abhijeet Gupta had a shaky start as he got into a passive position. However he managed to defend well and equalize the position after his opponent Honi Arora misplayed and could not manage to capitalize on his opportunity.
Abhijeet - Honi, Round 1
Karthikeyan Murali scored a fine victory against Devesh Mukherjee (1871) in just 29 moves.
Deep Sengupta scored a comfortable victory against Aditya Kumawat (1552).
Before PSPB won it for two years in-a-row, RSPB-A won National Teams in 2017 at Bhopal.
10-year old Kshatriya Nitin Vekhande (1756) of Maharashtra B held GM Visakh N R (2518) to a draw. In fact, the little kid had decisive advantage for a long time but lack of experience and perhaps time trouble too cost him the win and he had to settle for a half point.
Visakh - Kshatriya Vekhande, Round 1
The young kid made the correct exchange sacrifice with 23...Rxb3 and equalized the position. Soon afterwards he got decisive advantage which was in his favor for quite sometime.
Kshatriya went to capture one pawn too many with 43...Rxb4 which evaporated his decisive advantage. What did he miss? The game went on for another 17 moves where draw became the natural result.
The remaining team members of Airport Authority of India - IM Raja Harshit, Harshavardhan G B and IM Sai Agni Jeevitesh J scored a victory each making sure the team scored a win against Maharashtra B by 3.5-0.5
Sonakshi Rathore took a poisoned pawn which caused her to get a passive position and eventually cost her the game.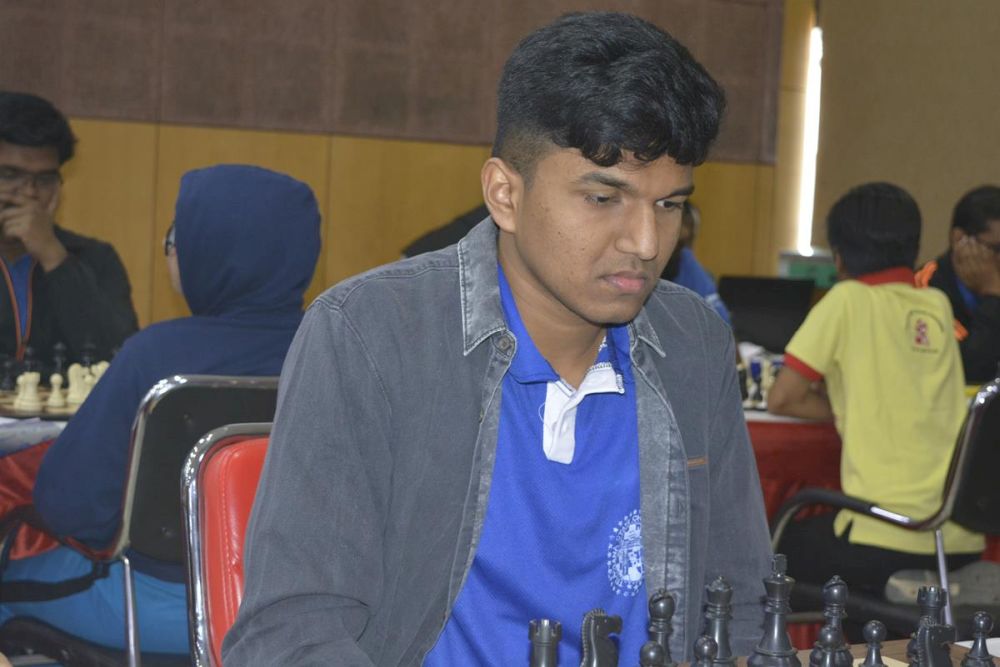 Harsha scored an easy victory over Mukesh Mandloi (1784) of All Rajputana A.
Both IM Rahul Srivatshav P and IM P D S Girinath also scored victories allowing Telangana to score a 4-0 victory over All Rajputana A. Telangana has a mixture youth and experience in their team. It is safe to say that in the Open section, Telangana is a 'dark horse' along with AAI.
IM C S Gokhale (2158) was held to a draw over 550 Elo rating points lower Swapnil Raj (1597). Due to GM Srinath Narayanan and IM Swayangsu Satyapragyan along with already mentioned GM Swayams Mishra's victory, Air India managed to soar high against Uttar Pradesh by defeating them 3.5-0.5
All members of the RSPB-B IM Sayantan Das, GM Thejkumar M S, GM Laxman R R and IM Arghyadip Das, all four of them registered their respective victories in under 30 moves.
Kritee Shah holds Soumya Swaminathan to a draw
Defending champion PSPB Women's team started with a win as a team, however the only blemish was in the form of Soumya being held to a draw by local girl Kritee Shah (1479) who is almost 900 Elo rating points lower. Mary Ann Gomes, Rakshitta Ravi and Nisha Mohota's victory made sure PSPB defeated Gujarat A 3.5-0.5
The second seed Air India is very close to PSPB in terms of average rating and they are a serious contender for the title. Air India defeated Odisha 4-0
Airport Authority of India comprising of Aakanksha Hagawane, Nandhidhaa P V, Srija Seshadri and Arpita Mukherjee scored 4-0 victory over Delhi.
The 40th National Team Open and 18th National Team Women's comprises of 36 and 16 teams, 162 and 74 players respectively in Open and Women's section. The tournament is being held at GSC Bank, Ahmedabad from 7th to 13th February 2020, organized by Gujarat State Chess Association.
Replay completed games
Round 2 pairings in Open
Bo.
1
Petroleum SPB
Rtg
-
10
LIC
Rtg
0 : 0
1.1
GM
2608
-
1794
1.2
GM
2602
-
GM
2383
1.3
GM
2550
-
1872
1.4
GM
2534
-
IM
2293
Bo.
11
Tamil Nadu A
Rtg
-
2
Railways SPB A
Rtg
0 : 0
2.1
1850
-
IM
2436
2.2
2074
-
IM
2470
2.3
AGM
1936
-
IM
2460
2.4
1957
-
GM
2495
Bo.
3
Airports Authority of India
Rtg
-
12
Gujarat D
Rtg
0 : 0
3.1
IM
2472
-
1864
3.2
GM
2597
-
2071
3.3
2377
-
2154
3.4
IM
2310
-
1823
Bo.
13
Bihar B
Rtg
-
4
Telangana
Rtg
0 : 0
4.1
1889
-
GM
2563
4.2
1908
-
GM
2495
4.3
2069
-
IM
2474
4.4
1978
-
IM
2353
Bo.
5
Air India SPB
Rtg
-
14
Bihar A
Rtg
0 : 0
5.1
GM
2535
-
1567
5.2
IM
2403
-
1857
5.3
GM
2485
-
1818
5.4
IM
2158
-
1762
Bo.
15
Madhya Pradesh
Rtg
-
6
Railways SPB B
Rtg
0 : 0
6.1
2052
-
IM
2443
6.2
AFM
1889
-
GM
2438
6.3
1709
-
GM
2432
6.4
AIM
1684
-
IM
2458
Round 2 pairings in Women
Bo.
6
Telangana
Rtg
-
1
Petroleum SPB
Rtg
0 : 0
1.1
1728
-
WGM
2344
1.2
1683
-
IM
2372
1.3
1867
-
WIM
2214
1.4
1361
-
IM
2191
Bo.
2
Air India SCB
Rtg
-
5
Tamil Nadu A
Rtg
0 : 0
2.1
IM
2404
-
1747
2.2
IM
2397
-
2095
2.3
IM

| | |
| --- | --- |
| | Vijayalakshmi, Subbaraman |

2331
-
1615
2.4
WGM
2072
-
1602
Bo.
8
Kerala
Rtg
-
3
Tamil Nadu B
Rtg
0 : 0
3.1
1745
-
WIM
2175
3.2
1445
-
WIM
2242
3.3
1731
-
WGM
2383
3.4
1417
-
WIM
2255
Bo.
4
Airports Authority of India
Rtg
-
17
Himachal Pradesh B
Rtg
0 : 0
4.1
WIM
2212
-
0
4.2
WIM
2230
-
0
4.3
WGM
2205
-
0
4.4
WIM
2201
-
0
---