National Teams 2020 Day 4: PSPB takes sole lead in both Open and Women
PSPB took sole lead in both Open and Women section of National Teams 2020 with a 100% score. In the Open, PSPB defeated AAI by 3.5-0.5, after Karthikeyan played a marathon Queen ending and saved a half point, he managed to score the only win in the following round against Deepan of RSPB A. The defending champion PSPB defeated the former champion RSPB A 2.5-1.5 finishing round 6 at the top of the table. In the Women's section, Mary and Padmini scored the decisive victories for their team PSPB against Tamil Nadu B as Soumya lost to Vaishali and Nisha was held to a draw by Mahalaxmi. AAI is trailing behind the leader in the Open section while AAI, Tamil Nadu B, Air India, Kerala are trailing behind the leader in Women's section by a full match point respectively. Photo: IA Gopakumar Sudhakaran
Karthikeyan makes sure PSPB maintains sole lead
PSPB faced former champion RSPB A in the sixth round. Adhiban, Abhijeet and Lalith Babu were held to draws by Ravi Teja, Shyamnikhil and Swapnil Dhopade. Karthikeyan's win against Deepan proved to be decisive for PSPB to score a win in the round.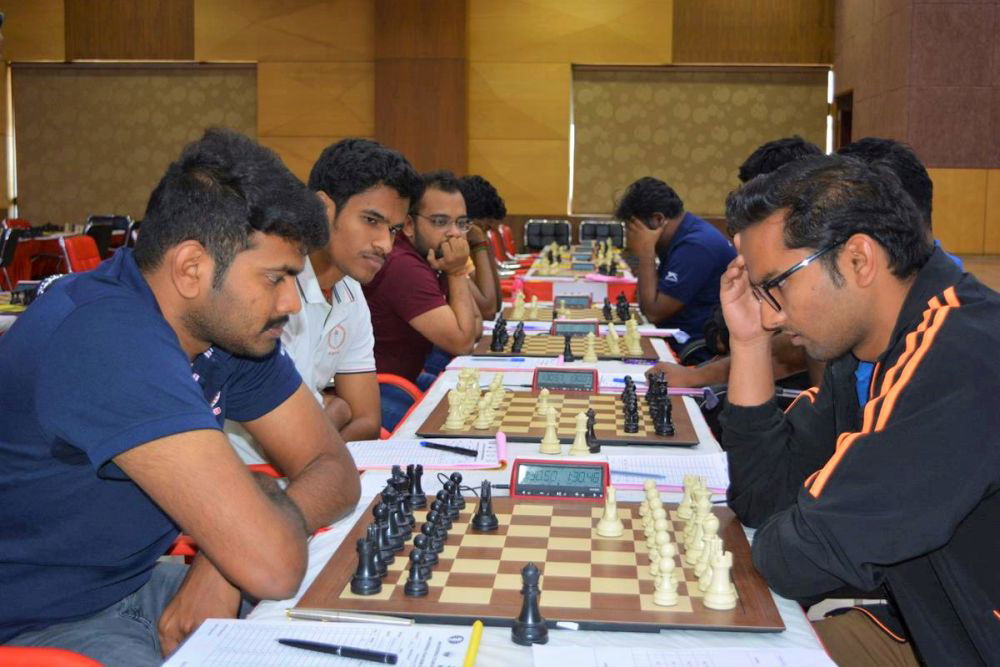 IM Ravi Teja S (2470) of RSPB A held GM Adhiban Baskaran (2654) of PSPB to a draw in 74 moves although the game reached to an equal opposite color bishop endgame after 40 moves.
IM P Shyamnikhil (2460) held GM Abhijeet Gupta (2608) to a quiet draw in just 37 moves.
Deepan made an incorrect exchange sacrifice against Karthikeyan Murali in a game arising out of Ruy Lopez Berlin Defence.
Karthikeyan - Deepan, Round 6
Black should have simply played 24...Rg8 and it would have been fine, but Deepan decided to sacrifice the exchange and hold an eventual fortress with 24...Bd6 which much to the chagrin of black, didn't last for long.
Swapnil Dhopade made a quiet draw with Lalith Babu in just 31 moves.
RSPB B lost to AAI by 1-3. IM C R G Krishna was the only one to score a victory for his team RSPB B against IM Harshit Raja.
Krishna - Raja, Round 6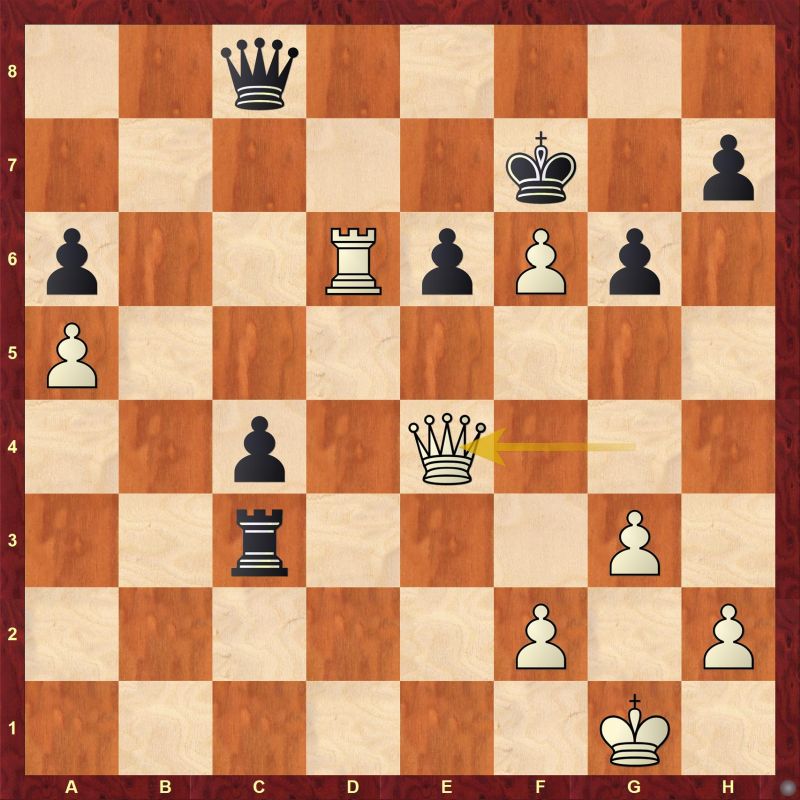 Harshit opted for 31...Rb3 and soon afterwards black's position fell apart. He should have played 31...Rd3 to claim some kind of equality.
GM Abhimanyu Puranik, GM Visakh N R and IM Sai Agni Jeevitesh J scored comfortable victories over IM Sayantan Das, GM Thejkumar M S and GM Laxman R R respectively, resulting in AAI's victory over RSPB B.
Air India lost to Telangana by 1-3. GM Swayams Mishra was the only lone victor of his team AI. Srinath Narayanan suffered his first loss of the tournament against Arjun Erigaisi. IM Swayangsu Satyapragyan and IM C S Gokhale lost to GM Harsha Bharathakoti and IM Rahul Srivathsav P respectively.
Srinath - Arjun, Round 6
PSPB takes sole lead after Round 5 in Open
PSPB halted AAI's fantastic run in the tournament so far by handing them their first defeat and by a huge margin 0.5-3.5 . The only draw was scored by Visakh N R against Karthikeyan Murali. Adhiban, Abhijeet and Lalith Babu scored wins with ease.
Adhiban showcased his brilliant attacking prowess again by a brilliant rook sacrifice which has been appreciated by his teammate of the last two year's winning team - Surya Sekhar Ganguly and the chess universe.
Harshit - Adhiban, Round 5
After Adhiban's excellent sacrifice at g2 with 16...Rxg2, it became evident that Adhiban is again taking the full point.
Here is the tweet which Ganguly made on Adhiban's incredible sacrifice.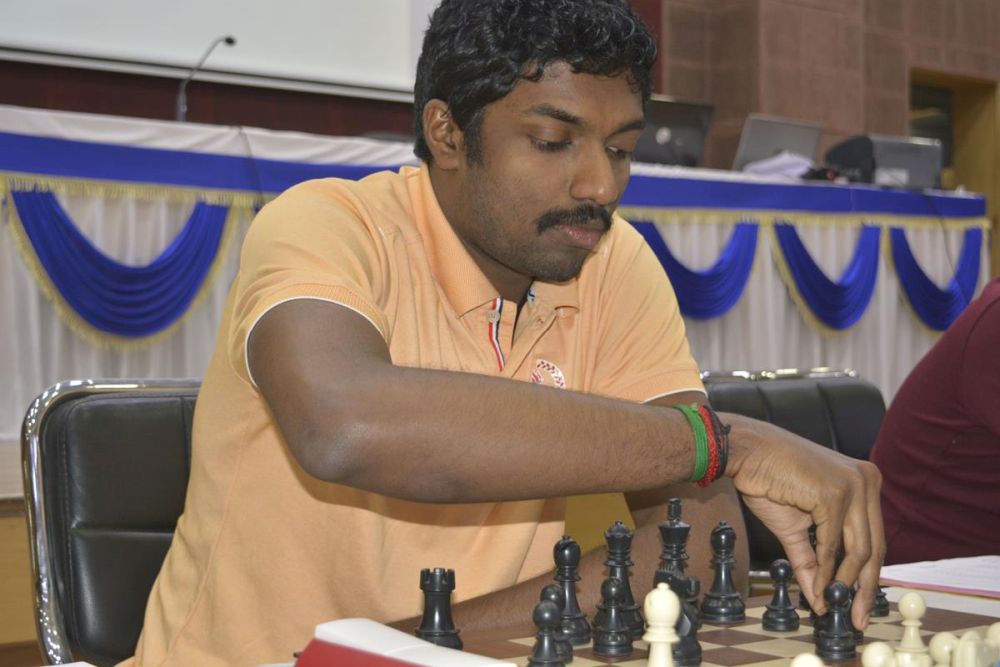 After nudging Abhimanyu's queen for three consecutive moves, Abhijeet decided to utilize his passed pawn and the game reached an interesting position.
Abhijeet - Abhimanyu, Round 5
White continued with 23.Qxh5 gxh5 24.d7 which made black's position extremely difficult to play.
Abhijeet had no trouble converting already advantageous position into a full point using the correct technique.
Visakh N R managed to avoid a whitewash for his team by holding Karthikeyan Murali to a marathon draw. The game reached to a king and many pawns ending in just 34 moves, however the game had reached to a Queen ending after both sides promoted a queen each and white was left with an extra passed pawn.
Visakh - Karthikeyan, Round 5
After a few moves, the game reached to the following position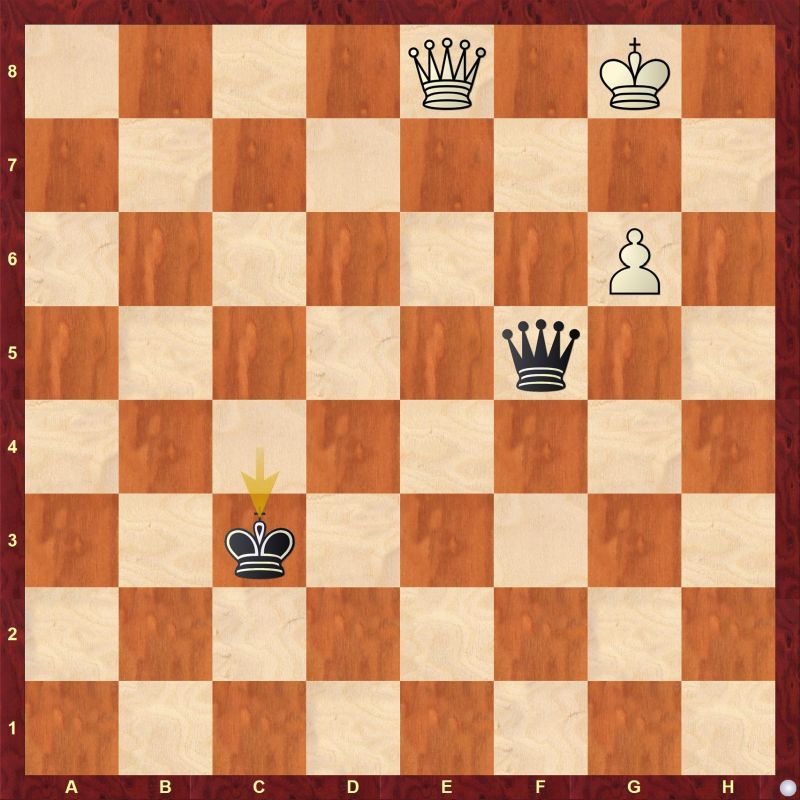 White continued with 62.g7 which made winning for white that much more difficult. Instead white should have gone with 62.Qc6+ first to keep some chances alive. Karthikeyan showed gritty defence and made after 93 moves.
Lalith Babu defeated Harshavardhan G B with ease ending his fantastic unbeaten run in the tournament.
Delhi B players were quite impressive as FM Prasenjit Dutta, Santu Mondal and Aradhya Garg held their own against their much stronger opponents IM Vignesh N R, IM P Shyamnikhil and GM Deepan Chakkravarthy of RSPB A respectively. However Adarsh Tripathi's loss against GM Swapnil Dhopade proved to be quite decisive as RSPB A won by narrow margin against Delhi B 2.5-1.5
Telangana defeated Gujarat A 3-1. Only IM P D S Girinath lost to Santosh Kumar Sinha of Gujarat A. Arjun Erigaisi was better for the majority of the game, however he gave a few chances to the reigning National Amateur champion Kartavya Anadkat to equalize and unfortunately he missed all of them.
Arjun - Kartavya, Round 5
Kartavya's final blunder in the game came in the form of 88...Bc3 which obviously allowed white to play 89.Bd4 and then it was winning for white. To make matters worse, Kartavya continued with 89...Be1 and he lost the game in the next 9 moves.
Santosh Kumar Sinha (1942) thwarted all attempts of IM P D S Girinath (2353) and scored a fine victory, the only one for his team.
Air India defeated Odisha A 3-1. Srinath scored his fifth consecutive victory of the tournament. Srinath scored a miniature like victory in just 23 moves against IM Sidhant Mohapatra. Utkal Ranjan Sahoo should have repeated the moves for the third time when he got an opportunity, however he didn't and the deviation cost him the game in the next five moves against IM D K Sharma. GM Swayams Mishra scored a comfortable victory over his state-mate Rajesh Nayak. Baivab Mishra played a fine game to score the lone victory for his team.
RSPB-B defeated Delhi A by 2.5-1.5 . Both IM C R G Krishna and GM Thejkumar scored comfortable victories. However GM Laxman R R (2432) was held to a draw by Sanchit Anand (1891) and IM Arghyadip Das (2458) lost to Aansh Gupta (1900).
PSPB takes sole lead in Women's after Round 4
PSPB defeated Tamil Nadu B 2.5-1.5 to take the sole lead at the conclusion of Round 4. Mary Ann Gomes and Padmini Rout scored fine victories over P Michelle Catherina and V Varshini respectively. Soumya Swaminathan lost to Vaishali R and Nisha Mohota was held to a draw by M Mahalakshmi.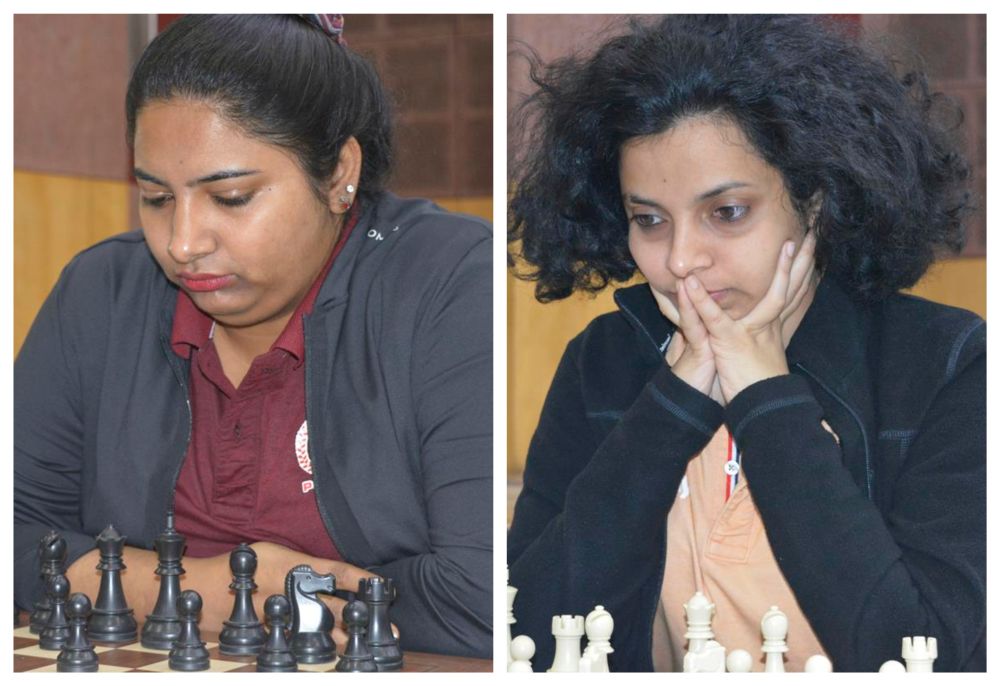 Michelle Catherina had a huge advantage against Mary but she blundered probably due to time trouble and Mary snagged the full point.
Catherina - Mary, Round 4
Catherina blundered with 32.Nxg6 and Mary misplayed with 32...Be4. She should have gone for 32...Rxg6 instead. Catherina missed another opportunity when she played 33.Nh8+ instead of 33.Bxe4 Rxe4 34.Rd5 which would have still allowed white to regain decisive advantage.
Padmini scored a fine victory over Varshini in Sicilian Scheveningen.
In a difficult position, Soumya played passively which allowed her opponent Vaishali to capitalize on that mistake and take advantage of the weakened black king.
Vaishali - Soumya, Round 4
Vaishali immediately seized the opportunity by creating a blockade with 34. Be6. The position is already tumultuous for black and the correct continuation was 34...Qf6. However Soumya took the bishop with 34...fxe6 and lost the game in the next eleven moves.
Air India defeated Telangana by 3.5-0.5 . Bhakti Kulkarni, Vijayalkashmi Subbaraman and Meenakshi Subbaraman, all three of them scored a victory each. Only Tania Sachdev (2397) was held to a draw by Kheerthi Ganta (1683).
In the game between Kheerthi and Tania, pieces got exchanged at regular interval and the game liquidated into an king and many pawns endgame after 28 moves. A draw was agreed after two more moves were made.
AAI whitewashed Odisha A 4-0
Replay completed games in Open
Replay completed games in Women
Round 5 results in Open
Bo.
3
Airports Authority of India
Rtg
-
1
Petroleum SPB
Rtg
½ :3½
1.1
IM
2472
-
GM
2654
0 - 1
1.2
GM
2597
-
GM
2608
0 - 1
1.3
GM
2518
-
GM
2602
½ - ½
1.4
2377
-
GM
2550
0 - 1
Bo.
8
Delhi B
Rtg
-
2
Railways SPB A
Rtg
1½:2½
2.1
FM
2285
-
IM
2436
½ - ½
2.2
2093
-
IM
2460
½ - ½
2.3
2169
-
GM
2545
½ - ½
2.4
2100
-
GM
2495
0 - 1
Bo.
4
Telangana
Rtg
-
9
Gujarat A
Rtg
3 : 1
3.1
GM
2563
-
2152
1 - 0
3.2
GM
2495
-
1983
1 - 0
3.3
IM
2474
-
1956
1 - 0
3.4
IM
2353
-
1942
0 - 1
Bo.
5
Air India SPB
Rtg
-
7
Odisha A
Rtg
3 : 1
4.1
GM
2535
-
IM
2367
1 - 0
4.2
IM
2403
-
2336
1 - 0
4.3
GM
2485
-
2169
1 - 0
4.4
GM
2425
-
2206
0 - 1
Bo.
6
Railways SPB B
Rtg
-
17
Delhi A
Rtg
2½:1½
5.1
IM
2443
-
1586
1 - 0
5.2
GM
2438
-

| | |
| --- | --- |
| | Mayank, Sharma Nandkishore |

1711
1 - 0
5.3
GM
2432
-
1891
½ - ½
5.4
IM
2458
-
1900
0 - 1
Bo.
19
All Rajputana C
Rtg
-
11
Tamil Nadu A
Rtg
0 : 4
6.1
AGM

| | |
| --- | --- |
| | Chandrajeet, Singh Rajawat |

1778
-
1850
0 - 1
6.2
1788
-
2074
0 - 1
6.3
1871
-
AGM
1936
0 - 1
6.4
1552
-
IM

| | |
| --- | --- |
| | Ramnathan, Balasubramaniam |

2200
0 - 1
Round 6 results in Open
Bo.
1
Petroleum SPB
Rtg
-
2
Railways SPB A
Rtg
2½:1½
1.1
GM
2654
-
IM
2470
½ - ½
1.2
GM
2608
-
IM
2460
½ - ½
1.3
GM
2602
-
GM
2545
1 - 0
1.4
GM
2550
-
GM
2495
½ - ½
Bo.
6
Railways SPB B
Rtg
-
3
Airports Authority of India
Rtg
1 : 3
2.1
IM
2443
-
IM
2472
1 - 0
2.2
IM
2426
-
GM
2597
0 - 1
2.3
GM
2438
-
GM
2518
0 - 1
2.4
GM
2432
-
IM
2310
0 - 1
Bo.
5
Air India SPB
Rtg
-
4
Telangana
Rtg
1 : 3
3.1
GM
2535
-
GM
2563
0 - 1
3.2
IM
2403
-
GM
2495
0 - 1
3.3
GM
2485
-
FM
2319
1 - 0
3.4
IM
2158
-
IM
2474
0 - 1
Bo.
11
Tamil Nadu A
Rtg
-
8
Delhi B
Rtg
2 : 2
4.1
1850
-
FM
2285
1 - 0
4.2
2074
-
2093
1 - 0
4.3
AGM
1936
-
2169
0 - 1
4.4
IM

| | |
| --- | --- |
| | Ramnathan, Balasubramaniam |

2200
-
2100
0 - 1
Bo.
7
Odisha A
Rtg
-
18
Odisha B
Rtg
3½: ½
5.1
2336
-
1910
1 - 0
5.2
2169
-
1950
1 - 0
5.3
2087
-
1846
½ - ½
5.4
2206
-
1357
1 - 0
Round 7 pairings
| | | | | | | | | | | | |
| --- | --- | --- | --- | --- | --- | --- | --- | --- | --- | --- | --- |
| No. | SNo | Team | Pts. | MP | Res. | : | Res. | MP | Pts. | Team | SNo |
| 1 | 1 | Petroleum SPB | 18½ | 12 | | : | | 8 | 15 | Air India SPB | 5 |
| 2 | 4 | Telangana | 16½ | 10 | | : | | 10 | 17 | Airports Authority of India | 3 |
| 3 | 2 | Railways SPB A | 17 | 8 | | : | | 8 | 16 | Gujarat A | 9 |
| 4 | 11 | Tamil Nadu A | 14½ | 8 | | : | | 8 | 16½ | Railways SPB B | 6 |
| 5 | 7 | Odisha A | 16½ | 8 | | : | | 8 | 14½ | Gujarat D | 12 |
| 6 | 13 | Bihar B | 13 | 7 | | : | | 8 | 14 | Delhi A | 17 |
Round 4 results in Women
Bo.
3
Tamil Nadu B
Rtg
-
1
Petroleum SPB
Rtg
1½:2½
1.1
WIM
2175
-
WGM
2344
0 - 1
1.2
WIM
2242
-
IM
2372
0 - 1
1.3
WGM
2383
-
WGM
2369
1 - 0
1.4
WIM
2255
-
IM
2191
½ - ½
Bo.
2
Air India SCB
Rtg
-
6
Telangana
Rtg
3½: ½
2.1
IM
2404
-
1728
1 - 0
2.2
IM
2397
-
1683
½ - ½
2.3
IM

| | |
| --- | --- |
| | Vijayalakshmi, Subbaraman |

2331
-
1867
1 - 0
2.4
WGM
2162
-
1361
1 - 0
Bo.
4
Airports Authority of India
Rtg
-
10
Odisha
Rtg
4 : 0
3.1
WIM
2212
-
0
1 - 0
3.2
WIM
2339
-
1467
1 - 0
3.3
WGM
2205
-
1746
1 - 0
3.4
WIM
2201
-
CM
1743
1 - 0
Bo.
8
Kerala
Rtg
-
5
Tamil Nadu A
Rtg
2½:1½
4.1
1745
-
1747
1 - 0
4.2
1445
-
2095
0 - 1
4.3
1731
-
1615
1 - 0
4.4
1816
-
1602
½ - ½
Bo.
11
Bihar A
Rtg
-
7
LIC
Rtg
1½:2½
5.1
1251
-
WGM
2170
0 - 1
5.2
1234
-
WGM
2136
0 - 1
5.3
1662
-
1154
1 - 0
5.4
1511
-
WFM
1583
½ - ½
Round 5 pairings in Women
| | | | | | | | | | | | |
| --- | --- | --- | --- | --- | --- | --- | --- | --- | --- | --- | --- |
| No. | SNo | Team | Pts. | MP | Res. | : | Res. | MP | Pts. | Team | SNo |
| 1 | 1 | Petroleum SPB | 11½ | 8 | | : | | 6 | 12 | Air India SCB | 2 |
| 2 | 4 | Airports Authority of India | 13½ | 6 | | : | | 6 | 12 | Tamil Nadu B | 3 |
| 3 | 7 | LIC | 9½ | 5 | | : | | 6 | 11 | Kerala | 8 |
| 4 | 5 | Tamil Nadu A | 9½ | 4 | | : | | 5 | 10½ | Gujarat A | 9 |
---