Adhiban loses for possessing analog watch in National Teams 2020
Airport Authority of India leads both open and women section at the conclusion of day 2 of 40th National Team Open and 18th National Team Women. The biggest shock of the day came in round 3 of open section when GM Adhiban Baskaran of PSPB had to forfeit the match for possessing an analog watch after 16 moves against IM C R G Krishna of RSPB-B. GM Karthikeyan Murali scored a marathon victory against GM Thejkumar to make sure his team beat RSPB-B. In the women's section, all top seeds scored a victory. Only AAI did a whitewash again, resulting in them jumping into the lead ahead of all other teams. Photo: IA Gopakumar Sudhakaran
Adhiban loses due to rules technicality in Round 3
After playing a fantastic game yesterday, Adhiban took a rest in round 2. In round 3, team PSPB (Petroleum Sports Promotion Board) faced RSPB-B (Railway Sports Promotion Board). Adhiban was paired against IM C R G Krishna. However after 9 moves were made, Adhiban was found to be wearing a wrist watch which according to the tournament rules and regulations meant a loss. In the past there have been several cases in India of players losing a game because of a watch, however, this was the first instance when a grandmaster was affected by it.
Speaking to ChessBase India after the incident, Adhiban said, "I just came back from Gibraltar. At the Gibraltar masters there was no such rule about wearing of a watch and all kinds of watches were allowed. I was completely jetlagged and forgot about the watch rule. My opponent claimed the win and there was nothing I could do about it." Unlike a walkover, a loss due to the watch rule affects your rating and Adhiban lost 7.7 Elo points. At a rating of 2654, that's quite a bit. However, as always Adhiban was positive and said, "I am happy that my team won the match in spite of my loss. I am playing good chess and that is more important to me than rating points."
It is clear that from the FIDE laws electronic devices are not allowed. How was Adhiban given a loss when he was wearing an analog watch? A few years ago, when the rule 11.3.2.1 was implemented the arbiters all across the country were faced with several instances where they had to decipher an analog watch from an electronic one. Logically if a watch had batteries in it, it would become an electronic one. But it was not always easy to segregate the two. In order to make things less complex and avoid unnecessary appeals, AICF in its Central Council meeting came up with the clause that no watches are allowed. Although this rule was not specifically mentioned in the regulations of the National Team Championships 2020, it was discussed in the player's meeting before the start of the event.
Famous trainer, mentor and chess consultant IM Vishal Sareen tweeted about Adhiban's loss
Here are the 9 moves that were played in the game.
Karthikeyan Murali got material advantage after the 36th move of the game against Thejkumar M S as he had a Rook for a Bishop and Pawn. However the game went on for another 73 moves before the former secured a much needed victory for himself as well as the team.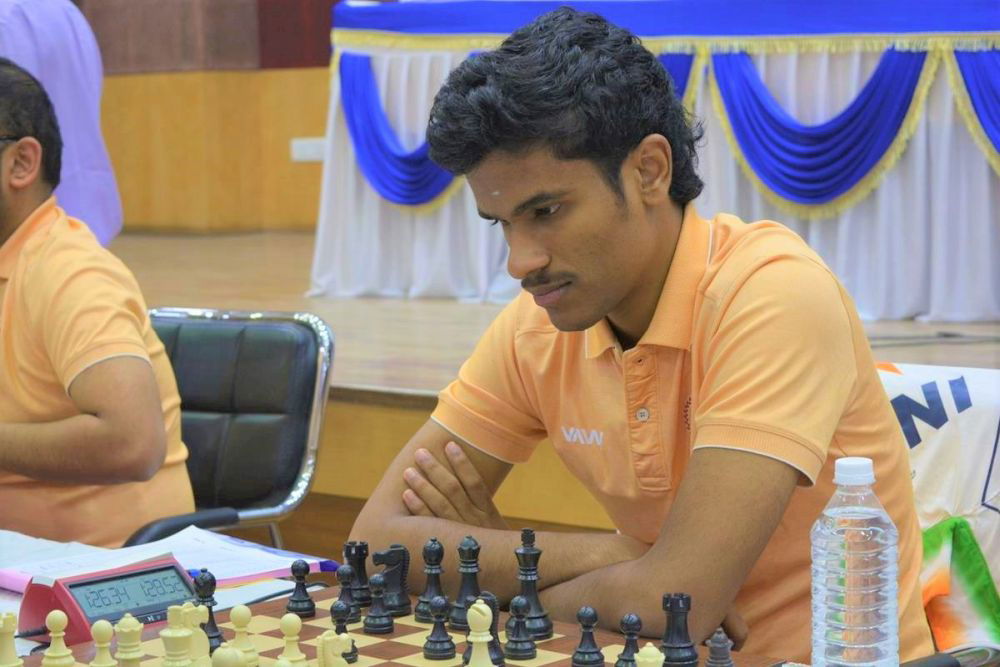 IM Arghyadip Das (2458) had a good position until he blundered against GM Lalith Babu (2550).
Lalith - Arghyadip, Round 3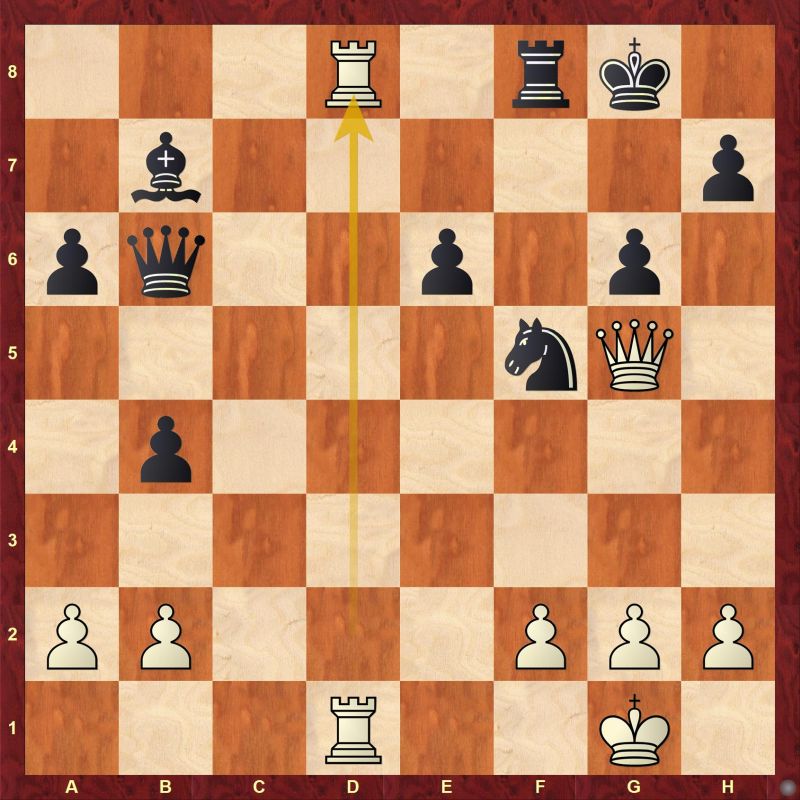 Arghyadip blundered here with 30...Ne7 and lost the game in another four moves.
GM Srinath Narayanan (2535) of Air India scored a decisive victory over IM Vignesh N R (2436) of RSPB-A as all other three games of his team ended up in draws which resulted in Air India winning against RSPB-A by narrow margin 2.5-1.5
Reigning National Junior champion Aradhya Garg (2169) of Delhi B played solid and held GM Visakh N R (2518) of AAI to a draw. Rest of the team members of Delhi B lost against AAI, thus the final score 0.5-3.5 went into AAI's favor and shot them into the sole lead.
GM Arjun Erigaisi's (2563) woes continued as he was held to a draw by IM Sidhant Mohapatra (2367). In the final moments of the game, Sidhant had some chances which he did not take and allowed Arjun to force a perpetual after initially not going through with the draw. Despite Sidhant's valiant efforts, Telangana defeated his team Odisha A 3-1.
Arjun - Sidhant, Round 3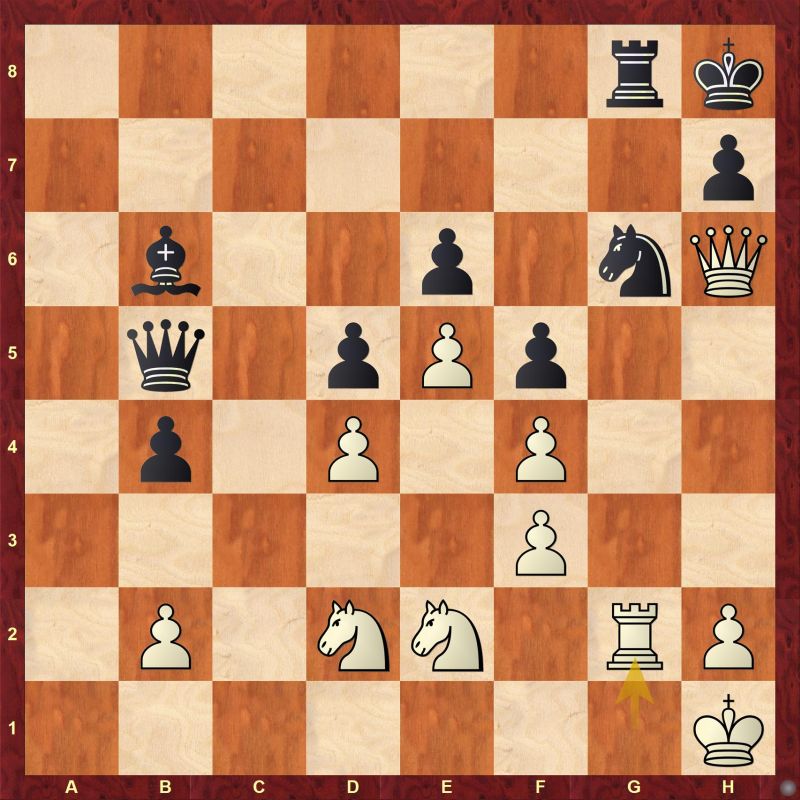 10-year old Kshatriya Nitin Vekhande kept his impressive run as he held reigning National Amateur champion Kartavya Anadkat to a draw.
Rupesh Ranjan shocks Arjun Erigaisi in Round 2
Round 2 also witnessed the top seeds scoring a victory for their team. However only Air India and RSPB-B managed to score 4-0 against Bihar A and Madhya Pradesh respectively. The biggest upset of the round was caused by Rupesh Ranjan (1889) of Bihar B defeating GM Arjun Erigaisi (2563) of Telangana.
Erigaisi had a complete decisive advantage for quite sometime until he blundered which Rupesh capitalized upon.
Rupesh - Erigaisi, Round 2
Black continued with 26...Qb5, white went ahead 27.f5 Bxf5 which was a blunder.
Rupesh's teammates Himanshu Ranjan and Kumar Gaurav lost to GM Harsha Bharathakoti and IM Rahul Srivatshav P respectively. Sudhanshu Ranjan (1978) held IM PDS Girinath (2353) to a draw.
Although the top seed PSPB defeated LIC 3-1, GM Sriram Jha (2383) did not make things easy for GM Karthikeyan Murali (2602).
Sriram - Karthikeyan, Round 2
White managed to gain another pawn with 23.Nxc5 but that was not enough as the game reached into a double rook and opposite color bishop endgame, where practically it was not possible for white to convert two extra pawns advantage into a full point.
Former National Blitz champion IM D K Sharma (2293) gave it all against GM Deep Sengupta (2534) but Deep's gritty defence did not allow Sharma to gain more than a half point.
GM Abhijeet Gupta and GM Lalith Babu of PSPB scored wins with ease against Brajesh Agarwal and Gajendra Singh of Team LIC respectively.
Senthil Kumaran R P (1957) of Tamil Nadu A held GM Swapnil Dhopade of RSPB-A to a draw. Despite being passive for the majority of the middlegame, Senthil managed to not make any huge mistake and salvage a draw. Senthil was the only person to score for his team as they went down by 0.5-3.5 against the strong RSPB-A.
The young team AAI defeated Gujarat D by 3.5-0.5, however Jay Kundaliya (2071) held former World Junior Silver medalist GM Abhimanyu Puranik (2597) to a comfortable draw.
Hemal Thanki (2154) of Gujarat D missed a golden opportunity against Harshavardhan G B (2377).
Harshavardhan - Hemal, Round 2
Black continued with 22...e3 and lost the game in the next ten moves. It is safe to assume that time trouble could be a primary reason behind black missing out the quicker and simpler win with 22...Bd4. This win wouldn't have changed the overall team score, but a win is a win.
Sarayu Velpula beats WIM Rakshitta Ravi in Round 2
Reigning National under-13 girls and National School under-14 girls champion Sarayu Velpula (1867) defeated WIM Rakshitta Ravi (2214). Mary Ann Gomes, Padmini Rout and Nisha Mohota all scored a victory each, making sure PSPB scored a 3-1 victory over Telangana.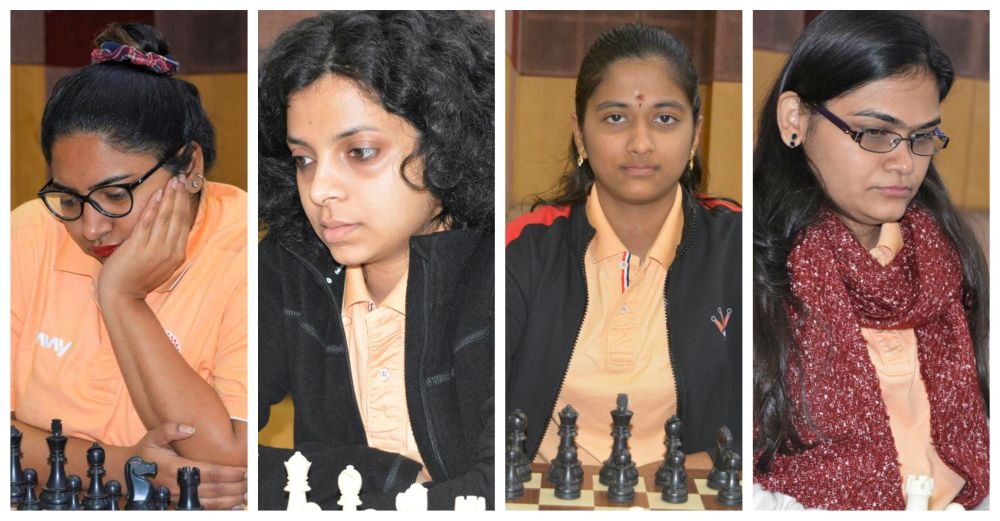 Air India defeated Tamil Nadu A emphatically by 3.5-0.5, however Kannamma P Bala (2095) held IM Tania Sachdev (2397) to a draw.
Reigning National under-11 girls champion Anupam Sreekumar (1745) held WIM P Michelle Catherina (2175) to a draw. That wasn't enough for the team as Kerala went down against Tamil Nadu B 0.5-3.5
AAI thrashed the unrated Himachal Pradesh B 4-0
Replay completed games

Round 2 results in Open
Bo.
1
Petroleum SPB
Rtg
-
10
LIC
Rtg
3 : 1
1.1
GM
2608
-
1794
1 - 0
1.2
GM
2602
-
GM
2383
½ - ½
1.3
GM
2550
-
1872
1 - 0
1.4
GM
2534
-
IM
2293
½ - ½
Bo.
11
Tamil Nadu A
Rtg
-
2
Railways SPB A
Rtg
½ :3½
2.1
1850
-
IM
2436
0 - 1
2.2
2074
-
IM
2470
0 - 1
2.3
AGM
1936
-
IM
2460
0 - 1
2.4
1957
-
GM
2495
½ - ½
Bo.
3
Airports Authority of India
Rtg
-
12
Gujarat D
Rtg
3½: ½
3.1
IM
2472
-
1864
1 - 0
3.2
GM
2597
-
2071
½ - ½
3.3
2377
-
2154
1 - 0
3.4
IM
2310
-
1823
1 - 0
Bo.
13
Bihar B
Rtg
-
4
Telangana
Rtg
1½:2½
4.1
1889
-
GM
2563
1 - 0
4.2
1908
-
GM
2495
0 - 1
4.3
2069
-
IM
2474
0 - 1
4.4
1978
-
IM
2353
½ - ½
Bo.
5
Air India SPB
Rtg
-
14
Bihar A
Rtg
4 : 0
5.1
GM
2535
-
1567
1 - 0
5.2
IM
2403
-
1857
1 - 0
5.3
GM
2485
-
1818
1 - 0
5.4
IM
2158
-
1762
1 - 0
Bo.
15
Madhya Pradesh
Rtg
-
6
Railways SPB B
Rtg
0 : 4
6.1
2052
-
IM
2443
0 - 1
6.2
AFM
1889
-
GM
2438
0 - 1
6.3
1709
-
GM
2432
0 - 1
6.4
AIM
1684
-
IM
2458
0 - 1
Round 3 results in Open
Bo.
6
Railways SPB B
Rtg
-
1
Petroleum SPB
Rtg
1½:2½
1.1
IM
2443
-
GM
2654
1 - 0
1.2
IM
2426
-
GM
2608
½ - ½
1.3
GM
2438
-
GM
2602
0 - 1
1.4
IM
2458
-
GM
2550
0 - 1
Bo.
2
Railways SPB A
Rtg
-
5
Air India SPB
Rtg
1½:2½
2.1
IM
2436
-
GM
2535
0 - 1
2.2
IM
2470
-
IM
2403
½ - ½
2.3
GM
2545
-
GM
2485
½ - ½
2.4
GM
2495
-
GM
2425
½ - ½
Bo.
8
Delhi B
Rtg
-
3
Airports Authority of India
Rtg
½ :3½
3.1
FM
2285
-
IM
2472
0 - 1
3.2
2093
-
GM
2597
0 - 1
3.3
2169
-
GM
2518
½ - ½
3.4
2100
-
2377
0 - 1
Bo.
4
Telangana
Rtg
-
7
Odisha A
Rtg
3 : 1
4.1
GM
2563
-
IM
2367
½ - ½
4.2
GM
2495
-
2336
1 - 0
4.3
FM
2319
-
2169
½ - ½
4.4
IM
2474
-
2206
1 - 0
Round 4 pairings in Open
Bo.
1
Petroleum SPB
Rtg
-
4
Telangana
Rtg
0 : 0
1.1
GM
2654
-
GM
2563
1.2
GM
2608
-
GM
2495
1.3
GM
2602
-
FM
2319
1.4
GM
2550
-
IM
2474
Bo.
3
Airports Authority of India
Rtg
-
5
Air India SPB
Rtg
0 : 0
2.1
IM
2472
-
GM
2535
2.2
GM
2597
-
IM
2403
2.3
GM
2518
-
GM
2485
2.4
2377
-
GM
2425
Bo.
2
Railways SPB A
Rtg
-
18
Odisha B
Rtg
0 : 0
3.1
IM
2436
-
1910
3.2
IM
2470
-
1950
3.3
IM
2460
-
1846
3.4
GM
2545
-
1357
Bo.
12
Gujarat D
Rtg
-
6
Railways SPB B
Rtg
0 : 0
4.1
1864
-
IM
2443
4.2
2071
-
IM
2426
4.3
2154
-
GM
2438
4.4
1830
-
GM
2432
Round 2 results in Women
Bo.
6
Telangana
Rtg
-
1
Petroleum SPB
Rtg
1 : 3
1.1
1728
-
WGM
2344
0 - 1
1.2
1683
-
IM
2372
0 - 1
1.3
1867
-
WIM
2214
1 - 0
1.4
1361
-
IM
2191
0 - 1
Bo.
2
Air India SCB
Rtg
-
5
Tamil Nadu A
Rtg
3½: ½
2.1
IM
2404
-
1747
1 - 0
2.2
IM
2397
-
2095
½ - ½
2.3
IM

| | |
| --- | --- |
| | Vijayalakshmi, Subbaraman |

2331
-
1615
1 - 0
2.4
WGM
2072
-
1602
1 - 0
Bo.
8
Kerala
Rtg
-
3
Tamil Nadu B
Rtg
½ :3½
3.1
1745
-
WIM
2175
½ - ½
3.2
1445
-
WIM
2242
0 - 1
3.3
1731
-
WGM
2383
0 - 1
3.4
1417
-
WIM
2255
0 - 1
Bo.
4
Airports Authority of India
Rtg
-
17
Himachal Pradesh B
Rtg
4 : 0
4.1
WIM
2212
-
0
1 - 0
4.2
WIM
2230
-
0
1 - 0
4.3
WGM
2205
-
0
1 - 0
4.4
WIM
2201
-
0
1 - 0
Bo.
9
Gujarat A
Rtg
-
7
LIC
Rtg
2 : 2
5.1
1512
-
WGM
2170
½ - ½
5.2
1479
-
WGM
2136
0 - 1
5.3
WFM
1961
-
1154
1 - 0
5.4
WCM
1585
-
WFM
1583
½ - ½
Round 3 pairings in Women
Bo.
1
Petroleum SPB
Rtg
-
4
Airports Authority of India
Rtg
0 : 0
1.1
WGM
2344
-
WIM
2212
1.2
IM
2372
-
WIM
2230
1.3
WGM
2369
-
WIM
2339
1.4
WIM
2214
-
WGM
2205
Bo.
3
Tamil Nadu B
Rtg
-
2
Air India SCB
Rtg
0 : 0
2.1
WIM
2175
-
IM
2404
2.2
WIM
2242
-
IM
2397
2.3
WGM
2383
-
IM

| | |
| --- | --- |
| | Vijayalakshmi, Subbaraman |

2331
2.4
WIM
2255
-
WGM
2162
Bo.
7
LIC
Rtg
-
6
Telangana
Rtg
0 : 0
3.1
WGM
2170
-
1728
3.2
WGM
2136
-
1683
3.3
WFM
1583
-
1867
3.4
1148
-
1361
Bo.
5
Tamil Nadu A
Rtg
-
11
Bihar A
Rtg
0 : 0
4.1
1747
-
1468
4.2
2095
-
1234
4.3
1615
-
1662
4.4
1602
-
1511
---