The watch rule strikes again! WGM Swati Ghate loses her game against IM Tania Sachdev
In round three of the National Team Championships 2020, Adhiban lost his game because he was wearing a wrist watch. We had extensively covered this on our newspage to let people know what had happened, but also with the intention that such a thing wouldn't happen again. Just five rounds later, in the final game of the event WGM Swati Ghate lost to IM Tania Sachdev because of the same rule! Swati Ghate representing LIC was found wearing a wrist watch and was given a loss. Once again it was an analog watch, but this time there was a small difference. Swati's opponent Tania Sachdev didn't want to win the game in this manner. What exactly happened? We bring you the full story.
It was the last day of the National Team Championships 2020. WGM Swati Ghate, one of the stalwarts of Indian women's chess and a former national champion, came to the game just like any other day. The tournament was going well for her. She was on 5.5/6 and had beaten IM Padmini Rout in the penultimate round. While on the previous days she would remove her wrist watch and put it in her purse while disembarking the rickshaw or while she was in the elevator, today she forgot to remove it. She reached the playing hall much in advance as the group photos had to be taken.
After the photo session Swati went to the board and got ready for the big fight against IM Tania Sachdev. Although Tania has been the stronger player rating wise, Swati has had a plus score against her with five wins and three losses in the past.
The game began with 1.e4 and Tania replied with 1...e5. It was the Ruy Lopez Arkhangelsk variation:
Swati Ghate vs Tania Sachdev
Tania made her move 10...h6 and went to the washroom. When she returned she saw a group of arbiters at her board. The sector arbiter had spotted that Swati was wearing a wrist watch and had informed the chief arbiter, R. Anantharam.
We have already discussed the watch incident in detail on our newspage when it took place in Adhiban's game in round three of the same tournament. If you have missed it, you can read about it as well as arbiter's take. But there were some differences in this incident as compared to the Adhiban one. While Adhiban's opponent had made a claim, in this case Tania hadn't. It was the arbiter who had spotted it. In fact, Tania was keen to continue the game. Speaking to ChessBase India she said, "The arbiters asked me to sign the scoresheet, but I wanted to continue playing. I went to the chief arbiter and asked him if anything can be done as I wanted to continue the game."
The arbiters did not make an exception. We reached out to chief arbiter R. Anantharaman, who said, "Once I was informed by one of my arbiters about WGM Swati Ghate wearing a watch, I had to give her a loss. It's true that her opponent Tania did not want the point in this manner and she even asked me if there was some way to continue the game, but the rules have to be uniform for everyone. Once we gave Adhiban the loss in round three, we cannot make an exception here."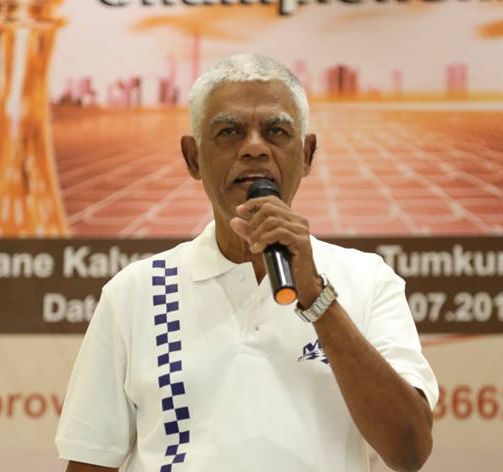 Swati Ghate was quite heartbroken after the loss. She signed the scoresheets without any argument and left the playing hall. "I usually remove the watch on my way to the game, but today I forgot about it. I knew about the Adhiban incident, so there was no point in trying to argue with the decision given by the arbiters."
How can such incidents be avoided. We asked the chief arbiter, "Majorly such incidents happen when the players arrive late to the game or in a hurry forget to remove their watch. If they come to the playing hall in advance, then more often than not they would be intimated by either the arbiters or their friends about the wrist watch. So my suggestion to all players would be to arrive to their games before time."
Well in the case of Swati Ghate, she arrived well in time for her game and forgot to remove her watch. With one GM and one WGM falling prey to the watch rule, it is high time the players start taking it seriously. For Swati, a good event where she was on 5.5/6, now ends on a bitter note.
Your opinion?
AICF Secretary Bharat Singh Chauhan has previously mentioned, "The rule of no wrist watch allowed to the games is in existence so that players don't lose to those resorting to unfair means. So if there are enough player voices who come up to us and say they want it changed, we will look into it."
The arbiter's viewpoint is that it is extremely difficult to understand whether a watch is a smart watch or an analog watch. There are several examples of a watch which looks like an analog one but is actually a smart watch. In order to not put the arbiter's in a difficult situation to decipher a smart watch from an analog watch, the AICF took a decision in its central council meeting in 2018, that no wrist watches are allowed.
Taking into consideration, all the angles of the issue, we would like to ask the viewers what their opinion is. Do let us know in the comments section below.
---