A ready guide to the products in the ChessBase India shop
The ChessBase India mega mid-year sale will go on until midnight today. The ChessBase India shop has over 400 products and gives you a wide range of options for you to choose your favourite chess products. But sometimes it becomes difficult to find the exact product you need. Hence, in this article we have divided the products in the form of different openings and give you our recommendations. The sale will end at 23.59 hours on 22nd of May. There is still some time left, so have a look if you would like to get something at a subsidized cost to power your chess and become a stronger player.
What is the mega mid-year sale?
If you buy between:
Rs. 1 to Rs. 2,500 you get 5% off
Rs.2,501 to Rs. 7,500 you get 10% off
Rs. 7501 to Rs. 20,000 you get 15% off
Rs. 20,001 to 50,000 you get 20% off
Rs. 50,001 and above you get 25% off
The amount of discount depends on your sub-total which is before GST.
Additional discount coupon:
We have introduced an additional discount coupon for all those who purchase products during the mid-year sale. Let's imagine you bought products worth Rs.8,000 (before tax). You would fall in the category of 15% off. Hence you would get 15% off for the products you buy on 21st or 22nd of May. After the sale ends you will get another 15% discount coupon from ChessBase India, which would be valid for a week!
You can have a look at all the products in the ChessBase India shop, by downloading our catalogue.
Best-sellers
Over the years these are the ones that have sold the most in the ChessBase India shop:
ChessBase 15 + Mega Database 2019 combo
Complex Najdorf by Viktor Bologan
London System 2.Bf4 by Simon Williams
Fashionable Caro Kann by Vidit Gujrathi
Reti - a repertoire for White by Bologan
1.e4 e5
The Bishop's Opening and The Italian Game by Sergei Tiviakov
Evans Gambit for the new generation by Simon Williams
The Modern Scotch Opening by Parimarjan Negi
How to crack the Berlin Wall with 5.Re1
Rocket Repertoire: The Four Knights by Simon Williams
The popular Italian by Viktor Bologan
King's Gambit Vol.1 by Simon Williams
King's Gambit Vol.2 by Simon Williams
Against French
The Classical French - Main Line by Rustam Kasimdzhanov
The new McCutcheon by Rustam Kasimdzhanov
A Classical Guide to the French Defence by Yannick Pelletier
3.Nd2 against the French by Sergei Tiviakov
Against Sicilian
English Attack by Daniel Gormally
The Modern Grand Prix by Lawrence Trent
Smash the Sicilian with the Smith-Morra Gambit by Michael Rahal
The Baffling 2.b3 against the Sicilian by Lawrence Trent
How Bobby Fischer battled the Sicilian by Adrian Mikhalchishin
Against Caro Kann
Fighting against Caro Kann with the advance variation by Viktor Bologan
Solid and safe against the Indian openings: Play the Fianchetto by Nicholas Pert
Beat the Queens Indian by Simon Williams
Trompowsky for the attacking player by Timur Gareyev
Winning against King's Indian - With the main line by Mihail Marin
Winning against the Classical Slav by Mihail Marin
The London System with 2.Bf4 by Simon Williams
A dynamic weapon against the QGD - 5.Bf4
Meeting the Gambits Vol.2 - Gambits after 1.d4 by Andrew Martin
An Attacking Repertoire with 1.d4! Vol. 1
An Attacking Repertoire with 1.d4! Vol. 2
Attacking Repertoire with 1.d4!, Vol 1 & 2 by Nick Pert
Simon Williams: The Colle–Koltanowski System
Simon Williams: The Torre Attack
A Gambit Guide through Open game Vol.1 + 2 by Erwin l'Ami
A Gambit Guide through the Open Game Vol.1 by Erwin l'Ami
A Gambit Guide through the Open Game Vol.2 by Erwin l'Ami
The Berlin Wall by Viktor Bologan
The Ruy Lopez Breyer Variation by Pavel Eljanov
The Spanish Fianchetto by Sam Collins
The modern Two Knights by Erwin l'Ami
Open games with …Bc5 by Sam Collins
Ruy Lopez: Attack with the Schliemann by Sam Collins
The reliable Petroff by Daniel Fernandez
Wesley So: My Black Secrets in the Modern Italian
Complex Najdorf by Viktor Bologan
The Classical Sicilian by Mihail Marin
The Sicilian Dragon Vol. 1: Main Line with 9.Bc4 by Peter Heine Nielsen
The Sicilian Dragon Vol. 2: All Lines except 9.Bc4 by Peter Heine Nielsen
The Sicilian Taimanov-Scheveningen by Alejandro Ramirez
The surprising Sicilian - Shock your opponent with an early ...Qb6
The Accelerated Dragon - a sharp weapon against 1.e4 by Nadezhda Kosintseva
The Fashionable Caro-Kann Vol.1 by Vidit Gujrathi
The Fashionable Caro-Kann Vol.2 by Vidit Gujrathi
Vidit Gujrathi fashionable Vol.1+2 by Vidit Gujrathi
The French Defence for Tournament Player by Nicholas Pert
The Modern Pirc by Viktor Bologan
The Black Lion - an aggressive version of the Philidor Defense by Simon Williams
Strike first with the Scandinavian by Christian Bauer
A strategic weapon against 1.d4: The Queen's Indian Defense by Viktor Bologan
King's Indian: A modern approach by Viktor Bologan
The Semi Slav by Peter Heine Nielsen
The Ragozin Defense by Alejandro Ramirez
The Blumenfeld Gambit - A sharp weapon in the Benoni by Andrew Martin
The solid Slav Defence by Nicholas Pert
The Dutch Stonewall- A fighting repertoire against 1.d4 by Erwin L'Ami
The Tactical Chigorin by Simon Williams
The Blumenfeld Gambit - A sharp weapon in the Benoni by Andrew Martin
The Beasty Botvinnik Variation in the Semi-Slav! by Erwin l'Ami
A lifetime repertoire against 1.d4 -Play the Nimzo by Kasimdzhanov
Bulletproof repertoire against 1.d4 (pack of 6 by l'Ami, King, Kasimdzhanov)
The Amazing Albin Counter-Gambit by Lawrence Trent
The Vienna variation - a reliable and ambitious variation by Pelletier
The aggressive Classical Dutch by Nick Pert
The English Opening Vol.1 by Simon Williams
The English Opening Vol.2 by Simon Williams
The Hedgehog - a universel system against 1.c4 and 1.Nf3 by Yannick Pelletier
Reti - A Repertoire for White by Viktor Bologan
Wesley So: My Secret Weapon: 1.b3
Wesley So Opening package: 1.b3 and Black Secrets in the Modern Italian
A black repertoire against Offbeat Openings - Nick Pert
How to combat rare lines as Black by Sergei Tiviakov
Winning with the King's Indian Attack by Viktor Bologan
The Bombastic Bird's - an energetic and exciting repertoire after 1.f4 by Lawrence Trent
Marin's English Love – A complete repertoire for White after 1.c4 Vol 1
Marin's English Love – A complete repertoire for White after 1.c4 Vol 2
Marin's English Love – A complete repertoire for White after 1.c4 Vol 1 + Vol 2
Combos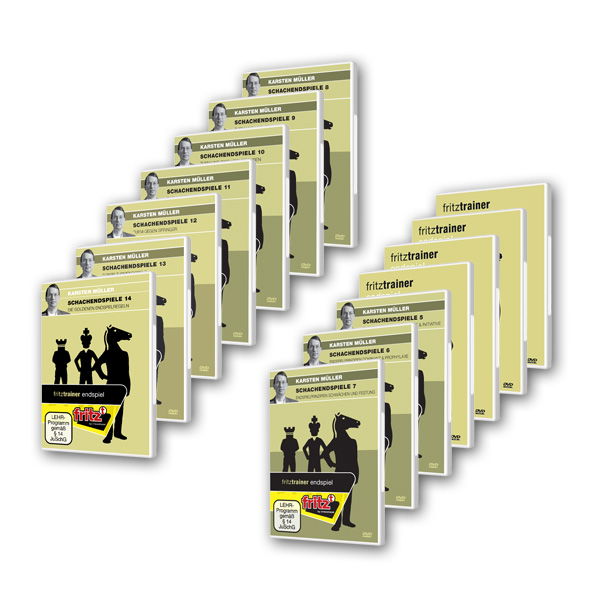 Karpov's Strategic Wins 1 by Tibor Karolyi 999
Karpov's Strategic Wins 2 by Tibor Karolyi 999
Mikhail Tal's Best Games 1 - Magic of Youth by Tibor Karolyi 999
Mikhail Tal's Best Games 3 - The Invincible by Tibor Karolyi 999
How I Beat Fischer's Record by Judit Polgar 1499
From GM to Top Ten by Judit Polgar 1499
Python Strategy by Tigran Petrosian 999
Learn from the Legends 3rd Ed by Mihail Marin 1499
Soviet Chess Primer by Ilya Maĭzelis 999
Soviet Chess Strategy by Alexey Suetin 999
My System by Aron Nimzowitsch 999
Chess Praxis by Aron Nimzowitsch 999
Questions of Modern Chess Theory by Isaac Lipnitsky 999
Grandmaster Preparation - Attack and Defence by Jacob Aagaard 999
Grandmaster Preparation - Calculation by Jacob Aagaard 999
Grandmaster Preparation - Endgame Play by Jacob Aagaard 999
Grandmaster Preparation - Positional Play by Jacob Aagaard 999
Grandmaster Preparation - Strategic Play by Jacob Aagaard 999
Grandmaster Preparation - Thinking Inside the Box by Jacob Aagaard 999
Grandmaster Repertoire - 1.e4 vs The French, Caro-Kann and Philidor by Parimarjan Negi 999
Grandmaster Repertoire - 1.e4 vs The Sicilian I by Parimarjan Negi 999
Grandmaster Repertoire - 1.e4 vs The Sicilian II by Parimarjan Negi 999
Grandmaster Repertoire - 1.e4 vs The Sicilian III by Parimarjan Negi 999
Playing 1.e4 - Caro-Kann, 1…e5 & Minor Lines by John Shaw 999
Playing 1.e4 French Defence & Sicilian Sidelines by John Shaw 999
Playing 1.e4 Sicillian Main Lines by John Shaw 999
Mayhem in the Morra by Marc Esserman 999
Grandmaster Repertoire 1A - The Catalan by Boris Avrukh 999
Grandmaster Repertoire 1B - The Queen's Gambit by Boris Avrukh 999
Grandmaster Repertoire 2A - King's Indian and Grunfeld by Boris Avrukh 999
Playing the Trompowsky by Richard Pert 999
Grandmaster Repertoire 6A - Beating the Anti-Sicilians by Vassilios Kotronias 999
Playing 1.e4 e5 - A Classical Repertoire by Nikolaos Ntirlis 999
Playing the French by Jacob Aagaard and Nikolaos Ntirlis 999
The Pirc Defence by Mihail Marin 999
GM Repertoire 7 - The Caro-Kann by Lars Schandorff 999
GM Repertoire 13 - Open Spanish by Victor Mikhalevski 999
GM Repertoire 14 - French Defence vol.1 by Emanuel Berg 999
GM Repertoire 15 - French Defence vol.2 by Emanuel Berg 999
GM Repertoire 16 - French Defence vol.Three by Emanuel Berg 999
Grandmaster Repertoire 18 - The Sicilian Sveshnikov by Vassilios Kotronias 999
The Dragon Volume One by Gawain Jones 999
The Dragon Volume Two by Gawain Jones 999
The Modern Tiger by Tiger Hillarp Persson 999
Grandmaster Repertoire 10 - The Tarrasch Defence by Nikolaos Ntirlis and Jacob Aagaard 999
Grandmaster Repertoire 17 - The Classical Slav by Boris Avrukh 999
Grandmaster Repertoire 20 - The Semi-Slav by Lars Schandorff 999
King's Indian Warfare by Ilya Smirin 999
Playing 1.d4 d5 - A Classical Repertoire by Nikolaos Ntirlis 999
Playing the Ragozin by Richard Pert 999
The Nimzo-Indian Defence by Michael Roiz 999
Grandmaster Repertoire 19 - Beating Minor Openings by Victor Mikhalevski 999
e3 Poison by Axel Smith 999
GM Repertoire 3 - English vol. one by Mihail Marin 999
GM Repertoire 4 - English vol. two by Mihail Marin 999
GM Repertoire 5 - English vol. three by Mihail Marin 999
Grandmaster Opening Preparation by Jaan Ehlvest 1499
Attacking Manual 1 second edition by Jacob Aagaard 999
Attacking Manual 2 by Jacob Aagaard 999
Chess Tactics from Scratch by Martin Weteschnik 999
Dynamic Decision Making in Chess by Boris Gelfand 999
Key Concepts of Gambit Play by Yuri Razuvaev 999
Mating the Castled King by Daniel Gormally 999
Tactimania by Glenn Flear 999
Mating the Castled King by Daniel Gormally 999
Practical Chess Defence by Jacob Aagaard 999
Chess Structures - A Grandmaster Guide by Mauricio Flores Rios 999
Positional Decision Making in Chess by Boris Gelfand 999
Positional Chess Sacrifices by Mihai Suba 999
Boost Your Chess 1: The Fundamentals by Artur Yusupov 999
Boost your Chess 2 - Beyond the Basics by Artur Yusupov 999
Boost your Chess 3 - Mastery by Artur Yusupov 999
Build up your Chess 1 - Artur Yusupov 999
Build up your Chess 2 by Artur Yusupov 999
Build up your Chess 3 by Artur Yusupov 999
Chess Evolution 1 by Artur Yusupov 999
Chess Evolution 2 by Artur Yusupov 999
Chess Evolution 3 - Mastery by Artur Yusupov 999
Revision and Exam 1 by Artur Yusupov 999
Arthur Yusupov's 10 books series 9499
Universal books
Pump Up Your Rating by Axel Smith 999
Genius in the Background by Tibor Karolyi 999
Grandmaster Battle Mannual by Vasilios Kotronias 999
San Luis 2005 by Alik Gershon and Igor Nor 999
Endgame books
Sharp Endgames by Esben Lund 999
Recent bestsellers
Luther's Chess Reformation by Thomas Luther 999
Under the Surface by Jan Markos 999
Small Steps to Giant Improvement by Sam Shankland 1499
Woodpecker Method by Hans Tikkanen 1499
Other publishers
The Chess Course by Praful Zaveri (a series of 7 books) 3499
Silman's Complete Endgame Course-Jeremy Siman 1199
---