What should you buy this Diwali from the ChessBase India shop?
The ChessBase India Mega Diwali Sale is in progress from the 26-28th of October 2021. Over 800 products in the ChessBase India store ranging from softwares to books to t-shirts to chocolates to chess sets and accessories are all up for grabs at a discounted price. With so many products it can often get quite confusing. Hence, IM Sagar Shah has given you some suggestions with regards to the newly launched as well as best selling products in the shop. At the end of the article you will also find the list of all the products in the shop with clickable links which will help you with easy navigation.
The biggest sale of the year is here
If you buy:
Rs. 1 to Rs. 2,500 you get 5% off
Rs.2,501 to Rs. 7,500 you get 10% off
Rs. 7501 to Rs. 20,000 you get 15% off
Rs. 20,001 to 50,000 you get 20% off
Rs. 50,001 and above you get 25% off
The amount of discount depends on your sub-total which is before GST.
Sales on ChessBase India shop keep getting more and more exciting and valuable each year as we keep introducing new products. The shop now has close 800 products including softwares, books, t-shirts, chocolates and accessories! There is something for everyone here! This Diwali you can think about getting a new software or a book, while jotting down your answers with a ChessBase India pen, on a ChessBase India notebook, wearing a ChessBase India t-shirt, while moving the pieces on a ChessBase India chess set and munching on Vedika's Chocolates!
With so many products, it is natural to get confused. This is the reason why we have mentioned some of the new arrivals and best selling products in the shop that can help you make a good decision with regards to the products that you would like to buy. At the end of the article you will also find all the products in the shop along with clickable links, which will help you to make easy decisions.
Fritz 18
Fritz is one of the flagship products of ChessBase and is released every two years. After people enjoying Fritz 17 to a great extent, there was a lot of pressure on the programmers of ChessBase to come up with some new and exciting. They managed to do that with Fritz 18. The product has many new features which can be read in detail over here. The one feature which is very exciting for players of all levels is the Brilliancy Training. Fritz 18 has a very close to human like feel of play where it makes errors in ways that it forces you to find brilliant moves and ideas. This is unlike what you will see from modern day engines. Either they play too strong, or if you reduce their level, they will blunder pieces, which no human opponent would in tournament play. But with Fritz 18, you will get a feel of playing against human opponents. It will force you to stretch yourself and that will help you to become stronger. Fritz 18 also comes with 6 months of free ChessBase Premium Account Membership.
Upgrade from Fritz 17 to Fritz 18
Note: Fritz 18 will be released on 16th of November 2021 and you will receive it instantly in your email.
Mega Database 2022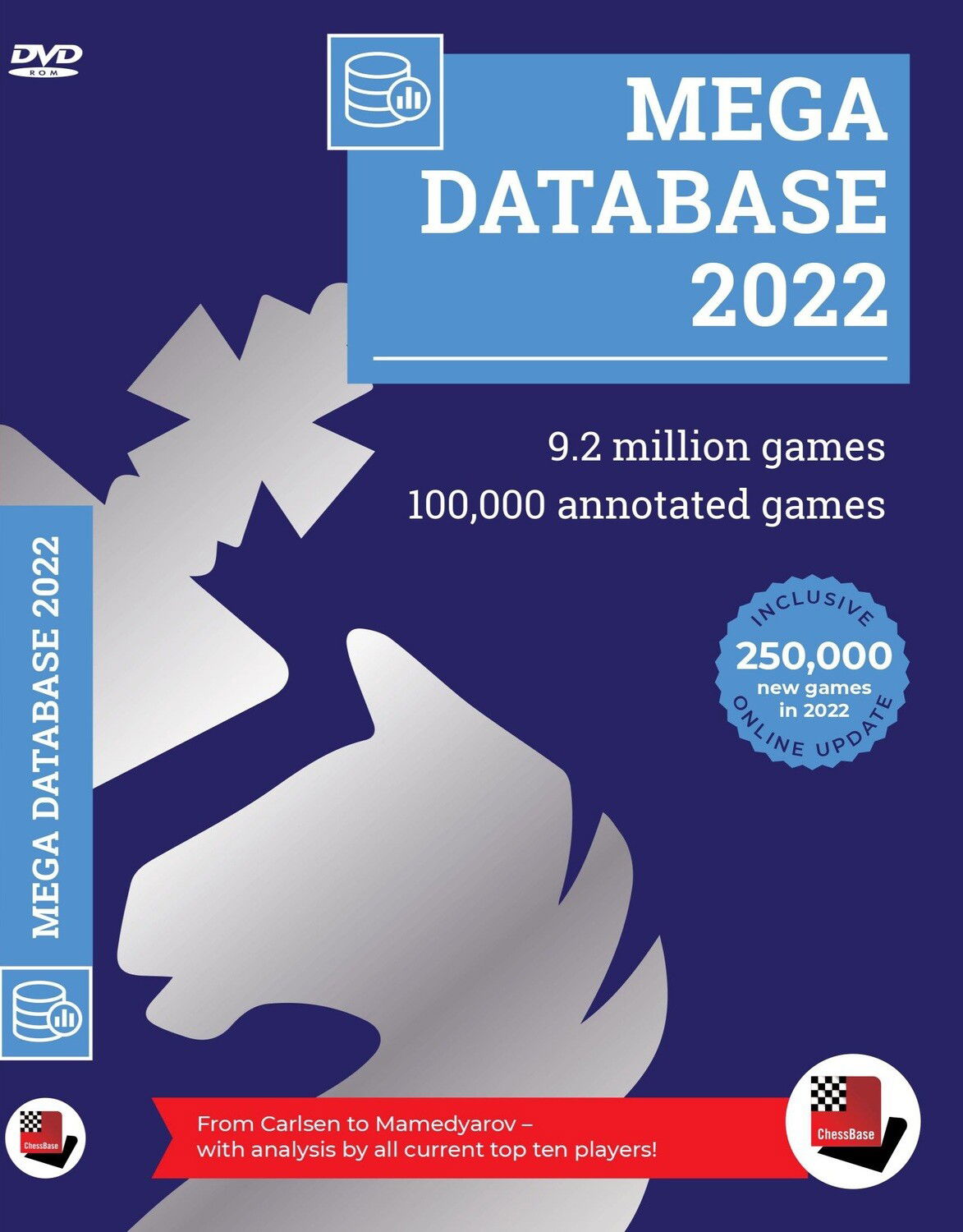 Mega Database 2022 is world's biggest and excellently maintained chess database that helps you to work on your chess with excellent data. With 9.2 million games and 100,000 of them annotated by top players, it is your one stop solution to prepare openings, prepare against specific opponents and check out games of any top player. It would be best if you made use of Mega Database 2022 along with ChessBase 16.
Upgrade from Mega Database 2021 to 2022
Buy ChessBase 16 + Mega Database 2022
Note: This is a pre-order. This product will be delivered to you on 16th of November 2021
Correspondence Database 2022
For many years games of Correspondence chess were not paid much attention to. That's because these games are played over a period of many days with both players being able to think with powerful engines on their side. While competitively correspondence chess might not be so exciting, in terms of quality of games, you cannot get anything better than this! Correspondence games have the perfect blend of human thought and powerful engine checked ideas. This is the reason why many strong players have started to use the Correspondence Database for their preparations and rightly so! Now the 2022 database is updated with 2 million games and 20 video analysis done by top players! You might think that the database is expensive, but if you manage to win a crucial game using one of the ideas in the database, it will be well worth the investment!
Get the Correspondence 2022 Database
ChessBase Premium Account:
The best selling product in the ChessBase India shop. Membership to over 10 features for an entire year at just Rs.1768. That's less than Rs.5 a day!
T-shirts
When we launched ChessBase India t-shirts, we wanted to ensure good quality material which everyone would enjoy wearing. It's been nearly 3.5 years since we have been selling t-shirts and we have had no complaints with regards to the quality of the cloth used or the print on the t-shirt. What everyone wanted was for us to expand our repertoire and introduce new designs in the shop. That's the reason why Amruta and her team of designers have worked on various designs and we managed to bring out some exciting t-shirts design for this Diwali sale.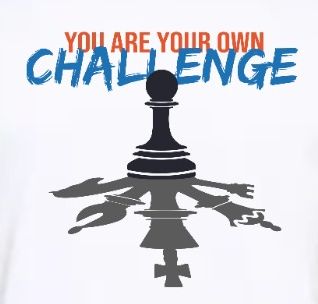 You are your own challenge is another design that has been launched
Check out all the T-shirts in the shop
Vedika's chocolates
When I first tasted Vedika's chocolates, I knew that she had to bring it out on a large scale. People had to taste this product. It must have been a couple of years already since the first time I tasted Vedika's chocolates. But till date whenever, I order the chocolates at my place, I am unable to contain my excitement with regards to it. Within a few hours everything just vanishes. We launched Vedika's chocolates on ChessBase India a few months ago and the response has been wonderful. People have loved the chocolates and we have tried to improve our logistical services. For Diwali we have now introduced a new flavour - the orange flavoured Vedika's chocolates!
So now you have the choice between regular and premium pack (16 and 32 pieces) and you can also order a combo (where you save Rs.50). Also you have the option to order Classic flavour (the original one) and also the Orange flavour chocolates as well.
Order the Combo of Regular and Premium Pack (save Rs.50)
Chess set
One of the best selling products in the ChessBase India shop is the ChessBase India Premium Chess Sets. For a long time we did not sell chess sets in the ChessBase India shop. The reason was that we did not want to add another chess set to the already existing sets out there in the market. We wanted to provide something of value to our
Buy The ChessBase India Premium Chess Set
Books
If you are a beginner who is starting out chess and is looking for a book that will teach you chess in a structured way, there is nothing better than Praful Zaveri's Chess Course.
If you wish to improve your positional understanding:
If you wish to strengthen your endgame:
Endgame book that has been widely acclaimed as a really good one:
The ulimate improvement set of books:
If you would like to improve your calculation. For players above the Elo of 1800:
150 top class positional exercises:
One of the best books to strengthen your tactical understanding:
A must have book, if you want to understand the super strong Alpha Zero engine:
A glimpse into what world championship preparation is all about:
If you are very serious about your chess improvement, we heartily recommend the Power Play series by Daniel King. They are not books, they are a series of downloadable products that will work with a ChessBase program or the freely available ChessBase reader. What these 28 volumes will help you with, is broaden your understanding of chess with one of the best trainers out there - GM Daniel King.
Notebooks and Pens
We have created 16 gift hamper combos which can help you to save a lot of money. Check out all the combos in the link given below and choose your favourite one.
You can find a lot of Gift hamper combos here
The ChessBase India Catalogue
The ChessBase India catalogue can be accessed over here. In order to make your task easier, we have also jotted down all the products below.
Softwares:
Books