The Mega Diwali Sale 2020 with the launch of ChessBase 16!
Each year ChessBase India has a massive Diwali Sale in the month of November. This year as well we have it from the 7th of November 2020 (12 p.m). to 9th of November 2020 (12 p.m.) What's more, this year you have a chance to make the festive season even more special with the all-new ChessBase 16. The flagship product of ChessBase will be released on 17th of November, but you can already save yourself a huge amount by pre-ordering ChessBase 16, Mega Database 2021 and some more products in the next two days! There are many more surprises in store for you and also some of our recommendations, check them out in the article below.
The Mega Diwali Sale 2021
The ChessBase India Mega Diwali sale begins on the 7th of November 2021 (at 12 p.m. IST) and lasts for 48 hours. It ends on the 9th of November 2021 (at 12 p.m. IST). Everything in the ChessBase India shop is on sale. Here's what we are offering you this Diwali:
If you buy between
Rs. 1 to Rs. 1,500 you get 5% off
Rs.1501 to Rs. 7,500 you get 10% off
Rs. 7,501 to Rs. 15,000 you get 15% off
Rs. 15,001 to 25,000 you get 20% off
Rs. 25,001 and above you get 25% off
*The amount of discount depends on your sub-total which is before GST.
Download our product catalogue to make quick choices
Go to the ChessBase India Shop!
ChessBase 16: Your key to fresh ideas, precise analyses and targeted training!
The most awaited ChessBase 16 is now here! It will be launched on the 17th of November 2020, but we at ChessBase India have it for pre-order in our shop from the 7th of November already! ChessBase is a personal, stand-alone chess program that has become the standard throughout the world. Everyone uses ChessBase, from the World Champion to the amateur next door. It is the program of choice for anyone who loves the game and wants to know more about it. ChessBase 16 is the latest edition of the flagship software.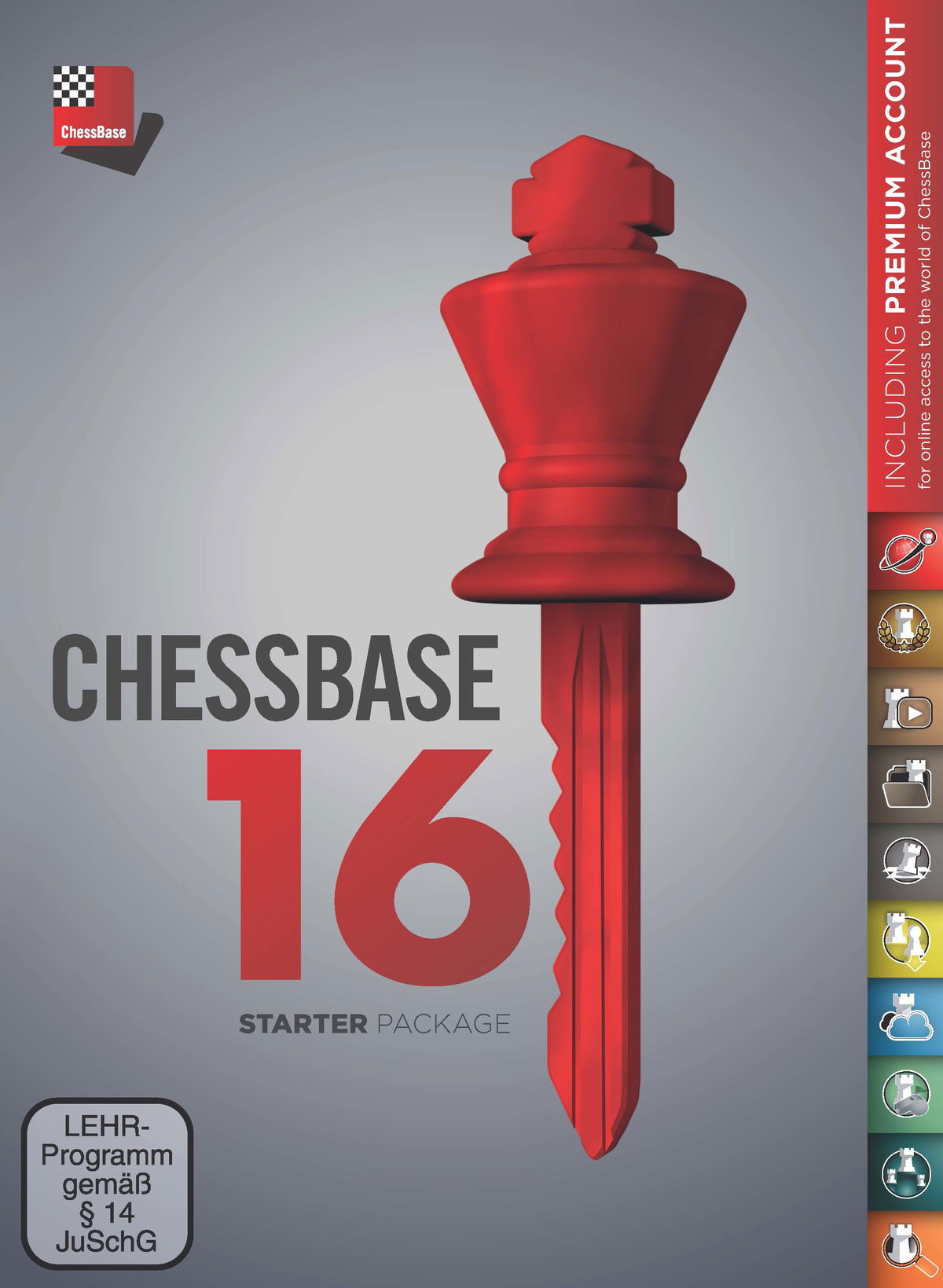 New features:
1. Repertoire recommendations for every move with a single click. With a choice of focus: Main Variations, Fashion, Side Lines, Attacking, Gambits, Endgame
2. Better overview when playing through deeply analysed games thanks to dynamic folding of the notation
3. Urgent news about recently played innovations with direct access to the database
4. Preparation for opponents with recognition of their weaknesses taking into account your own repertoire
5. Innovations and trends as annotations in Tactical Analysis
6. Update service for MegaDatabase with a single click
7. After an update to Megadatabase, overview of important recent innovations and theoretical trends.
8. Search for characteristic tactical positions in an opening variation
9. Slimmed down search booster: required hard disk space halved
Automatic opening surveys
The central new function in ChessBase 16 consists of automatic opening surveys for any move whatsoever. Until now opening preparation was above all about move selection. With the traditional tools such as LiveBook, Reference and Online Database, however, one's attention is strongly concentrated on only the next move. It is much more effective to have a variation tree, an opening survey. ChessBase now provides that. At a glance you will see the complete opening in front of your eyes and you can immediately evaluate which variations are important to master safely. This ready survey can perhaps be supplemented by material you have prepared yourself and thus quickly becomes part of your own repertoire.
But how is the move selection made? That may happen through an algorithm, but it is you who set the parameters, the style of the opening choice. To set it there is the choice between Main Lines – Fashion – Side lines – Gambit – Attack – Positional and Endgame. I would like to briefly present some of the styles which are perhaps most important for your practice.
"Fashion". In it moves are selected which dominate modern practice. This often results in considerable deviations from the traditional main variations and delivers the most interesting and theoretically best founded survey. For the time-poor practician we recommend the "Side lines" style. Just as on a Google search we usually click only on the top links, in opening preparation too those moves which are frequently played and at the top of the list exercise a magnetic attraction. Like this, very playable secondary systems are overlooked through which passable positions can be reached and which demand little preparation time. There is a somewhat flashy opening survey in "Gambit" style, which takes into account any half-way playable sacrifice. Almost every one of the known gambits in chess theory will certainly show up in these surveys. Then we also have the style "Attack". It searches in respectable recent games for the sharpest continuations possible. That leads to very aggressive secondary systems, e.g. often with an early h2-h4. When you wonder: "Who plays something like that?", the answer is quite often "Magnus Carlsen".
The search is based on your own reference database, thus best of all the latest Mega Database including the online updates. If someone else with a reasonably up-to-date reference database has already looked at a survey from that particular move it (while adjustable) comes directly from the server and thus is ready immediately.
Smooth handling of deep variation trees
Opening surveys with deeply nested variations make particular demands on the representation of the notation. For that reason ChessBase 16 possesses a new way of "folding" variations which can be opened or closed simply with a click of the mouse. Another novelty is the automatic recognition of games quoted. All the opening surveys of ChessBase 16 contain pointers to recent strong sample games.
Real time notifications of interesting opening trends
The tactical analysis for automatically commenting on games is extended by means of particular opening comments. ChessBase 16 recognises whether an innovation is important and comments appropriately. Furthermore, hints are provided to recent theoretical trends and successful secondary systems.
Further innovations in brief
Update of Mega database with one click. Improved search booster with a need for half the space on your hard disk. Link to ChessBase Shop with direct installation of purchased products. Preparation for opponents with spotting of weaknesses based on your own repertoire. Search for characteristic tactical positions in an opening variation.
System requirements:
Minimum: Pentium-PC, 1 GB RAM, Windows 7 and above , DirectX9 graphics card with 256 MB RAM, Windows Media Player 9 and Internet access to activate the program, ChessBase Cloud and updates.
Recommended: PC Intel Core i7, 2.8 GHz, 8 GB RAM, Windows 10, DirectX10 graphics card (or compatible) with 512 MB RAM or more, Windows Media Player, , Adobe Flash Player (Live coverage), Full HD Monitor and Internet access to activate the program, ChessBase Cloud and updates.
Mega Database 2021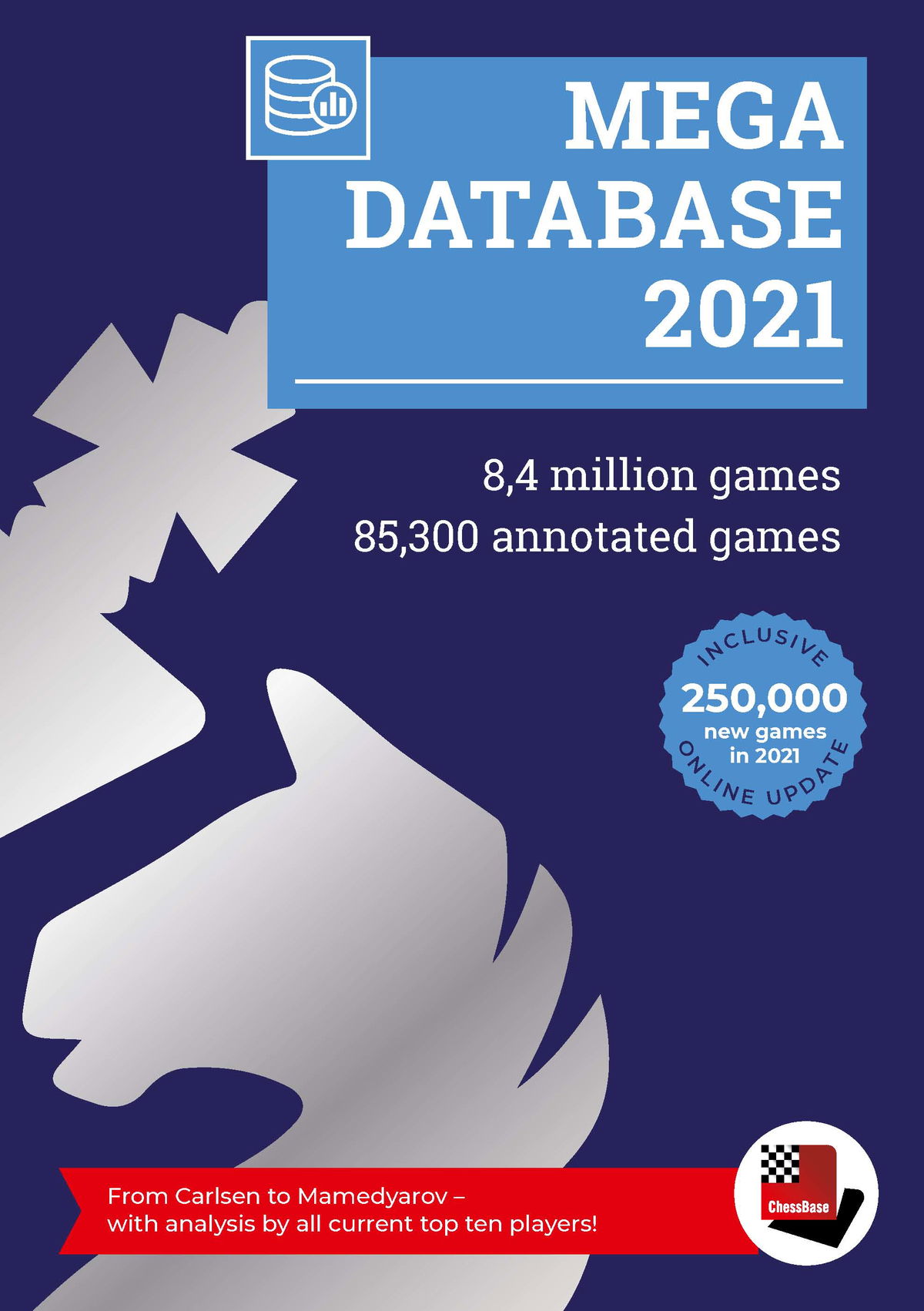 The ChessBase Mega Database 2021 is the premiere chess database with over 8.4 million games from 1560 to 2020 in high quality. Packing more than 85,000 annotated games, Mega 2021 contains the world's largest collection of high-class analysed games. Train like a pro! Prepare for your opponents with ChessBase and the Mega Database 2021. Let grandmasters explain how to best handle your favorite variations, improve your repertoire and much more.
1. Includes Mega Update Service 2021: update your Mega with your ChessBase 16/15 program every week with over 5,000 new games. That's about 250,000 new games by the end of 2021!
2. New, comfortable menu with even more top-level tournaments than ever before!
3. Direct access to the games of all the World Championships, among the over 450 years of chess knowledge.
4. Player lexicon for download with over 600,000 player names and more than 40,000 player photos (only with ChessBase 16 or 15)
Serial key required of 2020 to be mailed to ChessBase India
What are the variations of ChessBase 16 available?
If you have bought ChessBase 15 from the ChessBase India or ChessBase shop, you can avail this upgrade option. It has all the features of a complete version of ChessBase 16. It is our way of saying a thank you to our trusted and dedicated users.
Cost of ChessBase 16 = Rs.3715.82, cost of Mega Database 2021 is Rs.5898.82. Total amount = Rs.9614.64. However if you go for the ChessBase 16 + Mega Database 2021 combo, it will cost you Rs.8553.82. A total saving of Rs.1060.82
Cost of ChessBase 16 upgrade = Rs.3538.82. Cost of Mega Database 2021 upgrade = Rs.2240.82. Total amount = Rs.5779.64
ChessBase 16 Mega Pack for Rs.10618.82
ChessBase 16 (Rs.3149) + Mega Database 2021 (with one year weekly updates) - (Rs.4999) + 1 year of ChessBase Premium Account - (Rs.1499) + 1 year of ChessBase Magazine (6 issues of CBM) - (Rs.699*6 = 4194).
Actual cost: Rs.13841 + GST
CB 16 Mega Pack cost: Rs.8999 + GST
Total savings: Rs. 4842
ChessBase 16 Premium Pack for Rs. 17698.82
ChessBase 16 Premium Pack includes:
ChessBase 16 -Rs 3149, Mega Database 2021-Rs 4999, 1 year of ChessBase Premium Account) Rs 1499, 1 year of ChessBase Magazine (6 issues of CBM) - (Rs.699*6) = Rs 4194, Fritz 17- Rs 2899 Opening Encyclopaedia- Rs 2999.
Actual cost: Rs.19,739 + GST
CB 16 Premium Pack cost: Rs.14999 + GST
And you also get a T-shirt worth Rs 599 free with this product! (The t-shirt is only for orders from India)
Total saving Rs. 5339!
You mustn't miss this chance to learn Ruy Lopez from one of the experts of opening - Fabiano Caruana.
One of the most recent products in the shop - learning from Ivan Sokolov
The best way to learn the classics is through the games of the best players of the past.
Learning the London System has never been easier
Get all those secret games from which the best in the world of chess prepare - the correspondence games!
If you do not have the CB16 Mega Pack or the CB 16 Premium Pack, you would want to get your hands on the subscription of the ChessBase Magazine
After you get this one, you never have to worry against 1.d4! A solid system with the Nimzo and an aggressive one with the Benoni
Vidit's series on Caro Kann has been a constant best-seller at ChessBase India. If you would like to learn the Caro Kann, this is your best resource.
Ever since Carlsen started playing the Sveshnikov, it has been one of the most popular openings in the world of chess. Along with it, you can also go for the Kalashnikov, to have two nice weapons in your arsenal.
Learning from Daniel King's Powerplay is one of the best ways to strengthen your chess foundation:
Learn the Dragon from the man who is dubbed to be one of the best authors on the opening - GM Chris Ward
Please note: This discount offer is not valid on Ducats.
Quality Chess Books:
There are many Quality Chess Books which we could recommend to you.
If you are planning to take that next leap to improve your chess, you should definitely look at Aagaard's Grandmaster preparation series
The Chess Course:
The Chess Course by FI Praful Zaveri is one of the most popular books in the chess world. It has sold over 100,000 copies! The author has one main book - "The Chess Course" which is supplemented with six training books. Buying this product will give you 7 books. You learn and practice from the main book and solve exercises from the workbook. To get to know everything about the product checkout the video created by ChessBase India with the author of the book himself FI Praful Zaveri.
Dvoretsky's 5 book combo can help to improve your chess in a big way!
It's time to learn from Alphazero! Game Changer has been one of the most sought after books in our shop.
If you are looking to improve your endgame then go for Silman's Complete Endgame course and if you are looking to improve your understanding of chess you have the Reassess your chess book - both of them written by Jeremy Silman.
Accessories:
If you are ordering a book, or a ChessBase DVD, it might be a good idea to get your hands ChessBase India t-shirts
Check out the t-shirts in the ChessBase India Shop
Important Links for smooth shopping!
ChessBase India shop main page
Browse through our shop with the catalogue given below. All the links take you to the appropriate product in the ChessBase India shop
Softwares
Books
Accessories
---