MPL 34th National U-14 R3-4: Sannidhi Bhat scores two big wins
24th seeded newly crowned Maharashtra State Under-14 Girls champion, Sannidhi Ramakrishna Bhat (1373) undoubtedly had a fantastic day in MPL 34th National Under-14 Girls Chess Championship 2022. The 12-year-old girl outplayed fourth seeded Anupam Sreekumar (KER, 1673). Then she defeated second seeded Sachi Jain (DEL, 1768) in the following round. She is now in the lead with the reigning National Under-14 Girls champion, Shubhi Gupta (UP, 1613). Top seed CM Om Manish Kadam (MAH, 2144), CM Daakshin Arun (TN, 2016), Koustuv Dash (ODI, 1910) and John Veny Akkarakaran (KER, 1855) are the four leaders at 4.0/4 in the Open section. Round 5 starts today at 9:30 a.m. IST. Photo: Aditya Sur Roy
John Veny Akkarakaran beats second seed Md. Imran
West Bengal State Under-14 Open champion, Snehil Raj Singh (1545) defeated CM Mayank Chakraborty (ASM, 2015) in the third round. In the fourth round, John Veny Akkarakaran (KER, 1855) won against the second seed of the Open section, Md. Imran (AP, 2122). Third seeded Ilamparthi A R (TN, 2121) was held to a draw by Shankhodip De (WB, 1810). In an all-West Bengal encounter, Sneha Halder (1557) drew with the top seed Mrittika Mallick (1982).
Open Round 3: Mayank - Snehil: 0-1
Reigning West Bengal State Under-14 Open champion Snehil Raj Singh (WB, 1545) made the most out of his opportunity against CM Mayank Chakraborty (ASM, 2015)
28.Rd5 Qe1+ 29.Ka2 Qxe4 30.Rxh4 Rxf4 would have kept things balanced. 28.Rxa6 cost White the knight without enough compensation 28...Qe1+ 29.Ka2 Rxf4 30.Qxa4 Kf8. Despite black king being relatively more exposed than white's, there are not sufficient pieces to exploit it.
Round 4: Imran - John: 0-1
Things started falling apart quickly for the current Andhra Pradesh State Under-16 and Rapid champion, Md. Imran (2122) when he made an incorrect exchange. Thus, allowing his opponent John Veny Akkarakaran (KER, 1855) to invade through the second rank.
28.Rd1 prevents Ra2/Rd2 threats. 28.Nxe6 enables them both. 28...Nxe6 now 29.Re2 is not even good due to the fall of the b3-pawn Qxb3. White succumbed to Black's attacks in another seven moves.
Girls Round 3: Sannidhi - Anupam: 1-0
The newly crowned Maharashtra State Under-14 Girls champion Sannidhi Ramakrishna Bhat (1373) got a completely winning position within 15 moves against the reigning Kerala State Under-14 Girls champion, Anupam M Sreekumar (1673).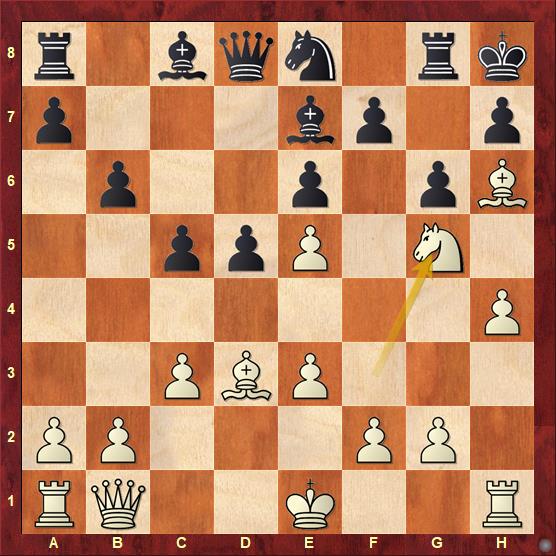 White got a dream position after 14.Ng5. There is not much left for Black to do here. Sannidhi converted her advantage into a win comfortably.
Round 4: Sachi - Sannidhi: 0-1
Sachi Jain's (DEL, 1768) all out attack on the kingside did not work out against Sannidhi Ramakrishna Bhat (MAH, 1373).
Black could have taken on e5 right away 32...Nxe5 as 33.Qxe5 runs into Bd6. However, she did it in another five moves. White's overstretched pawns became a target over time and Sannidhi had no trouble seizing her advantage.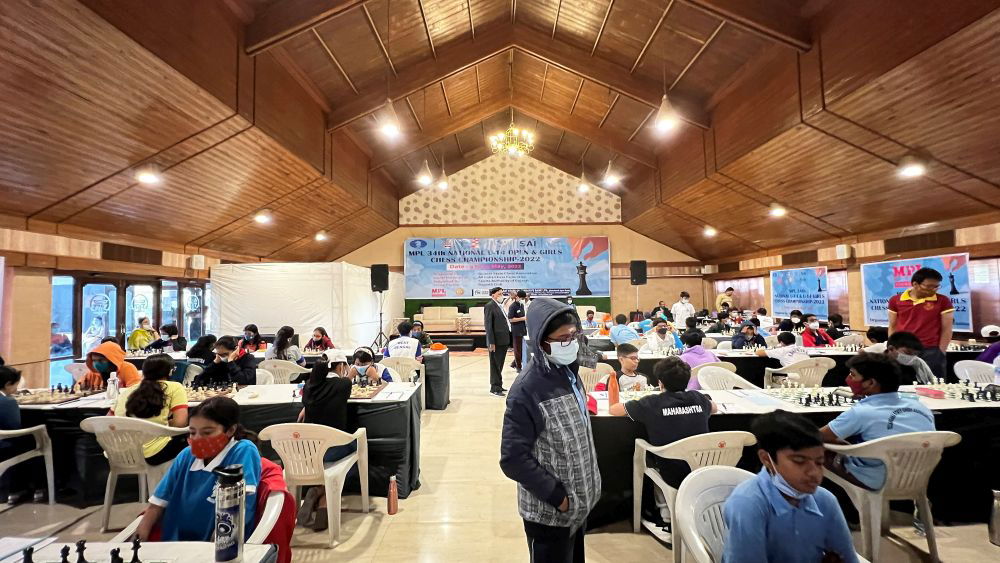 For more Round 3 and Round 4 photos, please click at the respective links.
A total of 214 players in the Open and 107 players in the Girls tournament are taking part. It is organized by Gujarat State Chess Association. Both tournaments are taking place at Rajpath Club, Ahmedabad, Gujarat from 9th to 14th May 2022. The eleven-round Swiss league tournament has a time control of 90 minutes + 30 seconds increment from move no.1.
Replay Open Round 3-4 games
Replay Girls Round 3-4 games
Open Round 4 results
Round 5 pairings
Girls Round 4 results
Round 5 pairings
---