John Veny Akkarakaran and Mrittika Mallick become MPL 34th National U-14 Open and Girls Champions 2022
John Veny Akkarakaran (KER) and Mrittika Mallick (WB) drew their respective games to win MPL 34th National Under-14 Open and Girls Chess Championship 2022. Both of them scored 9.0/11 each. Mrittika needed a draw in the final round to win the tournament, however, things were not clear whether a draw would be enough for John to become the champion. All results eventually turned out in his favor. Gaurang Bagwe (MAH) also scored 9.0/11. He was placed second on tie-breaks. A R Ilamparthi (TN) was placed third 8.5/11. Pragnya H G (TN) and Anupam Sreekumar (KER) scored 8.5/11 to secure second and third place respectively. Photo: Aditya Sur Roy
Multiple states finish in the top 10
Both Runner-up in each section, Gaurang Bagwe (MAH) and Pragnya H G (TN) won their respective final round games to secure second place. Whiel Mrittika remained undefeated, John bounced back well from his seventh round loss against the top seed of the tournament, CM Om Manish Kadam (MAH). Total prize fund of the tournament was ₹400000 in each section. Top three prizes were ₹80000, ₹60000 and ₹50000 along with a trophy each.
Koustuv - Gaurang: 0-1
Koustuv Dash (ODI, 1910) blundered in the final part of the rook endgame against Gaurang Bagwe (MAH, 1789).
The rook endgame was undoubtedly difficult for White to play as Black had an outside passed pawn on the h-file. 40.b4 would have allowed White to continue the fight. However, 40.Rb4 trapped his own rook b5. To get the rook back into play, White had to give up a pawn 41.d5 exd5 42.Rd4 Ke5. Now White is about to lose another pawn and there is no way to get back in the game anymore. With this win, Gaurang scored 9.0/11 and secured second place on tie-breaks.
Pragnya - Sannidhi: 1-0
Pragnya H G (TN, 1605) scored an important victory in the final round against Sannidhi Ramakrishna Bhat (MAH, 1373) to secure second place.
Black's position already looks wobbly. 19...h6 did not help her case. Find out how to maximize White's advantage like Pragnya did in the game.
Photo Gallery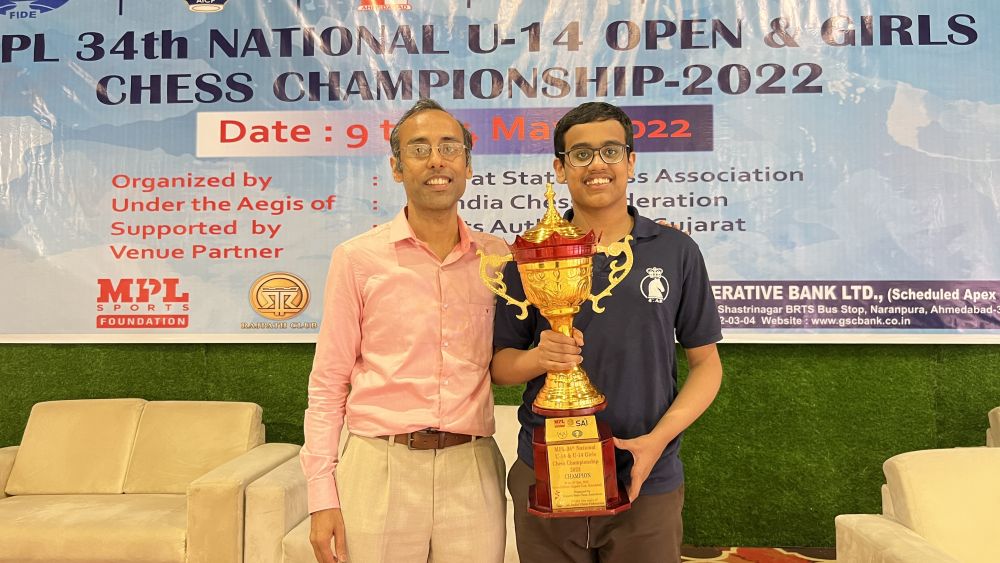 For more Round 11 and Prize Distribution Ceremony photos, please click at the respective links.
A total of 214 players in the Open and 107 players in the Girls tournament took part. It was organized by Gujarat State Chess Association. Both tournaments were held at Rajpath Club, Ahmedabad, Gujarat from 9th to 14th May 2022. The eleven-round Swiss league tournament had a time control of 90 minutes + 30 seconds increment from move no.1.
Replay Open Round 11 games
Replay Girls Round 11 games
Open Round 11 results
Final standings
| | | | | | | | | | | | | |
| --- | --- | --- | --- | --- | --- | --- | --- | --- | --- | --- | --- | --- |
| Rk. | SNo | | Name | FED | Rtg | Club/City | Pts. | TB1 | TB2 | TB3 | TB4 | TB5 |
| 1 | 13 | | John Veny Akkarakaran | IND | 1855 | Kerala | 9,0 | 72,5 | 77,5 | 61,25 | 0,0 | 8 |
| 2 | 22 | | Bagwe Gaurang | IND | 1789 | Maharashtra | 9,0 | 71,0 | 76,0 | 61,00 | 0,0 | 8 |
| 3 | 3 | | Ilamparthi A R | IND | 2121 | Tamil Nadu | 8,5 | 73,0 | 79,0 | 58,50 | 0,0 | 7 |
| 4 | 9 | | Bharadia Yash | IND | 1924 | Rajasthan | 8,5 | 70,0 | 74,0 | 55,25 | 0,0 | 7 |
| 5 | 20 | | Abhash Roimya Saikia | IND | 1794 | Assam | 8,5 | 68,5 | 73,5 | 55,25 | 0,0 | 7 |
| 6 | 27 | | Jval Saurin Patel | IND | 1712 | Gujarat | 8,5 | 66,0 | 71,0 | 55,50 | 0,0 | 8 |
| 7 | 1 | CM | Kadam Om Manish | IND | 2144 | Maharashtra | 8,0 | 79,5 | 85,5 | 61,75 | 0,0 | 7 |
| 8 | 11 | | Koustuv Dash | IND | 1910 | Odisha | 8,0 | 78,0 | 83,0 | 58,25 | 0,0 | 6 |
| 9 | 26 | | Arpith S Bijoy | IND | 1713 | Kerala | 8,0 | 69,5 | 74,5 | 53,25 | 0,0 | 6 |
| 10 | 21 | AIM | Vaz Ethan | IND | 1792 | Goa | 8,0 | 69,0 | 73,5 | 49,75 | 0,0 | 7 |
| 11 | 17 | | Shankhodip De | IND | 1810 | West Bengal | 8,0 | 67,0 | 72,0 | 51,25 | 0,0 | 7 |
| 12 | 50 | | Aayush Bhojak | IND | 1494 | Rajasthan | 8,0 | 65,0 | 69,0 | 46,00 | 0,0 | 8 |
| 13 | 29 | | Aswath S | IND | 1694 | Tamil Nadu | 7,5 | 75,0 | 80,5 | 53,00 | 0,0 | 6 |
| 14 | 6 | | Shaik Sumer Arsh | IND | 1999 | Telangana | 7,5 | 75,0 | 80,0 | 51,00 | 0,0 | 6 |
| 15 | 12 | | Adireddy Arjun | IND | 1898 | Telangana | 7,5 | 69,5 | 74,5 | 48,25 | 0,0 | 6 |
| 16 | 4 | CM | Daakshin Arun | IND | 2016 | Tamil Nadu | 7,5 | 68,5 | 74,0 | 46,00 | 0,0 | 7 |
| 17 | 34 | | Daaevik Wadhawan | IND | 1603 | Delhi | 7,5 | 68,5 | 73,5 | 47,00 | 0,0 | 6 |
| 18 | 24 | | Dhruva Thota | IND | 1743 | Telangana | 7,5 | 67,0 | 72,0 | 45,75 | 0,0 | 7 |
| 19 | 31 | CM | Mrithyunjay Mahadevan | IND | 1661 | Tamil Nadu | 7,5 | 64,5 | 69,0 | 45,50 | 0,0 | 5 |
| 20 | 64 | | Raihaan Zahid | IND | 1457 | Karnataka | 7,5 | 64,5 | 69,0 | 43,25 | 0,0 | 7 |
Girls Round 11 results
Final standings
| | | | | | | | | | | | | |
| --- | --- | --- | --- | --- | --- | --- | --- | --- | --- | --- | --- | --- |
| Rk. | SNo | | Name | FED | Rtg | Club/City | Pts. | TB1 | TB2 | TB3 | TB4 | TB5 |
| 1 | 1 | | Mrittika Mallick | IND | 1982 | West Bengal | 9,0 | 72,0 | 77,5 | 62,50 | 0,0 | 7 |
| 2 | 6 | | Pragnya H G | IND | 1605 | Tamil Nadu | 8,5 | 71,5 | 75,0 | 55,75 | 0,0 | 7 |
| 3 | 4 | | Anupam M Sreekumar | IND | 1673 | Kerala | 8,5 | 71,0 | 75,5 | 55,75 | 0,0 | 7 |
| 4 | 9 | | Roy Aanya | IND | 1560 | Maharashtra | 8,0 | 75,5 | 80,5 | 56,50 | 0,0 | 6 |
| 5 | 10 | | Sneha Halder | IND | 1557 | West Bengal | 8,0 | 71,0 | 75,5 | 53,25 | 0,0 | 6 |
| 6 | 5 | AFM | Shubhi Gupta | IND | 1613 | Uttar Pradesh | 8,0 | 68,0 | 73,5 | 50,75 | 0,0 | 7 |
| 7 | 24 | | Bhat Sannidhi Ramakrishna | IND | 1373 | Maharashtra | 7,5 | 75,5 | 81,0 | 52,25 | 0,0 | 6 |
| 8 | 20 | AFM | Sanikommu Manasvi | IND | 1399 | Karnataka | 7,5 | 72,0 | 77,0 | 49,25 | 0,0 | 6 |
| 9 | 11 | | Shreya G Hipparagi | IND | 1548 | Maharashtra | 7,5 | 71,5 | 76,5 | 49,50 | 0,0 | 6 |
| 10 | 16 | | Jeevika S | IND | 1433 | Puducherry | 7,5 | 67,5 | 72,0 | 47,00 | 0,0 | 5 |
| 11 | 28 | | Falak Joni Naik | IND | 1349 | Gujarat | 7,5 | 65,5 | 68,5 | 42,00 | 0,0 | 7 |
| 12 | 23 | | Pournami S | IND | 1376 | Kerala | 7,5 | 64,5 | 69,0 | 44,50 | 0,0 | 6 |
| 13 | 3 | | Rout Yashita | IND | 1718 | Odisha | 7,5 | 64,0 | 67,0 | 43,50 | 0,0 | 5 |
| 14 | 26 | WCM | Shriyana S Mallya | IND | 1353 | Karnataka | 7,5 | 62,5 | 67,0 | 42,50 | 0,0 | 6 |
| 15 | 22 | | Debapriya Manna | IND | 1384 | West Bengal | 7,0 | 66,5 | 71,5 | 44,00 | 0,0 | 5 |
| 16 | 38 | | Arushi Srichandan | IND | 1292 | Odisha | 7,0 | 66,5 | 71,0 | 42,00 | 0,0 | 5 |
| 17 | 43 | | Aashi Upadhyay | IND | 1266 | Rajasthan | 7,0 | 64,5 | 68,5 | 41,25 | 0,0 | 5 |
| 18 | 25 | | Yashvi Jain | IND | 1362 | Telangana | 7,0 | 62,5 | 66,5 | 42,00 | 0,0 | 6 |
| 19 | 33 | | Krishika Garg | IND | 1318 | Delhi | 7,0 | 62,0 | 66,0 | 35,50 | 0,0 | 7 |
| 20 | 41 | | Olivia Biswas | IND | 1288 | West Bengal | 7,0 | 61,5 | 64,0 | 36,50 | 0,0 | 6 |
---