John and Mrittika move closer to win the MPL 34th National Under-14 Open and Girls 2022
John Veny Akkarakaran (KER) made a good recovery by swindling CM Mayank Chakraborty (ASM) from a completely lost position. The crucial victory earned him a sole lead. Then he drew with Koustuv Dash (ODI) to stay ahead of the pack 8.5/10 in MPL 34th National Under-14 Open Chess Championship 2022. In the Girls section, top seed Mrittika Mallick (WB) scored two important victories over Maharashtra's Sannidhi Bhat and Aanya Roy respectively to claim the sole lead 8.5/10. She needs a draw in the final round against Anupam Sreekumar (KER) to win the tournament. Final Round 11 starts today at 9:30 a.m. IST. Photo: Aditya Sur Roy
Mrittika needs a draw, John in a must-win situation
John Veny Akkarakaran (KER) overcame his toughest challenge of the tournament in the form of CM Mayank Chakraborty (ASM) in the ninth round. However, he still needs to win the last round against Abhash Roimya Saikia (ASM) as a draw will leave his fate other player's hands. John does not have the best tie-breaks. On the other hand, both a win and a draw would ensure Mrittika becoming a clear champion. Tie-breaks will then become a non-factor.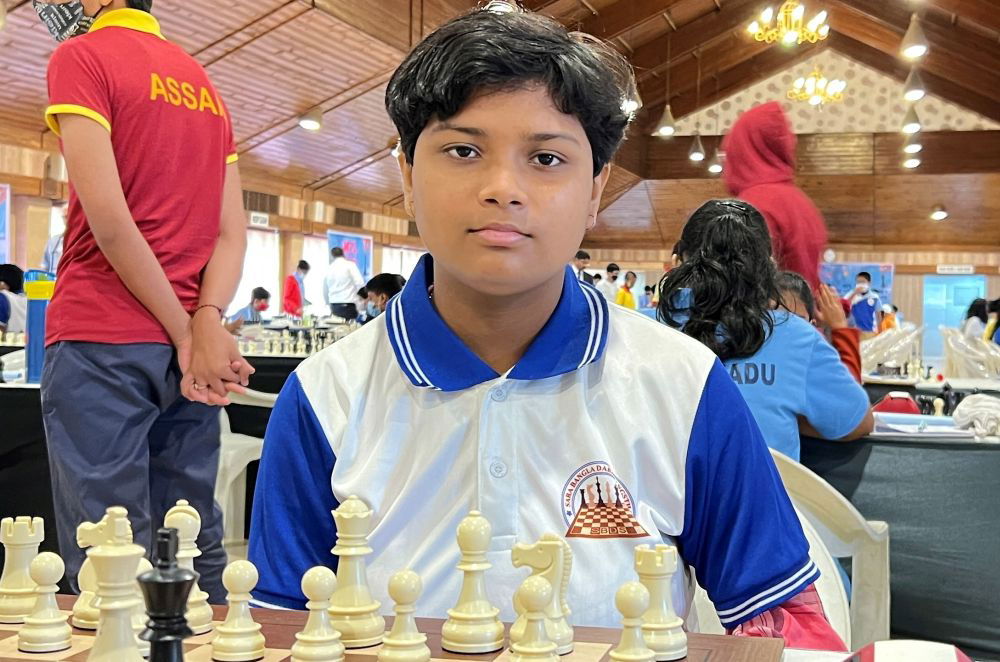 Open Round 9: Mayank - John: 0-1
CM Mayank Chakraborty (ASM, 2015) got a pleasant out of the opening against John Veny Akkarakaran (KER, 1855). He made an interesting rook sacrifice in t he middlegame.
30.Rxf7! utilizes the fact that Black has dark square weakness on the kingside. 30...Bxf7 immediately ends the game after 31.e6. Thus, 30...Kxf7 is forced. 31.Qxh7+ Ke8 32.Qh8+ Kd7 33.Qg7+ Kd8 34.Rf1 Bd7 a window of opportunity opened for White 35.e6 Qxe6 36.Be5 Rc6 37.Bxb8 e3.
White not only managed to recover the rook but also got a completely winning position. The only concern was the e3-passed pawn which eventually played a crucial role in Black snatching the victory from jaws of defeat.
Find out the winning continuation for White in the above position. It is certainly not an easy one. 48.Be5 e2 49.Bd4+ and it's all over for White after Kd5.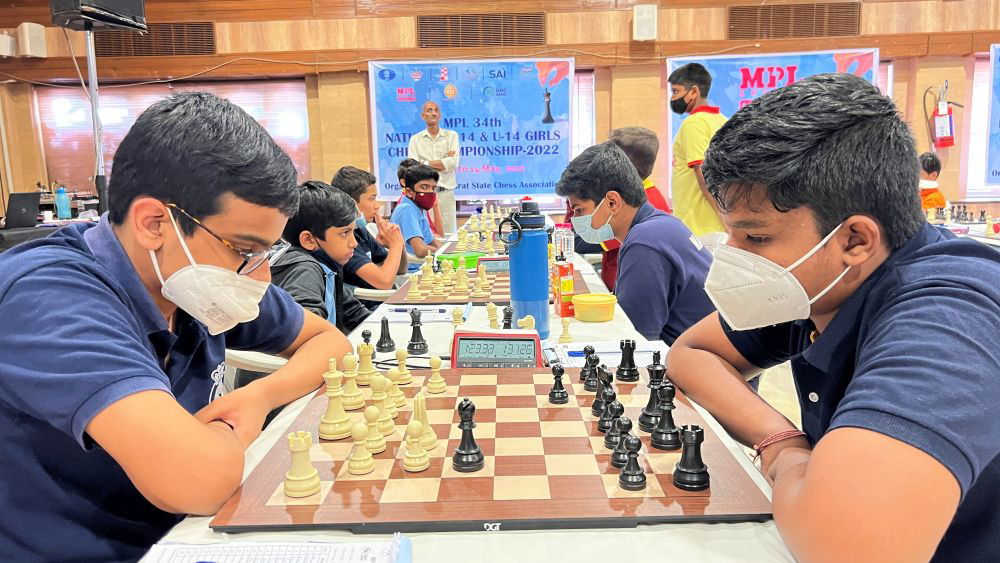 Girls Round 9: Mrittika - Sannidhi: 1-0
Mrittika Mallick (WB, 1982) missed a tactic which could have finished the game much earlier against Sannidhi Ramakrishna Bhat (MAH, 1373).
24.c5 immediately costs material for Black and the win is relatively much easier. The game continued 24.Bxf4 Bxf4 25.Rxe7 Rxe7 26.g3 Bd6 and now White once again got another opportunity to play 27.c5. The effect would not be exactly the same, still the position liquidates into a completely winning rook endgame for White. Nevertheless, Mrittika persevered and managed to win the game eventually.
Round 10: Aanya - Mrittika: 0-1
In a seemingly balanced position, Aanya Roy (MAH, 1560) retreated her knight which allowed her opponent, Mrittika Mallick (WB, 1982) to complete disintegrate her opponent's position.
Try to find out what White was unable to figure Black's counterplay while aiming for the a6-pawn with 29.Nb4. 29.b4 or Re3 would have held the position together.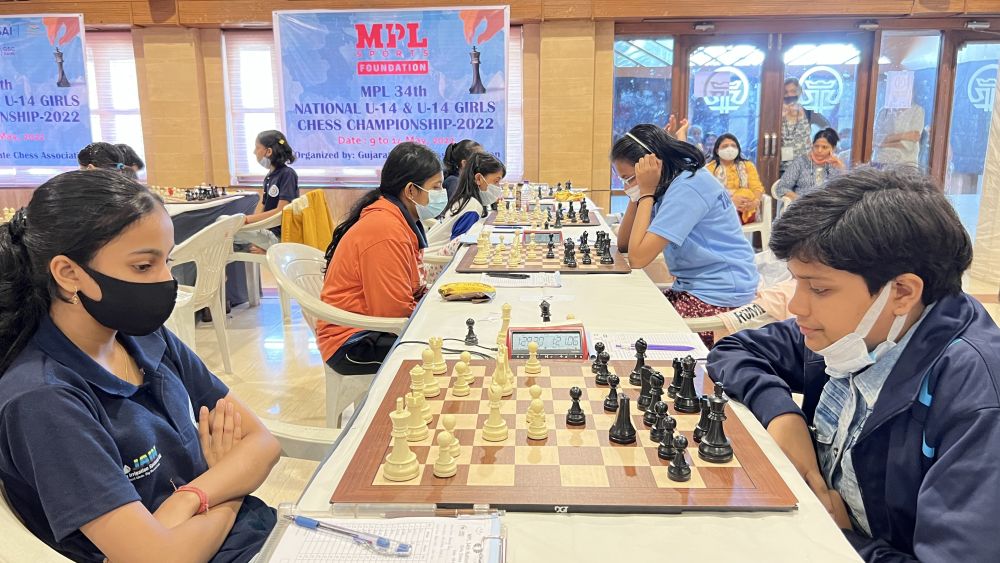 L to R: WFM Dhyana Patel with her mother, AICF Vice President and CEO of Gujarat State Chess Association, Bhavesh Patel, WIM Vishwa Vasnwala with her father Dr. Hitesh Vasnawala, Mayur Patel and Gujarat's first WIM Dhyani Dave.
For more Round 9 and Round 10 photos, please click at the respective links.
Video Gallery
A total of 214 players in the Open and 107 players in the Girls tournament are taking part. It is organized by Gujarat State Chess Association. Both tournaments are taking place at Rajpath Club, Ahmedabad, Gujarat from 9th to 14th May 2022. The eleven-round Swiss league tournament has a time control of 90 minutes + 30 seconds increment from move no.1.
Replay Open Round 9-10 games
Replay Girls Round 9-10 games
Open Round 10 results
Round 11 pairings
Girls Round 10 results
Round 11 pairings
---