MPL 34th National U-14 R1-2: Khushi Kaushal stuns third seed Yashita Rout
56th seeded Khushi Kaushal (HAR, 1213) scored the biggest upset of Round 1 in MPL 34th National Under-14 Girls Chess Championship 2022. The Haryana girl defeated third seeded Yashita Rout (ODI, 1718). The higher rated Yashita allowed her opponent to have a deadly passed pawn in the endgame. Athira A J (KER, 1217) ensured her opponent Sachi Jain (DEL, 1768) earn her full point in an interesting queen and bishop ending. CM Om Manish Kadam (MAH) and Mrittika Mallick (WB) are the top seeds in Open and Girls section respectively. They won both of their games comfortably. Round 3 starts today at 9:30 a.m. IST. Photo: Aditya Sur Roy
Only decisive games at the top
The Open section witnessed only one draw among top ten boards combining both rounds. The Girls section had three draws in total on the first day. The no-draw before the completion of 30 moves is certainly a good rule which was enforced to have fighting games in all rounds.
Girls Round 1: Yashita - Khushi: 0-1
Yashita Rout (ODI, 1718) was better for the majority of the game against Khushi Kaushal (HAR, 1213). However, a strange knight retreat allowing her opponent to have a deadly passed pawn cost her the game.
A simple recapture 37.axb3 would have sufficed. White would not have been any kind of danger. 37...Bc2 would not have caused a concern as 38.Rd2 keeps the b3-pawn tactically defended. 38...Bxb3 runs into 39.Nb4. However, 37.Ne3 invited trouble bxa2 38.Nxf5 Rb1 and it's over for White.
Athira - Sachi: 0-1
Athira A J (KER, 1217) had a difficult opportunity to save the game against Sachi Jain (DEL, 1768).
Black is threatening pawn promotion at e1 in one move, yet White can still save the game. Find out how. The game continued 48.Qe7+ and king made its way to its safe haven at f1.
The king made its way all the way from h8 to f1 in nine moves to find a shelter and make e1 threat unstoppable.
Photo Gallery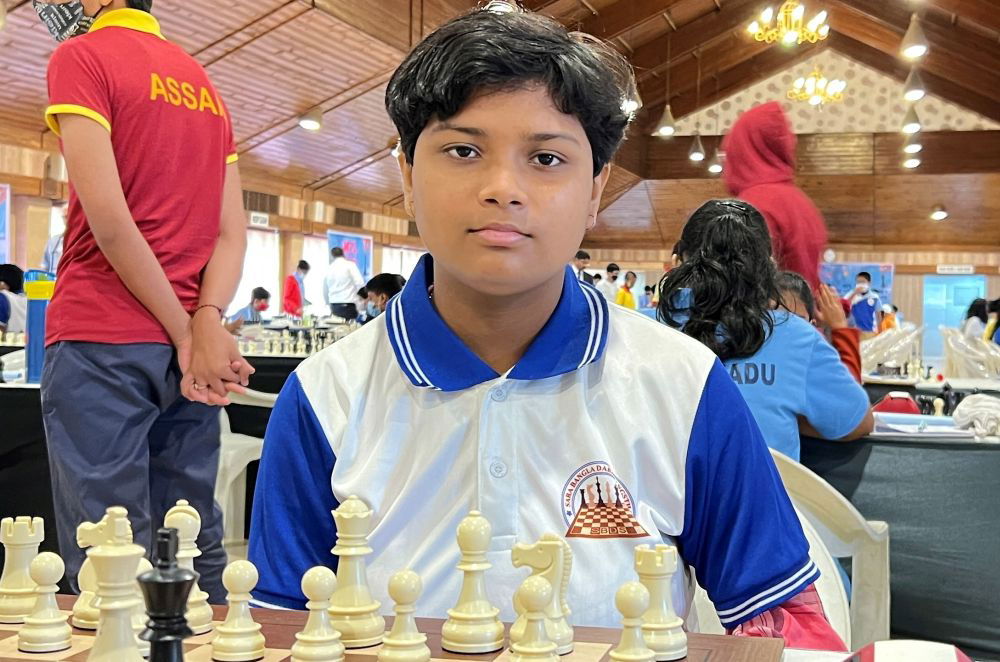 For more Inauguration Ceremony, Round 1 and Round 2 photos, please click at the respective links.
Video Gallery
A total of 214 players in the Open and 107 players in the Girls tournament are taking part. It is organized by Gujarat State Chess Association. Both tournaments are taking place at Rajpath Club, Ahmedabad, Gujarat from 9th to 14th May 2022. The eleven-round Swiss league tournament has a time control of 90 minutes + 30 seconds increment from move no.1.
Replay Open Round 1-2 games
Replay Girls Round 1-2 games
Open Round 2 results
Round 3 pairings
Girls Round 2 results
Round 3 pairings
---