Vivaan Vishal Shah and Charvi are the MPL 34th National Under-10 Open and Girls Chess Champions
In a dramatic turn of events, both top two boards of the Open section ended in draw. Vivaan Vishal Shah (GUJ) and Madhvendra Pratap Sharma (MP) both ended up with 9.0/11. However, Vivaan won the MPL 34th National Under-10 Open Chess Championship 2022 due to better tie-breaks. Madhvendra was placed second. Four players scored 8.5/11. Aansh Nandan Nerurkar (MAH) was adjudged third on tie-breaks. In the Girls event, Charvi A (KAR) won her final round game to win MPL 34th National Under-10 Girls Chess Championship 2022 with a massive two points ahead of the field. Aadya Ranganath (KAR) secured sole second place 8.5/11, followed by Hanya Shah (GUJ) third with 8.0/11. Photo: Aditya Sur Roy
Gujarat and Karnataka dominate the podiums
A total of ₹500000 prize fund was distributed among the top 15 finishers in each Open and Girls event. Top three prizes were ₹70000, ₹50000 and ₹35000 along with a trophy each respectively. A fun fact: Both Open and Girls event champion started the tournament as the second seeded player.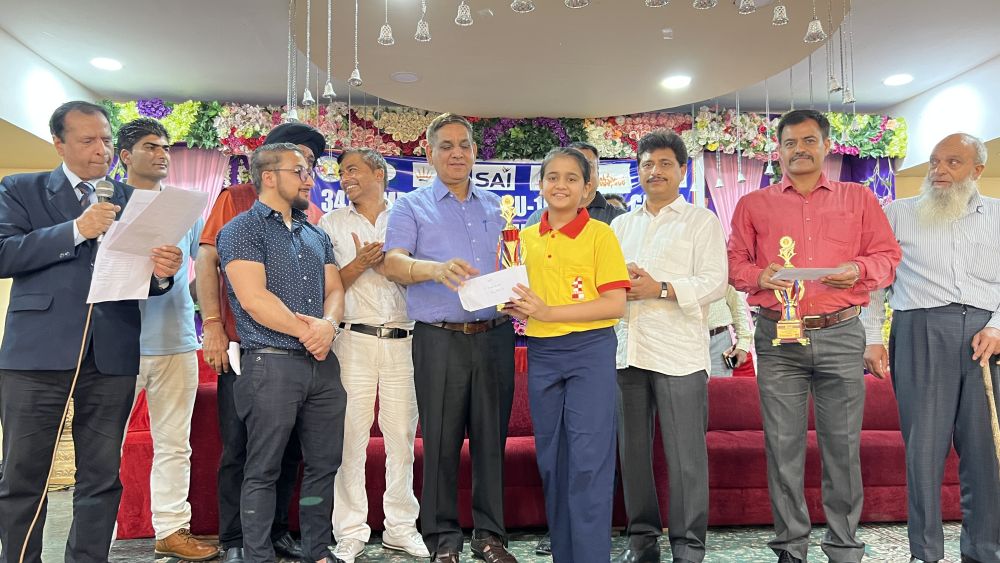 Open: Madhvendra - Shaashvat: 0.5-0.5
Shaashvat Gupta (MAH, 1156) had a few chances to spoil Madhvendra Pratap Sharma's (MP, 1527) tournament.
17...e5 first followed by d5 would have been very effective for Black as there are several threats looming large. Instead, Black opted for 17...d5 first. After 18.e5 Ne4 19.Rhe1 now b4 is still good for Black. 19...Nxc3 was played 20.Bxc3 and White is out of the woods. Black had a few more chances to stir up trouble for White, however he did not seize them.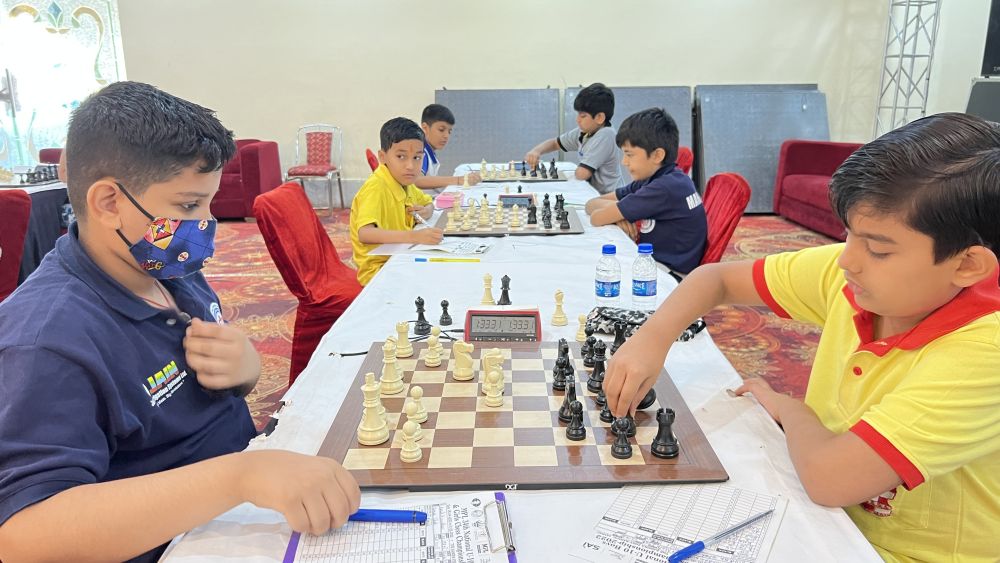 Girls: Anaya - Charvi: 0-1
Anaya Agarwal (TEL, 1171) went wrong early in the middlegame. Charvi A (KAR, 1291) spotted it with ease.
16...cxd3 is one of the ways for Black to seize the advantage. In the game, Charvi chose the simpler 16...Nh5 17.Qg4 Bxf3 18.Rxf3 dxe5 19.Qxc4 Rac8. Soon she gained material in five more moves and went on to win the game comfortably.
Photo Gallery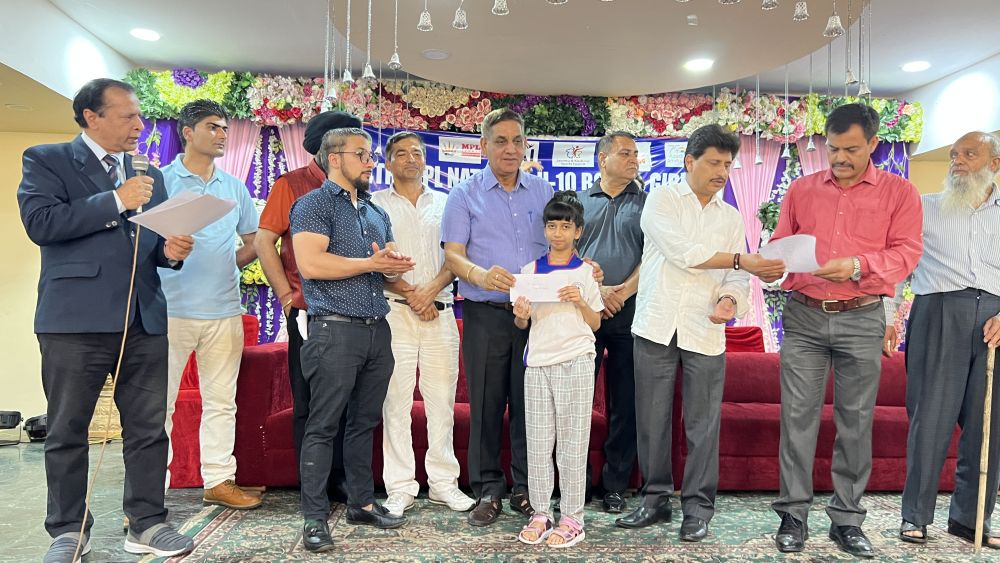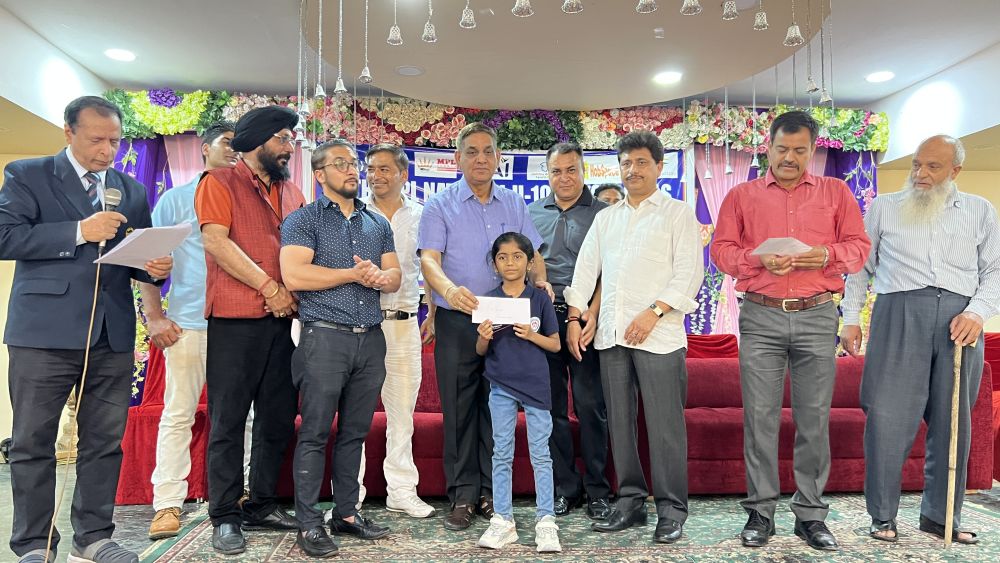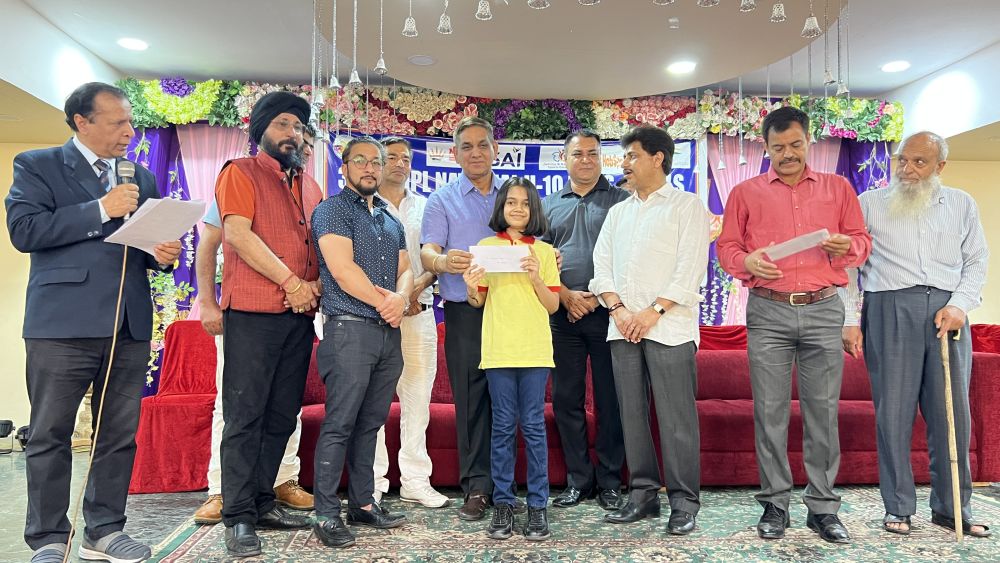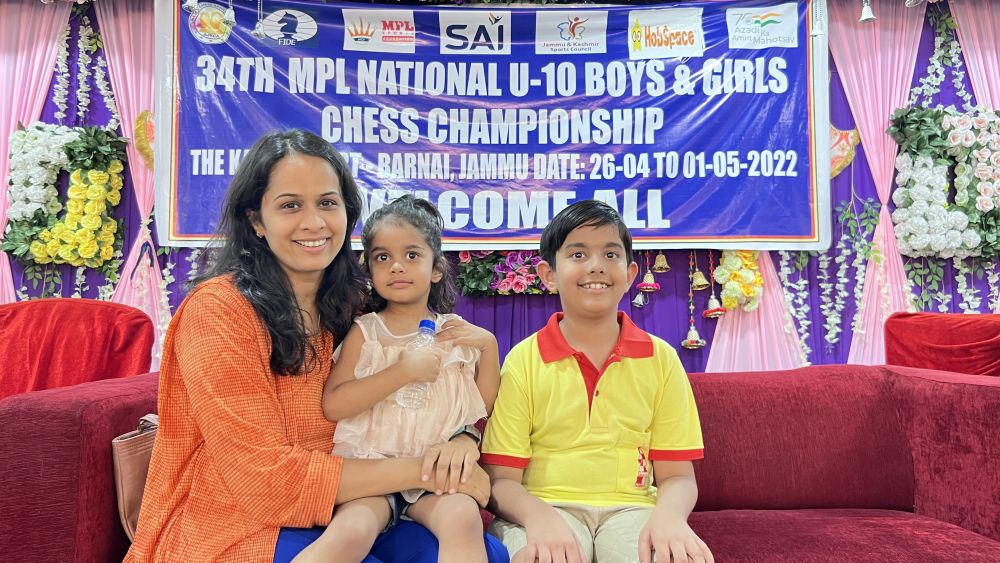 For more Round 11 and Prize distribution ceremony photos, please click here.
A total of 149 players in the Open and 89 players in the Girls tournament took part. It was organized by Crown Trust. Both tournaments were held at The Kangra Fort, Barnai, Jammu from 26th April to 1st May 2022. The eleven-round Swiss league tournament had a time control of 90 minutes + 30 seconds increment from move no.1.
Replay Open Round 11 games
Replay Girls Round 11 games
Open Round 11 results
Final standings
| | | | | | | | | | | | |
| --- | --- | --- | --- | --- | --- | --- | --- | --- | --- | --- | --- |
| Rk. | SNo | | Name | RtgI | Club/City | Pts. | TB1 | TB2 | TB3 | TB4 | TB5 |
| 1 | 2 | | Vivaan Vishal Shah | 1611 | Gujarat | 9,0 | 73,0 | 77,0 | 62,25 | 0,0 | 8 |
| 2 | 5 | | Madhvendra Pratap Sharma | 1468 | Madhya Pradesh | 9,0 | 72,0 | 76,5 | 59,00 | 0,0 | 8 |
| 3 | 4 | | Aansh Nandan Nerurkar | 1572 | Maharashtra | 8,5 | 75,0 | 78,0 | 57,25 | 0,0 | 6 |
| 4 | 39 | | Shaashvat Gupta | 1156 | Maharashtra | 8,5 | 71,5 | 76,0 | 56,00 | 0,0 | 7 |
| 5 | 17 | | Niladri Banerjee | 1288 | West Bengal | 8,5 | 68,0 | 72,0 | 52,50 | 0,0 | 8 |
| 6 | 105 | | Madhesh Kumar S | 1461 | Puducherry | 8,5 | 66,5 | 70,0 | 52,50 | 0,0 | 7 |
| 7 | 102 | | Krishay Jain | 1044 | West Bengal | 8,0 | 77,5 | 83,5 | 59,25 | 0,0 | 6 |
| 8 | 7 | | Mayukh Majumder | 1406 | West Bengal | 8,0 | 72,0 | 77,0 | 54,50 | 0,0 | 6 |
| 9 | 26 | | Pranav Sai Ram R S | 1298 | Tamil Nadu | 8,0 | 69,0 | 73,5 | 50,75 | 0,0 | 5 |
| 10 | 15 | | Rishabh Kumar | 1235 | Delhi | 8,0 | 67,5 | 70,5 | 49,50 | 0,0 | 7 |
| 11 | 21 | | Siddhanth Poonja | 1315 | Karnataka | 8,0 | 67,0 | 68,5 | 47,00 | 0,0 | 7 |
| 12 | 13 | | Apaar Saxena | 1391 | Karnataka | 7,5 | 69,0 | 73,5 | 46,50 | 0,0 | 6 |
| 13 | 27 | | Jagreet Misra | 1225 | Delhi | 7,5 | 67,5 | 71,0 | 43,00 | 0,0 | 6 |
| 14 | 18 | | Sanjay Narayanan P S | 1286 | Tamil Nadu | 7,5 | 67,0 | 71,5 | 46,50 | 0,0 | 6 |
| 15 | 12 | | Pavan Karthikeya Varma Gunturi | 1312 | Telangana | 7,5 | 65,0 | 70,0 | 47,75 | 0,0 | 5 |
Girls Round 11 results
Final standings
| | | | | | | | | | | | |
| --- | --- | --- | --- | --- | --- | --- | --- | --- | --- | --- | --- |
| Rk. | SNo | | Name | RtgI | Club/City | Pts. | TB1 | TB2 | TB3 | TB4 | TB5 |
| 1 | 2 | | Charvi A | 1291 | Karnataka | 10,5 | 71,0 | 76,0 | 72,00 | 0,0 | 10 |
| 2 | 12 | | Aadya Ranganath | 1127 | Karnataka | 8,5 | 66,0 | 68,5 | 51,00 | 0,0 | 7 |
| 3 | 11 | | Hanya Shah | 1169 | Gujarat | 8,0 | 75,0 | 80,5 | 55,00 | 0,0 | 7 |
| 4 | 13 | | Tanusri S | 1111 | Tamil Nadu | 8,0 | 72,0 | 74,0 | 49,75 | 0,0 | 7 |
| 5 | 10 | | Siddhi Rao | 1127 | Karnataka | 7,5 | 72,0 | 76,0 | 47,00 | 0,0 | 7 |
| 6 | 3 | | Krupha S Ukkali | 1221 | Karnataka | 7,5 | 70,5 | 75,0 | 47,00 | 0,0 | 7 |
| 7 | 14 | | Pal Vedika | 1101 | Maharashtra | 7,5 | 68,0 | 72,0 | 43,50 | 0,0 | 7 |
| 8 | 4 | | Banker Reya | 1195 | Gujarat | 7,5 | 67,5 | 73,0 | 48,00 | 0,0 | 6 |
| 9 | 20 | | Charudharshini R | 1045 | Tamil Nadu | 7,5 | 64,0 | 67,5 | 40,00 | 0,0 | 6 |
| 10 | 70 | | Saranya Devi Narahari | 1271 | Telangana | 7,5 | 60,0 | 64,0 | 41,00 | 0,0 | 6 |
| 11 | 54 | | Navieka Jaiswal | 0 | Jharkhand | 7,0 | 73,0 | 79,0 | 51,00 | 0,0 | 4 |
| 12 | 8 | | Anaya Agarwal | 1171 | Telangana | 7,0 | 70,0 | 74,0 | 40,25 | 0,0 | 6 |
| 13 | 43 | | Jyotika Sahoo | 0 | Odisha | 7,0 | 67,5 | 72,0 | 44,00 | 0,0 | 5 |
| 14 | 33 | | Arpita Patankar | 0 | Gujarat | 7,0 | 65,5 | 68,0 | 40,00 | 0,0 | 6 |
| 15 | 57 | | Panya Goel | 0 | Delhi | 7,0 | 65,0 | 67,0 | 40,50 | 0,0 | 4 |
---