Charvi clinches MPL 34th National Under-10 Girls Chess Championship 2022 with a round to spare
Karnataka's Charvi A won MPL 34th National Under-10 Girls Chess Championship 2022 with a round to go. She is now at an unbeaten 9.5/10. Her statemate Aadya Ranganath is the only one closest to her 8.0/10. However, she cannot catch up to her mathematically. In the Open section, Madhvendra Pratap Sharma (MP) extended his sole lead by a full point 8.5/9 heading into the final round. Second seed of the tournament, Vivaan Vishal Shah (GUJ) handed Madhvendra his first loss of the event and kept things exciting for the title fray. Both Vivaan and Madhvendra are now at 8.5/10, followed by Aansh Nandan Nerurkar (MAH), Shaashvat Gupta (MAH) and Krishay Jain (WB) at 8.0/10 each. Final Round 11 starts today at 8:30 a.m. IST. Photo: Aditya Sur Roy
Vivaan stops the Madhvendra juggernaut
Vivaan Vishal Shah (GUJ) became the answer to the perennial question - will anyone be able to stop Madhvendra's momentum? The second seeded boy checkmated Madhvendra to keep things exciting till the very last round in the Open section.
Open Round 9: Madhvendra - Apaar: 1-0
Madhvendra Pratap Sharma (MP, 1527) extended his lead by a full point when he defeated Apaar Saxena (KAR, 1306).
17...b6 was not the best way to defend the a5-pawn. It blindsided the a7-bishop for the rest of the game. 17...a4 or Ra8 are the plausible continuations. Black was virtually down by a piece, White had no trouble converting his advantage into a win.
Round 10: Vivaan - Madhvendra: 1-0
Second seede, Vivaan Vishal Shah (GUJ, 1665) brought an end to Madhvendra Pratap Sharma's (MP, 1527) unbeaten run.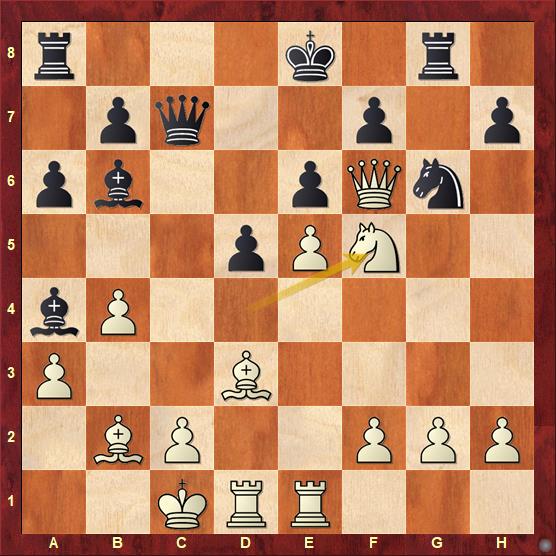 White launched a devastating attack via 18.Nf5. It is certainly not easy to defend for Black. Thus, Madhvendra could not manage to hold and Vivaan won the checkmated him eventually.
Girls Round 9: Vedika - Charvi: 0-1
Vedika Pal (MAH, 1101) first dropped a pawn in the endgame against Charvi A (KAR, 1267). Then she allowed the tournament leader to have a protected passed pawn.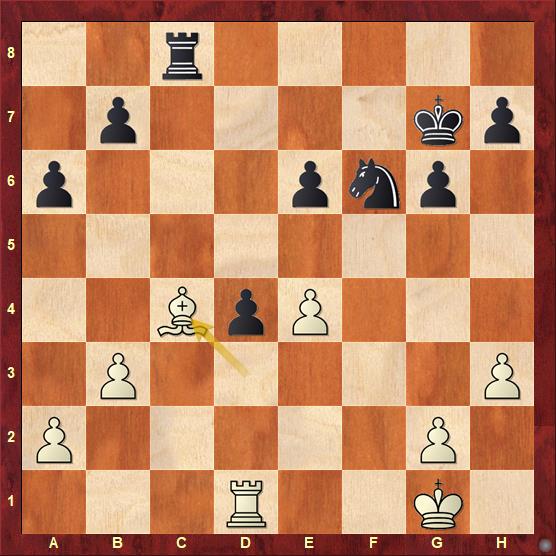 29.e5 Nd5 and then 30.Bc4 would have continued the fight. However, an immediate 29.Bc4 allowed Black to protect the d4-pawn with the obvious move e5. Rest was just a matter of time and technique. Black grabbed a few more pawns and won the game with ease.
Round 10: Charvi - Tanusri: 1-0
Charvi A (KAR, 1267) beautifully maneuvered her knight against Tanusri S (TN, 1111).
16...Nh5 is a mistake as it allows White to improve his knight's position. 17.Bxe7 Nxe7 18.Na4 Rf6 19.Nc5 b6 20.Nd7 Rf5 21.Ne5 Qg5 22.Qxg5 Rxg5 now 23.Nxc4 perhaps could have given a faster win. Nevertheless, 23.g4 Nf4 24.h4 allowed White to gain an exchange. With this win, Charvi won the tournament with a round to spare.
For more Round 9 and 10 photos, please click here.
Video Gallery
A total of 149 players in the Open and 89 players in the Girls tournament are taking part. It is organized by Crown Trust. Both tournaments are taking place at The Kangra Fort, Barnai, Jammu from 26th April to 1st May 2022. The eleven-round Swiss league tournament has a time control of 90 minutes + 30 seconds increment from move no.1.
Replay Open Round 9-10 games
Replay Girls Round 9-10 games
Open Round 10 results
Round 11 pairings
Girls Round 10 results
Round 11 pairings
---