Joytu Sheikh Hasina GM R4-6: Mitrabha and Sankalp in the lead 5.0/6
IM Sankalp Gupta beat IM Mitrabha Guha in the sixth round to share the lead at 5.0/6 in Joyu Sheikh Hasina International GM 2021. IM Aronyak Ghosh, IM Nubairshah Shaikh and IM Sayantan Das are just a half point behind at 4.5/6 each respectively. Mitrabha went for Sankalp's rook by giving up two minor pieces. Initially at a first glance it may look interesting but in reality it was just the opposite. Aronyak beat Taibur Rahman (BAN) and Sayantan drew with fellow countryman Deep to maintain their chase. Aronyak will face Mitrabha and Sankalp will go against Sayantan in the seventh round. Round 7 starts today at 2:30 p.m. IST. Photo: Bangladesh Chess Federation
Sankalp prevents Mitrabha's double hat-trick
IM Mitrabha Guha was enjoying a full point lead at the end of round 5 with a 100% score 5.0/5. He seemed almost unstoppable until he faced IM Sankalp Gupta in the sixth round who beat him to share the lead at 5.0/6 each respectively.
Round 4: Mitrabha - Sayantan: 1-0
IM Sayantan Das needed to trade his bishops with IM Mitrabha Guha's knights.
22...Bxd2 23.Qxd2 Bxf3 24.Qxf4 Rxf4 25.gxf3 a5 and now Black is out of the woods. The resultant double rook endgame is equal and it should lead to a draw. The game continued 22...Bd7 23.Qe1 and eventually Black had to pay a heavy price for not getting rid of the knights.
Koustav - Sammed: 1-0
IM Koustav Chatterjee defeated IM Sammed Jaykumar Shete in a topsy-turvy game which could have gone either player's way.
Both 25.Qd1 and 25.Qxc7 are good enough for White. However, Koustav chose 25.Re3 which allowed Black to get back in the game 25...Qxc1+ 26.Rxc1 Bd6.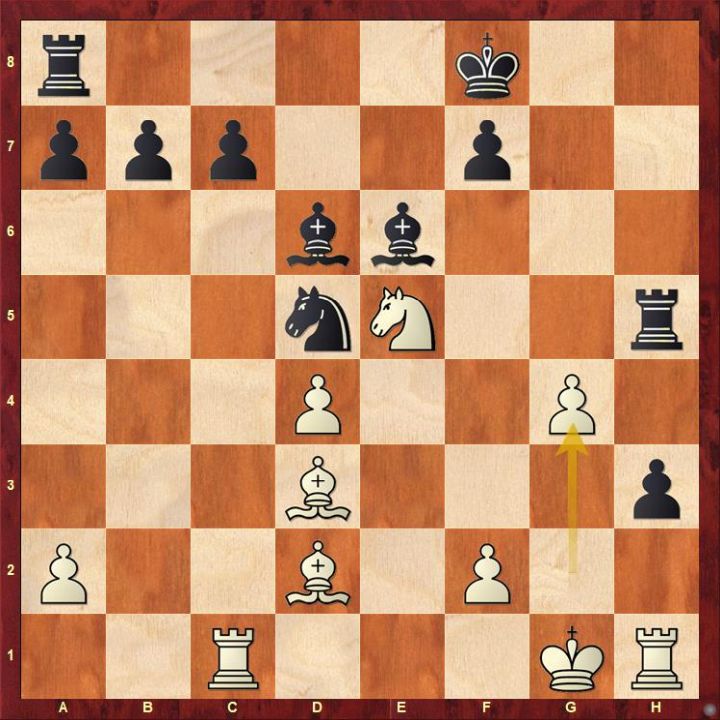 31...Rh4 makes sure that Black maintains a firm grip in the position. However, 31...Bxe5 was played and White pounced on the opportunity 32.gxh5 and eventually converted the advantage to a full point.
Kislinsky - Sankalp: 0-1
IM Sankalp Gupta got himself a good position in the middlegame after his opponent, GM Alexey Kislinsky (CZE) lost a valuable tempi and then decided to give up an exchange.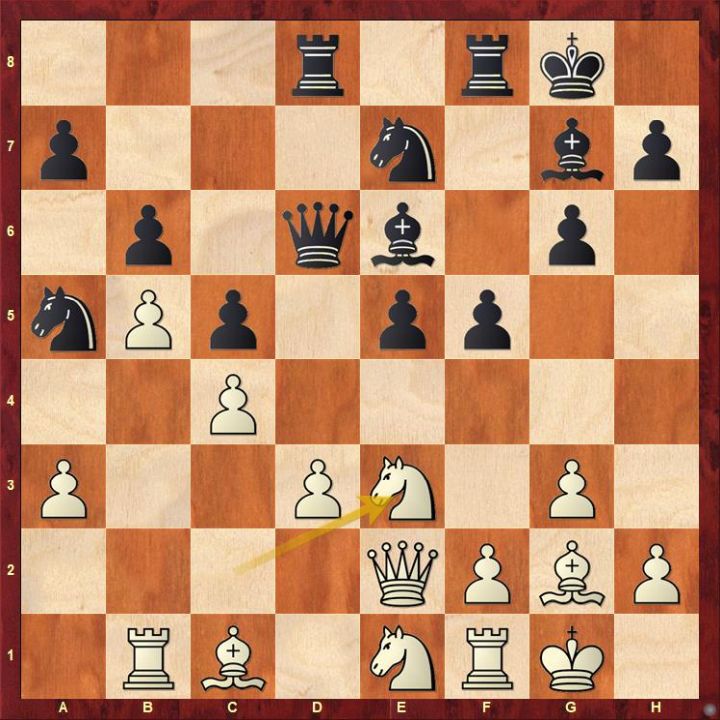 20.Ne3 allowed Black to play 20...f4 21.N3c2 g5 22.Be4 Bh3 23.Qh5 Qh6 24.Qxh6 Bxh6 25.Nf3 Bxf1. White managed to equalize soon, however Black played the endgame better and walked away with a full point.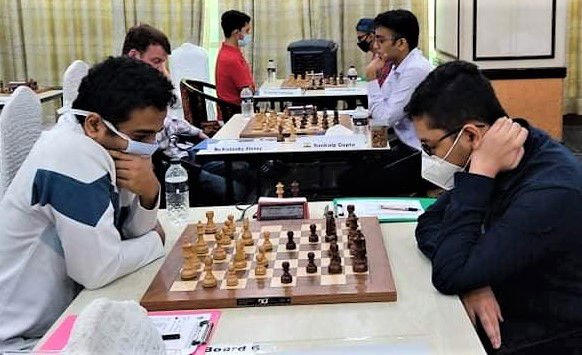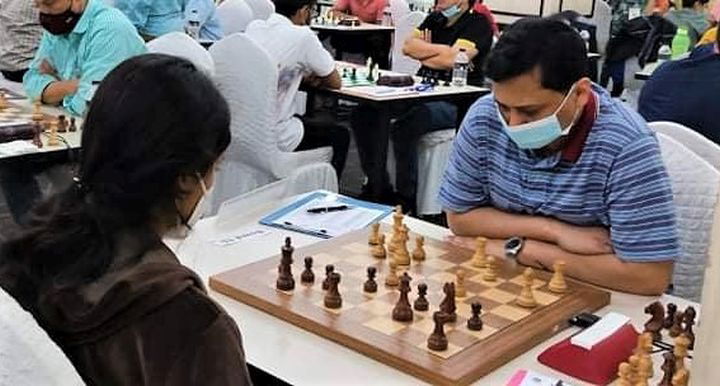 Round 5: Nubairshah - Mitrabha: 0-1
IM Nubairshah Shaikh made an inaccuracy in the endgame which completely turned things in his opponent, IM Mitrabha Guha's favor.
White needed to play 28.Kg3 and everything would have been fine. 28...Rxb2 would have met with 29.Rxa7 Rcc2 30.h3 Rh2 31.f5 and the position is level. 28.R1d2 allowed Black to gain a valuable pawn 28...Rxb2 which eventually proved to be a deciding factor of the game.
Sayantan - Koustav: 1-0
Sayantan made a short work of Koustav in just 22 moves.
18.Nxg7 is a perfectly logical move. 18...Kxg7 19.Qh5 and now Black needed to play 19...Be6 or Re6. Giving away the dark squared bishop 19...Bxe5 was a huge positional mistake which caused the game to end the game prematurely for Black in another three moves.
Round 6: Mitrabha - Sankalp: 0-1
Mitrabha made a choice to take a rook for two minor pieces. It eventually turned out to be an incorrect decision.
16.Bxg7 Kxg7 17.Qe3 and White is doing fine. However, White opted for 16.Bxe7 Qxd2 17.Bxf8 Bxf8 18.Qxc6 may look interesting for White, however Black has 18...Rb8. Since the position is completely open, the bishop pair becoming a menace for White was just a matter of time which is exactly what happened.
Highlights
Here are a few interesting finishes from Round 4-6: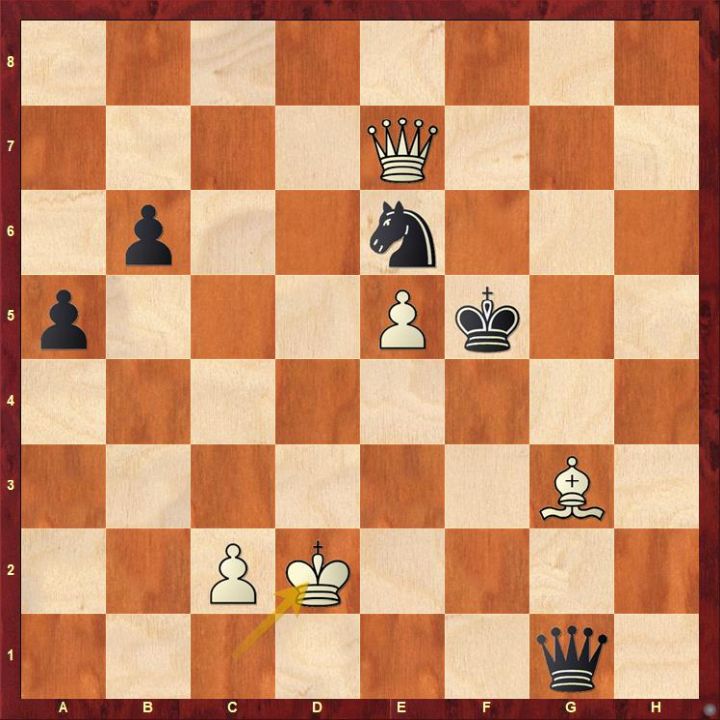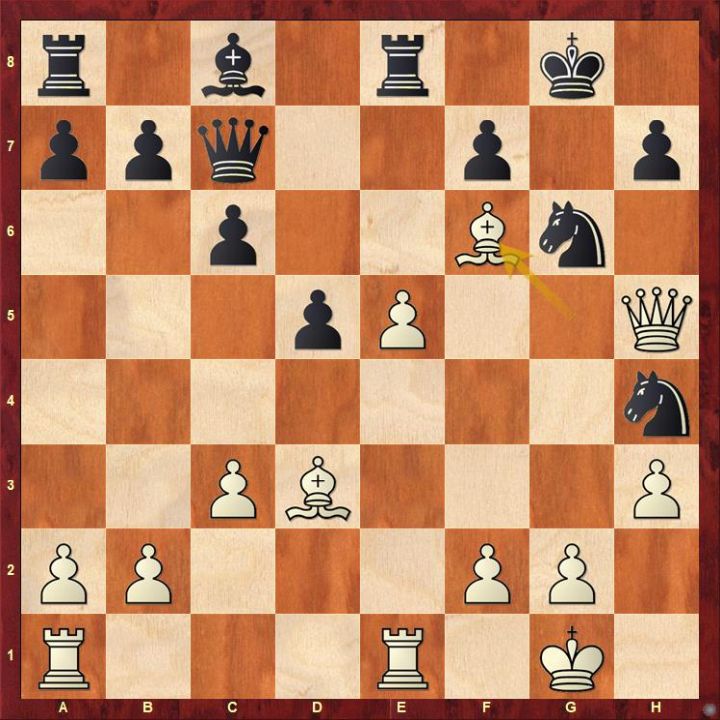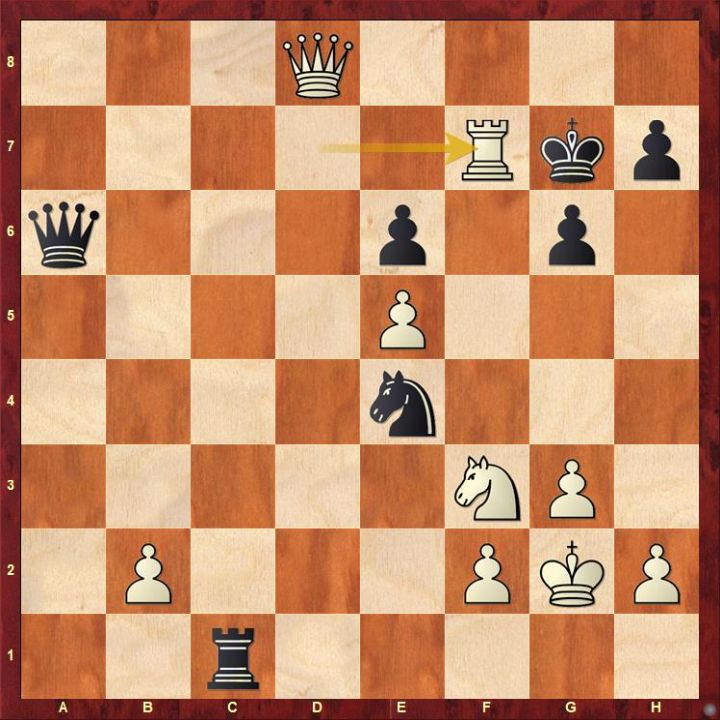 Replay the Live stream
Replay Round 4-6 games
Round 6 results
Round 7 pairings
Links
---