2nd Barbera del Valles 2021 Masters R1-5: Sankalp Gupta in sole lead
India's 71st Grandmaster Sankalp Gupta maintained his sole lead as he beat the highest rated player of the Masters section, GM Josep Manuel Lopez Martinez (ESP) in the fifth round of 2nd Barbera del Valles Masters 2021. The Nagpur lad started his event with two emphatic victories over GM Cristhian Camilo Rios (COL) and IM Cristhian Hernandez (COL) before drawing his third round game against GM Miguel Munoz (PER). Chilean GM Rodrigo Vasquez Schroeder and GM Hipolito Asis Gargatagli (ESP) are at 4.0/5 and 3.5/5 each respectively. Sankalp will face them in seventh and ninth round respectively. Photo: Rupali Mullick
Sankalp remains ahead
2nd Barbera del Valles Masters 2021 is a ten-player Round-Robin event. The total prize fund is €3750, the first prize being €1000 and a trophy. Sankalp has already made his intentions clear about going for the top prize only.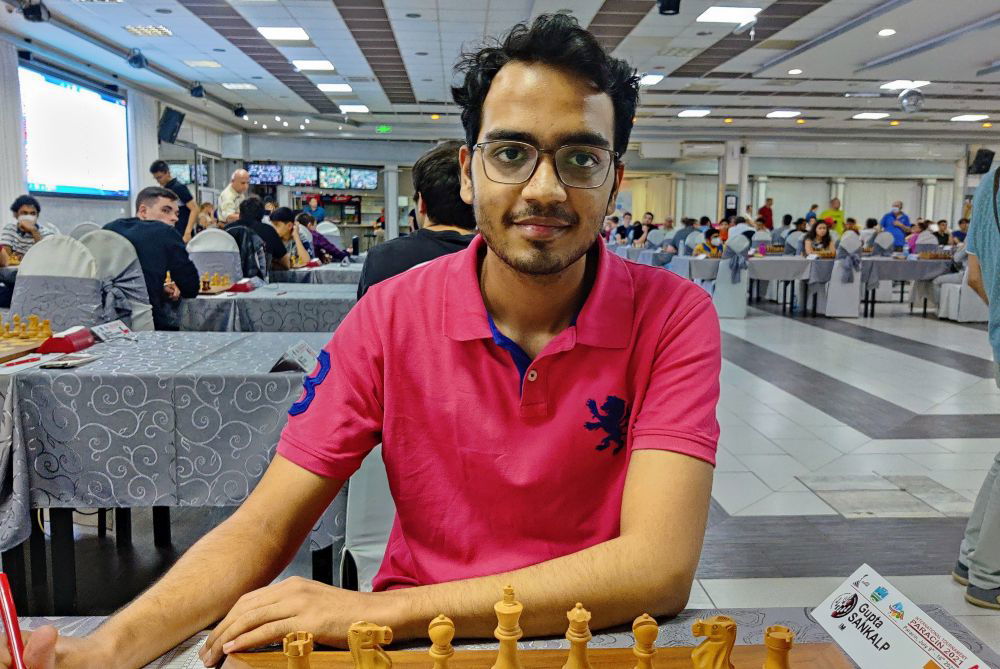 Round 1: Camilo - Sankalp: 0-1
Sankalp Gupta started the tournament with a nice victory over GM Cristhian Camilo Rios (COL).
20...Nc5 is an excellent move. Black does not need to worry about 21.d4 as Nxg4 22.dxc5 Nxf2+ 23.Nxf2 dxc5 gives Black the upper hand. Even though White might have two minor pieces for a rook and two pawns, it is Black who has the advantage, primarily because White's king is relatively weaker, and it needs to be surrounded by the minor pieces to keep it safe. Soon Black broke apart White's defences on the kingside and scored a victory.
Round 2: Sankalp - Hernandez: 1-0
What makes a player strong? It's not just preparation, how you handle difficult situations also make a major impact.
IM Cristhian Hernandez's (COL) best way to continue according to computer is 21...Re6. However, the game continued 21...Nh3+ 22.Kg2 Nf4+ 23.gxf4 Bh3+ 24.Kh1 gxf4 and so on. Black managed to fight back and eventually got a compensation of two connected passed pawns for the lost minor piece until he made a mistake in the final moments of the game.
53...Ng3 would have been a better continuation for Black as 53...Nd6 allows White to regain the upper hand. Find out how.
Round 4: Sankalp - Aaron: 1-0
Sankalp's opponent FM Aaron Alonso Garcia (ESP) went wrong in the opening and could not make a comeback for the rest of the game.
Position after 12...Bg4
13.fxe5 is the first move that comes to mind when we take a look at the above position. Black did not get enough compensation for the lost pawn and eventually got checkmated in 27 moves.
Round 5: Lopez Martinez - Sankalp: 0-1
GM Josep Manuel Lopez Martinez (ESP) invited trouble as he made a positional mistake which allowed his opponent, Sankalp to get a protected passed pawn on the queenside.
Position after 14.b3
White needed to play 14.e4 to try to destabilize the center. 14.b3 did not turn out to be a good idea due to 14...b4 15.Na4 c3 caused White's pieces to get cramped on the queenside. Rest is just a matter of technique for Black to capitalize on his advantage, which he did comfortably.
Replay Round 1-5 games
The tournament is taking place at Barberà Chess Club,at Barberà del Vallès in Spain from 21st to 29th November 2021. Every day game starts at 9:30 p.m. IST. Time control is 90 mins + 30 seconds each from move no.1.
Results of Round 1-5
Round 1 on 2021/11/21 at 17:00
Bo.
No.
Rtg
Name
Result
Name
Rtg
No.
1
1
2502
GM
Asis Gargatagli Hipolito
½ - ½
IM
Garriga Cazorla Pere
2477
10
2
2
2460
GM
Rios Cristhian Camilo
0 - 1
IM
Sankalp Gupta
2468
9
3
3
2376
IM
Hernandez Cristhian
0 - 1
GM
Vasquez Schroeder Rodrigo
2485
8
4
4
2450
GM
Munoz Miguel
½ - ½
GM
Alsina Leal Daniel
2497
7
5
5
2367
FM
Alonso Garcia Aaron
0 - 1
GM
Lopez Martinez Jose Manuel
2520
6
Round 2 on 2021/11/22 at 17:00
Bo.
No.
Rtg
Name
Result
Name
Rtg
No.
1
10
2477
IM
Garriga Cazorla Pere
0 - 1
GM
Lopez Martinez Jose Manuel
2520
6
2
7
2497
GM
Alsina Leal Daniel
1 - 0
FM
Alonso Garcia Aaron
2367
5
3
8
2485
GM
Vasquez Schroeder Rodrigo
½ - ½
GM
Munoz Miguel
2450
4
4
9
2468
IM
Sankalp Gupta
1 - 0
IM
Hernandez Cristhian
2376
3
5
1
2502
GM
Asis Gargatagli Hipolito
1 - 0
GM
Rios Cristhian Camilo
2460
2
Round 3 on 2021/11/23 at 17:00
Bo.
No.
Rtg
Name
Result
Name
Rtg
No.
1
2
2460
GM
Rios Cristhian Camilo
½ - ½
IM
Garriga Cazorla Pere
2477
10
2
3
2376
IM
Hernandez Cristhian
½ - ½
GM
Asis Gargatagli Hipolito
2502
1
3
4
2450
GM
Munoz Miguel
½ - ½
IM
Sankalp Gupta
2468
9
4
5
2367
FM
Alonso Garcia Aaron
0 - 1
GM
Vasquez Schroeder Rodrigo
2485
8
5
6
2520
GM
Lopez Martinez Jose Manuel
½ - ½
GM
Alsina Leal Daniel
2497
7
Round 4 on 2021/11/24 at 17:00
Bo.
No.
Rtg
Name
Result
Name
Rtg
No.
1
10
2477
IM
Garriga Cazorla Pere
0 - 1
GM
Alsina Leal Daniel
2497
7
2
8
2485
GM
Vasquez Schroeder Rodrigo
½ - ½
GM
Lopez Martinez Jose Manuel
2520
6
3
9
2468
IM
Sankalp Gupta
1 - 0
FM
Alonso Garcia Aaron
2367
5
4
1
2502
GM
Asis Gargatagli Hipolito
½ - ½
GM
Munoz Miguel
2450
4
5
2
2460
GM
Rios Cristhian Camilo
1 - 0
IM
Hernandez Cristhian
2376
3
Round 5 on 2021/11/25 at 17:00
Bo.
No.
Rtg
Name
Result
Name
Rtg
No.
1
3
2376
IM
Hernandez Cristhian
0 - 1
IM
Garriga Cazorla Pere
2477
10
2
4
2450
GM
Munoz Miguel
½ - ½
GM
Rios Cristhian Camilo
2460
2
3
5
2367
FM
Alonso Garcia Aaron
0 - 1
GM
Asis Gargatagli Hipolito
2502
1
4
6
2520
GM
Lopez Martinez Jose Manuel
0 - 1
IM
Sankalp Gupta
2468
9
5
7
2497
GM
Alsina Leal Daniel
0 - 1
GM
Vasquez Schroeder Rodrigo
2485
8
Standings after Round 5
| | | | | | | | | | | | | |
| --- | --- | --- | --- | --- | --- | --- | --- | --- | --- | --- | --- | --- |
| Rk. | SNo | | | Name | Typ | Gr | FED | RtgI | Pts. | TB1 | TB2 | TB3 |
| 1 | 9 | | IM | Sankalp Gupta | | | IND | 2468 | 4,5 | 0,0 | 4 | 6,75 |
| 2 | 8 | | GM | Vasquez Schroeder Rodrigo | | | CHI | 2485 | 4,0 | 0,0 | 3 | 6,25 |
| 3 | 1 | | GM | Asis Gargatagli Hipolito | | 2567 | ESP | 2502 | 3,5 | 0,0 | 2 | 4,50 |
| 4 | 6 | | GM | Lopez Martinez Jose Manuel | | 2544 | ESP | 2520 | 3,0 | 0,5 | 2 | 5,50 |
| 5 | 7 | | GM | Alsina Leal Daniel | | 2517 | ESP | 2497 | 3,0 | 0,5 | 2 | 4,75 |
| 6 | 4 | | GM | Munoz Miguel | | 2518 | PER | 2450 | 2,5 | 0,0 | 0 | 8,50 |
| 7 | 10 | | IM | Garriga Cazorla Pere | | 2527 | ESP | 2477 | 2,0 | 0,5 | 1 | 3,25 |
| 8 | 2 | | GM | Rios Cristhian Camilo | | | COL | 2460 | 2,0 | 0,5 | 1 | 2,75 |
| 9 | 3 | | IM | Hernandez Cristhian | | 2437 | COL | 2376 | 0,5 | 0,0 | 0 | 1,75 |
| 10 | 5 | | FM | Alonso Garcia Aaron | | | ESP | 2367 | 0,0 | 0,0 | 0 | 0,00 |
Links
---