Sankalp Gupta wins 2nd Barbera del Valles 2021 Masters
Just like India's 72nd GM Mitrabha Guha, India's 71st Grandmaster Sankalp Gupta has also won the first tournament he played after becoming a GM, 2nd Barbera del Valles Masters 2021 with a score of 6.0/9. Four players finished with the same score, the Nagpur lad won clinched the first place due to better tie-breaks. He won a trophy and €1000 cash prize. Dhananjay S and Ojas Kulkarni secured second and third place scoring 7.0/9 and 6.5/9, earned €700 and €500 each respectively. Arvind Ramnath Iyer won the Group B 7.5/9, remained undefeated and finished a full point ahead of the competition. He received €300 for his efforts. It was a wonderful event for the Indian players as four podium places were secured by Indians combining three groups. Photo: Club d'Escacs Barberà
Arvind wins Group B, Dhananjay second in Group A
Both FM Alexandre Pigeat (FRA) and Dhananjay S scored 7.0/9 each in Group A, however Pigeat clinched the championship and Dhananjay secured the second place according to tie-breaks. Three players scored 6.0/9, Ojas Kulkarni was placed third due to his better tie-break score. Arvind Ramnath Iyer scored an unbeaten 7.5/9, finished a full point ahead of the competition to win the Group B section.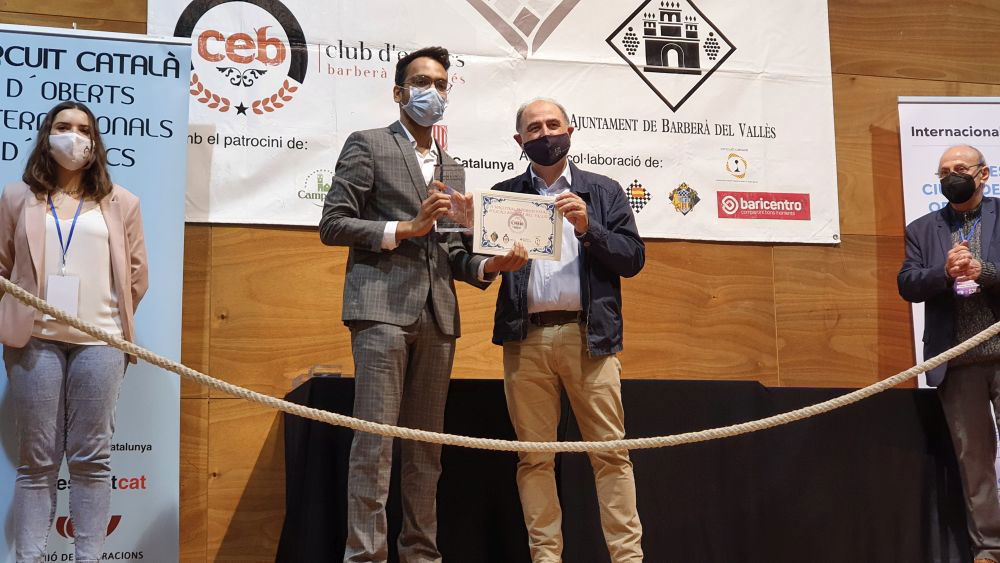 We reached out to Sankalp to gather his thoughts on winning the tournament, "Thank you, it feels good and gives more confidence for Ellobregat. The sixth round loss was very frustrating, as I relaxed in an almost drawn position and then blundered after seeing some ghosts. But there was no other option, I was playing the leader and had to win." Sankalp will start playing his next tournament, 2nd Ellobregat Open which boasts a strong lineup of players, starts today in a few hours.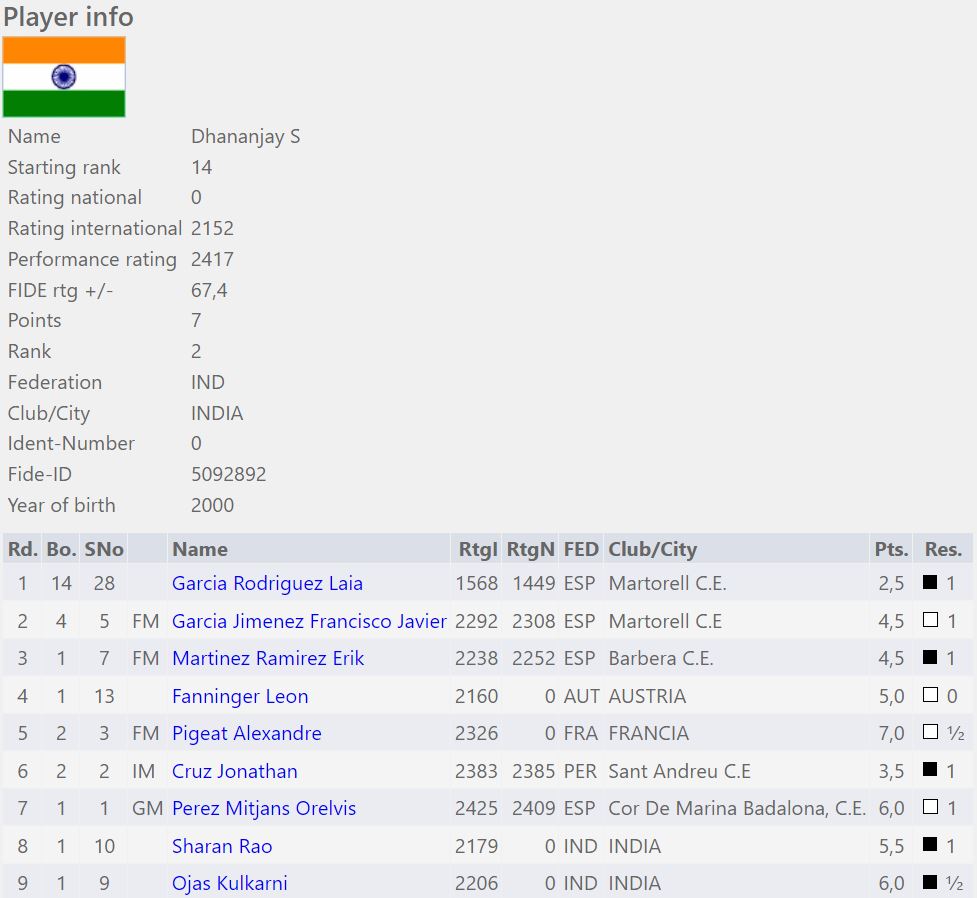 Round 6: Sankalp - Alsina Leal: 0-1
Sankalp Gupta suffered his first loss of the event against GM Daniel Alsina Leal (ESP) in the sixth round. The game was heading towards a draw. A mistake in the final moments of the endgame, probably under time trouble cost him dearly.
White needs to keep the f6-pawn supported and attack the g-pawn with the rook only when it is farthest from the black king. 50.Rb6 or Kd4 both keeps White in the game, and it heads towards a draw. Unfortunately for White, he opted for 50.Ra1 which leads to a loss after 50...Kxf6 since the white king is already cut-off by the rook on e8. It becomes easier for Black to convert it into a win.
Round 7: Rodrigo - Sankalp: 0-1
Sankalp did a beautiful queen maneuver of his queen in an already advantageous position against GM Rodrigo Vasquez Schroeder (CHI).
The black queen moved from e7-a3-a1-d1 and the knight maneuvered via d6-b7-a5-b3. Both of them are beautifully placed. White can do nothing to save the game except be a witness to the demise of his position. Black made a breakthrough with the pawns on the queenside and created a passed pawn on the c-file which eventually was instrumental in getting Black an important victory.
Round 8: Pere - Sankalp: 0-1
Sankalp suffered another setback as he lost a complex queen and bishop ending against IM Pere Garriga Cazorla (ESP).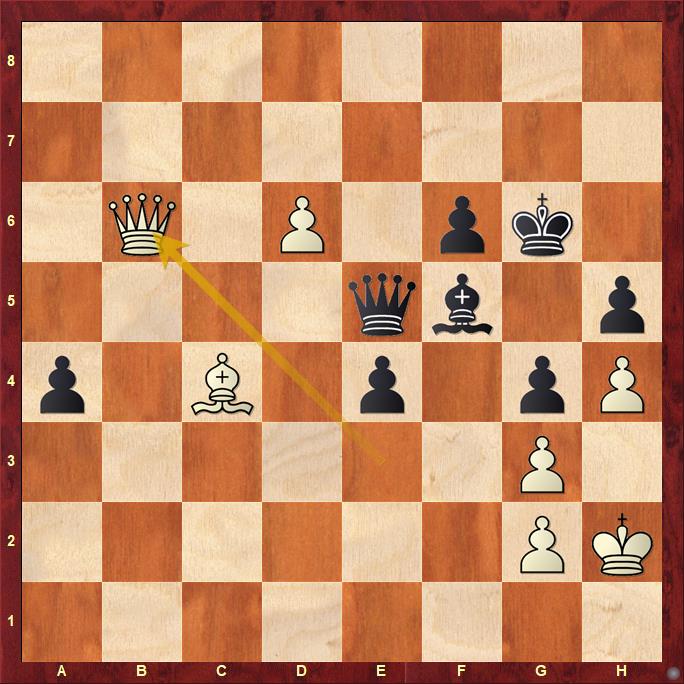 White is threatening to stir up some trouble in Black's back rank. 47...Bd7 enables Black to prevent any kind of invasion as 48.Qb8 or Qd8 is met with 48...Qe8. 47...e3 was played in the game and it was all over after 48.Qd8.
Round 9: Sankalp - Hipolito: 0.5-0.5
Sankalp made a quick 17-move draw with GM Hipolito Asis Gargatagli (ESP) to finish with 6.0/9 and win the tournament.
Photo Gallery
Replay Round 6-9 games
The tournament took place at Barberà Chess Club at Barberà del Vallès, Barcelona in Spain from 21st to 29th November 2021. Every day game starts at 9:30 p.m. IST. Time control is 90 mins + 30 seconds each from move no.1.
Results of Round 6-9
Round 6 on 2021/11/26 at 17:00
Bo.
No.
Rtg
Name
Result
Name
Rtg
No.
1
10
2477
IM
Garriga Cazorla Pere
0 - 1
GM
Vasquez Schroeder Rodrigo
2485
8
2
9
2468
IM
Sankalp Gupta
0 - 1
GM
Alsina Leal Daniel
2497
7
3
1
2502
GM
Asis Gargatagli Hipolito
1 - 0
GM
Lopez Martinez Jose Manuel
2520
6
4
2
2460
GM
Rios Cristhian Camilo
½ - ½
FM
Alonso Garcia Aaron
2367
5
5
3
2376
IM
Hernandez Cristhian
1 - 0
GM
Munoz Miguel
2450
4
Round 7 on 2021/11/27 at 17:00
Bo.
No.
Rtg
Name
Result
Name
Rtg
No.
1
4
2450
GM
Munoz Miguel
½ - ½
IM
Garriga Cazorla Pere
2477
10
2
5
2367
FM
Alonso Garcia Aaron
0 - 1
IM
Hernandez Cristhian
2376
3
3
6
2520
GM
Lopez Martinez Jose Manuel
1 - 0
GM
Rios Cristhian Camilo
2460
2
4
7
2497
GM
Alsina Leal Daniel
½ - ½
GM
Asis Gargatagli Hipolito
2502
1
5
8
2485
GM
Vasquez Schroeder Rodrigo
0 - 1
IM
Sankalp Gupta
2468
9
Round 8 on 2021/11/28 at 17:00
Bo.
No.
Rtg
Name
Result
Name
Rtg
No.
1
10
2477
IM
Garriga Cazorla Pere
1 - 0
IM
Sankalp Gupta
2468
9
2
1
2502
GM
Asis Gargatagli Hipolito
½ - ½
GM
Vasquez Schroeder Rodrigo
2485
8
3
2
2460
GM
Rios Cristhian Camilo
½ - ½
GM
Alsina Leal Daniel
2497
7
4
3
2376
IM
Hernandez Cristhian
0 - 1
GM
Lopez Martinez Jose Manuel
2520
6
5
4
2450
GM
Munoz Miguel
1 - 0
FM
Alonso Garcia Aaron
2367
5
Round 9 on 2021/11/29 at 17:00
Bo.
No.
Rtg
Name
Result
Name
Rtg
No.
1
5
2367
FM
Alonso Garcia Aaron
0 - 1
IM
Garriga Cazorla Pere
2477
10
2
6
2520
GM
Lopez Martinez Jose Manuel
+ - -
GM
Munoz Miguel
2450
4
3
7
2497
GM
Alsina Leal Daniel
1 - 0
IM
Hernandez Cristhian
2376
3
4
8
2485
GM
Vasquez Schroeder Rodrigo
½ - ½
GM
Rios Cristhian Camilo
2460
2
5
9
2468
IM
Sankalp Gupta
½ - ½
GM
Asis Gargatagli Hipolito
2502
1
Final Standings
| | | | | | | | | | | | | |
| --- | --- | --- | --- | --- | --- | --- | --- | --- | --- | --- | --- | --- |
| Rk. | SNo | | | Name | Typ | Gr | FED | RtgI | Pts. | TB1 | TB2 | TB3 |
| 1 | 9 | | IM | Sankalp Gupta | | | IND | 2468 | 6,0 | 2,5 | 5 | 23,50 |
| 2 | 1 | | GM | Asis Gargatagli Hipolito | | 2567 | ESP | 2502 | 6,0 | 2,5 | 3 | 24,50 |
| 3 | 7 | | GM | Alsina Leal Daniel | | 2517 | ESP | 2497 | 6,0 | 2,0 | 4 | 23,25 |
| | 8 | | GM | Vasquez Schroeder Rodrigo | | | CHI | 2485 | 6,0 | 2,0 | 4 | 23,25 |
| 5 | 6 | | GM | Lopez Martinez Jose Manuel | | 2544 | ESP | 2520 | 6,0 | 1,0 | 5 | 21,00 |
| 6 | 10 | | IM | Garriga Cazorla Pere | | 2527 | ESP | 2477 | 4,5 | 0,0 | 3 | 15,75 |
| 7 | 4 | | GM | Munoz Miguel | | 2518 | PER | 2450 | 4,0 | 0,0 | 1 | 16,50 |
| 8 | 2 | | GM | Rios Cristhian Camilo | | | COL | 2460 | 3,5 | 0,0 | 1 | 13,00 |
| 9 | 3 | | IM | Hernandez Cristhian | | 2437 | COL | 2376 | 2,5 | 0,0 | 2 | 7,50 |
| 10 | 5 | | FM | Alonso Garcia Aaron | | | ESP | 2367 | 0,5 | 0,0 | 0 | 1,75 |
Final Standings in Group A
| | | | | | | | | | | | | | | |
| --- | --- | --- | --- | --- | --- | --- | --- | --- | --- | --- | --- | --- | --- | --- |
| Rk. | SNo | | | Name | Typ | Gr | FED | RtgI | RtgN | Club/City | Pts. | TB1 | TB2 | TB3 |
| 1 | 3 | | FM | Pigeat Alexandre | A | | FRA | 2326 | 0 | FRANCIA | 7,0 | 46,0 | 50,0 | 0,0 |
| 2 | 14 | | | Dhananjay S | B | | IND | 2152 | 0 | INDIA | 7,0 | 42,5 | 44,5 | 0,0 |
| 3 | 9 | | | Ojas Kulkarni | A | | IND | 2206 | 0 | INDIA | 6,0 | 44,5 | 48,5 | 0,0 |
| 4 | 1 | | GM | Perez Mitjans Orelvis | | 2495 | ESP | 2425 | 2409 | Cor De Marina Badalona, C.E. | 6,0 | 43,5 | 47,5 | 0,0 |
| 5 | 4 | | IM | Cruz Filemon | A | | PER | 2310 | 2318 | | 6,0 | 42,0 | 45,5 | 0,0 |
| 6 | 10 | | | Sharan Rao | B | | IND | 2179 | 0 | INDIA | 5,5 | 45,5 | 49,5 | 0,0 |
| 7 | 17 | | | Vaibhav Jayant Raut | B | | IND | 2097 | 0 | INDIA | 5,5 | 42,0 | 45,5 | 0,0 |
| 8 | 13 | | | Fanninger Leon | B | | AUT | 2160 | 0 | AUSTRIA | 5,0 | 46,5 | 50,0 | 0,0 |
| 9 | 6 | | IM | Pomes Marcet Joan | A-S6 | 2344 | ESP | 2275 | 2271 | Terrassa C.E | 5,0 | 37,5 | 40,5 | 0,0 |
| 10 | 16 | | MK | Oliver Martinez-Fornes Carlos | B-S6 | 2256 | ESP | 2128 | 2163 | Congres C.E. | 5,0 | 34,0 | 36,0 | 0,0 |
Final Standings in Group B
| | | | | | | | | | | | | | | |
| --- | --- | --- | --- | --- | --- | --- | --- | --- | --- | --- | --- | --- | --- | --- |
| Rk. | SNo | | | Name | Typ | Gr | FED | RtgI | RtgN | Club/City | Pts. | TB1 | TB2 | TB3 |
| 1 | 17 | | | Arvind Ramnath Iyer | E | | IND | 1581 | 0 | INDIA | 7,5 | 47,5 | 51,5 | 0,0 |
| 2 | 4 | | | Barba Rios Enric | | 2143 | CAT | 1966 | 1996 | Barcelona, Club Escacs | 6,5 | 46,0 | 49,5 | 0,0 |
| 3 | 3 | | | Mas Recorda Pere | S65 | 2156 | CAT | 1982 | 2001 | Cerdanyola Valles C.E. | 6,5 | 45,5 | 49,5 | 0,0 |
| 4 | 6 | | | Rios Torondell Jaume | D | 2065 | CAT | 1860 | 1869 | Sant Cugat C.E | 6,0 | 45,5 | 48,5 | 0,0 |
| 5 | 8 | | | Costa Trave Jaume | E | 1899 | CAT | 1702 | 1775 | Granollers-Canovelles | 6,0 | 41,0 | 43,0 | 0,0 |
| 6 | 5 | | | Salvador Rey Marc | D | 2093 | CAT | 1932 | 2005 | Barbera C.E. | 5,5 | 44,0 | 48,0 | 0,0 |
| 7 | 7 | | | Devos Herve | E | 1964 | FRA | 1738 | 1771 | Ateneu Colon C.E. | 5,5 | 42,5 | 46,0 | 0,0 |
| 8 | 15 | | | Tortosa Moros Joan | E | 1830 | CAT | 1605 | 1618 | Barcelona, Club Escacs | 5,5 | 39,5 | 42,5 | 0,0 |
| 9 | 16 | | | Cabrera Marmol Manuel | E-S6 | 1586 | CAT | 1591 | 1590 | Barcelona, Club Escacs | 5,5 | 38,5 | 41,5 | 0,0 |
| 10 | 1 | | MK | Palacin Martin Ricardo | S65 | 2195 | CAT | 2005 | 2036 | Cornella C.E | 5,0 | 43,0 | 46,5 | 0,0 |
Links
---