Joytu Sheikh Hasina GM R1-3: Mitrabha, Nubairshah and Sayantan in a three-way lead 3.0/3
Three IMs Mitrabha Guha, Nubairshah Shaikh and Sayantan Das are in the lead with a perfect 3.0/3 at the conclusion of round 3 at Joytu Sheikh Hasina International GM 2021. IMs Aronyak Ghosh, Koustav Chatterjee, Sammed Jaykumar Shete along with Bangladesh's legendary Ziaur Rahman, top seed GM Andrey Sumets (UKR) and GM Alexey Kislinsky (CZE) are just a half point behind at 2.5/3 each respectively. A total of 62 players from 9 countries including 9 GMs, 14 IMs and a WIM are taking part in this event. Total prize fund is US$ 15000, first prize US$ 4000. Round 4 starts today at 2:30 p.m. IST. Photo: Bangladesh Chess Federation
Six players in the chase
The third round witnessed three decisive games in the top three boards. In fact, only four games ended in draws among top 15 boards. It shows that everyone is willing to play fighting games.
Round 1: Nasir - Deep: 1-0
FM Sheikh Nasir Ahmed (BAN) caused the biggest upset of the first round when he defeated GM Deep Sengupta.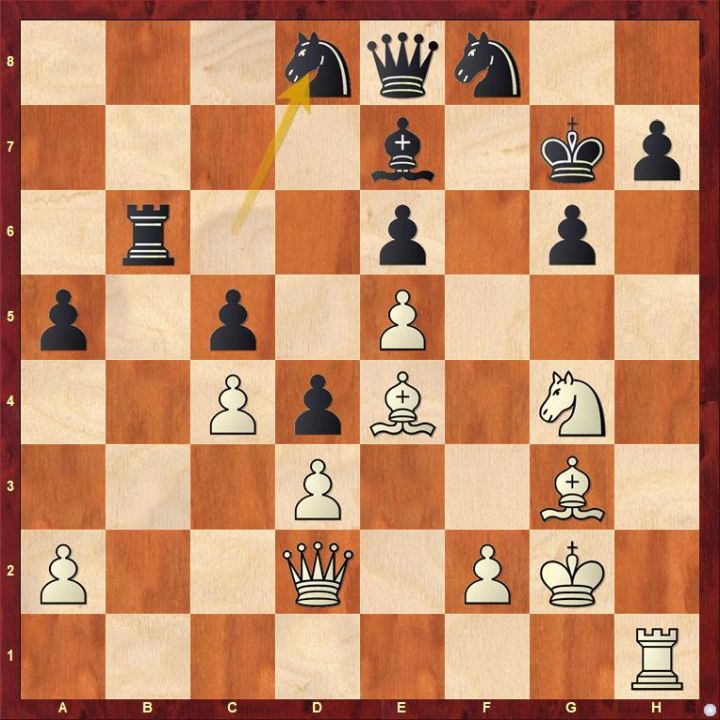 The game continued 32.Qxa5 and Black managed to get back in the game before blundering his queen. What was the quicker finish for White here?
Manon - Aronyak: 0-1
10-year-old CM Manon Reja Neer put up a very good fight against IM Aronyak Ghosh. He fought back difficult position and managed to get the following in a knight vs bishop ending.
White can still hold this 51.Nc4 Bf3 is forced as White is threatening Nxd6. 52.a4 h5 and Black promotes the queen before White because there is nice tactical trick. The talented young kid probably missed this in time trouble and went for 51.Kd7 and lost the game eventually.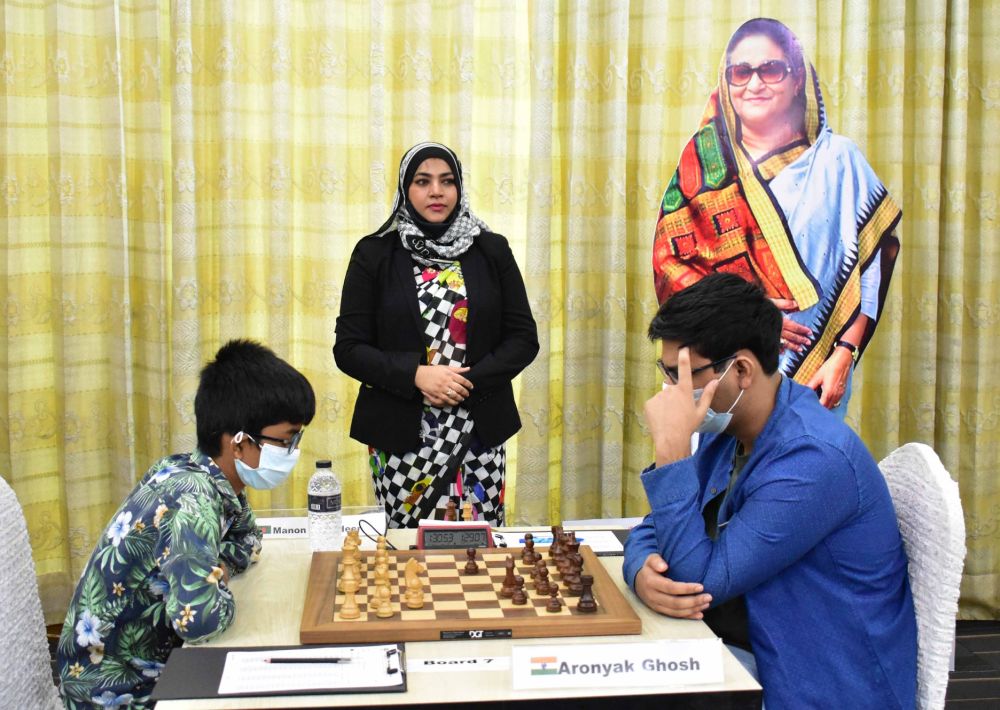 Round 2: Mitrabha - Srijit: 1-0
IM Mitrabha Guha escaped jaws of defeat in a topsy-turvy game against IM Srijit Paul.
White has back rank weakness which could have been exploited 34...Re2 35.Rd8+ Kf7 36.Rc1 Rc2 37.Re1 Rbb2. Later also Black got few more opportunities but Mitrabha kept his fight and managed to swindle his opponent at the very end.
Subhayan - Sankalp: 0.5-0.5
Subhayan Kundu and IM Sankalp Gupta arguably had the sharpest game of the second round.
White is completely winning here. 45.Qe4 and Black has no good way to defend the position. Even 45.Rxf5 is also winning, although it allows Black to continue the fight for a bit. However, White blundered 45.Qh5 and Black managed to salvage a draw. Find out how.
Minhaz - Sayantan: 0-1
IM Sayantan Das made a short work of IM Minhaz Uddin (BAN) in just 21 moves.
Round 3: Neelash - Mitrabha: 0-1
IM Mitrabha Guha defeated IM Neelash Saha after liquidating into a favorable double rook endgame.
27...Nb8 gets rid of the sole thorn in Black's territory. White cannot avoid the exchange. Black eventually converted it into a win.
Highlights
Here are a few interesting finishes from Round 1-3:
Photo Gallery:
Replay the Live stream
Replay Round 1-3 games
Round 3 results
Round 4 pairings
Links
---