Carlsen vs Nepo World Championship 2021 Game 3: Who is pushing whom?
A dull boring draw! We are going to witness all classical games ending in a draw! Classical chess is no fun! That's how people reacted at the end of game three of the World Championship 2021. While a part of it is true, that the game was rather tame, it doesn't paint the entire picture. There was quite some pressure on the board, with Carlsen playing an interesting opening idea with black, Nepo pressing as hard as he could and then there is the off the board tension that is rising! We bring you the game three report with analysis, photos, videos and a cricketing analogy to help understand the situation better.

Carlsen and Nepo locked at 1.5-1.5 after three games
Report from Dubai by Sagar Shah and Amruta Mokal
As a naive young boy watching test match cricket, I used to hate Rahul Dravid coming out to bat. Also known as the "Wall of Indian cricket" Rahul would leave just about every ball that was not aimed at his stumps. He would defend almost every single ball hurled at him. A world class bowler trying to get him out would bowl from "over the wicket", and then change to "round the wicket". Sometimes he would send in a short ball, sometimes a yorker, an inswing and then an outswing. And Rahul was there rock solid holding his fort. Not scoring too many runs, but ensuring that he wouldn't lose his wicket. It was not just me, but I found many youngsters of a similar age and mindset as me bored. We wanted boundaries and sixes. Not some mind games that we couldn't understand. But my father who understood cricket deeper, was enjoying himself. It was like a story that was building up for him. In his head it was the ultimate battle between two players who had come with a strategy and both of them were trying to trump each other! Years later, my interest in cricket has waned but whenever I see such a contest building up, it is the most interesting thing in the sport for me. The boundaries have lost their sheen! Maybe that's what age does to you, or maybe it's just the way you watch a sport with your mind, than just your eyes!
When the third game of the match between Nepo and Carlsen ended in a draw, I could hear people all around speaking of how boring the game was. Some even went to the extent to say that the match was dull and we are going to witness 12 draws. Just like how a young me couldn't appreciate Dravid's play, I felt the same was the case with many of the viewers who were complaining. There were no fireworks, but a lot of stuff is happening behind the scenes, both on and off the chess board. What do I mean by that? Let me explain.
Ian Nepomniachtchi vs Magnus Carlsen, Game 3
And then came an extremely important moment of the game:
Carlsen played the move ...Re8. Top level chess has seen moves like ...Na5 and ...Nd7 happening here. To some extent even ...Qd7. But the move ...Re8 came as a surprise. Why? It hadn't been played at top level chess for well over a decade now. It is an old line played by Ivanchuk and Adams in the late 90s and early 2000s.
If you look at the trend of this match, you will realize that it is Carlsen who is always pushing the envelope when it comes to the openings.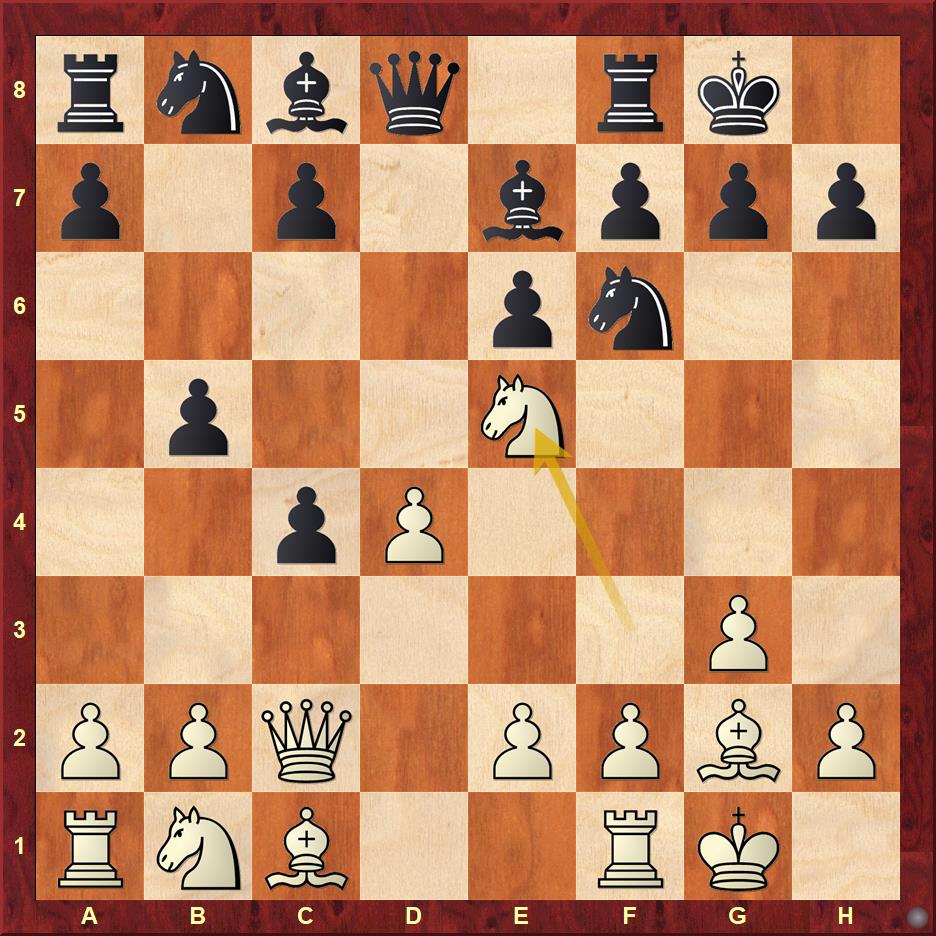 And now ...Re8 in game three. It's Magnus who is coming up with new ideas and Nepo trying to react in the best possible way. From the overall look of things and with the understanding that Nepo has super solid seconds like Karjakin, Leko and a powerful super computer at his disposal, we can understand that he has come well prepared with white against Carlsen's new ideas. But in game 2 Nepo did flinch with ...Qd7?! giving Magnus a very fresh and interesting position right out of the opening. This is exactly what Carlsen is trying to do in the match. He wants to create his chances. Nepo is standing like Rahul Dravid at the wicket. Any ball that falls outside the wicket will left. And short ball will be ducked to, and any swinging ball aimed at the stumps will be defended. Just like how world class bowlers like Shane Warne, Muralitharan, McGrath, Ambrose, Kumble and others created something from nothing, the same is going to be Magnus' task in this match.
Key moment from game 3
When Magnus played the move ...a5 things were looking slightly bleak for him. The reason? You have a knight on c4 and a bishop on d2 attacking the a5 pawn. White wants to place his bishop on c3, nudge his queen to d2 when the pawn on a5 will become very weak. Nepo did play Bc3 in he above position. In such scenarios, it is easy to start making concessions. But Carlsen calmly thought for 5 minutes, and played the move...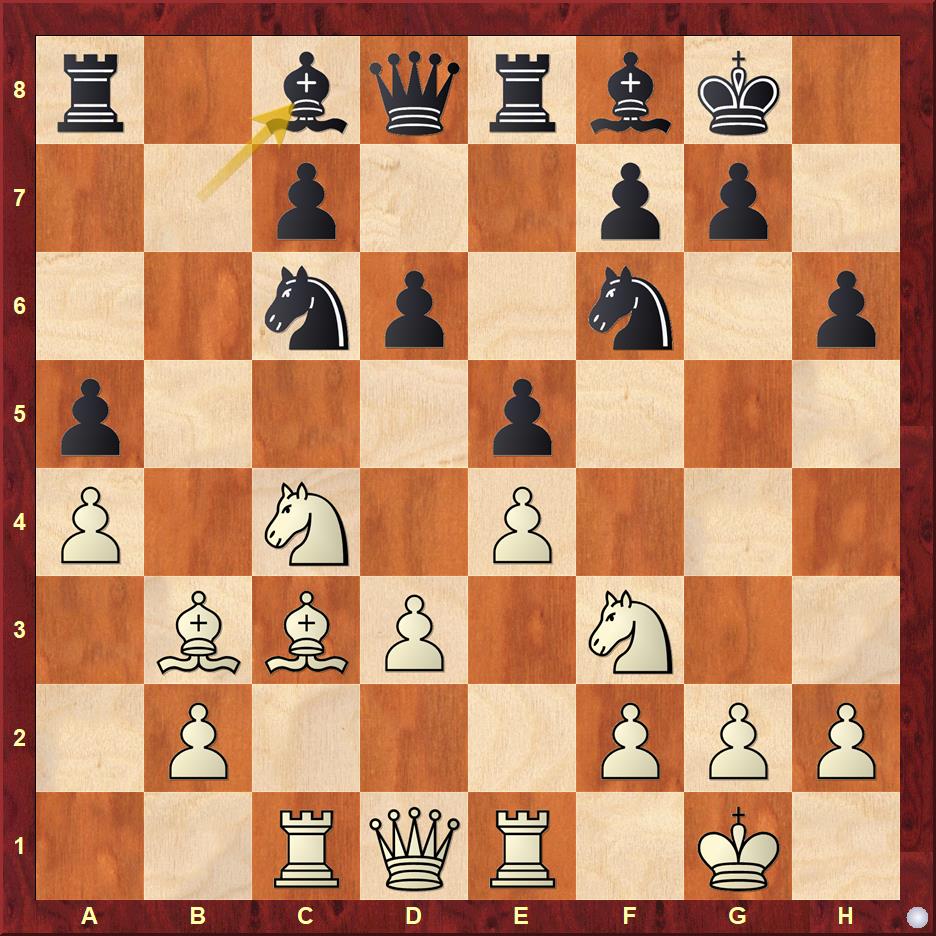 Post game conference
By Satanick Mukhuty
As the game ended quickly, the post game conference was slightly longer and the players were in good mood, which showed in their answers!
Maurice Ashley: Ian, you had your second White today, did you think you had some chances at some point or did it all peter out quickly?
Nepomniachtchi: Well, I think the opening ended up in my favor. I had a slight edge, but it looked like it's going to be long term. This ...a6-a5 move seemed pretty questionable, but it appears after some precise moves Black gets close to equality. And d4 looks absolutely natural...but, in fact, after ed4 Nd4 Nd4 Qd4, Black gets in Be6 which allows him to play d5. And after d5, Black gets some counterplay even in the endgame. If I had realized this before, I might have played differently, maybe something slow with h3 and Ne3. But in the game, after Bc8, d4 looked very natural with Black's pieces still on the last rank. But somehow after Be6, it's really hard to make any progress. The best try I found was this Nd2 move, that gives Black a Marshall-like (even though we are playing the anti-marshall) extra pawn, which also I guess is very close to draw.
Maurice: Are you in any way frustrated because you haven't got anything going your way with the white pieces?
Nepomniachtchi: No, there's absolutely no frustration. It was a clean game and a very logical one. I might have posed some problems in that endgame if I had some extra tempi. But once black king comes to the center and f7-f5 is played, there's never anything for White. But I mean, this is okay, this is just how the current status of the theory is.
Maurice: Magnus, is there anything sexy you could say about today's game?
Carlsen (Laughs): Well, there's obviously a lot I could say, but generally I agree... I was making some fairly ugly moves. But it all seemed worked out too well. At least, I couldn't see any concrete way to pose serious problems. I think it was a reasonably logical game.
Maurice: You seem incredibly comfortable with the black pieces so far in the Match. Is that the correct sentiment?
Carlsen: I wouldn't say very comfortable. I feel like I have been trying to equalize in both games without giving (him) too many chances. But it's okay, it's fairly normal procedure in these matches.
Maurice: Ian, the trouble with the white pieces, which has been well documented nowadays, is that it's getting very, very difficult to secure an advantage. What are you going to do to change the trend?
Nepomniachtchi: Well, whatever I do the trend will always remain the same. That's not about my preparation or Magnus's preparation. That's about the current theory status.
Maurice: Magnus, What's going to be the difference maker? So far, you guys seem to be punching it out on even terms.
Carlsen: Well, it's only three games! (Grins) There's a long way to go. And as you saw, yesterday could easily have been a decisive result. Obviously, for each game the most likely result is a draw. It would be disingenuous to say otherwise. But then any day, any game can explode. It was just not today!
Maurice: One last question to you Magnus. People see a draw and they just assume it isn't so interesting. But you've been a part of this for so many years. How does the tension grow with each draw?
Carlsen: Yes, the tension obviously increases with each draw. But so far, there's been only three games, two of which I played with Black. So I am fairly satisfied. There's still a lot of time to create something. But obviously it's never going to be easy against a very strong opponent.
Ian on whether he was expecting ...Re8, which was played instead of the mainline ...Na5.
"I guess I was expecting everything (Smiles). I mean, usually after such a long preparation you try to be familiar with most of the moves. Re8 is one of the pretty logical sidelines."
Magnus on whether he would have played ...d5 if Nepo went Nd2 instead of h3.
"Yes, with d5, Black pretty much gets this ending with an extra pawn for White, which I think is close to draw."
Magnus on how much he relies on his team
"I have a good team that I trust. But at the end of the day I am the one who makes the decisions."
Ian on his move h3
"Well, I thought ...d5 break was more or less inevitable. I just felt h3 could be a useful inclusion. I mean, at least I am not getting mated on the first rank after that."
Magnus on doping test and whether drugs could benefit a chess player.
"I mean people use drugs to both prepare for and do exams, for instance. I assume they might help a chess player too. Yeah, if my level of chess somehow drops drastically, I might start using them! (everyone laughs)"
Magnus on how he plans to spend his rest day
"I will definitely try and be active tomorrow. Although it depends on how I feel. As has been mentioned, if we are playing three games in a row instead of two, it does impose more limitations on the amount of physical activity you can indulge in."
Ian Nepomniachtchi on Draws
"Well, for a decisive result we need mistakes. I guess, these draws probably could tell you that the players aren't making too many mistakes... If you don't make any mistakes, in general, chess becomes quite a drawish game."
Magnus Carlsen on how he will be remembered 50 years from now.
"Well, talking about legacy is a rabbit hole I don't want to get into during such a match. Hopefully, I would be remembered as the only player to have won a Classical game in the world championship since 2016. (laughter breaks out)"
Photo and Video gallery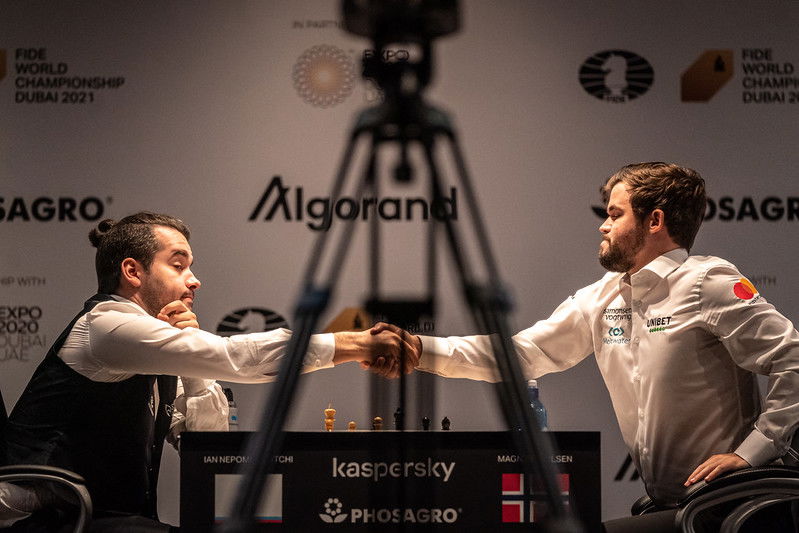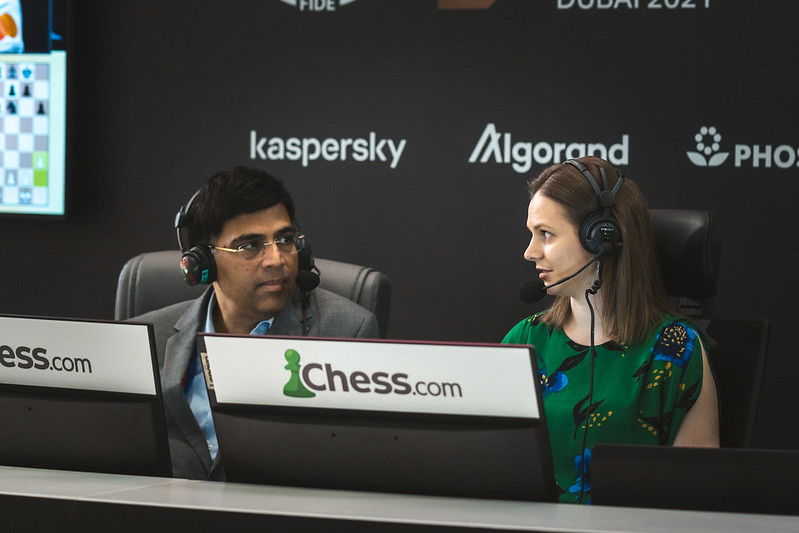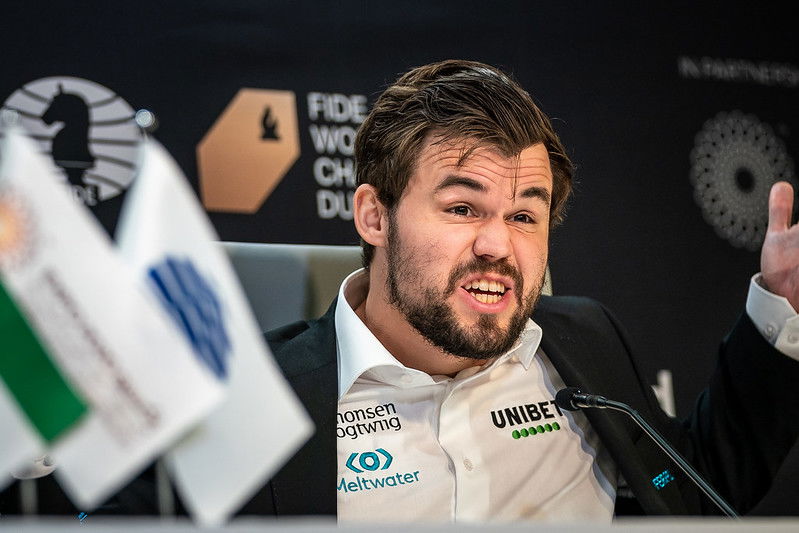 Important Links:
All the information related to schedule, time control etc. of the World Championship Match
Subscribe to our daily newsletter for the match
---