Carlsen vs Nepo World Championship 2021 Game 1: A battle of equals?
On 26th of November 2021, the FIDE World Championship Match 2021 kicked off at the Dubai Expo. Challenger Ian Nepomniachtchi had the white pieces and opened the game with 1.e4. World Champion Magnus Carlsen responded with the solid 1...e5. On the 8th move Carlsen sacrificed a pawn for the bishop pair and activity. The game was intense and exciting. Both players fought hard before deciding to split the point. In this article IM Sagar Shah takes you not only through the entire game, but gives you a complete picture of what is happening at the venue and what it means to be present in Dubai for the World Championship Match.
World Championship Match - A dream destination
A couple of hours before the match, I made my way to the South wing of the Dubai exhibition Center at the Expo 2020. A huge hall and some solid space outside it was reserved for the biggest chess spectacle on the planet. It was Carlsen vs Nepomniachtchi - the FIDE World Championship Match 2021. The Match had been postponed by a year because of the Covid-19 pandemic. Ian Nepomniachtchi couldn't represent his motherland Russia because of the two year ban on Russia from the WADA for its state sponsored doping program. But now all of this was behind us. The match was happening. People were wearing their masks, Nepo was representing the Chess Federation of Russia. Everything was perfectly set.
Since I turned into a journalist many World Championship Matches have taken place, but this is the first one that I was able to attend in person. And I am so glad that I made it to Dubai. There are people who messaged me after day 1, saying if you were not planning on streaming the match, why did you go to Dubai? That's exactly the reason I went to Dubai! I could have done the livestream from my home as well, but in Dubai, I want to breathe in the environment. I want to meet different personalities, I want to witness the gladiators up close, I want to see legends giving their thoughts on the match and then comparing how much of it actually turns out to be true! I want to soak in the World Championship feel.
The first thing you notice as you enter the World Championship venue at the Dubai Expo 2020 is the live commentary setup. You have Vishy Anand and Anna Muzychuk commentating on the games. Anna Muzychuk was the last minute replacement for Almira Skripchenko who was hit by Covid. Anna packed her bags a day before the match and made her way to Dubai. She was very excited to be commentating besides the five-time World Champion Vishy Anand. When you sit next to a legend like Anand and commentate without an engine for 14 World Championship games, it is bound to make you a stronger chess player. I think Anna has excellent chances to win the World Rapid and Blitz Championships that begin a week after the match!
Vishy Anand is just the perfect man for the job of the official commentator. It's because he spent a good 8 years of his life understanding how everything related to a World Championship Match works. So when I ask others what would be Nepo's first move in the match, I get the replies 1.e4 or 1.c4. But when you ask the same question to Vishy, he goes deeper. "I think Nepo will play 1.e4 in the first game to see what Carlsen will respond to it, and then not repeat it in the rest of the match!" When you think about the statement, you realize that it could only come from a man who is used to thinking about what to play at the World Championship Matches. 1.e4 in the first game is a great choice for Nepo because he has played it his whole life and he can feel confident and get used to the World Championship atmosphere. At the same time he gets to know Carlsen's mindset for the match. Would he go 1...c5 like he did against Caruana and play the aggressive Sveshnikov? Or would he go 1...e5 like he did against Karjakin and stay solid? Once Nepo would know of Carlsen's mindset to some extent he can experiment much more from his 2nd white game!
A few minutes before the match, the FIDE officials are completely overworked. They have hundreds of things to fix, new people to meet and just making sure everything goes according to plan. The queue of spectators begins to grow! On day one, all the tickets were sold out. When I spoke to a few of the fans (you can find the video at the bottom), I could sense that there was a lot of support for Nepomniachtchi. Not only were people from Russia or Russia speaking countries with him, but those who wanted a change at the top, those who wanted a new World Champion to rule the chess world for the next two years, were also rooting for Ian.
People back home watching the show live were spoilt for choices! They could watch the FIDE broadcast by Anand and Anna or...
There are so many things happening outside the playing hall, that you forget how quiet and peaceful the environment is behind those doors that open up to the actual place where the players are making the moves! It's just a few metres away, but once you go past those guards checking your tickets, you enter a completely new world!
Isn't it too much of a pressure to be Magnus Carlsen, I ask myself? The 30-year-old (soon to be 31 on 30th of November), is expected to win just about everything he plays. He has built up his huge business called PlayMagnus that would love to have their protagonist remain the World Champion as long as possible. At the same time, when you are playing your 5th World Championship match, that hunger which you had as a 23-year-old is bound to have taken a small hit.
On the other hand, you have Ian Nepomaniachtchi, who is extremely motivated. So much so that in his match preparation he lost close to 10 kilograms! Backed by Russians supporters who want the crown back in their country, Ian would have a huge team of seconds and supercomputers to strengthen his bid to the title. In many ways you stand more to gain as the challenger than you have to lose.
I remember the Match of 2013, when Magnus Carlsen travelled to Chennai to take on Vishy Anand. In the first game, Carlsen was quite nervous. And he had landed in a slightly inferior position as well out of the opening. Anand played it safe, accepted a three-fold repetition and the game ended in a draw in just 16 moves! That's when Carlsen started feeling more confident about himself and he went on to win the match without a single loss. From that logic, I was expecting Magnus to put some more pressure on Ian. Respond to his 1.e4 with the Sicilian or the Caro Kann! However, Magnus decided to play it safe.
When Nepo was asked in the press conference whether he felt nervous before the game - for the match he waiting to play since childhood, he replied, "Saying that I was waiting since childhood is an exaggeration. I think I waited for this until the Candidates was over. I always prefer to do it step by step. You are always nervous until things start, but when the first move is played there is no more space to be nervous. You have got to start playing. That's particularly what I do from childhood playing chess!"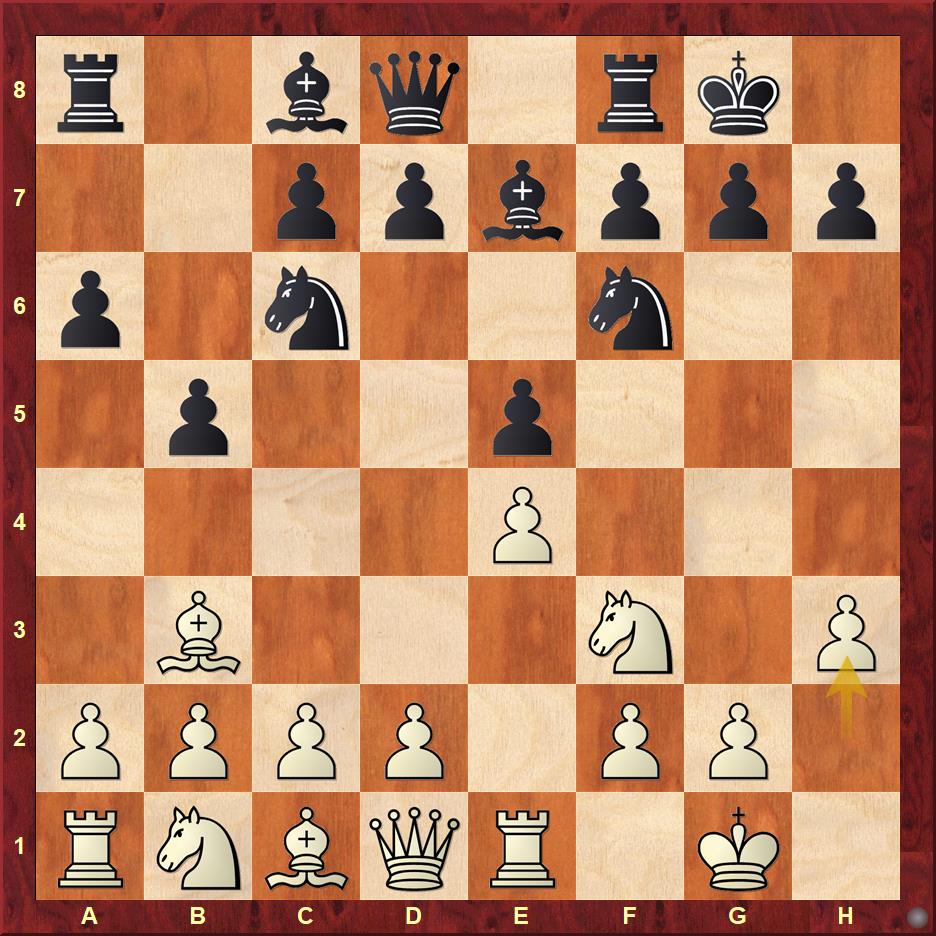 Was the World Champion surprised? Not really, I believe. He calmed himself down, thought for 2 minutes and played a very unusual move.

It seems to me that Carlsen was inspired by another line in the Ruy Lopez that has very similar contours.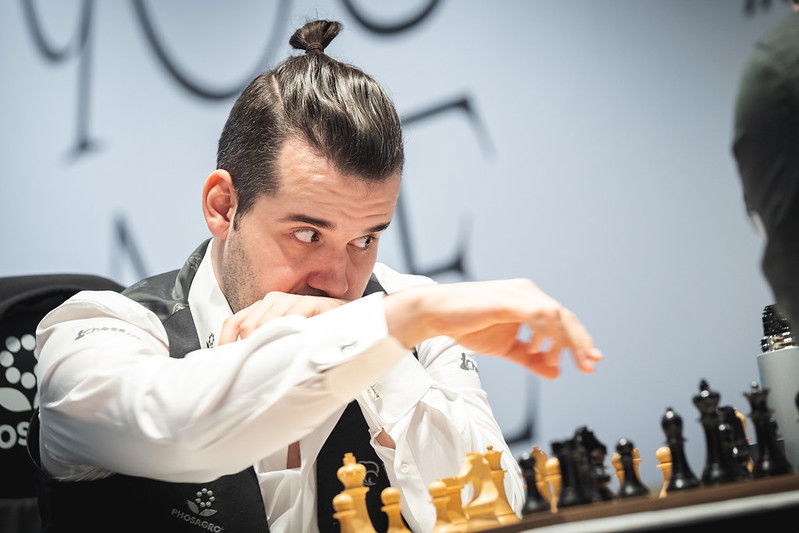 Taking the queen on d5 was practically forced after this. Yet Nepo thought for nearly 8 minutes! Maybe he was just trying to get used to the position. The next few moves were played pretty quickly by both sides until we reached this position:
One school of thought says that this was not the best opening preparation by Magnus, because he is worse and he has not been able to equalize. The second school of thought is that Magnus believes in Black's position and thinks that there is plenty of activity for Black to hold the balance, at least in a practical over the board play! I would tend more towards the latter, because even with best play it is very difficult for White to keep up the pressure constantly.
While it is easy to say that 22.Bf4?! by Nepo was the main culprit for the game ending in a draw, I invite you to have a closer look at the position below and try and figure out how exactly should White continue.
If I stare at this position long enough, I can think of moves like Nd2 or Ng3 with the idea of rerouting the knight to e4. But after say Nd5 Bd2 Bf8, I am still not sure what is the best way for White to progress, what break is he aiming for? Or he is just moving around hoping for Black to create some weaknesses? Perhaps it's just the kind of positions that Nepo feels uncomfortable in. He likes to force matters and that's exacly what he did with 22.Bf4 in the above position.
When Magnus played ...b4, it seemed like Carlsen's position was coming to life. The reason? If you play c4 as White, then the d4 square is irreparably weakened. However, Nepo responded with Ke2, and after Rb8! it began to get clear that Carlsen was the one pushing slightly here. The threat is to take on c3 and then the b3 pawn would be weak. And a move like Rb1 is something you really don't want to play. It is just too passive.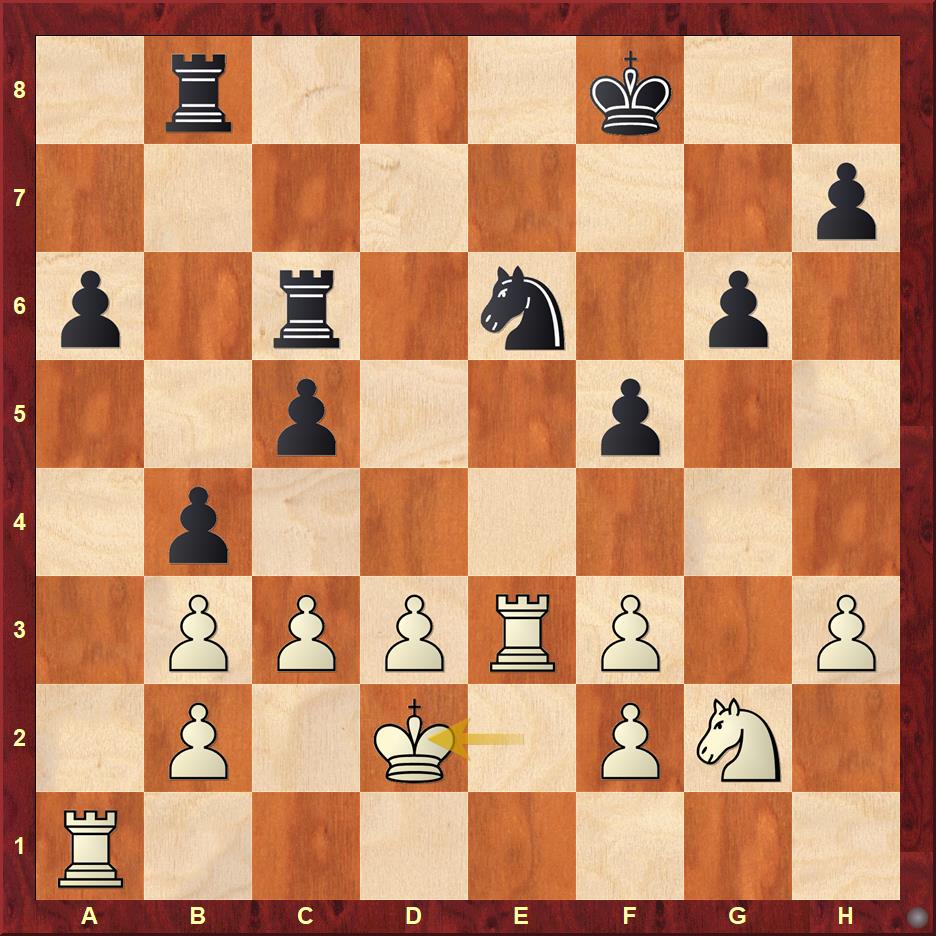 The press conference
Transcribed by Satanick Mukhuty
After the game ends, both players and people from the media make their way to another building, roughly 500 metres away for the press conference.
Maurice Ashley: When were you the most optimistic during the game?
Nepo: Well, I was actually very slightly optimistic during the whole game. I mean, this is quite a curious line for Black. He clearly has fine compensation for a pawn in that endgame, and it's very difficult for White to prove anything. I think Bf4, with the idea of trading the pair of bishops, was a logical plan, but it didn't work for tactical and positional reasons. And after I let these exchanges happen, I probably couldn't hope for anything more than a draw. After b4, I think I needed to bring the king to c2 and give away my extra pawn, and just accept a draw.
Magnus: I wouldn't say I was ever particularly optimistic in the sense of winning the game; I was a little bit worried, kind of echoing the sentiment of being a little optimistic...I thought the chances of winning the game were not realistic.
Maurice Ashley: Ian, it was your first game in a World Championship Match, how do you feel now that it's over?
Nepo: Well, I had the white pieces and normally with White you want to win. But a draw, too, is a result. I guess, it was a fine game for Magnus. I don't have anything more specific to say.
Maurice Ashley: How do you feel after the first game, Magnus?
Carlsen: Yeah, I think it was pretty solid overall. I do feel that I was a bit shaky at times, there were certainly things that I could've done better. But overall I think the result was fair enough.
Q: What would be Ian's style during the match?
Carlsen: I think Ian was quite solid in the Candidates and this (Game 1), I guess, was a continuation of that. And, in general, he is a very good player.
Question by Saravanan from ChessBase: Magnus, you got a good position today, your kind of position, where you sacrificed a pawn and got little chances to capitalize in the endgame. Would you consider this to be a successful start for you
Carlsen: I think the answer is always very nuanced. I mean, I didn't particularly mind the position I got. Of course, you wouldn't play the opening I played if you aren't fine with being down a pawn with a bishop-pair. In general, it does feel that White has a little bit more potential to maneuver and Black has to react a bit more. But I was pretty happy with the plan I found on the board. Giving up the bishop-pair feels counter-intuitive in some ways, but I thought I would still have reasonable compensation with his weakened pawns and relatively passive pieces.
Danish Chess Magazine: Could you both reveal a little bit about who are your seconds or trainers?
Nepo: I guess, I was asked the same question in the starting press conference. So, I will just repeat that part of my team remains the same from the Candidates, and part has changed.
Carlsen: It's funny that you should mention that you are from the Danish Chess Magazine because I can reveal a big secret - My chief trainer is actually Danish! (laughs)
Q: Ian, could you tell us about the work you have put into your fitness?
Nepo: As you correctly mentioned, I was trying to be a bit more fit (smiles). And I think, I was at least successful in parts. Well, in general, physical fitness is obviously an important part of preparation for some major event like this. You got to feel good during the whole thing and not let the ups and downs bother you too much. I think that's the whole point of it. But it's only game 1, hopefully everything will go okay.
Q: Was Na5, a big surprise for you and was Rfb8 a part of your preparation?
Nepo: Well, this by all means is not the most common move to play. But I had studied this move before the match and I would say it wasn't a big surprise for me. Somehow Rfb8 was also in my preparation.
ChessBase (V. Saravanan): Ian, this must've been the moment that you have waited for since childhood. How did you feel making the first moves of a World Championship Match game? Were you able to keep your nerves under control?
Nepo: I think the statement that I was waiting for this moment since childhood is a bit of an exagerration. I only started waiting for this moment when the Candidates got over. I always prefer to do it step by step. You are normally very nervous until the thing starts, and once the first move has been played, it's not a good moment to be nervous; you've got to start playing chess.
Question by Tisdall from FIDE's Twitter: How much do you dread post game conferences?
Carlsen: I think it very much depends on the situation. At the moment, when not much has happened, I guess it's okay and a bit of a stress-buster after the first game.
Nepo: Well, I guess it's the part of the job of a professional sportsperson. So, as long as I am here, I will try to speak.
Video gallery:
Throughout the day Amruta and I captured many interesting videos. They give you the glimpse of the environment of the event, the personalities present there and also of the chess that is being played.
Important Links:
All the information related to schedule, time control etc. of the World Championship Match
Subscribe to our daily newsletter for the match
---