FIDE Online Olympiad 2021 SF: USA eliminates India
India made a brilliant start at the Semifinals by winning the first duel 5-1 against the USA in the FIDE Online Olympiad 2021. No one could have fathomed that they would not be able to advance after such a great start, but that is sport. USA made a commendable comeback by winning the second duel 4-2, forcing tie-breaks which they won 1.5-4.5 with a huge margin. Harika was the only one who won all three games and scored the sole wins in India's defeat. USA will face Russia in the Finals tomorrow. Timings will be notified later. Photo: David Llada/FIDE
Harika's hat-trick goes in vain
India started the Semifinal with a dominant 5-1 victory in the first duel against the USA. The Americans made an unfathomable comeback by winning the second duel 4-2 and then won the tie-breaks 1.5-4.5. India and China won Bronze.
Duel 1: India - USA: 5-1
India decimated USA 5-1 in the first duel without suffering a single loss. Anand, Harikrishna, Harika and Vaishali scored the victories for the team, Humpy and Nihal drew their respective games. Xiong played a line where he sacrificed a rook in the opening. Anand hung his own rook for a move, thankfully the American missed it.
Anand - Xiong
Anand got a nice stronghold 30.Nc5+ in the endgame, after which there was no hope left for Black.
Harikrishna's pawns on the queenside proved too strong for his opponent Swiercz to defend.
Swiercz - Harikrishna
White was already reeling. 36.Rfc1 only sped up its demise. 36...Qxc3 37.Rxc3 Rxa3 and it was all over for White.
Harika fought brilliantly against IM Anna Zatonskih and managed to turn things around from a difficult position.
Zatonskih - Harika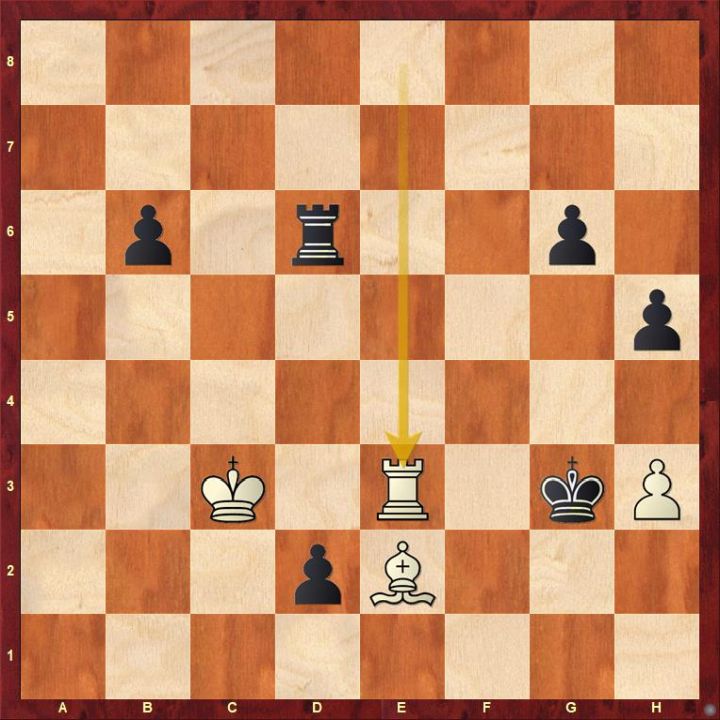 White blundered in time scramble 61.Re3+ and Harika found the winning continuation 61...Kf2 to make things completely in her favor and win the game. 61.Kc2 was the only way to save the game, but it is incredibly difficult to decide and give the last white pawn at h3 when you are short on time.
Nihal had a solid draw with Liang. In the final moments of the game, he had a tiny opportunity in the bishop vs. knight endgame.
Nihal - Liang
White could have gone 66.Ke3-d3-c4 and try to gain an entry by putting Black in zugzwang. However, Nihal decided against it, since it is a team championship, there is no point in going for an unsure full point when there is a sure draw especially when the stakes are high.
FM Thalia Cervantes Landeiro launched an ambitious attack on Vaishali's kingside.
Thalia - Vaishali
17.Rxc8 immediately does not work as Vaishali showed in the game 17...Qxc8 18.Bxf6 gxf5 and so on. 18...Nxb4 was also fine for Black. To make the attack successful, White had to play 17.Qc3 and create a battery on the long a1-h8 diagonal. 19.e5 Nxb4 and Black had no trouble converting her advantage into a full point.
Duel 2: USA - India: 4-2
India lost the second duel against the USA 4-2. Harika scored the sole victory for her team. Anand, Vidit and Praggnanandhaa lost their respective games. Humpy and Vaishali drew.
Xiong - Anand
20...axb4 allowed White to execute a typical idea in the English, a squeeze on the queenside. 20...b5 would have been a slightly better alternative.
Black played 33...Rc3 too fast and missed 34.Qb5 invasion into Black's back rank. 33...Rc5 was needed to prevent that.
Vidit made a calculation error in the endgame against Robson.
Vidit - Robson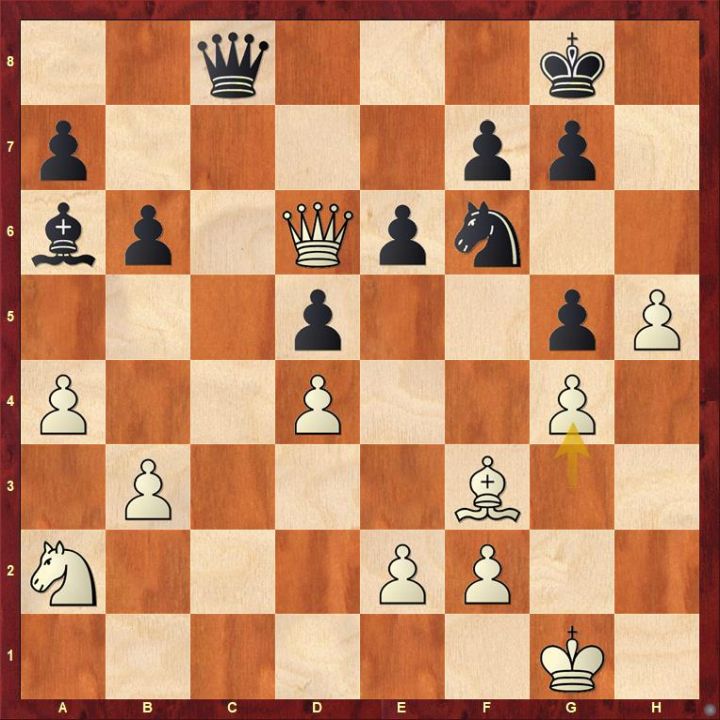 White had to play 36.Qe5 so that e2-pawn is protected after 36...Qc2 37.Nb4 Qd1+ 38.Kg2 and now Black does not have Bxe2. However, 36.g4 allowed that to happen and things just went haywire for White.
Harika scored the sole victory for the team as she positionally outplayed her opponent IM Nazi Paikidze.
Praggnanandhaa started an incorrect chain of exchange which gave his opponent Liang a decisive advantage.
Liang - Praggnanandhaa
28...Nf5 was not a good idea. 28...Nxb5 avoids any kind of trouble as 29.a/cxb5 Rxd1 30.Rxd1 e5 or 29.Rxd8 Kxd8 30.a/cxb5 Kc7. The game continued 29.Rxd8 Kxd8 30.Nxc8 Kxc8 31.Rxe6 and now White is completely winning.
Tie-breaks: India - USA: 1.5-4.5
India lost to USA 1.5-4.5. Harika scored the sole victory for the team once again. Harikrishna, Adhiban and Humpy lost their respective games. Nihal drew with Liang.
It will be Russia vs USA in the Finals tomorrow. Timings will be notified later.
Replay the Live stream
Replay Semifinal games of Team India
Semifinal results
Round 1 on 2021/09/14 at 1530 UTC
No.
Team
Team
Res.
:
Res.
1
India
United States of America
5
:
1
Round 2 on 2021/09/14 at 1630 UTC
No.
Team
Team
Res.
:
Res.
1
United States of America
India
4
:
2
Round 3 on 2021/09/14 at 1730 UTC
No.
Team
Team
Res.
:
Res.
1
India
United States of America
1½
:
4½
Links
---