FIDE Online Olympiad 2021 R1-3: Team India off to a flying start
Team India made a strong start at the FIDE Online Olympiad 2021. The team remained unbeaten in the first three rounds. The only draw of the day was against France in the second round where top four games ended in draws and Praggnanandhaa lost. Vaishali's win became crucial for the team to make a draw. Both Vaishali and Adhiban won both of their games 2.0/2, Anand and Tania scored an important 1.5/2, Harikrishna and Bhakti won their sole game 1.0/1. Praggnanandhaa and Online Olympiad debutante Savitha Shri suffered a loss each. Indian team will face Shenzhen China, Azerbaijan and Belarus tomorrow in Round 4-6 from 4:30 p.m. IST. Photo: Lennart Ootes/Grand Chess Tour
France holds India to a draw in Round 2
Team India is the highest rated team in the Pool B of Top Division. They made a fantastic start by scoring 5.0/6 in the first three rounds. Hungary is in the lead with a 100% score 6.0/6. Only top two teams will advance to the Quarterfinals. France and Moldova are at tied third place with 4.0/6 each respectively.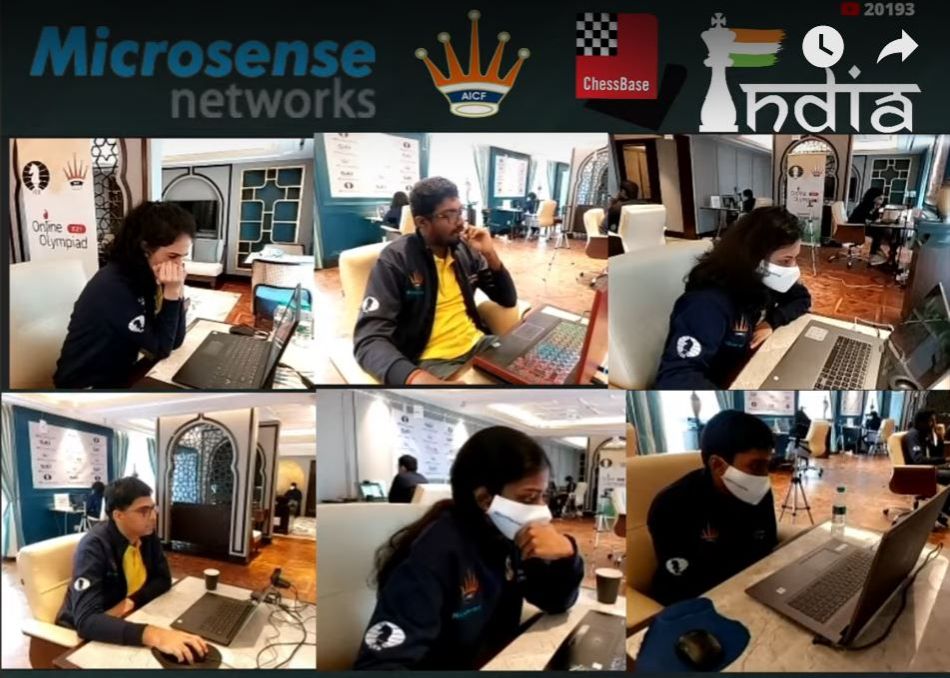 Round 1: India - Egypt: 6-0
Team India whitewashed Egypt without any difficulty as all six players Anand, Adhiban, Tania, Bhakti, Praggnanandhaa and Vaishali won their games respectively. Anand punished his opponent, Egypt no.2 GM Adly Ahmed for overstretching early in the game.
Anand - Adly
16...Bh6 was nicely dealt with 17.h4. The game continued 17...f6 18.exf6 Qd6 19.Ne2 Nxe2+ 20.Bxe2 Nxf6 21.hxg5 Ne4 22.Qc1. 22.Qc2 would have gained material for White immediately, but the text was also correct. Anand went on to win the game comfortably.
Egypt no.4 GM Adham Fawzy went wrong early in the Scotch opening and could not recover for the rest of the game.
Adham - Adhiban
7.Nxd4 type of sacrifices do not work and especially when you are going against Adhiban, one should not make the position sharp because White just played into Black's hand. Adhiban soon gained a couple of pawns which became a deciding factor eventually.
IM Tania Sachdev sacrificed a piece against WGM Shahenda Wafa which was actually a blunder, but she probably did it deliberately because her opponent was much lower rated which means making a recovery would not be that difficult.
Tania - Wafa
13.Nxh7 does not work because of 13...Be4. However, Black needs to play correctly to handle an onslaught on the kingside and clearly she didn't. Thus, Tania's practical sacrifice worked in her favor as she checkmated her opponent eventually.
IM Bhakti Kulkarni got a fantastic position against WIM Ayah Moaataz.
Moaataz - Bhakti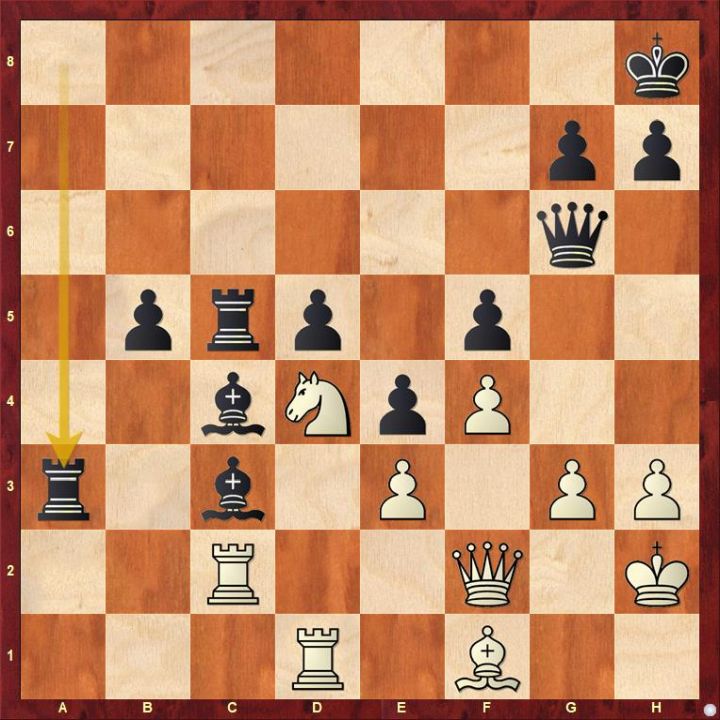 38...Rxa3 turned out to be a mistake because of 39.Bxc4 Bxd4 has 40.Bxd5 Be3 meets with 41.Bf7 and White is out of the woods. Black needed to play 38...Bxd4 first. White played 40.Rxd4 and after a couple of mutual errors, Black managed to finally capitalize on White's mistake in the rook and few pawns endgame.
Praggnanandhaa made a short work of IM Adham Kandil in just 23 moves as he kept cramping the Egyptian's pieces until his knight got trapped eventually.
One of the newly minted IM - Vaishali's opponent WFM Sara Adel made a dubious sacrifice.
Adel - Vaishali
15.Rf3 is nothing but scare tactics. White has nothing after 15...Bxe2 16.Rh3 h5. However, Black opted for the humane 16...Rfe8 17.Qxh7+ Kf8 18.f5 exf5 and now White could have won 19.Bh6 which she missed and played 19.e5 instead. After a few errors from both side, White won the game eventually, but the result was overturned, probably due to a violation of the fairplay policy, resulting in Vaishali getting the full point.
Round 2: France - India: 3-3
Top four games of Anand, Vidit, Humpy and Harika ended in draws. Praggnanandhaa's loss was evened ouy by Vaishali which made sure India draw the match against France. Anand had a tiny window of opportunity to create serious trouble for his opponent, France no.3 GM Etienne Bacrot.
Bacrot - Anand
18...b4 19.Nb1 Ne4 would have forced White to make some uncomfortable choices which gives Black a favorable position.
Vidit got a completely winning position in the endgame against GM Yannick Gozzoli. Time pressure got the better of him.
Vidit - Gozzoli
The g7-pawn is overprotected, White's advanced king and well-placed knight allows him to go for a win 88.Nd4 Ke7 89.g6 Kd7 90.Kf6 and White gains the important e6-pawn. Vidit barely had 24 seconds left on the clock to figure this out. Unfortunately for him, he could not, and the game ended in a draw.
Humpy was completely against GM Marie Sebag. She had very low time and could not find a way to win, decided to repeat moves and make a draw.
Sebag - Humpy
49...Rxg3 simply finishes the game for White. Black does not need to be bothered about 50.c5 f4 51.Rxd6+ Ke5 and Black's pawns are faster than White's. All of these are not easy to calculate when you have 26 seconds left on the clock in an important match.
GM Harika was ahead by an exchange against IM Pauline Guichard. She was unable to maintain her advantage, and the Frenchwoman salvaged a draw.
GM Praggnanandhaa got outplayed by France's youngest GM Marc Andria Maurizzi.
IM Vaishali scored a comfortable victory over untitled Florence Rollot who just could not get out of the gate. Vaishali's sole win saved the match against France.
Round 3: India - Sweden: 4-2
India defeated Sweden 4-2. Harikrishna, Adhiban and Nihal scored important victories. Humpy and made draws, Savitha lost her Online Olympiad debut match. Harikrishna scored a fantastic win where he squeezed the life out of Grandelius' position once he started making mistakes.
Harikrishna - Grandelius
There is no good way for Black to defend the c5 and d5-pawns. It all went downhill from here for Black. White won the game comfortably.
Adhiban defeated GM Erik Blomqvist who made a series of errors in the same color bishop endgame.
In the battle of the legends, Humpy had a 113-move draw with GM Pia Cramling.
Humpy - Cramling
The only opportunity White had in the game was in the above position. 42.Ng4 could have given White a significant advantage. Both players were extremely low on time, White had 10 seconds and Black had 9. So it is quite understandable that it was certainly not easy to make that move.
Tania was in deep trouble in the queen endgame against WIM Inna Agrest. Inaccurate play by the Swedish and Tania's gritty defense allowed her to save the game and make a draw.
Nihal waited for his opportunity with bated breath. IM Milton Pantzar eventually cracked in the endgame under time pressure allowing Nihal to create an unstoppable passed pawn and score a victory.
WIM Savitha Shri B lost her first game at the FIDE Online Olympiad against untitled Margarita Zaritosvkaja in a roller-coaster game.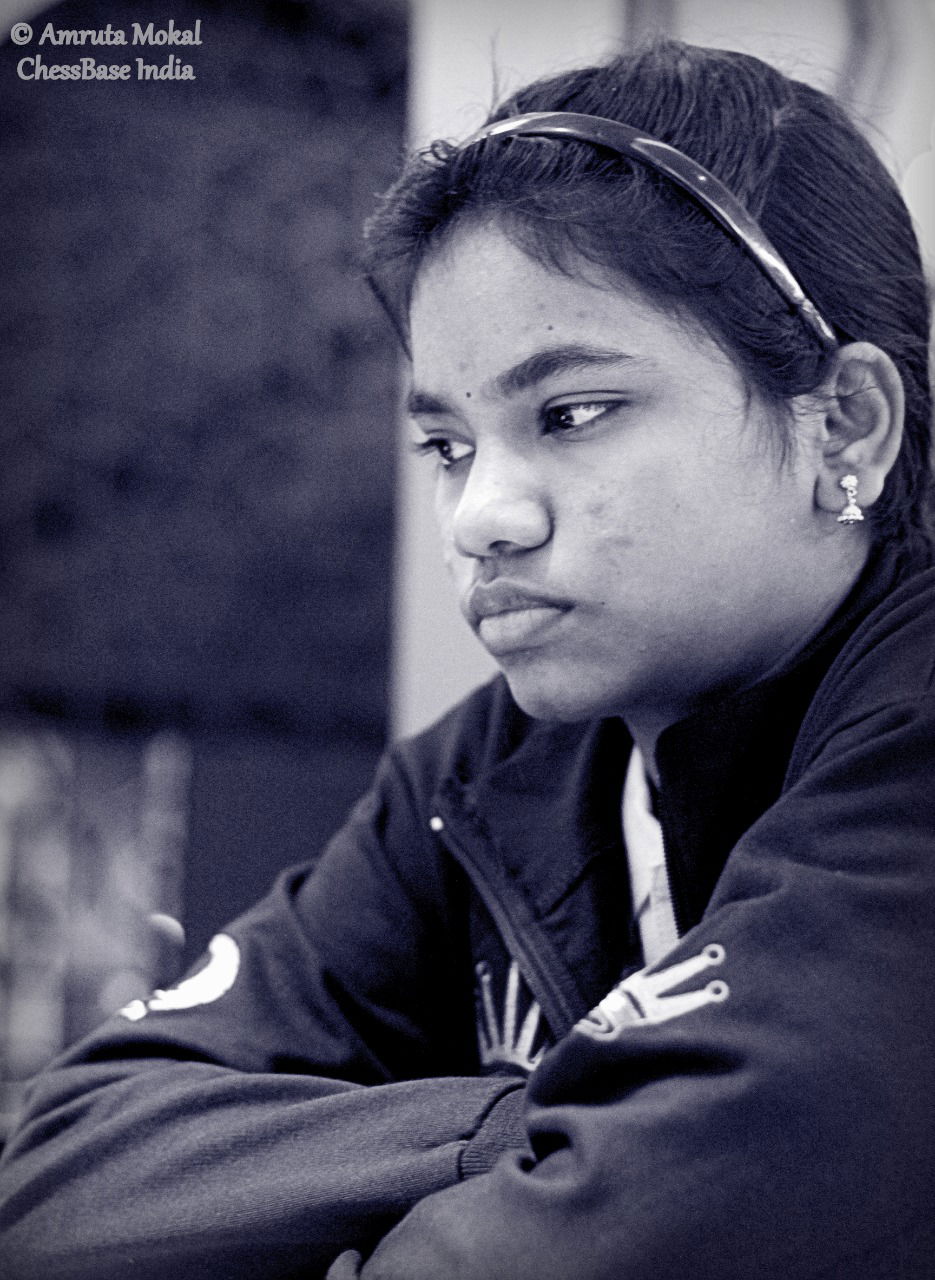 Round 4-6 will take place tomorrow Thursday 9th September from 4:30 p.m. IST onwards.
Replay the Live stream
Replay Round 1-3 games of Team India
Standings after Round 3
| | | | | | | | | | | |
| --- | --- | --- | --- | --- | --- | --- | --- | --- | --- | --- |
| Rk. | SNo | | Team | Games | + | = | - | TB1 | TB2 | TB3 |
| 1 | 3 | | Hungary | 3 | 3 | 0 | 0 | 6 | 11,5 | 0 |
| 2 | 1 | | India | 3 | 2 | 1 | 0 | 5 | 13,0 | 0 |
| 3 | 4 | | France | 3 | 1 | 2 | 0 | 4 | 9,5 | 1 |
| | 10 | | Moldova | 3 | 1 | 2 | 0 | 4 | 9,5 | 1 |
| 5 | 2 | | Azerbaijan | 3 | 1 | 1 | 1 | 3 | 10,5 | 0 |
| 6 | 6 | | Slovenia | 3 | 0 | 2 | 1 | 2 | 8,5 | 0 |
| 7 | 5 | | Sweden | 3 | 1 | 0 | 2 | 2 | 8,0 | 0 |
| 8 | 8 | | Belarus | 3 | 1 | 0 | 2 | 2 | 6,5 | 0 |
| 9 | 7 | | Shenzhen China | 3 | 0 | 1 | 2 | 1 | 7,5 | 0 |
| 10 | 9 | | Egypt | 3 | 0 | 1 | 2 | 1 | 5,5 | 0 |
Links
---