FIDE Online Olympiad 2021 R7-9: India tops Pool B, advances to the Quarterfinals
India topped the Pool B by scoring 16.0/18 to advance to the Quarterfinals. They finished a full point ahead of Hungary 15.0/18. Team India started the day with emphatic victories over Hungary and Moldova. It was Slovenia who managed to hold India to a second draw in the group stage. Vidit and Praggnanandhaa won both of their games. Anand, Humpy and Nihal won a game each. Harikrishna, Bhakti and Savitha suffered a loss each respectively. Quarterfinals will take place on Monday, which will be a duel of two matches. India will face Ukraine in the Quarterfinals. Photo: Amruta Mokal
Slovenia surprises India
India defeated Hungary and Moldova with a dominant show of 4-2 and 5-1. However, Slovenia surprised India in the final round of the day with a 3-3 draw.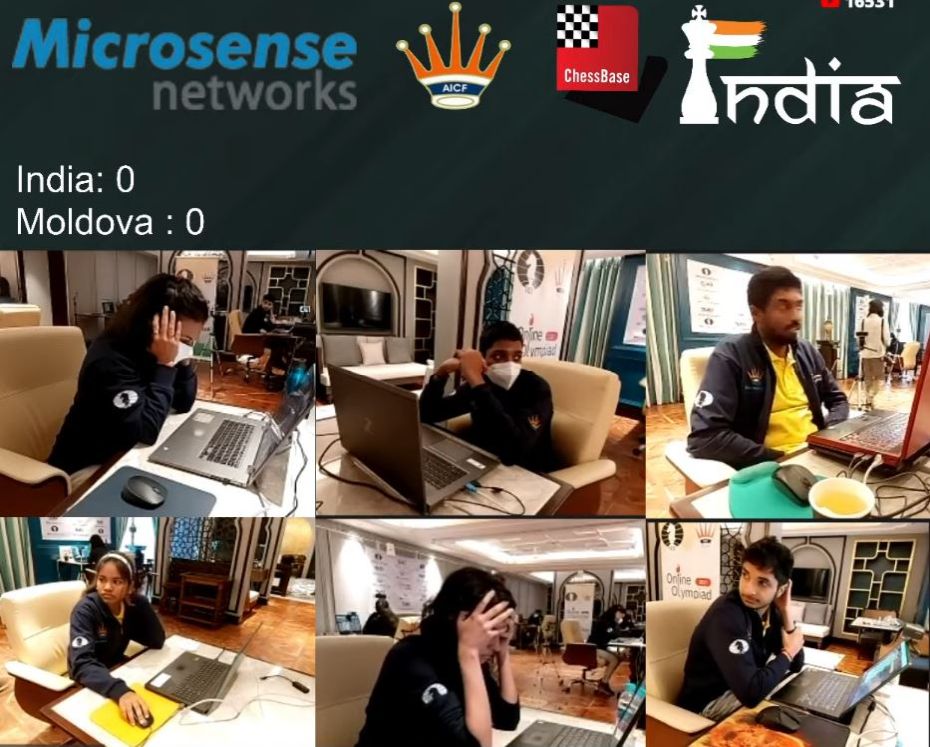 Round 7: India - Hungary: 4-2
India started the day with a dominant 4-2 victory over Hungary. Anand, Humpy and Nihal won their respective games. Harika and Vaishali drew, Harikrishna suffered the only loss of the round. Anand defeated GM Viktor Erdos when the latter liquidated into a lost endgame.
Anand - Erdos
39...b4 is a mistake as it liquidates the position into a winning bishop endgame for White. Black could have tried 39...Rd6 40.Rb7 Bd5 to continue the battle.
With less than 18 seconds left on the clock, Harikrishna made an irrevocable mistake in the endgame which cost him the game against GM Imre Balog.
Balog - Harikrishna
40...Nc4 allows White to pin the knight 41.Rc2 Kd6 42.Nf7+ Ke7 43.Nh8 and White is not even worried about trapping his own knight because he will exchange it with the c4-knight. 43...Kf6 44.b3 Rc8 45.Rxc4 Rxh8 46.Rc6+ and White gains another pawn. 40...a5 or Rb5 would have been fine for Black.
Humpy scored a comfortable victory after her opponent GM Thanh Trang Hoang blundered an exchange in the opening.
Nihal punished his opponent IM Marcell Borhy for going wrong in the opening. He finished the game with a beautiful checkmate combination.
Nihal - Borhy
Find out the winning continuation for White in the above position.
Round 8: India - Moldova: 5-1
India dominated Moldova 5-1, without losing a single game. Vidit, Tania, Bhakti and Praggnanandhaa scored a victory each. Adhiban and Savitha drew their respective games. Vidit got himself a better position in the middlegame and had no trouble converting it against Moldova no.2 and FIDE Executive Director GM Victor Bologan.
Vidit - Bologan
White gains a pawn using a nice tactic 25.Nxc5 dxc5 26.Bxc8 and White is in complete control.
Adhiban was completely winning in the bishop endgame against IM Ivan Schitco.
Schitco - Adhiban
The game continued 36...h4 which allowed White to escape with a draw. Find out what Black could have done to win the game.
Tania scored a nice win over WFM Paula-Alexandra Gitu.
Tania - Gitu
20.Ng5 gives White the immediate leverage.
Bhakti completely dominated her much lower rated opponent untitled Ana Petricenco.
Praggnanandhaa got back to winning ways as he scored a convincing victory over FM Jegor Lashkin.
Round 9: Slovenia - India: 3-3
Slovenia stunned India to a 3-3 draw. Vidit and Pragg scored the only two wins of the round for India. Harikrishna and Tania drew their respective games. Bhakti and Savitha lost their games which cost the team a victory. Vidit made a short work of GM Lenic Luka in just 24 moves.
Harikrishna managed to salvage a draw from a completely lost endgame. He even got a winning chance in the end but time scramble caused him to play it safe and make a draw.
Tania got decisive advantage in the middlegame against WIM Lara Janzelj.
Janzelj - Tania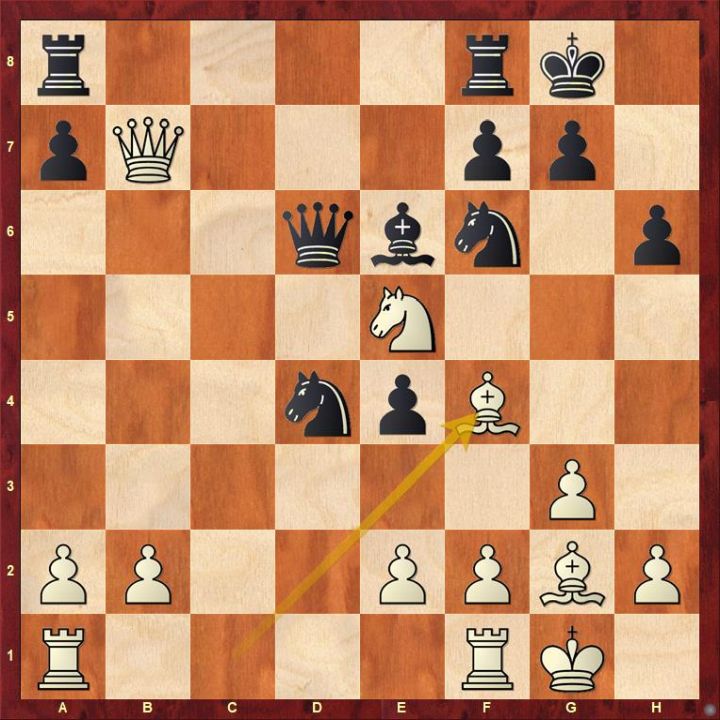 After almost four minutes of thought, 16...Nxe2+ was played. However, 16...Rfb8 was a better and definitive way to continue for Black, which is completely winning. Anyway Black still had an advantage and in the endgame missed a mate in six when she had less than nine seconds left on the clock. White eventually managed to salvage a draw after Black made a mistake in a completely winning rook endgame.
Bhakti got surprised by an onslaught on her kingside by WIM Teja Vidic who checkmated her in 31 moves.
Praggnanandhaa scored his second consecutive victory of the day, by outplaying IM Jan Subelj.
Savitha's search for her first win in the event continues as she suffered another loss, this time against WIM Zala Urh.
Quarterfinals will take place on Monday 13th September 2021. Timings will be notified later.
Replay the Live stream
Replay Round 7-9 games of Team India
Standings after Round 9
| | | | | | | | | | | |
| --- | --- | --- | --- | --- | --- | --- | --- | --- | --- | --- |
| Rk. | SNo | | Team | Games | + | = | - | TB1 | TB2 | TB3 |
| 1 | 1 | | India | 9 | 7 | 2 | 0 | 16 | 37,5 | 0 |
| 2 | 3 | | Hungary | 9 | 7 | 1 | 1 | 15 | 33,0 | 0 |
| 3 | 2 | | Azerbaijan | 9 | 5 | 2 | 2 | 12 | 32,5 | 0 |
| 4 | 7 | | Shenzhen China | 9 | 4 | 1 | 4 | 9 | 27,5 | 2 |
| 5 | 4 | | France | 9 | 3 | 3 | 3 | 9 | 27,5 | 0 |
| 6 | 6 | | Slovenia | 9 | 3 | 3 | 3 | 9 | 27,0 | 0 |
| 7 | 5 | | Sweden | 9 | 4 | 0 | 5 | 8 | 27,5 | 0 |
| 8 | 8 | | Belarus | 9 | 3 | 1 | 5 | 7 | 26,5 | 0 |
| 9 | 10 | | Moldova | 9 | 1 | 2 | 6 | 4 | 15,5 | 0 |
| 10 | 9 | | Egypt | 9 | 0 | 1 | 8 | 1 | 15,5 | 0 |
Links
---