FIDE Online Olympiad 2021: Everything on the line after Day 2
Sixty federation teams battled it out today on Chess.com's online servers for the sixteen qualification spots that advance to the next stage of the Olympiad. Pool A started very early - 0800 UTC (1:30 p.m. IST) and Pool E closed the playing day at 20.00 UTC (1:30 a.m. IST), for more than twelve hours of official online chess: rounds 4-7 are now in the books! Nepal, Hong Kong and Lebanon in Pool A; Malawi, Kenya and Palestine in Pool B; Cyprus, Angola and Jersey in Pool C; Aruba, Suriname and Ghana in Pool D; Trinidad & Tobago, Puerto Rico and Haiti in Pool E are the respective leaders of their Pool at the conclusion of Day 2. Check out the press release from the second day of FIDE Online Olympiad 2021 including few interesting positions. Photos: FIDE
Things are starting to look very good for Hong Kong, who are leading Pool A with 13/14. They finished today's session with three match wins and one draw against Nepal, who are just behind in the standings with 12/14.
Lebanon also had a great session, overtaking Maldives (now 4th), completing the three direct qualification spots, pending tomorrow's four final rounds.
There are still quite a few direct matches between these four contenders, so anything can happen. Even Fiji and Oman (5th and 6th) have an outside chance of getting in, but they must be very fortunate.
Kenya had a huge chess afternoon, pulling ahead in Pool B. After two wins against direct competitors Malawi and Palestine (both on 12/12), they now lead the group with 14/14, and it seems very unlikely that they will miss a qualifying spot.
Sharing second and third place, Malawi and Palestine still have to face each other tomorrow and both of them also will play against Lesotho, who might still have a chance to qualify. Meanwhile, Namibia (on 10/14) will try to finish strong and take advantage of any setbacks at the top of the standings.
There was a five-way tie after the first three rounds yesterday afternoon in Pool C but we did mention that there were still some direct clashes ahead. Only two teams finished the day unscathed: both Angola and Cyprus now share the lead with a clean 14/14 result, after scoring very heavily against the bottom part of the table.
However, Jersey is right behind them on 13/14, and they all have to play each other tomorrow in the final four rounds. Although unlikely, even Ethiopia and Sudan (both on 10/14) might have a chance for third place if they can take down the top scorers.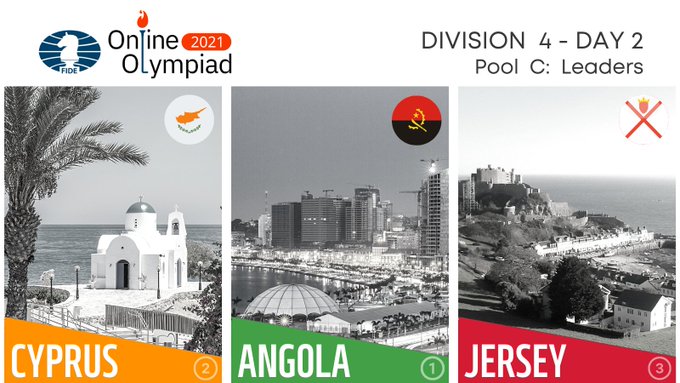 One of the most important matches in Pool C was the round seven clash between top contenders Ethiopia and Cyprus, which eventually ended 2-4. The game diagram corresponds to board three, where Alice Ioannides Liu was able to win the point for Cyprus against her Ethiopian opponent Lidet Abate Haile.
Ioannides Liu - playing Black – had been pressing for a while, but White was defending well. Disaster struck here when Abate Haile played 38.Kg1? (instead of blocking the check with 38.Bf3 and the game goes on).
Black capitalized quickly with 38…Qc1+! 39.Qf1 Qe3+! winning the bishop. Note that the pawn on g3 does a great job creating mating threats and taking away defensive squares for the white king.
In Pool D the team from Suriname are on a roll. Not only have they have won all their matches (14/14): they are crushing the field, scoring 5 and 6 points in each encounter. In second place, and also very likely to qualify, stands Aruba (12/14), who are also scoring heavily. However, they were overtaken in the last round of the day after losing the key match to Suriname by a score of 4.5-1.5.
The following position emerged on board four of the match: Alexandra Kaslan (Suriname) is playing White against Lesley Cielo from Aruba. If you want to improve your endgame calculation, try and solve it before checking out the solution! Should White exchange the minor piece and go into the pawn ending?
Yes of course! The game continued 38.Bxg6! Kxg6 39.Ke5 Kg5 40.Kd6 Kh4 41.Kxc5 Kxh3 42.Kxc6 Kxg4 43.Kb6 h5 44.c5 h4 45.c6 h3 46.c7 h2 47.c8=Q+ and White got there first! Black resigned soon after.
The third qualification spot will be heavily contested in tomorrow's four final rounds. Ghana (10/14) has an extra point over three teams on 9/14: Cape Verde, Cameroon and Sao Tome and Principe.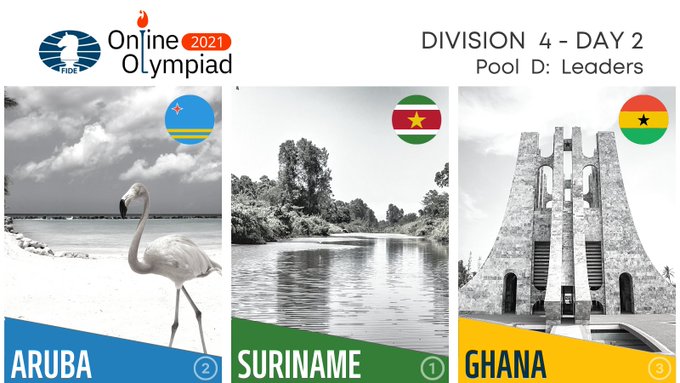 Puerto Rico has a lock on Pool E. With a clean 14/14 score, nothing short of a disaster would prevent them from winning the group and qualifying to the third division. Scoring 5-1 and 6-0 respectively against second and third place contenders Trinidad &Tobago (12/14) and Haiti (12/14) has left no doubt about the practical strength of the squad.
With a 1943 ELO medium rating, the team headed by captain Francisco Cruz Arce is clearly one of the strongest in balanced in the entire division. The squad only lost 2 games out of 42 and with several players on 100%.
Having to play with the first three teams, Cayman Islands (9/12) still has a chance to achieve direct qualification, but they would need to win at least two of the three matches. Definitely, a team to watch out for in the final four rounds in this pool.
Division 4 will finish tomorrow, Sunday 22nd, with the final four rounds (8-11). The games will begin at 08.00 UTC (1:30 p.m. IST) in Pool A and end at 20.00 UTC (1:30 a.m. IST) in Pool E.
The first three teams of each pool advance to the next stage, and, owing to Afghanistan's withdrawal, the best of the five 4th-placed teams in Division 4, ranked according to the pool tie-breaks, will also be invited to participate in Division 3.
Pairings of the rounds, live games, PGN files and other useful information can be found on the FIDE Online Olympiad website. Please note that all results and standings remain provisional until the fair play panel submit its daily report.
The games can be followed online on www.chess.com (Events) and @chesscom will be hosting daily commentary, anchored by Wouter Bik, with expert analysis by @AlessiaSantera1, @monkey_chess, @JenShahade and @keti_chess. Commentary can also be followed on FIDE's own Youtube channel.
About the tournament:
Scheduled to take place from August 20th to September 15th, the 2021 FIDE Online Olympiad is a national teams event in which all federations affiliated to FIDE have the right to participate. Team's consist of six players with a minimum of three female players and two junior players.
Played online on Chess.com, the event features two main stages: the "Divisions stage", and the Play-offs stage. All games are played with a 15 minutes + 5 seconds increment per move time control. The full schedule can be consulted here.
Organisers: International Chess Federation (FIDE)
Chess.com as the hosting platform
Partners supporting the FIDE Online Olympiad 2021:
the Shenzhen Longgang District Culture, Radio, Television, Tourism and Sports Bureau
the Shenzhen MSU-BIT University
Shenzhen Chess Academy
Shenzhen Pengcheng Chess Club
Shenzhen Longgang District People's Government
the Shenzhen Municipal Bureau of Culture, Radio, Television, Tourism and Sports
---