FIDE Online Olympiad 2021 R4-6: India ascends to the top
Team India dominated the second day to ascend to the top of Pool B with 11.0/12. Hungary is also with the same points, but the Indian team has better tie-breaks as they scored more game points. Shenzhen China was annihilated by India as they suffered a 1-5 loss in the fourth round. India defeated Azerbaijan 4-2 in the fifth round. Belarus lost to India by a minimum margin 2.5-3.5 in the sixth round. Nihal and Bhakti won both of their games today. Anand and Vaishali scored a valuable 1.5/2 and 2.0/3. Praggnanandhaa suffered his second consecutive game of the event. India will face Hungary, Moldova and Slovenia tomorrow in Round 7-9 from 4:30 p.m. IST. Photo: Amruta Mokal
Vaishali ensures India's win against Belarus
Team India scored three victories on the second day to ascend to the top of Pool B with 11.0/12. India beat all three opponents Shenzhen China, Azerbaijan and Belarus. The sixth round match was a bit close against Belarus, but Vaishali fought valiantly and denied her opponent a win by snatching an important draw.
Round 4: Shenzhen China - India: 1-5
Team India dominated Shenzhen China by scoring five wins. Harikrishna, Adhiban, Bhakti, Nihal and Vaishali won their respective games. Only Humpy suffered a loss against GM Zhao Xue. Harikrishna scored a clinical victory against his opponent, GM Chongsheng Zeng.
Harikrishna - Zeng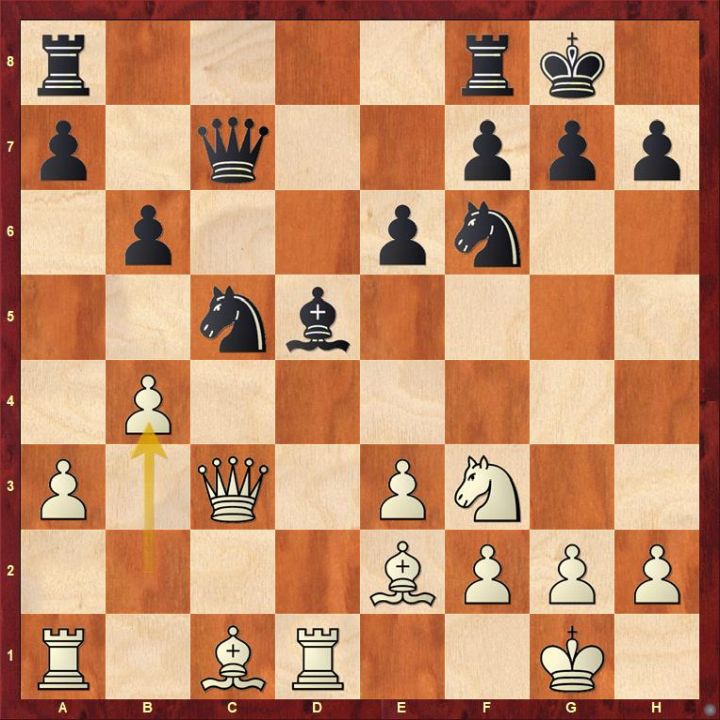 14.b4 allows too many threats as White has a light-square weakness on a4, b3 and e4. Soon White lost an exchange and eventually ran out of time after 24 moves.
Adhiban in his typical way unleashed his 'Beast mode' on GM Ruiyuan Yu and scored an academic win.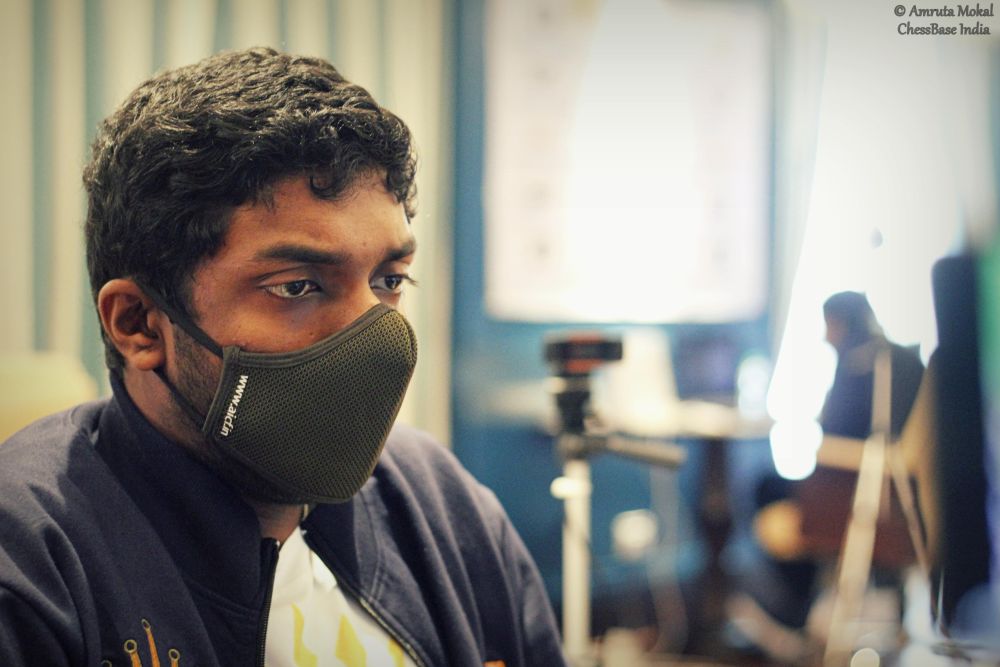 Humpy needed to sacrifice an exchange to save the game.
Xue - Humpy
22.cxd4 needed to be met by 22...Rxf3 23.gxf3 Nxd4 24.Qxc7 Nxf3+ 25.Kf1 Qxd3+ 26.Kg2 Nh4+ and White cannot get out of the perpetual check. Unfortunately Humpy recaptured 22...exd4 almost immediately and the opportunity was gone. White converted her advantage into a win eventually.
IM Bhakti Kulkarni made the correct practical choice of sacrificing her bishop in the endgame for two important pawns against WIM Tong Xu
Bhakti - Tong
There is only one way for White to go for a win here which is 48.Bxg4 fxg4 49.Kxg4. It was possible for Black to save the game after 49...Bb8 50.g3 and now the king should go and take the c6-pawn via 50...Ke7. Not taking the c6-pawn proved to be fatal for Black as the Chinese lost the game because of it.
Nihal scored a nice victory over untitled Haowen Xue, using tactics.
Haowen - Nihal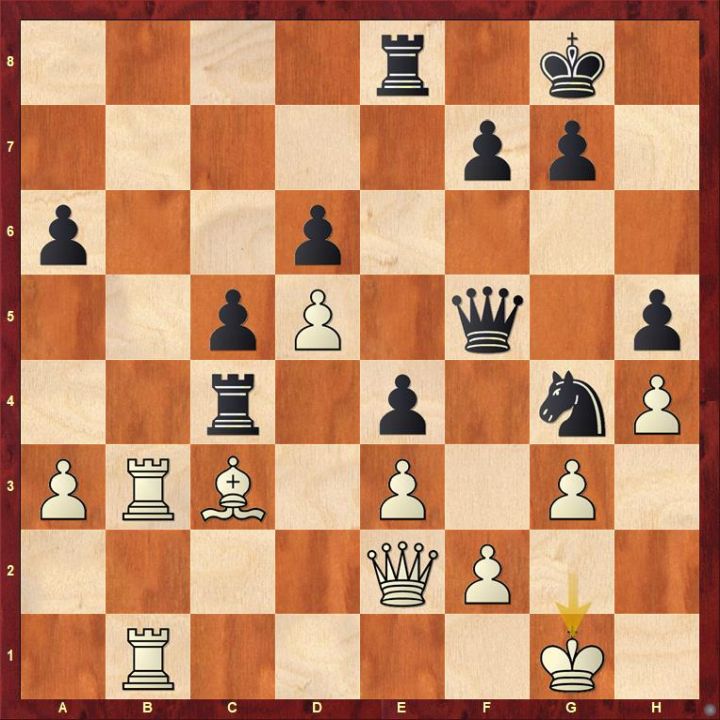 Black is completely winning here in various ways. Can you find the one which Nihal played?
IM Vaishali made a short work of her opponent, WFM Xinyu Li in just 18 moves.
Round 5: India - Azerbaijan: 4-2
Team India defeated Azerbaijan 4-2 without losing a single game. Anand, Vidit, Harika and Vaishali drew their respective games. Humpy and Nihal won their games each, making sure India win the fifth round match. Anand made a comfortable draw against Radjabov who was forced to give up a piece and go for a perpetual check.
Anand - Radjabov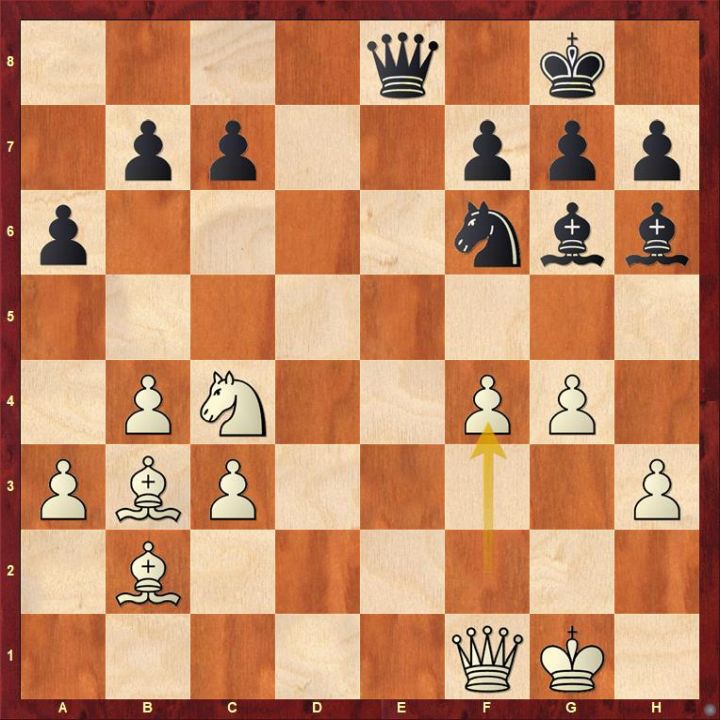 29.f4 threatens f5 and g5 to gain material. There is no way for Black to prevent that. Radjabov opted for perpetual 29...Bxf4 30.Qxf4 Qe1+ 31.Qf1 Qg3+. Left without a choice, White also had to repeat to avoid a loss.
Vidit held World no.11 Shakhriyar Mamedyarov to a solid draw.
Humpy scored an easy win after Azerbaijan no.1 woman IM Gunay Mammadzada made a tactical error.
Humpy - Mammadzada
14...Ne8 is a mistake. Find out the best continuation for White.
GM Harika was got herself in quite a bit of trouble against IM Gulnar Mammadova as she made a few inaccuracies in the rook and many pawns endgame.
Mammadova - Harika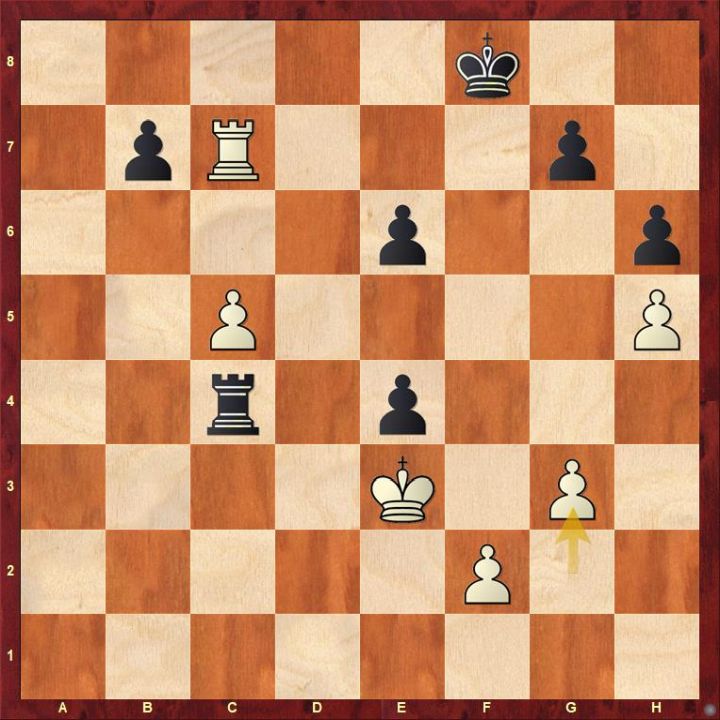 28...Rb4 or e5. The game continued 28...Kg8 29.Kf4 and now Black made a mistake 29...Rc2. 29...Rb4 or Kf8 was fine for Black. White got a decisive advantage after 30.Kxe4 Rxf2 31.Rxb7 Rc2 32.Rc7 Rc3 and now White needed to focus on the passed c-pawn. Instead, White played 33.g4, and she did not advance her beyond the fourth rank or move it towards the c-file, either of which was required to play for a win.
GM Nihal scored a very nice victory over GM Vugar Asadli who made an incorrect retreat.
Nihal - Asadli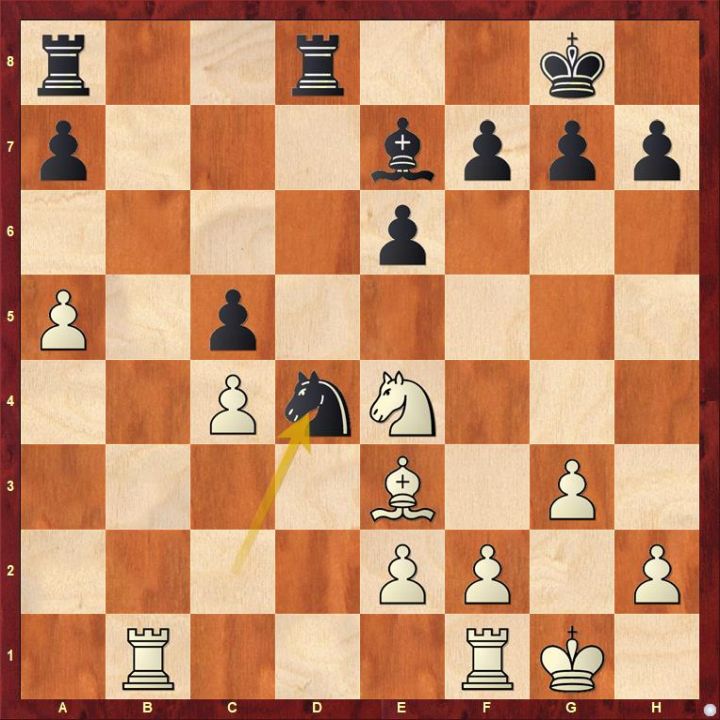 Black needed to play 26...Nxe3 27.fxe3 Rd7 and everything would have been fine. Instead, 26...Nd4 allowed White to invade on the seventh rank 27.Rb7 Kf8 28.Rfb1 Nxe2+ 29.Kg2 Nd4 30.a6 and it's all over for Black.
IM Vaishali was winning even in the final position against WGM Khanim Balajayeva. However, she decided to take a draw as she was low on time.
Balajayeva - Vaishali
Black can win this with 32...h4. Even if she takes on f8, 33.Nxf8 Kxf8, it is still winning for Black. Vaishali made a nice practical decision to repeat moves and make a draw.
Round 6: Belarus - India: 2.5-3.5
Belarus lost to India by minimum margin 2.5-3.5. Anand and Bhakti won, Vidit, Tania and Vaishali drew their respective games. Praggnanandhaa suffered his second consecutive loss of the event. Anand smashed GM Aleksej Aleksandrov in 23 moves. The Belarusian made a miscalculation and launched a phantom attack on Anand's kingside.
Aleksandrov - Anand
White's ambitious attack does not work as 16...Kh8 17.Qh3 Bd2 defends the h6-pawn. 18.f4 does not provide enough blockade, as 18...Qd4+ 19.Rf2 Bxf4 and it's all over for White.
Vidit got himself a decisive advantage against Fedorov by doing a nice tactic.
Vidit - Fedorov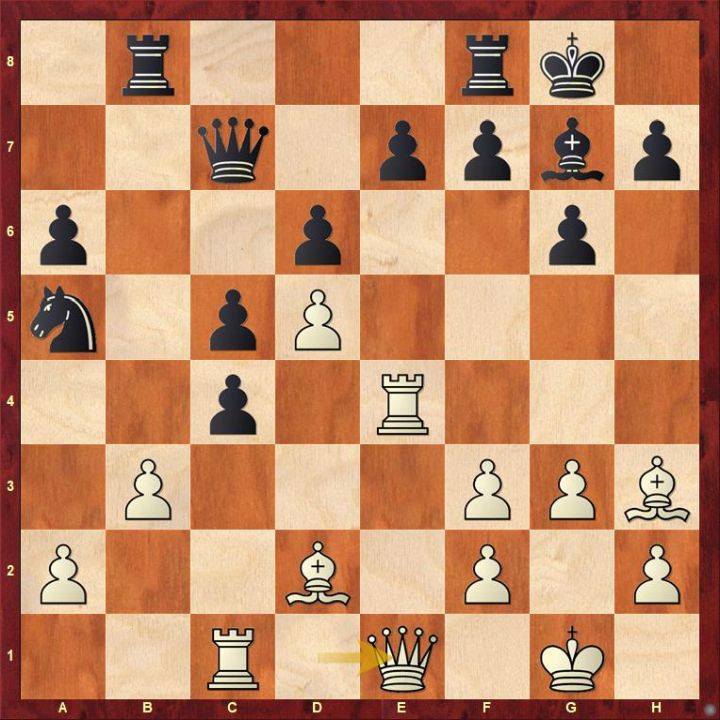 18.Qe1 does a double attack on both a5-knight and the e7-pawn. Black tried to make things messy for White 18...Nxb3 19.axb3 cxb3 20.Rxe7 Qb6 and now 21.Ba5 Qb5 22.Bf1 should keep White in the driver's seat. However, Vidit opted for 21.Bc3 Bxc3 22.Qxc3 b2 23.Rb1 Qb3 24.Qxb3 Rxb3. Exchanging the queens removed White's advantage and the game headed towards a draw.
IM Tania made a short and solid draw with WFM Aliaksandra Tarasenka.
Bhakti scored a clinical victory over Kseniya Norman after her opponent blundered a pawn early in the middlegame.
Praggnanandhaa suffered his second consecutive loss of the event, this time against IM Denis Lazavik.
Lazavik - Praggnanandhaa
Black needed to play 24...Qd2 in the previous move instead of 24...Bh3 and things would have been fine. 25...Rxb2 allows White to win in multiple ways as both 26.Rxf7+ or Bxg6 is devastating.
Vaishali made a good save from a completely lost position against WFM Kseniya Zeliantsova. It made sure India beat Belarus.
Round 7-9 will take place tomorrow Thursday 9th September from 4:30 p.m. IST onwards.
Replay the Live stream
Replay Round 4-6 games of Team India
Standings after Round 6
| | | | | | | | | | | |
| --- | --- | --- | --- | --- | --- | --- | --- | --- | --- | --- |
| Rk. | SNo | | Team | Games | + | = | - | TB1 | TB2 | TB3 |
| 1 | 1 | | India | 6 | 5 | 1 | 0 | 11 | 25,5 | 0 |
| 2 | 3 | | Hungary | 6 | 5 | 1 | 0 | 11 | 21,5 | 0 |
| 3 | 4 | | France | 6 | 3 | 2 | 1 | 8 | 20,0 | 0 |
| 4 | 2 | | Azerbaijan | 6 | 3 | 1 | 2 | 7 | 21,0 | 0 |
| 5 | 5 | | Sweden | 6 | 3 | 0 | 3 | 6 | 19,5 | 0 |
| 6 | 6 | | Slovenia | 6 | 2 | 2 | 2 | 6 | 18,5 | 0 |
| 7 | 10 | | Moldova | 6 | 1 | 2 | 3 | 4 | 13,0 | 0 |
| 8 | 7 | | Shenzhen China | 6 | 1 | 1 | 4 | 3 | 16,5 | 0 |
| 9 | 8 | | Belarus | 6 | 1 | 1 | 4 | 3 | 14,5 | 0 |
| 10 | 9 | | Egypt | 6 | 0 | 1 | 5 | 1 | 10,0 | 0 |
Links
---