Top seeds score easy wins at Bhopal International GM Open 2019
The biggest chess tournament of Central India, Bhopal International GM Open 2019 started yesterday. All seeded titled players scored an easy win in round 1. There will be two rounds on the second day and the games will get more interesting. Before the first round, the tournament had an inauguration ceremony on a custom made chess table. First lighting of the lamp and then an inaugural move was made to mark the ceremonial start of the tournament. Total 250 players from 15 countries including 10 GMs, 7 IMs, a WGM and a WIM are taking part in this eight-day 11 rounds Swiss league event. Photo: Niklesh Jain
Bhopal International GM Tournament 2019, recognized by FIDE and AICF was inaugurated today at Kanta Shravan Palace today by Mr. Anurag Jain, IAS, Additional Chief Secretary, Finance - Govt. of Madhya Pradesh, Dr. S L Thoessen, IPS, Director, Sports and Youth Welfare Department, Chief Asset and Madhya Pradesh Chess Federation President Sunil Bansal and Secretary Kapil Saxena.
The tournament is organized under the aegis of Madhya Pradesh Chess Association, Department of Sports and Youth Welfare and the Academy of Chess Education.
The inauguration ceremony started with the traditional lighting of the lamp. Chief Guest of the occasion Mr. Anurag Jain said that strong Grandmasters coming from abroad and playing at Bhopal is a very big thing. On behalf of Sports Youth Welfare Department, Dr. S L Thoessen expressed happiness in the popularization of the tournament and wished the best to all the players.
First round
All top seeded titled players make a smooth start on the first round.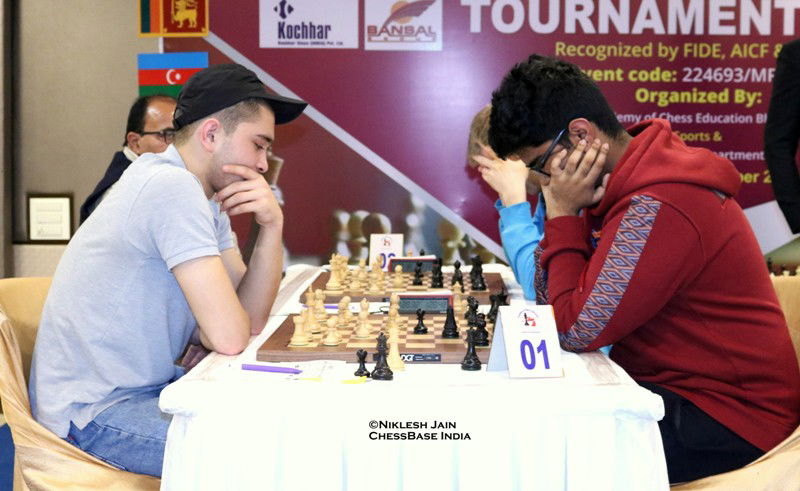 Photo Gallery
Translation from Hindi by Shahid Ahmed
Replay all completed games
---