Bhopal International GM Open 2019 preview
Players from 15 countries including India have gathered in Madhya Pradesh's capital Bhopal for Bhopal International GM Open 2019 which will start on 21st December 2019. Players kept arriving at Raja Bhoj International Airport throughout the day on 20th December and they were welcomed in a grand manner which overwhelmed players. Despite everything that's happening, things have been rather peaceful in Bhopal and Organizing Secretary IA Kapil Saxena himself has reassured all players.
The tournament will be inaugurated at Hotel Kanta Shrawan Palace today 21st December. Total 250 players from 15 countries will be seen in action battling over 64 squares. First day will have only one round where the seeded players will face the budding and younger talents in general. Time control is 90 minutes each + 30 seconds of increment from move no.1. Central India's biggest tournament will give opportunity to all players to not only get an opportunity to score IM and GM norms, but also get an opportunity score their FIDE Rating to the unrated players. Total prize fund being ₹1414000 is also a big attraction.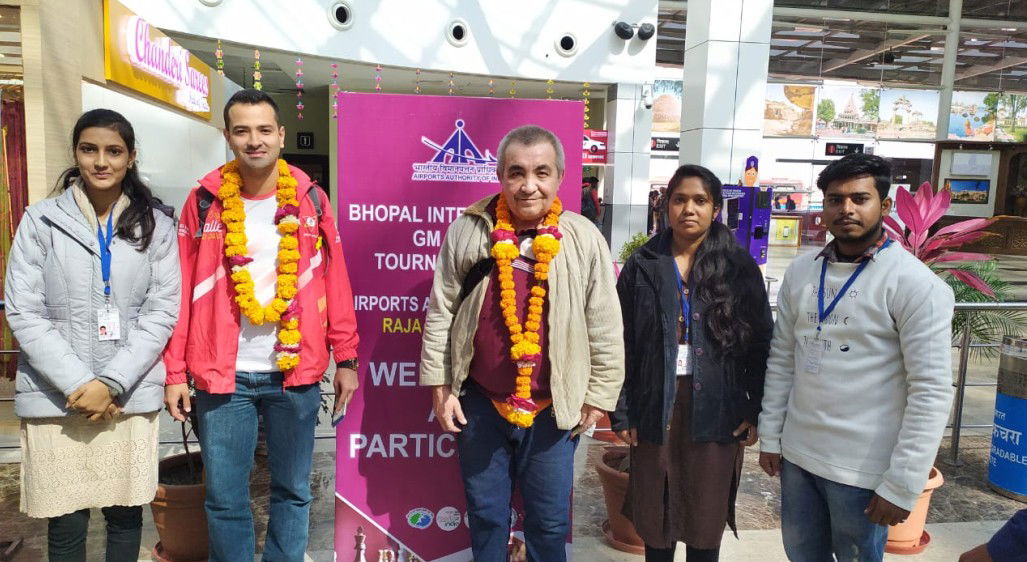 Foreign players were overwhelmed by the reception at the Raja Bhoj International Airport. They were given a grand welcome by putting on the traditional tilak and garland on them as per the Indian tradition. Fourth seeded Colombian GM Cristian Rios said, "I am overwhelmed by the way I was welcomed. It felt like I have come home. Everything feels beautiful. I cannot remember if I have ever been welcomed like this before anywhere."
American GM Raset Ziatdinov said, "I always like to come to Bhopal. The way players are taken care of is very nice and I enjoy playing here. The level of Indian chess players is very high and the younger players present a very strong challenge."
Top seed of the tournament, GM Nodirbek Yakubboev, the highly talented Uzbekistan player had a high praise saying, "I hope the way the tournament is beautifully organized, it motivated me to do well here."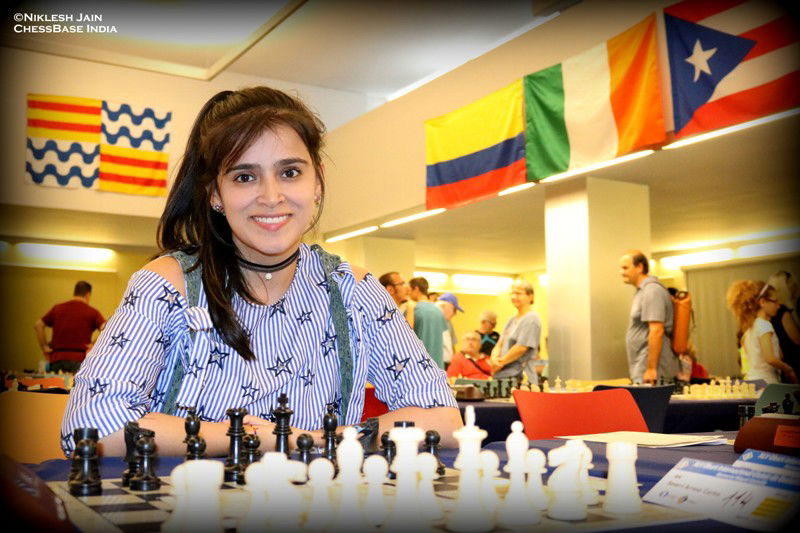 Colombia's top woman player, WIM Franco Angela said, "Bhopal International Open is one of the finest tournaments in the country. The way the players are given respect here is incredible. The players stay, the food arrangements and the playing environment is world class which inspires the players to do well here."
Organizing Secretary and Tournament Director IA Kapil Saxena said, "The atmosphere in Bhopal is completely peaceful and with the cooperation of the Government of Madhya Pradesh, excellent arrangements have been made for the players accommodation and the playing hall. Welcome to all chess players in Bhopal."
Translation from Hindi by Shahid Ahmed
Starting rank
---