Can Venkatesh win Bhopal GM Open 2019?
Bhopal International GM Open 2019 has arrived at its final stage. Everybody is eager to know who will win the tournament. It is difficult to say who will win it, because after the conclusion of round 9, four players are in the lead with a score of 7.5/9 and they are - Nodirbek Yakubboev, Venkatesh M R, Nguyen Van Huy and Attila Czebe. A draw in each of the top two boards will open the tournament wide to the eight players who are just trailing behind the leaders by a half point at 7.0/9. Entire nation will have eyes on the final round to find out whether this time an Indian will win the trophy or not. If Venkatesh scores a victory over Yakubboev, then it is highly likely that he will become champion. Photo: Niklesh Jain
Final round of Bhopal International GM Open 2019 will determine the winner of Central India's biggest chess tournament. Top seed of the tournament Uzebk GM Nodirbek Yakubboev, highest rated Indian of the tournament Venkatesh M R, IM Nguyen Van Huy of Vietnam and GM Attila Czebe of Hungary are in a four-way lead going into the final round. It will be interesting to see who wins the tournament.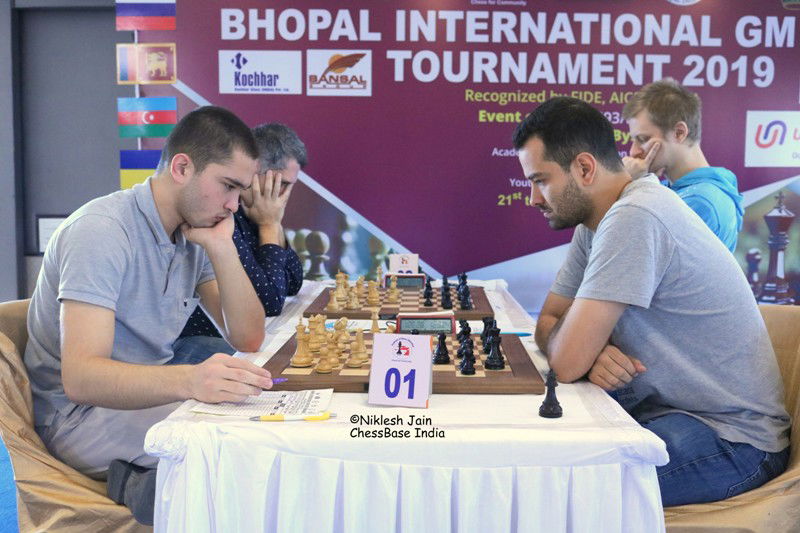 After the completion of round 9, it became difficult to predict who will win the tournament. Colombia's GM Cristhian Rios held top seed GM Nodirbek Yakkuboev to a draw at the top board. In a Closed Catalan game, Yakubboev tried hard to gain advantage but Rios did not budge. He liquidated into an opposite color bishop endgame where draw became the obvious result at the end of 62 moves.
Hungarian GM Attila Czebe made the most out of the top board draw as he defeated the strong contender for championship, Ukrainian GM Stanislav Bogdanovich and surprised everyone. In a Pirc Defence Modern varation, Czebe playing with white pieces, gave no chance to his opponent and secured a victory in just 38 moves to join the leaders heading into the final round of the tournament.
GM Venkatesh M R played his best game of the tournament by scoring a fantastic victory over experienced Russian GM Maxim Lugovskoy. Thus Venkatesh joined the three other leaders heading to the final round. The Indian faced French Defence and in the endgame he gained two pawns which he converted easily into a victory after 37 moves.
IM Nguyen Van Huy defeated IM Ortik Nigmatov and joined the leaders to fight for the championship in the final round. Starting out with Caro-Kann Advance variation, Van Huy scored a victory with the black pieces in 42 moves.
Among other important results, IM Taher Yoseph Theolifus held GM Manik Mikulas to a draw, Kartavya Anadkat lost to GM Azer Mirzoev and after a grueling battle GM Adam Tukhaev defeated IM Anup Deshmukh. IM Denis Eraschenkov was held to a draw by R Rathneesh of India. Shaik Sumer Arsh lost to Utkal Ranjan Sahoo and Sharan Rao defeated compatriot Pranav V on board no. 10.
The top board clash in the final round will be of epic proportions when top seed Yakubboev faces India's Venkatesh and IM Nguyen Van Huy will face GM Attila Czebe on board no.2. Since there are eight players at 7.0/8, if top two boards end up in draws then anyone can become champion. Prize Distribution Ceremony will take place at 3pm on 28th December 2019 after the conclusion of final round.
Translation from Hindi by Shahid Ahmed
Rank after Round 9
| | | | | | | | | | | | | | | | | |
| --- | --- | --- | --- | --- | --- | --- | --- | --- | --- | --- | --- | --- | --- | --- | --- | --- |
| Rk. | SNo | | | Name | Typ | sex | Gr | FED | Rtg | Club/City | Pts. | TB1 | TB2 | TB3 | TB4 | TB5 |
| 1 | 1 | | GM | Yakubboev Nodirbek | | | | UZB | 2592 | Uzbekistan | 7,5 | 0,0 | 51,0 | 56,0 | 45,75 | 6 |
| 2 | 5 | | GM | Venkatesh M.R. | | | | IND | 2491 | Tamil Nadu - India | 7,5 | 0,0 | 49,5 | 54,0 | 43,50 | 7 |
| 3 | 10 | | IM | Nguyen Van Huy | | | | VIE | 2457 | Vietnam | 7,5 | 0,0 | 49,0 | 53,5 | 42,25 | 7 |
| 4 | 15 | | GM | Czebe Attila | | | | HUN | 2374 | Hungary | 7,5 | 0,0 | 46,5 | 51,5 | 42,50 | 7 |
| 5 | 4 | | GM | Rios Cristhian Camilo | | | | COL | 2505 | Colombia | 7,0 | 0,0 | 52,0 | 56,5 | 42,50 | 5 |
| 6 | 7 | | IM | Taher Yoseph Theolifus | | | | INA | 2469 | Indonesia | 7,0 | 0,0 | 51,0 | 54,5 | 40,50 | 6 |
| 7 | 14 | | GM | Manik Mikulas | | | | SVK | 2379 | Slovakia | 7,0 | 0,0 | 49,5 | 54,0 | 41,00 | 5 |
| 8 | 3 | | GM | Tukhaev Adam | | | | UKR | 2552 | Ukraine | 7,0 | 0,0 | 48,5 | 53,5 | 41,50 | 5 |
| 9 | 9 | | GM | Mirzoev Azer | | | | AZE | 2457 | Azerbaijan | 7,0 | 0,0 | 47,5 | 52,5 | 40,25 | 6 |
| 10 | 17 | | | Sahoo Utkal Ranjan | | | | IND | 2329 | Odisha - India | 7,0 | 0,0 | 45,5 | 49,0 | 35,75 | 6 |
| 11 | 19 | | | Raahul V S | | | | IND | 2252 | Tamil Nadu - India | 7,0 | 0,0 | 43,5 | 48,0 | 36,00 | 6 |
| 12 | 43 | | | Sharan Rao | | | | IND | 1912 | Karnataka - India | 7,0 | 0,0 | 43,5 | 47,5 | 37,00 | 7 |
| 13 | 2 | | GM | Bogdanovich Stanislav | | | | UKR | 2562 | Ukraine | 6,5 | 0,0 | 52,0 | 56,0 | 37,75 | 6 |
| 14 | 8 | | GM | Lugovskoy Maxim | | | | RUS | 2466 | Russia | 6,5 | 0,0 | 51,0 | 56,0 | 39,50 | 6 |
| 15 | 22 | | GM | Ziatdinov Raset | S60 | | | USA | 2204 | United States of America | 6,5 | 0,0 | 50,0 | 54,5 | 36,00 | 6 |
| 16 | 6 | | IM | Nigmatov Ortik | | | | UZB | 2474 | Uzbekistan | 6,5 | 0,0 | 49,5 | 53,5 | 37,25 | 6 |
| 17 | 11 | | IM | Khusenkhojaev Muhammad | | | | TJK | 2427 | Tajikistan | 6,5 | 0,0 | 48,0 | 52,5 | 35,75 | 6 |
| 18 | 29 | | | Mahindrakar Indrajeet | | | | IND | 2042 | Maharashtra - India | 6,5 | 0,0 | 46,5 | 51,0 | 34,50 | 6 |
| 19 | 32 | | AGM | Rathneesh R | U15 | | | IND | 2006 | Tamil Nadu - India | 6,5 | 0,0 | 46,5 | 51,0 | 33,25 | 6 |
| 20 | 21 | | | Varun V | | | | IND | 2250 | Andhra Pradesh - India | 6,5 | 0,0 | 46,5 | 50,5 | 34,00 | 6 |
| 21 | 31 | | | Anadkat Kartavya | U15 | | | IND | 2023 | Gujarat - India | 6,5 | 0,0 | 45,5 | 50,0 | 34,25 | 6 |
| 22 | 34 | | | Trivedi Karan R | | | | IND | 1949 | Gujarat - India | 6,5 | 0,0 | 44,5 | 48,0 | 31,25 | 6 |
| 23 | 24 | | WIM | Franco Valencia Angela | | w | | COL | 2167 | Colombia | 6,5 | 0,0 | 42,5 | 46,0 | 31,75 | 6 |
| 24 | 30 | | | Sri Sai Baswanth P | | | | IND | 2027 | Telangana - India | 6,5 | 0,0 | 42,0 | 46,5 | 33,75 | 5 |
| 25 | 13 | | IM | Eraschenkov Denis | | | | RUS | 2386 | Russia | 6,5 | 0,0 | 42,0 | 45,5 | 33,00 | 5 |
| 26 | 38 | | | Jain Kashish Manoj | U15 | | | IND | 1934 | Maharashtra - India | 6,5 | 0,0 | 41,5 | 45,5 | 32,25 | 5 |
| 27 | 123 | | | Jani Kushal R | U13 | | | IND | 1611 | Gujarat - India | 6,0 | 0,0 | 48,0 | 50,5 | 30,25 | 5 |
| 28 | 18 | | | Pranav V | U13 | | | IND | 2264 | Tamil Nadu - India | 6,0 | 0,0 | 46,0 | 49,5 | 30,50 | 6 |
| 29 | 37 | | | Lakshmi Sandeep Naidu V | | | | IND | 1937 | Andhra Pradesh - India | 6,0 | 0,0 | 45,0 | 49,0 | 30,00 | 6 |
| 30 | 27 | | | Jay Kundaliya | | | | IND | 2088 | Gujarat - India | 6,0 | 0,0 | 45,0 | 48,5 | 30,50 | 5 |
| 31 | 12 | | IM | Abdisalimov Abdimalik | | | | UZB | 2394 | Uzbekistan | 6,0 | 0,0 | 44,5 | 48,5 | 29,25 | 5 |
| 32 | 20 | | | Sapaev Maksad | | | | UZB | 2250 | Uzbekistan | 6,0 | 0,0 | 44,0 | 48,5 | 30,50 | 5 |
| 33 | 28 | | | Shiva Pavan Teja Sharma U | | | | IND | 2072 | Andhra Pradesh - India | 6,0 | 0,0 | 44,0 | 48,0 | 30,75 | 5 |
| 34 | 54 | | | Shaik Sumer Arsh | U11 | | | IND | 1826 | Telangana - India | 6,0 | 0,0 | 44,0 | 48,0 | 29,00 | 6 |
| 35 | 23 | | IM | Deshmukh Anup | | | | IND | 2168 | Maharashtra - India | 6,0 | 0,0 | 43,0 | 47,0 | 28,25 | 5 |
| 36 | 56 | | AFM | Pawar Harshit | U13 | | | IND | 1823 | Delhi - India | 6,0 | 0,0 | 43,0 | 46,5 | 28,00 | 5 |
| 37 | 115 | | | Mithil Anande P | | | | IND | 1632 | Maharashtra - India | 6,0 | 0,0 | 42,5 | 45,0 | 26,25 | 5 |
| 38 | 40 | | | Gokhale Rishabh Chandrashekhar | U15 | | | IND | 1927 | Maharashtra - India | 6,0 | 0,0 | 40,5 | 44,0 | 27,25 | 5 |
| 39 | 52 | | | Sahu Rajendra Kumar | | | | IND | 1837 | Odisha - India | 6,0 | 0,0 | 40,5 | 44,0 | 26,25 | 5 |
| 40 | 73 | | | Tiwari Shivansh | | | | IND | 1770 | Madhya Pradesh - India | 5,5 | 0,0 | 49,5 | 52,0 | 28,75 | 5 |
| 41 | 16 | | | Bharat Kumar Reddy Poluri | | | | IND | 2337 | Andhra Pradesh - India | 5,5 | 0,0 | 49,0 | 54,0 | 29,00 | 5 |
| 42 | 70 | | | Phatak Aanjaneya | | | | IND | 1776 | Maharashtra - India | 5,5 | 0,0 | 48,0 | 52,0 | 24,75 | 4 |
| 43 | 118 | | | Lund Rachit | U15 | | | IND | 1625 | Maharashtra - India | 5,5 | 0,0 | 46,0 | 48,5 | 24,50 | 5 |
| 44 | 64 | | | Darsh Kansal | U15 | | | IND | 1793 | Madhya Pradesh - India | 5,5 | 0,0 | 45,5 | 50,0 | 27,00 | 5 |
| 45 | 84 | | | Lad Mandar Pradip | U13 | | | IND | 1740 | Goa - India | 5,5 | 0,0 | 45,5 | 49,0 | 27,00 | 4 |
| 46 | 44 | | | Srikrishnan P | U15 | | | IND | 1898 | Tamil Nadu - India | 5,5 | 0,0 | 45,0 | 48,5 | 25,50 | 4 |
| 47 | 26 | | WGM | Safranska Anda | | w | | FRA | 2112 | France | 5,5 | 0,0 | 44,5 | 48,5 | 28,00 | 4 |
| 48 | 127 | | | Aditya Rawat | U13 | | | IND | 1600 | Delhi - India | 5,5 | 0,0 | 44,5 | 48,0 | 26,75 | 4 |
| 49 | 91 | | | Love Jindal | | | | IND | 1714 | Punjab - India | 5,5 | 0,0 | 44,0 | 47,0 | 23,75 | 5 |
| 50 | 41 | | | Nagare Akhilesh | | | | IND | 1918 | Maharashtra - India | 5,5 | 0,0 | 43,5 | 48,0 | 26,75 | 5 |
Replay all games
---