Yakkuboev wins Bhopal International GM Open, Venkatesh finishes second
Central India's biggest tournament of 2019, Bhopal International GM Open came conclusion by crowning GM Nodirbek Yakubboev of Uzbekistan as the champion of the tournament. He remained undefeated in all ten games. This was the most exciting finish in Bhopal International tournament history as six players finished with a score of 8.0/10. Tie-break scores decided the final standings. India's highest rated player in the event, fifth seeded GM Venkatesh M R secured the runner-up position to make his country proud. India's Secretary (Sports), Radhey Shyam Julaniya (IAS) encouraged all the players at the prize distribution ceremony along with many office bearers of AICF. Photo: Niklesh Jain
Central India's biggest chess tournament Bhopal International GM Open 2019 came to a successful completion. Uzbekistan's GM Nodirbek Yakubboev drew with Indian GM Venkatesh M R in the final round which was also the last game to finish and according to the tie-break score, Yakubboev clinched the championship. After the conclusion of final round, six players finished with a score of 8.0/10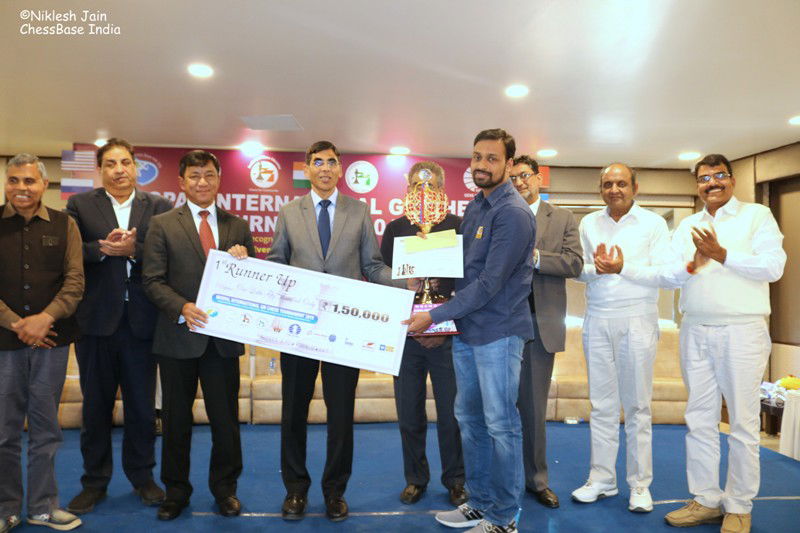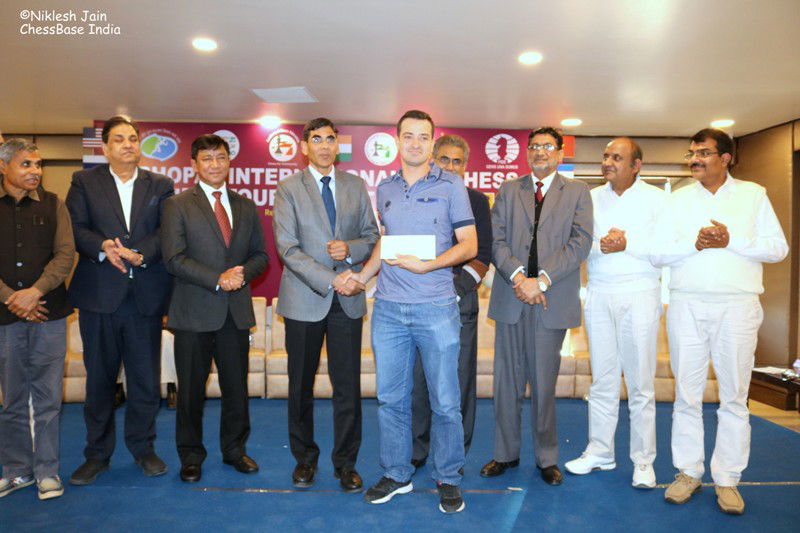 The 11th-20th prize winners received ₹11000 cash prize each, 21st-30th got ₹10000 and 31st-40th won ₹8000 cash prize each respectively. Total ₹1414000 cash prize was distributed among the prize winners.
India's Secretary (Sports) Radhey Shyam Julaniya (IAS) encouraged everyone by with his inspiring words. His message to everyone was to be physically fit like Vishy Anand. He also congratulated all players of Madhya Pradesh who showed great performance at the tournament.
Apart from him, State Sports Secretary S L Thaosen, All India Chess Federation President PR Venkatarama Raja, Secretary Bharat Singh Chauhan, Treasurer Kishore Bandekar, FIDE Vice President D V Sundar, FIDE Member Ravindra Dongre, Madhya Pradesh Chess Association President Sunil Bansal, IAS S N Rupala, Union Bank DGM Gurtej Singh and Organizing Secretary Kapil Saxena were present and encouraged all the players. The best veteran prize was awarded to B K Gulhariya of Bhopal and the best female player was awarded to Ishvi Agarwal of Haryana. Madhya Pradesh's top player in the competition was awarded to the sensation emerged in the competition to Shivansh Tiwari, while Aishwin Daniel was awarded the best player of Bhopal.
What went down in the final round
The top board clash for the championship was an extremely exciting game. Playing with white pieces Venkatesh opted Sicilian Rossolimo, he pressed hard for an advantage but Yakubboev gave him no chance and the game eventually ended up in a draw after 77 moves. With this result, both players finished with a score of 8.0/10 each.
Hungarian GM Attila Czebe drew with IM Nguyen Van Huy of Vietnam on board no.2. They both scored 8.0/10 each.
GM Adam Tukhaev of Ukraine beat GM Manik Mikulas of Slovakia to finish fifth.
IM Taher Yoseph Theolifus secured the second runner-up position by defeating Raahul V S. Thus six players finished with a score of 8.0/10. This only reveals how strong the field of tournament was.
Translation from Hindi by Shahid Ahmed
Final Standings
| | | | | | | | | | | | | | | | | |
| --- | --- | --- | --- | --- | --- | --- | --- | --- | --- | --- | --- | --- | --- | --- | --- | --- |
| Rk. | SNo | | | Name | Typ | sex | Gr | FED | Rtg | Club/City | Pts. | TB1 | TB2 | TB3 | TB4 | TB5 |
| 1 | 1 | | GM | Yakubboev Nodirbek | | | | UZB | 2592 | Uzbekistan | 8,0 | 0,0 | 65,0 | 70,5 | 55,25 | 6 |
| 2 | 5 | | GM | Venkatesh M.R. | | | | IND | 2491 | Tamil Nadu - India | 8,0 | 0,0 | 62,5 | 67,5 | 51,50 | 7 |
| 3 | 7 | | IM | Taher Yoseph Theolifus | | | | INA | 2469 | Indonesia | 8,0 | 0,0 | 62,0 | 66,0 | 50,25 | 7 |
| 4 | 10 | | IM | Nguyen Van Huy | | | | VIE | 2457 | Vietnam | 8,0 | 0,0 | 61,5 | 66,5 | 50,50 | 7 |
| 5 | 3 | | GM | Tukhaev Adam | | | | UKR | 2552 | Ukraine | 8,0 | 0,0 | 60,5 | 65,5 | 52,25 | 6 |
| 6 | 15 | | GM | Czebe Attila | | | | HUN | 2374 | Hungary | 8,0 | 0,0 | 60,0 | 65,5 | 51,75 | 7 |
| 7 | 4 | | GM | Rios Cristhian Camilo | | | | COL | 2505 | Colombia | 7,5 | 0,0 | 64,0 | 68,5 | 49,25 | 5 |
| 8 | 2 | | GM | Bogdanovich Stanislav | | | | UKR | 2562 | Ukraine | 7,5 | 0,0 | 63,0 | 67,0 | 47,50 | 7 |
| 9 | 9 | | GM | Mirzoev Azer | | | | AZE | 2457 | Azerbaijan | 7,5 | 0,0 | 58,5 | 63,5 | 46,75 | 6 |
| 10 | 17 | | | Sahoo Utkal Ranjan | | | | IND | 2329 | Odisha - India | 7,5 | 0,0 | 58,5 | 62,5 | 43,50 | 6 |
| 11 | 11 | | IM | Khusenkhojaev Muhammad | | | | TJK | 2427 | Tajikistan | 7,5 | 0,0 | 57,0 | 61,5 | 43,75 | 7 |
| 12 | 43 | | | Sharan Rao | | | | IND | 1912 | Karnataka - India | 7,5 | 0,0 | 56,5 | 60,5 | 45,25 | 7 |
| 13 | 38 | | | Jain Kashish Manoj | U15 | | | IND | 1934 | Maharashtra - India | 7,5 | 0,0 | 52,0 | 56,5 | 41,75 | 6 |
| 14 | 13 | | IM | Eraschenkov Denis | | | | RUS | 2386 | Russia | 7,5 | 0,0 | 52,0 | 56,0 | 42,00 | 6 |
| 15 | 14 | | GM | Manik Mikulas | | | | SVK | 2379 | Slovakia | 7,0 | 0,0 | 63,0 | 67,5 | 45,50 | 5 |
| 16 | 6 | | IM | Nigmatov Ortik | | | | UZB | 2474 | Uzbekistan | 7,0 | 0,0 | 62,0 | 67,0 | 45,25 | 6 |
| 17 | 22 | | GM | Ziatdinov Raset | S60 | | | USA | 2204 | United States of America | 7,0 | 0,0 | 60,5 | 65,0 | 42,00 | 6 |
| 18 | 29 | | | Mahindrakar Indrajeet | | | | IND | 2042 | Maharashtra - India | 7,0 | 0,0 | 59,0 | 63,5 | 42,00 | 6 |
| 19 | 31 | | | Anadkat Kartavya | U15 | | | IND | 2023 | Gujarat - India | 7,0 | 0,0 | 58,0 | 63,0 | 42,75 | 6 |
| 20 | 19 | | | Raahul V S | | | | IND | 2252 | Tamil Nadu - India | 7,0 | 0,0 | 58,0 | 63,0 | 41,50 | 6 |
| 21 | 32 | | AGM | Rathneesh R | U15 | | | IND | 2006 | Tamil Nadu - India | 7,0 | 0,0 | 58,0 | 62,5 | 39,25 | 6 |
| 22 | 21 | | | Varun V | | | | IND | 2250 | Andhra Pradesh - India | 7,0 | 0,0 | 57,5 | 62,0 | 41,25 | 6 |
| 23 | 12 | | IM | Abdisalimov Abdimalik | | | | UZB | 2394 | Uzbekistan | 7,0 | 0,0 | 56,5 | 61,0 | 40,00 | 6 |
| 24 | 18 | | | Pranav V | U13 | | | IND | 2264 | Tamil Nadu - India | 7,0 | 0,0 | 55,0 | 59,0 | 38,50 | 7 |
| 25 | 27 | | | Jay Kundaliya | | | | IND | 2088 | Gujarat - India | 7,0 | 0,0 | 54,5 | 58,0 | 38,75 | 6 |
| 26 | 20 | | | Sapaev Maksad | | | | UZB | 2250 | Uzbekistan | 7,0 | 0,0 | 54,0 | 58,5 | 39,50 | 6 |
| 27 | 23 | | IM | Deshmukh Anup | | | | IND | 2168 | Maharashtra - India | 7,0 | 0,0 | 53,5 | 58,5 | 37,75 | 6 |
| 28 | 8 | | GM | Lugovskoy Maxim | | | | RUS | 2466 | Russia | 6,5 | 0,0 | 62,0 | 67,0 | 41,25 | 6 |
| 29 | 16 | | | Bharat Kumar Reddy Poluri | | | | IND | 2337 | Andhra Pradesh - India | 6,5 | 0,0 | 59,5 | 64,5 | 36,50 | 6 |
| 30 | 73 | | | Tiwari Shivansh | | | | IND | 1770 | Madhya Pradesh - India | 6,5 | 0,0 | 59,0 | 61,5 | 36,25 | 6 |
| 31 | 123 | | | Jani Kushal R | U13 | | | IND | 1611 | Gujarat - India | 6,5 | 0,0 | 58,5 | 61,5 | 36,00 | 5 |
| 32 | 34 | | | Trivedi Karan R | | | | IND | 1949 | Gujarat - India | 6,5 | 0,0 | 57,0 | 61,0 | 34,50 | 6 |
| 33 | 118 | | | Lund Rachit | U15 | | | IND | 1625 | Maharashtra - India | 6,5 | 0,0 | 54,5 | 57,0 | 31,50 | 6 |
| 34 | 28 | | | Shiva Pavan Teja Sharma U | | | | IND | 2072 | Andhra Pradesh - India | 6,5 | 0,0 | 54,0 | 58,0 | 36,50 | 5 |
| 35 | 49 | | | Ilamparthi A R | U11 | | | IND | 1852 | Tamil Nadu - India | 6,5 | 0,0 | 53,5 | 58,0 | 34,00 | 6 |
| 36 | 44 | | | Srikrishnan P | U15 | | | IND | 1898 | Tamil Nadu - India | 6,5 | 0,0 | 53,5 | 57,5 | 33,25 | 5 |
| 37 | 26 | | WGM | Safranska Anda | | w | | FRA | 2112 | France | 6,5 | 0,0 | 53,0 | 58,0 | 36,50 | 5 |
| 38 | 46 | | | Sreehith Reddy R | U13 | | | IND | 1865 | Telangana - India | 6,5 | 0,0 | 52,5 | 57,0 | 35,25 | 6 |
| 39 | 30 | | | Sri Sai Baswanth P | | | | IND | 2027 | Telangana - India | 6,5 | 0,0 | 52,5 | 57,0 | 35,25 | 5 |
| 40 | 24 | | WIM | Franco Valencia Angela | | w | | COL | 2167 | Colombia | 6,5 | 0,0 | 52,5 | 57,0 | 33,75 | 6 |
| 41 | 111 | | | Devansh Singh | | | | IND | 1645 | Madhya Pradesh - India | 6,5 | 0,0 | 52,5 | 53,0 | 31,25 | 5 |
| 42 | 65 | | | Parekh Vishrut | | | | IND | 1791 | Gujarat - India | 6,5 | 0,0 | 51,5 | 54,5 | 33,75 | 6 |
| 43 | 52 | | | Sahu Rajendra Kumar | | | | IND | 1837 | Odisha - India | 6,5 | 0,0 | 51,0 | 55,0 | 32,50 | 5 |
| 44 | 61 | | | Ananthapadmanabh D V | U15 | | | IND | 1808 | Kerala - India | 6,5 | 0,0 | 50,5 | 55,0 | 33,75 | 5 |
| 45 | 153 | | | Soham Pal | U15 | | | IND | 1498 | West Bengal - India | 6,5 | 0,0 | 48,5 | 51,0 | 31,00 | 6 |
| 46 | 134 | | | Patel Suyogkumar M | U15 | | | IND | 1577 | Gujarat - India | 6,5 | 0,0 | 48,0 | 52,0 | 31,00 | 5 |
| 47 | 70 | | | Phatak Aanjaneya | | | | IND | 1776 | Maharashtra - India | 6,0 | 0,0 | 58,0 | 62,0 | 30,00 | 4 |
| 48 | 37 | | | Lakshmi Sandeep Naidu V | | | | IND | 1937 | Andhra Pradesh - India | 6,0 | 0,0 | 57,0 | 62,0 | 34,50 | 6 |
| 49 | 54 | | | Shaik Sumer Arsh | U11 | | | IND | 1826 | Telangana - India | 6,0 | 0,0 | 56,5 | 61,0 | 33,00 | 6 |
| 50 | 115 | | | Mithil Anande P | | | | IND | 1632 | Maharashtra - India | 6,0 | 0,0 | 55,5 | 58,5 | 29,25 | 5 |
Replay all games
---