Madurai tournament comes to conclusion with four players on top
The Athens of the East 1st International Grandmaster Open tournament came to conclusion on the 18th of August. After ten rounds the event saw four players - Boris Savchenko, Sayantan Das, Venkatesh MR, and Adam Tukhaev - share the lead with 8.0/10 points. However, based on tie-break scores Boris Savchenko was declared as the champion. The top-seed and four times Commonwealth Champion Abhijeet Gupta had a forgettable event as he went down against the Ukrainian Grandmaster Adam Tukhaev in the final round to slip to the eighth place on rank-list. IM Shyaamnikhil P was placed sixth and India's Blitz King Laxman Rajaram, who actually started the event from second round, recovered well and finished seventh. We bring you a detailed report on the last two rounds of the tournament.
Round 9: Sayantan and Venkatesh score fine victories!
Both GM Venkatesh MR and IM Sayantan Das performed well in this event. They were placed eighth and thirteenth at the start of the tournament but played some solid bit of chess to climb up the leaderboard and finish on the top. Their victories against Alexandr Triapishko and Masoud Mosadeghpour respectively in the penultimate round of the event were particularly crucial. Let us begin by looking at the highlights of these two games.
Venkatesh MR - Alexandr Triapishko, Round 9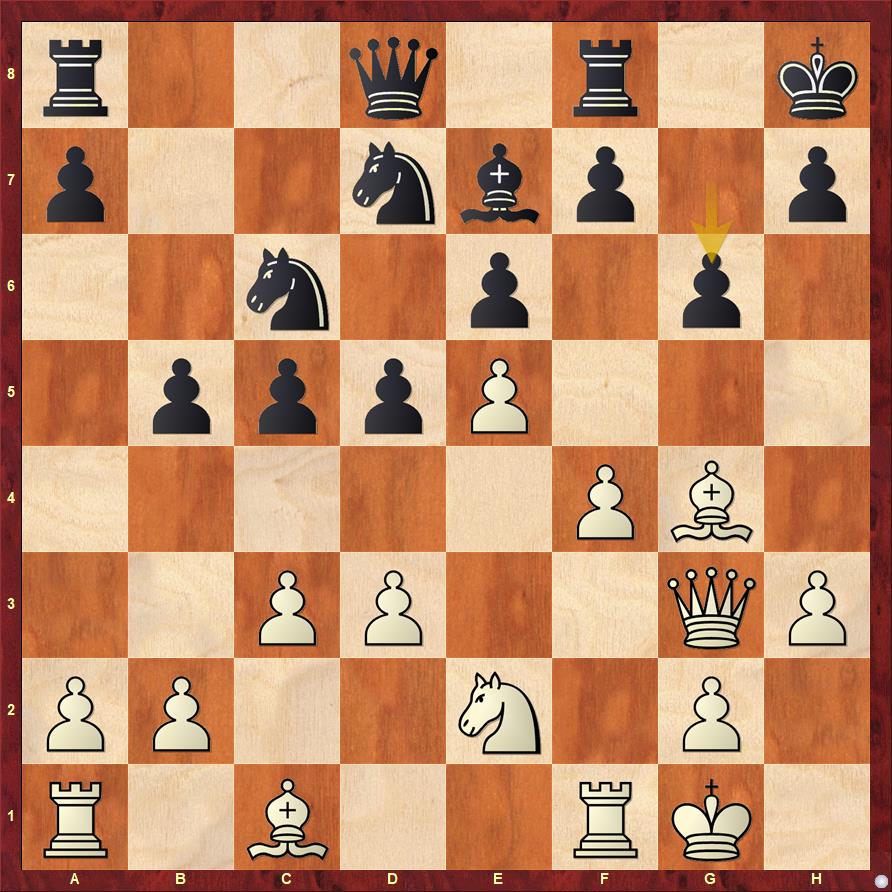 In the above position Alexandr Triapishko was perhaps afraid of 21...h5 22.Bxe6 ideas and hence played 21...Nf8 instead to strengthen e6 but this was a critical error of judgement. White got in 22.h5 immediately and after 22...Qd7 23.Rfb1 Rb8 24.Rxb8 Nxb8 25.Rb1 things gradually started to go downhill for Black.
The game continued till twenty more moves. Black resigned on move 58 in a completely lost ending where he was down two pawns. The full game with annotations is presented below:
Sayantan's game against Masoud was relatively more complex and topsy-turvy. But in the end, it was the Indian who had the last laugh. Below is the final critical moment of the game:
Masoud Mosadeghpour - Sayantan Das, Round 9
Masoud played the move 41.Re1 here, a perfectly natural looking move, but this fell prey to 42.Qd2 Kf2 43.Nc3 after which Black simply broke through (see game below), the right way instead would have been 41.Rxf7 exf1=Q+ 42. Rxf1 Nc7 43. Rf2 Qb1+ 44. Kh2 Qe4 45. Rf4 Qc6 46. Rxb4 after which Black simply doesn't find a way to make progress. White has three extra pawns for a piece and his pieces are far more active.
Results of round 9
Round 10: Adam Tukhaev too joins the lead!
In the final round as the encounters in the first two boards ended in draws, Adam Tukhaev of Ukraine dashed ahead to join the leaders by beating top seed Abhijeet Gupta in the third board! Thus the tournament found four leaders tied on 8.0/10 points.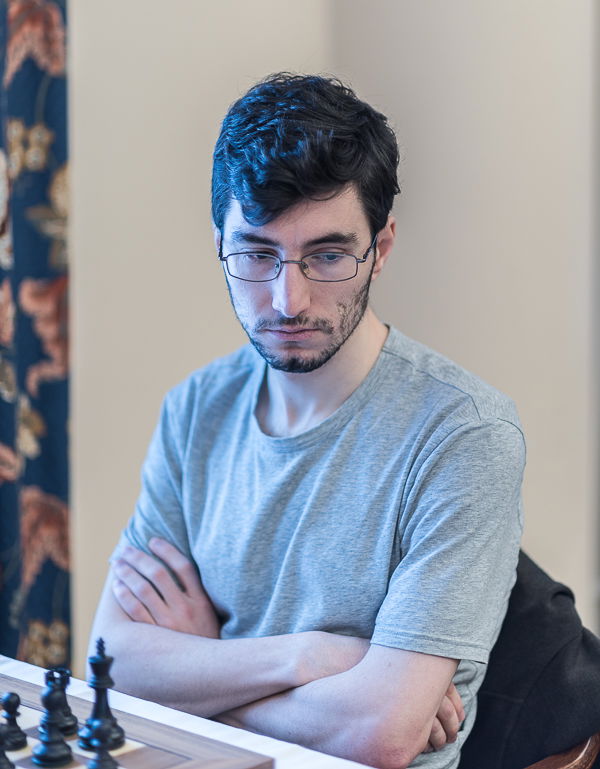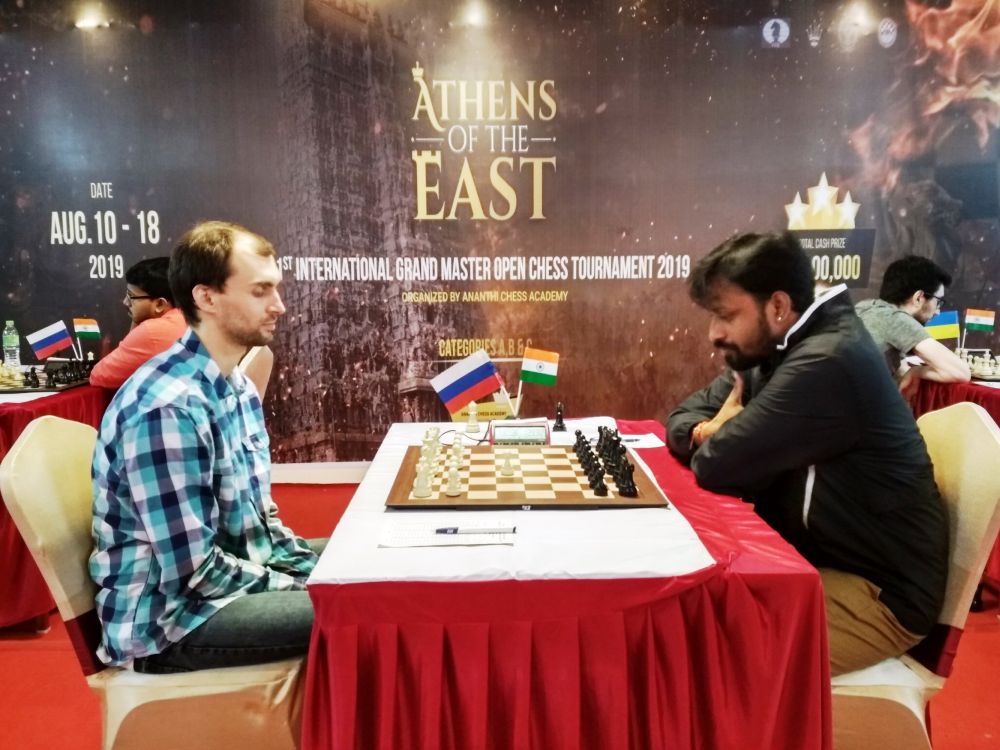 Results of round 10
Final standings after round 10
| | | | | | | | | | | | | | | | |
| --- | --- | --- | --- | --- | --- | --- | --- | --- | --- | --- | --- | --- | --- | --- | --- |
| Rk. | SNo | | | Name | Typ | sex | FED | RtgI | Club/City | Pts. | TB1 | TB2 | TB3 | TB4 | TB5 |
| 1 | 2 | | GM | Savchenko Boris | | | RUS | 2576 | RUS | 8,0 | 0,0 | 64,0 | 68,5 | 53,00 | 7 |
| 2 | 13 | | IM | Das Sayantan | | | IND | 2409 | WB | 8,0 | 0,0 | 63,0 | 67,5 | 52,25 | 7 |
| 3 | 8 | | GM | Venkatesh M.R. | | | IND | 2480 | PSPB | 8,0 | 0,0 | 62,0 | 65,5 | 48,50 | 7 |
| 4 | 4 | | GM | Tukhaev Adam | | | UKR | 2541 | UKR | 8,0 | 0,0 | 58,0 | 62,5 | 49,75 | 6 |
| 5 | 3 | | GM | Smirnov Pavel | | | RUS | 2574 | RUS | 7,5 | 0,0 | 62,5 | 66,0 | 47,50 | 6 |
| 6 | 9 | | IM | Shyaamnikhil P | | | IND | 2457 | ICF | 7,5 | 0,0 | 57,0 | 60,5 | 39,75 | 6 |
| 7 | 11 | | GM | Laxman R.R. | | | IND | 2426 | ICF | 7,5 | 0,0 | 55,0 | 58,0 | 41,75 | 7 |
| 8 | 1 | | GM | Gupta Abhijeet | | | IND | 2616 | PSPB | 7,0 | 0,0 | 63,0 | 69,0 | 46,00 | 6 |
| 9 | 7 | | GM | Vasquez Schroeder Rodrigo | S50 | | CHI | 2496 | CHI | 7,0 | 0,0 | 61,0 | 66,0 | 45,25 | 5 |
| 10 | 17 | | IM | Rajesh V A V | | | IND | 2378 | TN | 7,0 | 0,0 | 60,0 | 65,0 | 42,75 | 5 |
| 11 | 19 | | IM | Nitin S. | | | IND | 2358 | S.Rly | 7,0 | 0,0 | 57,5 | 59,5 | 38,50 | 5 |
| 12 | 24 | | | Sahoo Utkal Ranjan | | | IND | 2278 | ORI | 7,0 | 0,0 | 57,0 | 62,0 | 39,00 | 6 |
| 13 | 10 | | IM | Khusenkhojaev Muhammad | | | TJK | 2442 | TJK | 7,0 | 0,0 | 57,0 | 61,5 | 41,25 | 6 |
| 14 | 27 | | | Nayak Rajesh | | | IND | 2250 | ORI | 7,0 | 0,0 | 56,5 | 61,5 | 41,75 | 5 |
| 15 | 15 | | IM | Muthaiah Al | U20 | | IND | 2384 | TN | 7,0 | 0,0 | 56,5 | 61,0 | 40,50 | 5 |
| 16 | 5 | | IM | Triapishko Alexandr | U20 | | RUS | 2519 | RUS | 7,0 | 0,0 | 56,5 | 60,0 | 40,00 | 6 |
| 17 | 18 | | IM | Raja Rithvik R | U16 | | IND | 2364 | TEL | 7,0 | 0,0 | 55,0 | 59,0 | 38,50 | 5 |
| 18 | 30 | | | Hari Madhavan N B | U16 | | IND | 2231 | TN | 7,0 | 0,0 | 54,0 | 59,0 | 39,00 | 5 |
| 19 | 22 | | IM | Saravana Krishnan P. | | | IND | 2329 | KVB | 7,0 | 0,0 | 51,5 | 55,5 | 37,75 | 6 |
| 20 | 6 | | GM | Mosadeghpour Masoud | | | IRI | 2509 | IRI | 6,5 | 0,0 | 58,5 | 63,5 | 37,50 | 6 |
---