Athens of the East Round 7: Sayantan and Abhijeet join the lead
Five players lead with 6.0/7 points after seven rounds at the ongoing Athens of the East International Open 2019. Top seed Abhijeet Gupta outplayed compatriot Karthikeyan Pandiyan's King's Indian Defense to finally join the pack of leaders at the end of seventh round. Venkatesh M.R. couldn't keep his winning streak going as he suffered his first defeat of the event in the hands of third seeded Pavel Smirnov. On the other hand, West Bengal's Sayantan Das bounced back by beating IM Shyaamnikhil P in what was a display of scintillating aggressive play. With only three more rounds to go, the fight for the top place is slowly heating up. In this report we bring you photos, analyses, and more.
Venkatesh slips from the sole lead!
Venkatesh M.R. - Pavel Smirnov, Round 7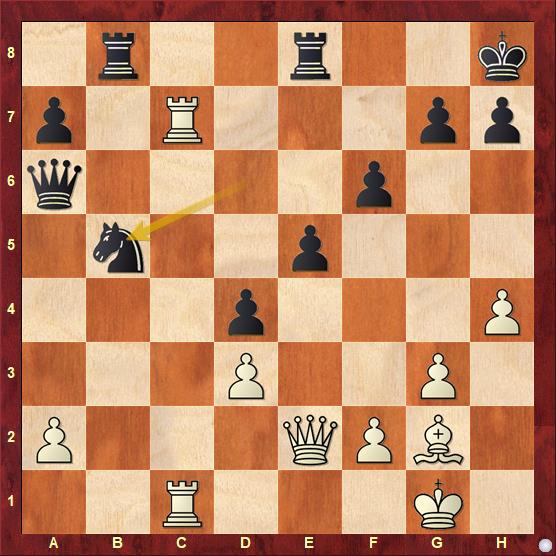 The best move would have been 31.Qg4! giving up an exchange! After 31...Nxc7 32.Rxc7 Rg8 33.Be4 White is down material but has fantastic counterplay against Black's vulnerable king. In the game, after 31.R7c6 Qa3 Black was simply up a pawn.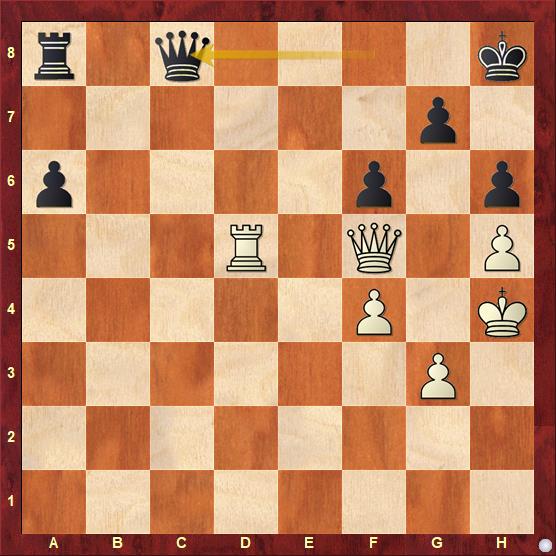 After 65.Qxc8 Rxc8 66.Ra5 Rc6 White shouldn't have any problems holding this position. But in the game 65.Qd3? was played which allowed Black to push with 65...a5 66.Qa3 a4 and White was now irrevocably doomed.
Abhijeet's swift flank attack gets the better of Karthikeyan's King's Indian!
Abhijeet Gupta - Karthikeyan Pandian, Round 7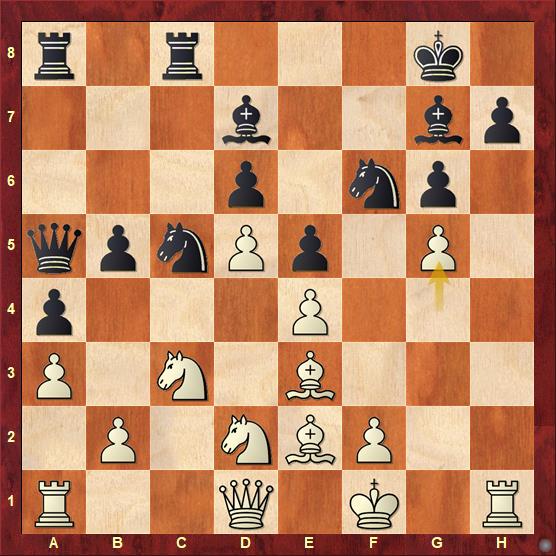 Sayantan Das demolishes Shyaamnikhil's Caro-Kann in style!
Photo Gallery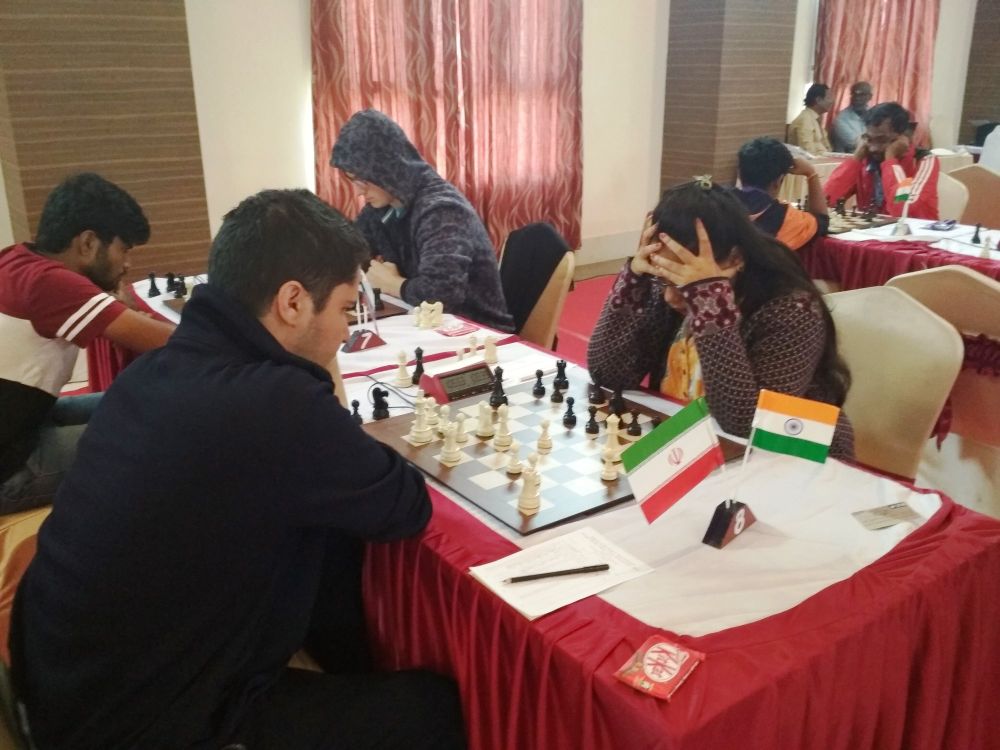 Results of round 7
Standings after round 7
| | | | | | | | | | | | | | | | |
| --- | --- | --- | --- | --- | --- | --- | --- | --- | --- | --- | --- | --- | --- | --- | --- |
| Rk. | SNo | | | Name | Typ | sex | FED | RtgI | Club/City | Pts. | TB1 | TB2 | TB3 | TB4 | TB5 |
| 1 | 13 | | IM | Das Sayantan | | | IND | 2409 | WB | 6,0 | 0,0 | 33,0 | 30,0 | 27,50 | 6 |
| 2 | 8 | | GM | Venkatesh M.R. | | | IND | 2480 | PSPB | 6,0 | 0,0 | 32,0 | 29,5 | 26,00 | 6 |
| 3 | 1 | | GM | Gupta Abhijeet | | | IND | 2616 | PSPB | 6,0 | 0,0 | 32,0 | 28,0 | 27,00 | 5 |
| 4 | 7 | | GM | Vasquez Schroeder Rodrigo | S50 | | CHI | 2496 | CHI | 6,0 | 0,0 | 31,0 | 27,0 | 27,00 | 5 |
| 5 | 3 | | GM | Smirnov Pavel | | | RUS | 2574 | RUS | 6,0 | 0,0 | 30,0 | 28,0 | 25,75 | 5 |
| 6 | 2 | | GM | Savchenko Boris | | | RUS | 2576 | RUS | 5,5 | 0,0 | 34,0 | 30,5 | 25,50 | 5 |
| 7 | 51 | | CM | Nikhil Magizhnan | U14 | | IND | 2124 | TN | 5,5 | 0,0 | 30,0 | 27,5 | 20,75 | 4 |
| 8 | 6 | | GM | Mosadeghpour Masoud | | | IRI | 2509 | IRI | 5,5 | 0,0 | 30,0 | 26,0 | 23,25 | 5 |
| 9 | 4 | | GM | Tukhaev Adam | | | UKR | 2541 | UKR | 5,5 | 0,0 | 28,0 | 26,0 | 22,25 | 4 |
| 10 | 15 | | IM | Muthaiah Al | U20 | | IND | 2384 | TN | 5,5 | 0,0 | 27,5 | 24,5 | 21,25 | 4 |
| 11 | 11 | | GM | Laxman R.R. | | | IND | 2426 | ICF | 5,5 | 0,0 | 26,5 | 25,0 | 20,25 | 5 |
| 12 | 5 | | IM | Triapishko Alexandr | U20 | | RUS | 2519 | RUS | 5,5 | 0,0 | 26,5 | 24,5 | 20,25 | 5 |
| 13 | 12 | | GM | Karthikeyan P. | | | IND | 2422 | ICF | 5,0 | 0,0 | 30,5 | 28,5 | 20,00 | 4 |
| 14 | 9 | | IM | Shyaamnikhil P | | | IND | 2457 | ICF | 5,0 | 0,0 | 30,5 | 28,0 | 19,50 | 4 |
| 15 | 10 | | IM | Khusenkhojaev Muhammad | | | TJK | 2442 | TJK | 5,0 | 0,0 | 30,0 | 27,0 | 19,50 | 5 |
| 16 | 24 | | | Sahoo Utkal Ranjan | | | IND | 2278 | ORI | 5,0 | 0,0 | 30,0 | 27,0 | 18,50 | 5 |
| 17 | 34 | | | Baivab Mishra | | | IND | 2215 | ORI | 5,0 | 0,0 | 30,0 | 27,0 | 18,00 | 5 |
| 18 | 19 | | IM | Nitin S. | | | IND | 2358 | S.Rly | 5,0 | 0,0 | 29,5 | 28,0 | 19,50 | 4 |
| 19 | 37 | | IM | Murali Krishnan B T | | | IND | 2192 | S.Rly | 5,0 | 0,0 | 28,0 | 25,0 | 19,00 | 4 |
| 20 | 32 | | | Ram S. Krishnan | | | IND | 2224 | BSNL | 5,0 | 0,0 | 27,5 | 24,5 | 17,75 | 4 |
---