Vergani Cup 2022 R3: Lalit Rohit in an eight-way lead
Eight players including GM Lalit Rohit and top seed GM Anton Korobov are at 100% score 3.0/3 at the conclusion of Round 3 in Vergani Cup January 2022. GM Arjun Kalyan and CM Prraneeth Vuppala are at a half point behind, 2.5/3 each. They will face each other in the next round. Untitled Ojas Kulkarni scored the biggest victory of the round as he defeated Romanian legendary and celebrated author GM Mihail Marin. WGM Nandhidhaa P V and FM Mohamed Anees M drew with GM Momchil Nikolov (BUL) and GM Sabino Brunello (ITA). Shantanu Bhambure put up a very good fight against Nigel Short. Round 4 starts today at 1:30 p.m. IST. Photo: Rupali Mullick
Ojas Kulkarni beats Mihail Marin
It was an eventful day for the Indian players. Apart from the notable results mentioned above, Aniruddh Chatterjee, Hari Charan Sai Kalluri and CM Mrithyunjay Mahadevan drew with IM Alberto Barp (ITA), IM Soumya Swaminathan and IM Manish Anto Cristiano F respectively.
Korobov - Bharath: 1-0
Top seed of the tournament GM Anton Korobov (UKR) is a very strong player. A minute positional mistake can cost you the game which his opponent, IM Bharath Subramaniyam felt in the game.
White has sacrificed an exchanged and a couple of pawns to get a brilliant attack on the kingside. Find out the finish for White after 29...Rxd4.
Tabatabaei - Pranesh: 1-0
Rook endgames are always tricky, add a knight to each side, and we are in a myriad of complexity.
IM Pranesh M opted for 41...h4. At a first glance, it might seem like a good idea to advance the pawn. However, a deeper inspection reveals that White's intention is to solidify his knight at d5, hence 41.c4. So before the knight settles firmly at the central square, Black needed to play either 41...Rc7 or Re7 as suggested by the computer which might be difficult to occur in a human mind especially in a practical game when the clock is ticking down. The game continued 42.Nd5 Rb7 43.a4 and GM M Amin Tabatabaei went on to win the game.
Short - Shantanu: 1-0
Shantanu Bhambure put up a very good fight against GM Nigel Short. Unfortunately a an error in a probable time scramble cost him the game.
White has a simple threat of 37.Rc7 to pin the queen against its king. Which is the best way to get out of this predicament for Black? Black played 37...Qd8 and lost the game. Find out why.
Salimova - Alsina Leal: 0.5-0.5
One of the strangest finish of the day was between Bulgaria no.2 woman, IM Nurgyul Salimova and GM Daniel Alsina Leal (ESP).
White is completely winning in the above position. However, the game ended in a draw after 42.Rg1 Nf2+ 43.Kg2 Nd3 44.Kh1 Nf2+ 45.Kg2 Nd3. Try to find what was the winning continuation for White in the above diagram.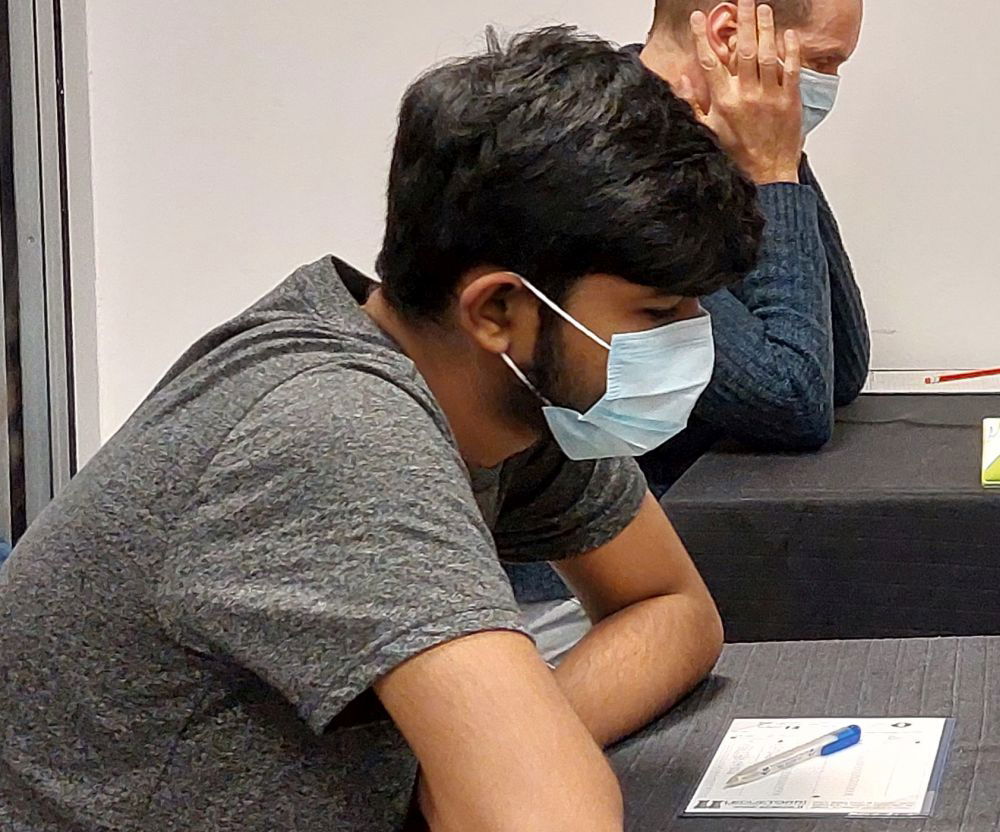 For more photos, click here.
The tournament is taking place at Hotel Kursaal, Cattolica in Italy from 2nd to 9th January 2021. Time control is 90 mins + 30 seconds increment and 15 minutes each will be added after 40th move in Group A which is for above 1800 FIDE rating.
Replay Round 3 games
Round 3 results
Round 4 pairings
Prizes
Total Prize fund - €10000.
Links
---