Vergani Cup 2022 R1: Ojas Kulkarni makes a peaceful start against Nigel Short
Untitled Ojas Kulkarni had a great start at Vergani Cup January 2022. He drew with the former World Championship Challenger and English legend, GM Nigel Short in the first round. He played solid throughout the game and made sure he did not commit any significant mistake. Anton Korobov, Hans Niemann, M Amin Tabatabaei and Zdenko Kozul started their tournament with a win in Round 1. Total 124 players including 22 GMs, 16 IMs, 4 WGMs and 2 WIMs are participating from 31 countries across the world. 26 Indians are taking part in this event, second-highest contingent after the host nation Italy which has 27 players. Round 2 starts tonight at 7:30 p.m. IST. Photo: Rupali Mullick
A smooth start for the top seeds
Apart from Nigel Short, tenth seeded GM Iniyan P was also held to a draw by FM Frank Emanuel (AUT).
Short - Ojas: 0.5-0.5
English legend Nigel Short opted for English opening against Ojas Kulkarni. The Indian made sure that he did not make a major error throughout the game.
Black is forced to give up the bishop because this is the final chance to stop the pawn. 48...Bxh5 49. Nxh5 Ke5 50.Nf6 Ke6 and White cannot win the game, despite having the knight as the white king is slightly misplaced to grab the full point.
Nigel Short tweeted on his first round game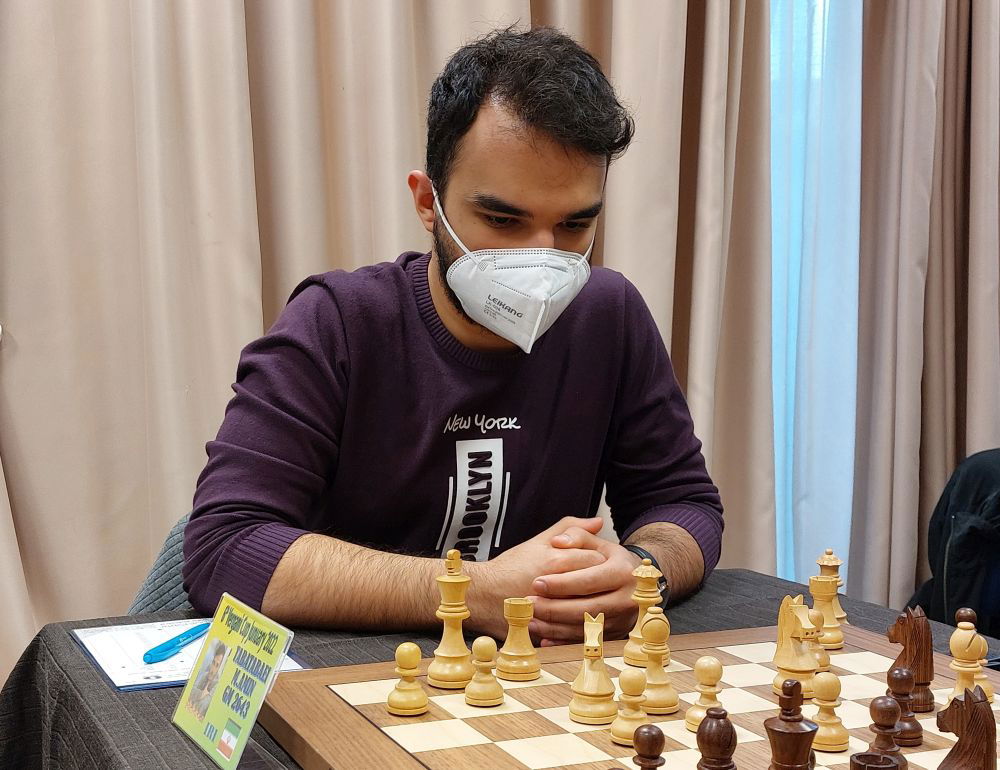 For more photos, click here.
The tournament is taking place at Hotel Kursaal, Cattolica in Italy from 2nd to 9th January 2021. Time control is 90 mins + 30 seconds increment and 15 minutes each will be added after 40th move in Group A which is for above 1800 FIDE rating.
Replay Round 1 games
Round 1 results
Round 2 pairings
Prizes
Total Prize fund - €10000.
Links
---