Vergani Cup 2022 R2: Short saves a point as his opponent's phone goes off
We have already seen that Nigel Short can still go and have fantastic games against strong opponents. However, it would be naive to think he is 100% chess wise, as he just recovered from COVID less than two weeks ago. A slight misstep in the early part of the game gave his 14-year-old opponent, Lorenzo Candian, a decisive advantage. Unfortunately it was not his day as his phone went off, and he was immediately handed a loss in Round 2 of Vergani Cup January 2022. 18 players including three Indians - GM M Lalit Rohit, IM Bharath Subramaniyam H and IM Pranesh M are at 2.0/2 each. Round 3 starts tonight at 7:30 p.m. IST. Photo: Rupali Mullick
Nandhidhaa draws with Brunello
Two out of the last three events I played last year, I witnessed two players' phone going off during a game. While one was of a veteran in a non-rating tournament, the other one was of a 15-year-old kid who is a promising talent in a rating tournament. Naturally he was handed a loss as per the rules. When I tried to find out how did it happen, it was his parent who put the phone to stay in touch after the games to pick him up, they just forgot to switch it off. Just like the 15-year-old kid, it could be that Candian was completely unaware of the phone being there, or it could go off during a game. One does not get the opportunity to play against someone like Short every day, let alone get a winning position. He would certainly not want to squander a golden opportunity.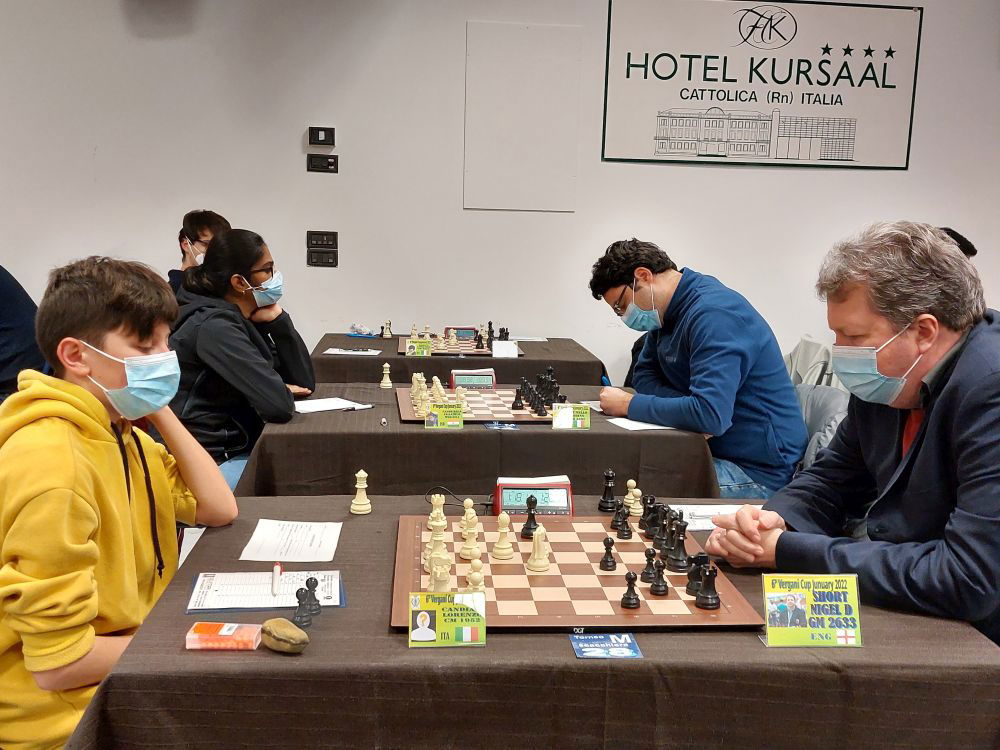 Nandhidhaa - Brunello: 0.5-0.5
WGM Nandhidhaa P V had a promising position against GM Sabino Brunello (ITA).
White's isolated center passed pawn is quite strong. The reason behind 25...Nc5 is simple, it wants to go the d3-square and make White's position difficult. While White cannot prevent it, she can certainly make sure that the threat becomes less effective. How? The game continued 26.g4 Nd3 27.g5 Nd7 28.Bg3 hxg5, after a fluctuation of evaluation, it eventually ended in a draw.
Candian - Short: 0-1
14-year-old Lorenzo Candian (ITA) seized his opportunity when Nigel Short made a huge mistake early in the game.
12...Nf6 invites trouble as 13.Bxc6+ bxc6 14.Nd6+ Ke7 15.Ne5 and Black's position is in shambles. It was just a matter of time before White won the game, however, something else was in store for White. His phone went off, and immediately he was declared lost as the rules are in all rating tournaments.
Nigel Short tweeted on his Round 2 game
He also shared that not being allowed to walk in the hall due to COVID-19 policy, has also made things difficult for him
For more photos, click here.
The tournament is taking place at Hotel Kursaal, Cattolica in Italy from 2nd to 9th January 2021. Time control is 90 mins + 30 seconds increment and 15 minutes each will be added after 40th move in Group A which is for above 1800 FIDE rating.
Replay Round 2 games
Round 2 results
Round 3 pairings
Prizes
Total Prize fund - €10000.
Links
---