Shaky first day for Abhijeet and Vaibhav
The National Senior Championship 2019 started off yesterday at the Sikkim Manipal Institute of Technology in Majitar, Sikkim. It was far from smooth sailing for the top seeds in the first round of the event as players like Ayush Sharma and Sumeet Grover gave their Grandmaster opponents a good run for money. Ayush managed to seize a copious edge against top-seed Abhijeet Gupta, while Sumeet was beating GM Vaibhav Suri pretty one-sidedly. But finally Abhijeet's experience triumphed and Vaibhav managed to wriggle out with a draw. Read our detailed first round report to find out what happened exactly.
The National Senior Championship started off today at the Sikkim Manipal Institute of Technology (SMIT) in Majitar, Sikkim. The first round of the event today went as expected in that most of the top seeded players won their games easily against their lower-rated opponents. However, some encounters did see sharp turns and mild hiccups. Notably, on board one, Abhijeet Gupta came under some serious pressure with White against his 1985-rated opponent Ayush Sharma who gave up a rook for two minor pieces and at one point got a clear chance to liquidate into a winning endgame. Elsewhere, on board three, Grandmaster Vaibhav Suri too slipped into a completely lost position playing the White side of an advanced Caro-Kann and breathed a sigh of relief when his opponent Sumit Grover blundered at the very last moment to squander his decisive edge. Vaibhav narrowly escaped with a draw, while Abhijeet was able to turn the tables and bring home the full point.

Abhijeet Gupta - Ayush Sharma, Round 1
Black could have played something like 20...b5 here expanding on the queenside rather than going 20...h5?! which looks provocative and seems to weaken the kingside unnecessarily. Now something like 21.Ndxe4 hxg4 22.hxg4 Bxg4 23.Rd5 would have clearly given White a very comfortable position but in the game Abhijeet opted for 21.Qxe4 after which things turned tricky.
The game followed 21...Rxc3 22.Rxc3 Qxe4+ 23.Nxe4 Rxe4 24.Rd5 and suddenly Black had the edge. White's kingside pawns were now too vulnerable and Black's minor pieces too active.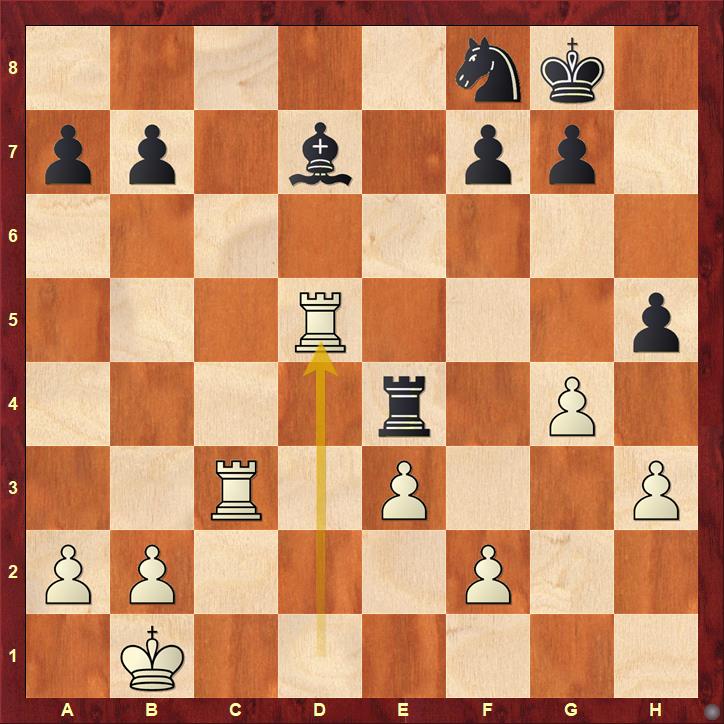 The simple 24...hxg4 25.hxg4 Bc6 26.Rd4 Rxd4 27.exd4 Ne6 would have been the best continuation in the above position after which White's pawns become loose and Black gets the opportunity to attack them by marching his king all the way to g5 via h7!
Analysis Board
But in the game Ayush missed all these possibilities and went 24...Re6 which allowed White to gain more activity. After 25.Rc7 Bc6 26.Rd8 the game returned once again to equilibrium. The rest of the encounter too was ridden with fluctuations and saw fortune change hands multiple times till the very last moments. Abhijeet however was the one to make the next to last mistake and therefore emerged victorious after 35 moves. Check the whole game out with annotations below:
The biggest upset of the day was pulled off on board three by Sumeet Grover who came very close to beating the much higher-rated Grandmaster Vaibhav Suri with the black pieces before settling for a draw. Vaibhav chose the advanced variation against Sumeet's Caro-Kann and was fine out of the opening but played somewhat passively in an endgame after move 28 to slip into a very uncomfortable situation.
Vaibhav Suri - Sumeet Grover, Round 1
White is slightly better and has the bishop pair but Black has no visible weaknesses. It was from here that Vaibhav started going wrong. A plausible plan for White to make progress could be 29.Bc5 b6 30.Ba3 etc which sort of improves the position of the bishops. But the game went 29.a3 a6 30.g3 which certainly looked quite passive.
Results of first round
---