In conversation with the National Senior Champion 2019
Aravindh Chithambaram won the National Senior Championship that took place in Majitar, Sikkim from the 10th to the 19th of December 2019. He dominated the entire field with a score of 9.5/11 and finished ahead of the rest of the field by a full point. Soon after this phenomenal achievement, the 20-year-old travelled to Moscow, Russia to compete in the King Salman World Rapid and Blitz. ChessBase India got in touch with him following his return to India and spoke at length about his performance in Sikkim. In this illustrated article we bring you the detailed interview.
An interview with Aravindh Chithambaram
ChessBase India (CBI): How does it feel to win the National Senior Championship for the second time in a row?
Aravindh Chithambaram (AC): This year it was a little bit special. I really wanted to win the championship for the 'beautiful trophy' which they had showcased before the start of the tournament. Probably the biggest trophy in my career so far.
CBI: Most of your friends – Karthikeyan, Pragg, played at the Sunway Sitges Chess 2019. You were in London before the tournament, why did you not decide to play at the Sunway Sitges and came back to play the Nationals?
AC: Actually I planned this tournament a bit earlier. Also, I feel there's little point playing the same tournament against each other as we frequently work together. But of course, some tournaments can be exceptions.
CBI: How was your overall experience playing this year in Sikkim? How was the organization of the event?
AC: Pleased with the quality of my games. Showed some good preparation and played some aggressive chess after a long time. Regarding the organization, it never seemed like they were organizing the nationals for the first time. The hospitality, accommodation everything was just great.
CBI: What was your best game from the event and why?
AC: I would say, my game against Sandipan Chanda was the best, where I played some good chess in a crucial situation which has never happened before.
CBI: Tell us a bit about your game against Laxman. Until what point was it your opening preparation. The computer says that after …Qh4 his position is just lost. Did you also think so during the game? Why is his position so bad?
AC: I knew till 16.Bd3 and 16...Qh4 was new to me and it was a novelty. Here I should have played 17.g3 to misplace the queen and I can start my attack gradually. But what I played in the game is also interesting 17.Qd2 (Idea: Kh1, Bg5) which forces black to retreat his queen but he didn't, which allowed me to gain few tempos like 23.g4, 24.Bc2. And once the queen was out of kingside, I was able to target his weaknesses without difficulty.
Aravindh Chithambaram - Laxman Rajaram, Round 4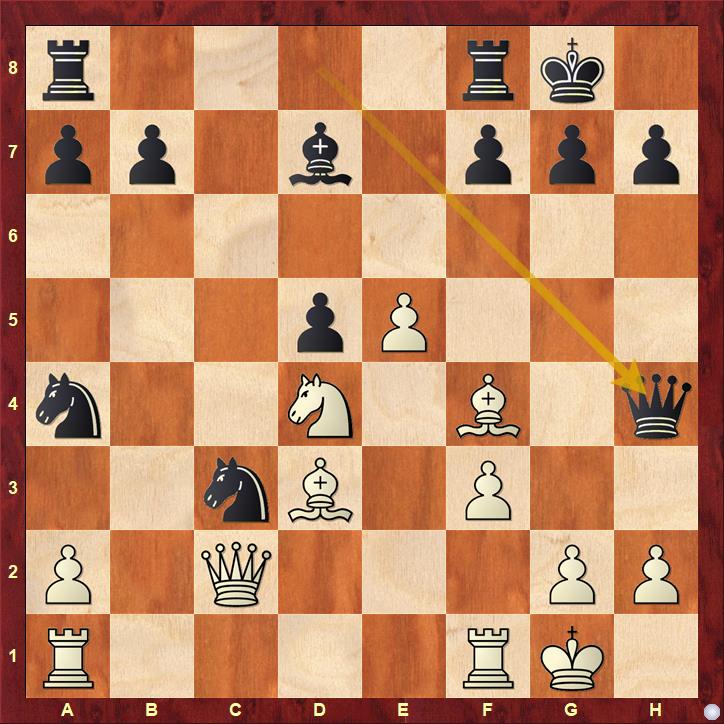 In the above position arising out of a Nimzo-Indian defense, Laxman's 16...Qh4 was a new move. The engines suggest 17.g3 as pretty decisive here. The idea is after something like 17...Qh3 White can easily pile up the pressure on the queenside with moves like Qb3, Rfc1 etc while the black queen remains totally cut off from the action on h3.
Analysis Board
CBI: The only game you lost was against Akash G who played phenomenally well and almost repeated his performance from 2012 in National Premier. What is your take on his performance?
AC: He is a great player and had already proved it in 2012 National-A that he has the potential to beat anyone. He looked very strong in this tournament and the quality of his games were high. I think he misplayed a bit against Vaibhav Suri on round 8 which kept the title open to everyone.
It was a funny game between us where I sacrificed two pawns for nothing and was searching for compensation! Finally I found some complications when we both were under time pressure but he showed good nerves at the end.
CBI: Why did you decide to play the Dragon against Akash?
AC: I like to try new openings. On that day I chose dragon randomly.
CBI: Against Anurag, you were close to losing the game. What went wrong and where do you think the tide began to shift?
AC: I was completely lucky to win that game. I think the main reason was not able to recover quickly after the loss against Akash. Regarding the game I was busted on the kingside but he was low on time which didn't let him to find finishing moves. So I was able to find some counterplay on the queenside.
Aravindh Chithambaram - Anurag Mhamal, Round 6
Aravindh was clearly lost at one point after this when his opponent managed to put his bishops to active use but thanks to his advantage on the clock he was able to escape unscathed and even turn the tables.
CBI: Against Deepan you almost effortlessly won the Sicilian endgame. What was his main mistake?
AC: The main mistake was 19.Qd2 where my opponent should have played 19.Nd5 Qxe3 20.fxe3! with an equal endgame. After 19.Qd2 h5 my opponent didn't get a chance to post his Knight on d5, as it fails to Bxd5 followed by Bh6.
Deepan Chakkravarthy - Aravindh Chithambaram, Round 7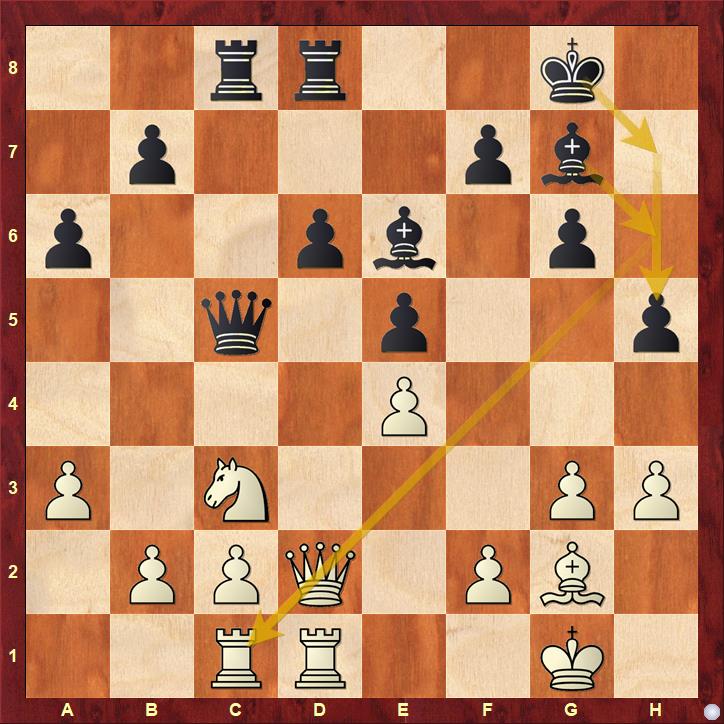 CBI: Tell us a bit about your win against Diptayan Ghosh.
AC: The win against Diptayan was the turning point I would say, which gave me a lot of confidence for the upcoming rounds. It was a King's Indian Defence where he was pushing throughout the game, I was even happy with a draw at some point. But somehow I managed to create counterplay with my a-pawn which made his pieces kind of tied up. And the huge mistake was on move 43.Kh3 which made his king vulnerable after moves like 43...Ne8 44.Rc4 Qf8(threatening both Qf1 and Rb3).
CBI: Against Sandipan Chanda the game was extremely crazy. Where do you think you got your winning chances?
AC: I was well prepared, which helped me to get decisive advantage out of the opening. After finding some tactical resources, I wanted to finish things off smoothly, but I messed up a lot. But I didn't let the advantage slip. After reaching 2nd time control I had to be little careful but I had enough time to calculate variations.
CBI: The final round against Shyam Nikhil was a brilliant show from the black side of the Ruy Lopez. How did you manage to win the game so easily?
AC: I think I didn't take too much pressure. I just did the same work as I did in the previous games.
CBI: Tell us a bit about your academics/ education. What are you doing right now?
AC: I am currently pursuing B.A Literature (Tamil) through distance learning.
CBI: Who are the people you would like to thank for your victory?
AC: I would like to thank many people. Firstly my coach RB.Ramesh who keeps me in good spirit all the time. My sponsors Murugappa and Microsense. ONGC (I was under scholarship till last year). Pragg and Karthikeyan with whom I am working. My friends and family. And In general I would like to thank all the people who have helped me in different occasions.
CBI: Last time you were able to score a triple victory – classical, rapid, blitz as well. Do you plan to defend the title this year as well?
AC: Don't know and haven't thought of this....Lets see!
CBI: Can you suggest some of the books, DVDs and materials that you use for improving as a chess player?
AC: There are loads of good books. Dvoretsky's Endgame Manual, My System by Nimzowitsch, My Great Predecessors, Domination, Dvoretsky's Analytical Manual are few of them.
CBI: What is next for you in terms of tournaments?
AC: I have played a lot in December so I will take some rest in January. Mainly I will be playing the Aeroflot Open 2020.
CBI: What do you think you have to do to reach 2700 next?
AC: If I do the right things and be focused on it, I can reach it in few years.
Thanks a lot Aravindh for giving your time and effort for this interview!
---