Mumbai gets its 2nd Chess Grandmaster, Aditya Mittal
Aditya crossed 2500 in the live ratings 2500.6 to be exact, after he drew with Spain no.1 GM Francisco Vallejo Pons in the sixth round of 3rd El Llobregat Open Chess Tournament. The 16-year-old earned his first GM-norm at Serbia Open 2021 Masters. Then he scored his second GM-norm at the 2nd El Llobregat Open Chess Tournament 2021. His final GM-norm was scored at Serbia Open 2022 Masters. After getting close to the 2500 live ratings several times, Aditya finally crossed the barrier. It was well-known that the teenager has the strength of a GM, it was just a matter of time. That time has finally come for him. He becomes Maharashtra's 11th and Mumbai's 2nd GM.
Aditya Mittal's road to Grandmaster
Sagar Shah (SS): Aditya, a huge congratulations to you for becoming a Grandmaster! I wanted to talk a bit about your journey towards the GM title, and also look at a few games with you.
Aditya Mittal (AM): Thank you! Sure, let's do that.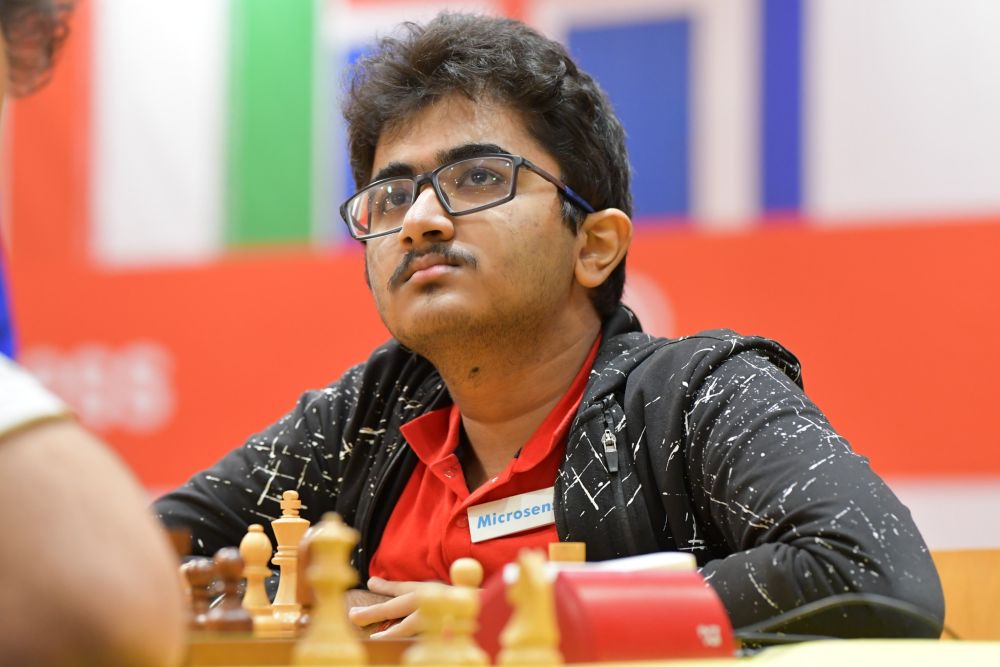 SS: This was the performance which brought you over 2500 - in the Ellobregat Open. Tell us a little bit about your journey towards the GM title, because I think it took you a lot of time to cross 2500.
AM: Yeah, at the start of this year I was around 2487. In the rating list of December, it is 2479, so it has been very tough to reach that mark. But just a few months back, I kind of stopped thinking about it, so it helps a bit.
SS: When you were 2487 at the start of the year, you already had 2 GM Norms. What went wrong and why did it take almost a year?
AM: I think it was just a phase where I got stuck. I don't think I was taking any pressure of reaching that rating, but somehow things were not working well, although I was playing quite a lot this year.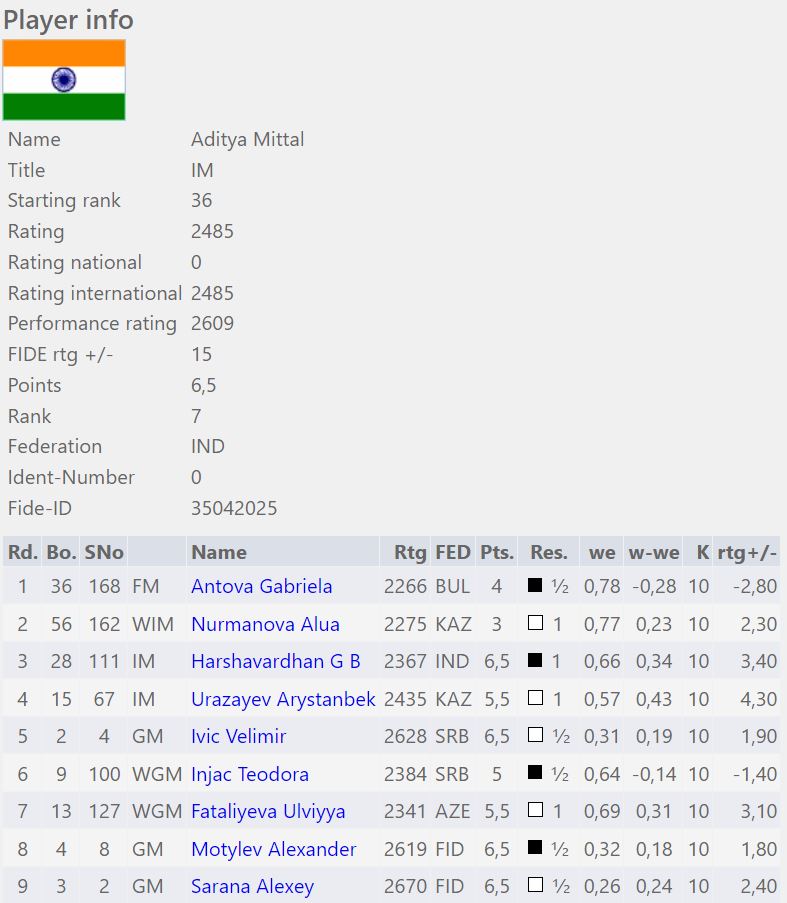 SS: Well, I know for a fact that you are an unbelievable talent. This has also been mentioned by so many strong players. In fact, Kramnik, Gelfand, all of them have been big fans of your chess. This GM title just feels like the beginning right, in a way?
AM: Yeah, it's just a beginning. It always had to come but the goal has to be to keep going on further.
SS: I have this one very nice picture of you, this is with Vishy Anand. Would you say this was one of the key moments in starting your chess journey?
AM: Definitely. I mean, I don't remember much from that time, I was just 5 years old. To start chess and in just 5-6 months, meet Vishy Anand and play a simul against him, it was obviously just amazing.
SS: Do you remember anything about this day? The date is written here as 12th of November, 2011.
AM: I definitely don't remember anything, but I remember Anand sir said something about me at the end, that I was very enthusiastic about writing the moves on the scoresheet [chuckles].
SS: Now when you have become a GM, Vishy Anand tweeted to congratulate you!
AM: Yeah, this was so great to read [smiles].
SS: Have you been in touch with him? I think you have attended a few sessions at the WestBridge-Anand Chess Academy (WACA).
AM: Yeah, it has been very useful. The classes at WACA are just amazing. I would like to thank Anand sir and all the coaches there. It has definitely been one of the big things to happen to me in the last year. The classes there are very high-level, everyone discussing the ideas , it's amazing.
SS: I have a picture of you with one of your first trainers here!
AM: Yeah, this is Mr. Prasad Ghate. When I came to Mumbai, we started with him and he was my coach for around 5 years.
SS: Till you reached 2000, he was your trainer. How important it is to have a good trainer when you are young?
AM: It is very important to build a foundation, so I'm very grateful to him and there was Mr. Suresh Kumar.
SS: I think you also worked with IM Alexander Goloshchapov, right?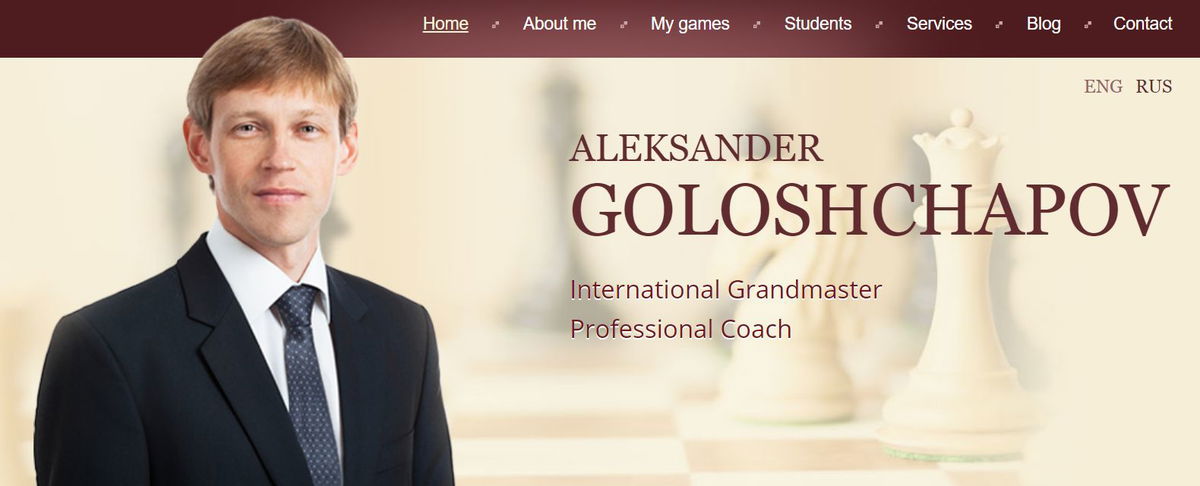 AM: Yes, I am still working with him since 2017. Also, right now I am working with GM Srinath Narayanan and GM Surya Sekhar Ganguly. A big thanks to all of them!
SS: How do you decide with whom to work? Because you know, sometimes I have seen people being with only one trainer. Are you that kind of a person who sort of absorbs from different places, how does it work for you?
AM: Yeah, I think it's useful. I mean, everyone has their own strengths. Actually till 2021, I was only working with one coach at a time. Everyone has different strengths, and according to their availability we plan our sessions. Srinath and Surya are very busy people [smiles]
SS: There was an article written on you in 2016 by GM Praveen Thipsay, who was the first GM of Mumbai. He wrote that in 6 years you will be a Grandmaster, and it took you roughly 6 years from then to now!
Maybe you can just ask him when will you reach 2700 [laughs]
AM: Yeah, I think it's more like Mumbai is a very happening city so people don't want to play chess [laughs]
SS: Another nice picture here, Aditya, is you getting the National Child award for Exceptional achievement in 2016.
AM: Yeah, this was one of the big boosts in my career. I mean, to get this award at such a young age was very motivating.
SS: I think Lakshya has supported you, also Sony pictures Network has supported you in your journey. How has the overall sponsorship situation been in your chess career?
AM: Right now, Microsense is supporting me. But of course, chess is a very very expensive sport, and the return is very little, so it is a challenge.
SS: This is a family picture of yours, who I think have played a huge role - your dad, your mom and your brother Vinayak. Can you tell us a few words about your dad, how has his role been in your chess career?
AM: My dad, I mean what can I say, I really owe him everything. He is the biggest pillar of my career, always motivating me, always giving me the strength to follow my dreams and do my best. He keeps following my games, like right now in Ellobregat, it's late night in India but he will wake up and keep following it to see what's happening.
SS: What has been your mother's role?
AM: About her, I would say that the support of a mother is a totally different thing. It can't be replaced with anything else. She's always been there with me in tournaments, always supporting and motivating me, a big thank you to her for everything.
SS: I also know that your brother Vinayak is extremely talented.
AM: Actually, Vinayak was the one who introduced me to chess. He had it as an extra-curricular activity in his school, and I just saw him playing and picked it up from there.
SS: I think he has launched 3 books!
AM: Yes, it's called Crosslinks. It's a trilogy, so they are all in a sequence.
SS: We can say yours is a family of high achievers. At 20, your brother has written 3 books, and at 16 you have become a Grandmaster. But it wouldn't be complete without talking about something very important in your life, it's something that you have fought with. I know you do not like to speak about it too much, but I have seen you playing in tournaments on wheelchair. You have also had these fractures in some of the events that you have played. Can you tell us a bit about it, how difficult it has been and how have you overcome it? Because it's a story of Inspiration. I truly think this is an unbelievable thing about you.
AM: I would say the thinking is that I just love chess so much, that I can't stay away from it. Okay, these things can delay your progress, they can set you back for a while. But if you are truly motivated enough to continue, then you always come out of it. There have been problems, but overall I have been very grateful for everything.
SS: How do you keep such positive attitude? I mean, I know for a fact that you were leading in some Nationals, and then you couldn't play the last round because you fell and you had a fracture. You couldn't play some tournaments, you couldn't walk sometimes, you had to use the wheelchair.
AM: Yeah, I would say it's never the end of the line. There's always new things to look forward to. Okay, it cuts off some time that I would have wanted for playing tournaments, but there's always more things to look forward to.
An Interview with Aditya's mother, Kusum Mittal
SS: Kusum, you have always been with Aditya. How is the feeling of him becoming a Grandmaster?
Kusum Mittal (KM): That's something which I cannot explain. I know that becoming a Grandmaster is the first step, but this is the step which everybody wants. Being in this journey for almost 11 years, we as parents are very elated and very happy.
SS: What would you say were the toughest things in this journey for you as a parent, and what were your learnings out of it which could be useful for other parents?
KM: Without a doubt, I would say that I have evolved as a parent in this journey. We as parents have become more calm, and now we can understand that this is a journey and we cannot count every tournament as good or bad. Earlier we used to be a bit anxious, but now we are more calm. With these children, I feel like we are learning more as parents. Definitely the journey is not at all easy. We know that Aditya was struggling for the last 5-6 months, so it was really very tough. In June, I think he completed his 3rd GM Norm, and he was just 4 points away from reaching 2500. Whatever man proposes, god disposes [smiles]. but maybe he's disposing for something better. So, that's what I learned.
We never had any doubt on his potential, but these kind of problems start creating doubt in you. Because I have seen very strong players who have not achieved the GM title. It's not like they had less potential, but one or two tough games in a tournament is enough to push you back. Sometimes I feel as a parent that this is a game of psychology. But Aditya is very strong, he never compares himself with others and he just wants to move ahead. He says that Chess is my passion and I love my passion, someday I'm going to reach there. In these 5 months it was tough for him, but I could never see his spirit going down.
SS: Where does this love of chess come from? Many parents are looking at their kids and they often see this love lacking. Because of this love, Aditya can work naturally on chess, he can spend hours on it, he can take in losses, he can be patient. How does it happen, does it come naturally?
KM: No, it doesn't happen fully naturally, definitely the environment in the house and the people around you should be good. When you are suffering from health problems or a bad form, I feel that we should be away from negative people. Because there will be many-a-times when people will say "Oh my god, you have spent many years in chess and you are going up and down many times". But as parents, we have always felt that we have kept the atmosphere at home positive. If you have thought of something and you want to achieve it, you have to shun all these things. So it's not completely natural, but Aditya has that knack of keeping all the problems aside and focusing on chess. I am really blessed to have him!
SS: In this entire journey, you mentioned about lot of challenges. How difficult has it been to manage the finances and sponsors and so on?
KM: That is one thing which I think all the chess players must be struggling with. I am grateful to god that we are atleast in that condition that we could manage playing. But of course, this sport is getting costlier every day. The more sponsorships he gets, the more coaching he can afford, and that will definitely help. We were lucky that a few years back he was taken in Lakshya for the sponsorship, and we had that for around 1-2 years. But COVID struck after that, and then Sony TV took the support back from Lakshya, and since then we could not get it. We were planning that this year we are going to get a bit more, and then we can plan more tournaments, but suddenly because of COVID everything stopped.
After that, thankfully, the credit goes to you, you made us meet the people of Microsense, especially Kailash sir because he was a part of the Kramnik-Gelfand camp. Since then, Microsense has become a part of the family. The sponsorship is still very less, but Microsense is supporting so many youngsters and so many players, so whatever they are supporting, I have a huge appreciation for them. Thank god for that, and I just wish that they keep earning more, so that they can support more chess players. Just this month, he has started getting the Indian Oil Scholarship, which is a very small amount. But it is very important because my husband is an Indian Oil employee for the last 25 years. So anything we get from Indian Oil, that is very close to heart. I am really happy that just a few days back, we got to know that Indian Oil will give a small scholarship programme, we got a call from the Chairman and director of Indian Oil the day he became a Grandmaster.
But yes, regarding finance it is really difficult Sagar, because chess players really require more of funds. Right now, you know that the World Rapid and Blitz is going to happen in Kazakhstan, and ofcourse any player would love to play, but it is so costly, we thought that we will not play that and go for Rilton. So, finance is always a problem. It's not about too much of coaching, it's the quality of coaching which matters right now.
SS: Absolutely. It is very important that these talents are supported. What do you see as your role now, now that he's already a Grandmaster?
KM: I think I have to calm myself, because the journey will be very very tough from now. I was telling Aditya last day that till now we were waiting like "This tournament you have to make a norm", or "this tournament you have to reach 2500", but what now? Because now the GM thing is done, you are not waiting for anything. Every single point will count, so now I think Aditya will have to evolve more as a player. We as parents have to understand that we have to keep calm, be with him in all the situations, and help him in whatever way we can.
SS: Fantastic! My last question to you is: you have two sons, both of them are high achievers. Vinayak has written 3 books, Aditya has become a GM at the age of 16. You said that creating a good environment at home is important. So, what was it that you guys did to create such amazing talents in your family?
KM: I thank my entire family for being such a great support for Aditya. As you discussed about my son Vinayak, I would just like to say that Vinayak is really a huge talent, and he has sacrificed a lot for Aditya. Because if I would have been there for him in these many years, maybe he would've been successful in many fields because he's really a great talent. Publishing 3 books at this age, and in fact we just did the launching of his 3rd book on 26th November.
Believe me, I could not just post about his things also on Facebook or Social media, because his books really require publicity. But we have not done anything for him right now, because we started here and then I got busy. I always feel the whole family wants to support Aditya, and without the whole family, nothing works. In fact, my parents have also been very supportive.
SS: Fantastic! Very nice. Aditya, has your mother improved at chess?
KM: [Aditya and Kusum laugh] I never look at his games, his father does, but I do not because I do not understand anything. If I see through the engine, and he wins and he comes out and he says "Why are you looking at the engine"? [chuckles] Sometimes the engine will show something wrong and when I think he's losing, he comes out winning. So, I have stopped seeing that . I have decided to let them only rack the brain, I will just enjoy wherever I'm going. So I have started diverting my attention towards other things.
SS: Fantastic. Well, a much-deserved GM title and a much-deserved rest for 2 days I think , but I don't think Aditya will take any rest. I think he will start preparing as he said for his next event. All the best Aditya for Sitges, and Kusum to you as well as the entire family for such a huge achievement, becoming the 77th Grandmaster of India, 11th of Maharashtra and 2nd from Mumbai.
KM: Thank you so much Sagar. We would really like to thank you and the ChessBase India team. Whatever you are doing, you are taking chess to another level. Who would have imagined that chess would get such wide publicity now? In fact, I would like to just mention one thing: Vinayak is in IIT, and now his friends over there know the chess players, they know you . What I have felt that , somebody has written in the chat also "When are you going to become a GM"? I remember we had met your parents at the World Youth 2017. Your father gave a speech where he said that "If he would've become a GM, he would've been one of the GMs. But he became the only Sagar Shah".
I feel that you are doing a wonderful job, you and Amruta have taken chess to another level. Thank you guys, keep this going and I think whatever chess is today, it's because of you all.
SS: Thank you, that's very kind of you. Thank you so much for these Kind words, I hope to see you all in Mumbai very soon when you return! Take care Aditya , Bye Kusum.
KM and AM: Thank you so much, Bye!

---