The Mega Diwali Sale 2022 with the launch of ChessBase 17
"Oh wow! ChessBase India has a sale! That's so wonderful," a chess lover exclaims. "But how do I navigate the over 800 products available in the shop?" This is a very valid worry for any person who is new to the ChessBase India's online-shop. We have so many useful chess products, but it is quite possible to get lost in the sheer quantum. At the core we deal in three types of chess products - 1. ChessBase softwares and fritztrainers 2. Chess Books 3. Accessories which include t-shirts, hoodies, chess sets, notebooks, pens and much more. From the 14th to the 16th of November is the Mega Diwali Sale across the entire ChessBase India store. We hope that with this article you will be able to navigate the ChessBase India shop like a boss and get the most appropriate product for yourself. Don't forget, ChessBase 17 and Mega Database 2023 are now out for pre-order!
The biggest sale of the year is here!
I know you are thinking to yourself. What's up with ChessBase India? Why are they putting up the Diwali Sale, 20 days after the completion of Diwali? Well, firstly we decided to delay the sale because ChessBase 17 was launching this November and we wanted the sale to coincide with the launch of ChessBase 17, Mega Database 2023 and a few other new products, so that you could get them at a discounted price. Secondly, we decided to continue with the name "Diwali Sale" because that is what we have been doing at ChessBase India since its inception in 2016! We didn't want to break the tradition. So, now that we are clear on why we call this the Mega Diwali sale from 14th to 16th of November, let us tell you what are the offers available:
If you buy: Rs. 1 to Rs. 2,500 you get 5% off
Rs.2,501 to Rs. 7,500 you get 10% off
Rs. 7501 to Rs. 20,000 you get 15% off
Rs. 20,001 to 50,000 you get 20% off
Rs. 50,001 and above you get 25% off
The amount of discount depends on your sub-total which is before GST.
The Diwali Sale in the ChessBase India shop keeps getting more and more exciting and valuable each year as we keep introducing new products. The shop now has over 800 products including softwares, books, t-shirts, and accessories! There is something for everyone here. This Diwali you can think about getting a new software, or a new book, or a new hoodie (recently launched), or the ChessPa in Chess Adventure Park book. If you are an ambitious player, you should definitely check out what ChessBase 17 brings on the table for you along with Mega Database 2023 in new format. With so many products available, it is natural to get confused. This is the reason why we have mentioned some of the new arrivals and best selling products in the shop that can help you make a good decision with regards to the products that you would like to buy. At the end of the article you will also find all the products in the shop along with clickable links, which will help you to make easy decisions.
ChessBase 17
Here are a couple of main features that you would definitely love about ChessBase 17:
1. Determining the Beauty of games
You now have a database of ten million games, but how do you find the really exciting hidden treasures in it? In earlier versions of ChessBase there were approaches to this: The search for combinations. But it was not always possible to find the most beautiful games. ChessBase 17 can now attribute a "beauty" to each game in four stages. Beauty is indicated by zero to three medals in a column of the game list. This makes each database sortable by beauty, i.e. the spectacular games are at the top. This is only possible in the new data format (2CBH). We will talk about this format later in this article.
You should set the beauty values once for your large database. This takes a few hours, because every game has to be replayed and every position has to be examined. A fast computer can handle about 600 games per second. I found a very interesting use of this feature. Let's say I have been very keen to study the games of Alexander Alekhine. So I open my Mega Database and search the games of Alekhine. I now select all the games of Alekhine and paste them in a new 2CBH format database. The Mega Database 2023 comes in 2CBH format, so you would not even need to create a new database for using the set beauty button on the games of Alekhine. I have 2328 games of Alekhine in a new database now. I go to the games tab and click on Set Beauty button as shown above. It takes roughly 2 seconds for the entire process to be done.
But there is another thing that can be done in ChessBase 17, which is Detect Sacrifices! There is a red button to the bottom of your screen.
Black pushed his pawn down the board to f3. and after Bxd5 f2 is just game over! You can see how with just two clicks - Set Beauty in the Database and then Detect Sacrifices when you open the game, can give you the key moments in the game of any top player. This is a great bit of training material and can help you go over the games of many world class players.
The above functions are only available in the new 2CBH data format. On all database types (also Cloud or PGN) you can search for beautiful games: To do this, click on "Beautiful games" in the advanced search mask. This will find all games with at least one beauty medal:
2. New Engine Analysis
The output of engines has been running unchanged for a long time in the form we introduced it with ChessBase 2.0 under MSDOS over 30 years ago: variations, evaluations, all of this quite dry. In ChessBase 17 this is approached anew. Earlier you would see variations and the engine would tell you what the best move is. However, ChessBase 17 describes in words what is the meaning behind a move and why is it winning or losing. It explains it's evaluations and the moves and the logic behind it. Exciting are statements like: "White gets a dangerous passed pawn on e6". Or "White sacrifices a runner", "Black has a resounding attack", "White gets the majority on the king's wing". "Both kings are weak". "White plays a lever". "Maneuver Nd2-f1-e3-d5."
A few more features are:
1. You move the mouse arrow on a variation and the position appears on the main board.
2. Alternatively: You can play your arrow on the engine variations and then play the moves with arrow keys. The chess board's background turns slightly light in colour to signal that you are not moving in the game. As soon as the mouse arrow leaves the engine variations, the starting position is back on the board and the arrow keys act again on the continuation of the game.
3. Buddy engine: The more colorful, the more exciting
The buddy engine analyzes the positions of the engine variation and determines whether moves are forced. Forced moves are commented with a colorful square. The square is the well-known symbol for the "only move". A forced variation is immediately recognizable: it looks quite colorful. It is exciting to discover forced variants: For example, you could play a slightly "worse" move in the opening preparation, but it demands the highest accuracy from the opponent because everything is forced. This has higher practical chances of winning than a move, which is perhaps 0.3 pawns better but easy to handle.
For years, it was recommended to analyze having at least two variations. If you have two lines on, then you can see if the best move is the only possible one. This has a price: A multi-variant search runs slower than the single-variant search. With Buddy in ChessBase 17 the one-variant search makes sense again. The buddy simply looks at the starting position and then provides the information to what extent the best move is forced, i.e. the only one. Buddy is so named because he acts as a buddy of the main engine. It takes a quarter to a fifth of the hash and CPU resources, leaving the main machine with almost unlimited power. In most cases, the auxiliary engine is sufficient to check that the main move has a large distance to the second best move. The main engine then goes much deeper in the same time in single-variant mode.
Buddy calculates slower than the main engine:
1. He should look at many moves and therefore has less computing time per position.
2. It has only one CPU available. This can lead to discrepancies if the main engine only detects another sharp pull at great depth. However, this is not a problem in practice, because you grasp it immediately and it is also an interesting property of the position (complexity). Then you simply switch (with bulging hash tables) to the two-variant search.
Buddy's comment icons are two-tone and there are three geometric shapes: The left/top color shows the rating of the best move. The second color corresponds to the second best move: Green = move leads to advantage / Yellow = roughly balanced / Red = loss. A vertically split rectangle shows that the best move is trivial. Diagonal from left to right bottom means: Not trivial, but easy to find. Diagonal from right to left bottom: Move appears later in the search, so it is harder to find. In the above image: 21.Nf4 is a winning and the best move. After the second best move, White is also good. 23.Nxh5 is clearly the best. If white does not take on h5, the advantage is gone. Black has to take back, but that is still losing as shown by the red mark.
4. New Data Format
The CBH format, which has existed since ChessBase 6.0, reaches its limits everywhere. The new format removes these boundaries. For example, there are no more limits on player names, tournament identifiers, etc. The "2CBH" format requires fewer files and uses modern caching methods of the operating system. Furthermore, there is no longer any need for search boosters, the updating of which repeatedly caused comprehension and performance problems. 2CBH is conceptually simpler and therefore more robust. Functions such as reorganizing therefore sometimes run twice as fast as in the old CBH format. The new format requires more space on the disk, which is relatively unimportant with today's disc sizes. With the new format comes new functionality.
In this position White took the pawn on d3 with the queen and Black resigned.
To know all the features related to ChessBase 17, you can read our dedicated article to it.
Mega Database 2023
The ChessBase Mega Database 2023 is the premiere chess database with over 9.75 million games from 1475 to 2022 in high quality. Packing more than 110,000 annotated games, Mega 2023 contains the world's largest collection of high-class analysed games. Train like a pro! Prepare for your opponents with ChessBase and the Mega Database 2023. Let grandmasters explain how to best handle your favorite variations, improve your repertoire and much more.
Buy ChessBase 17 and products related to it:
All products with clickable links:
ChessBase 16 upgrade to ChessBase 17 - Go for this only if you have bought ChessBase 16 from the ChessBase India shop and can provide us the serial key.
Mega Database upgrade from 2022 to 2023 - Go for this only if you have bought Mega Database 2022 from ChessBase India shop and can provide us the serial key
ChessBase 17 + Mega Database 2023 Combo - If you want to buy both ChessBase 17 and Mega 2023, then go for this, it will help you save Rs.1200
ChessBase 17 upgrade + Mega Database 2023 upgrade - If you had already bought ChessBase 16 and Mega 2022 combo, then you can go for this! But mind you we will need your serial keys.
ChessBase 17 Mega Pack - A powerpacked ChessBase 17 Mega Pack that gives you ChessBase 17, Mega Database 2023, ChessBase Premium Account, 1 year of ChessBase Magazine and 250 ducats. A total saving of over Rs.6,000
ChessBase 17 Premium Pack - ChessBase 17, Mega Database 2023, ChessBase Premium Account, 1 year of ChessBase Magazine, 250 Ducats, Power Fritz 18, Opening Encyclopaedia and also a ChessBase India t-shirt. A total saving of above Rs.10,000.
ChessBase 17 + Power Fritz 18 - Get the power of ChessBase 17 and the latest Power Fritz 18!
Note: All the products that involve ChessBase 17 or Mega Database 2023 are pre-orders and will be delivered to you by 24th of November 2022.
Power Fritz 18
Fritz has fascinated the chess world for 30 years. And the success story continues. In Vienna, the most popular chess program ever was once again able to underline its premier position: the newly developed neural engine with NNUE technology won the official Chess Software World Championship! With Power Fritz 18 you have the world champion program on your PC.
Power Fritz 18 Upgrade from Fritz 18
Fritz PowerBook 2023
The Fritz Powerbook 2023 contains 25 millions opening positions, derived from 1.7 million high class tournament games. Together with each position all relevant information is stored: all moves that were played in the position, by players of what average rating, with what success and performance results. The games from which the Fritz Powerbook 2023 were derived (except the Corr Games) are also included in the download version. The Fritz Powerbook 2023 represents the state of the art of current openings theory. The FritzPowerbook was derived also from the best 100,000 games from the Correspondence 2022 Database to enhance even more the theoretical value of moves given by the book. With the 2023 edition you get 3 Books: Fritz Powerbook, Strongbook and the CorrBook. Discover exciting and tricky new lines and practice them against Fritz. In addition the download has a small but very exclusive book with the strongest GM games (ELO >= 2550) from the past 100 years (2.7 Mio positions) and StrongBook Games Database.
Children's Book
When Amruta Mokal, the co-founder and COO of ChessBase India, sat down to gift her 3-year-old nephew a children's chess book from the internet, she could find absolutely nothing appropriate. That's when she decided to take things in her own hands and come up with a Children's Chess Book developed by ChessBase India itself. It took nearly two and a half years for that dream to come to fruition, but it did and we launched ChessPa in the Chess Adventure Park. You can read all about the book and its story here. The book was launched on the Children's Day on 14th of November 2022.
Get yourself ChessPa in Chess Adventure Park
Sweatshirt, Hoodies, Zippers
After the success we have received with the t-shirts, we are proud to announce that we have introduced Hoodies, Zippers and Sweatshirts in our shop. The couple sweatshirts is definitely something that you should be looking at!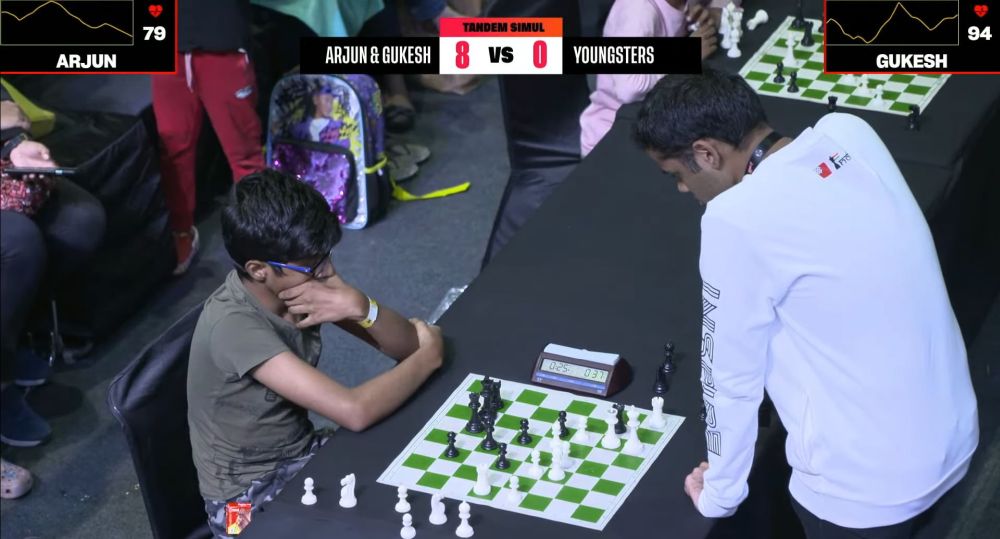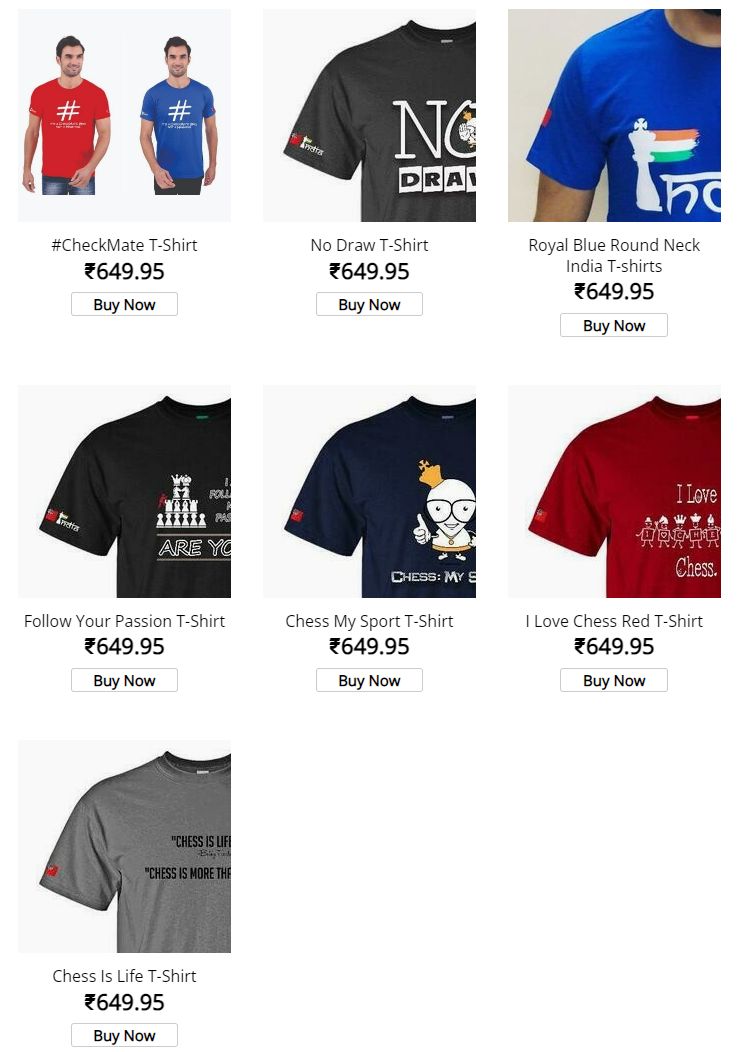 Browse through all the t-shirts in our shop
ChessBase India Premium Chess set
One of the best selling products in the ChessBase India shop is the ChessBase India Premium Chess Set. For a long time we did not sell chess sets in the ChessBase India shop. The reason was that we did not want to add another chess set to the already existing sets out there in the market. We wanted to provide something of value to our customers. We are proud to say that this has been one of the most loved products in our shop. We have this same chess set at the ChessBase India Chess Club at the Phoenix Marketcity in Mumbai. And people just love playing with the weighted pieces and the chess board squares being slightly bigger than a normal chess board.
Buy the ChessBase India Premium Chess Set
You can also buy the chess set with ChessPa in the Chess Adventure Park book
High recommended softwares and Fritztrainers
Here are some of the most best selling and
ChessBase Premium Account
The best selling product in the ChessBase India shop. Membership to over 12 features for an entire year at just Rs.1768. That's less than Rs.5 a day! You get access to Playchess (online playing platform), Tactics Trainer, 1000s of hours of top class training content in video format, live database with over 8 million games. play against an chess program - Fritz online, learn the openings through the openings trainer, save your games and analysis in My games cloud, try to solve some beautiful studies, and follow the live games.
Get ChessBase Premium Account for 1 years
Get ChessBase Premium Account for 3 months
1 year subscription to ChessBase Magazine
ChessBase Magazine is released once every two months. If you subscribe to this service for a year, you will get 6 copies starting from the latest ChessBase Magazine. It is an amazing resource for chess improvement. Just to give you an idea of what one issue of ChessBase Magazing contains, check this out with regards to CBM 210 (the latest edition).
You can buy individual issues, or go for the 1 year subscription, where you save Rs.1410.
PowerPlay 1-28
I fell in love with ChessBase and its products thanks to Daniel King's Powerplay series! It's one of the most beautifully crafted series out there for chess improvement. If you want to expand your horizons in a way that is fun, engaging and interesting Daniel King's PowerPlay series is the one for you. I would recommend you to start with vol.1 and 2 and then steadily go up the ladder. But I am sure your money will be well utilized even if you decide to buy the entire combo.
Get the entire Powerplay series by Daniel King or choose individual volumes
ChessBase Classics
One of my favourite sections in the ChessBase India shop. There are some gems here. There are lessons recorded by Vishy Anand, Vladimir Kramnik, Garry Kasparov, Nigel Short! Once you get this, just lock yourself in a room and enjoy yourself for the next 1 week with some of the best minds that the world of chess has ever seen!
Check out all the products in the ChessBase Classics section
Chess Endgames by Karsten Mueller
Karsten Mueller is arguably one of the greatest chess experts of the modern era. He has a very scientific way of looking at things and this stems from his background in mathematics. That's why when he decided to make a complete series on endgame training, you know that it is going to be comprehensive. Karsten begins in volume 1 with Basic knowledge for beginners and then goes to rook endgames, followed by Major piece endgames, strategic endgames, endgame principles of activity, initiative, domination, prophylaxis, weakness and fortresses. There are also volumes on interesting material imbalance like rook vs knight or rook vs bishop and so on. One thing is for sure, if you have the patience to go over all 14 volumes of what Karsten Mueller teaches here, you are sure to become an endgame expert.
Browse through all of Karsten Mueller's endgame material
Master Class
If you were thinking of getting to know about the greatest masters of the past then the Master Class series is a very good idea. Four strong players come together and dissect different aspects of the games of a top player. For example, let's take Bobby Fischer - GM Rogozenco will speak about his openings, GM Mueller will deal with Endgames, GM Marin on the strategies used and IM Reeh on the tactics. At the end of 4 hours you have a very firm idea of what kind of player Fischer was. This is a very unique way to study the material related to great players of the past.
Ivan Sokolov's Understanding Middlegame strategies
When a player like Ivan Sokolov works seriously on a series of training material, you have to pay attention to it. In this series, he has addressed an important element of the game, Understanding Middlegame Strategies. There are 6 volumes to this.
Vol.1 deals with Dynamic Pawns
Vol.2 deals with Practical Play
Vol.3 deal with Hedgehog structures
Vol.4 is dynamic pawn structures
Vol.5 is Sicilian Rossolimo and Maroczy Structures
Vol.6 is Ruy Lopez structures
Check out all of Sokolov's products on ChessBase India
Robert Ris products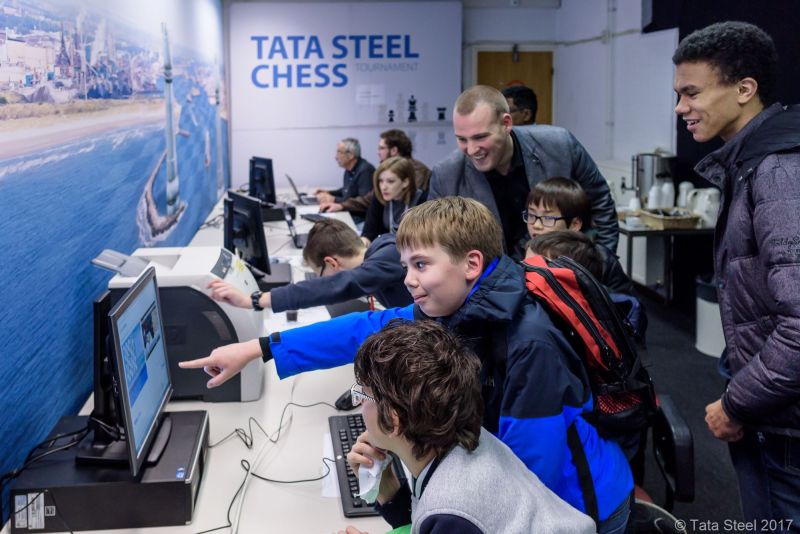 Robert Ris pays special attention to improving the calculating abilities of his students. That's the reason why he is able to come up some very instructive material that addresses the common errors made by the players. Fritztrainers like Calculation Training, Calculation Booster Training, Calculation Training and Attack and Defence are some of the materials that can really benefit you.
Check out all the material related to Robert Ris on ChessBase India
Get browser access for the latest Fritztrainers
Let's assume you have got yourself a brand new ChessBase Fritztrainer - Understanding Middlegame Strategies Vol.6 and you would like to play it through your tablet or mobile phone. Is it possible? Earlier it was not possible to do it with ChessBase Fritztrainers. However, now it has become possible. How? Whenever you purchase something from ChessBase India shop, you get a serial key. Now you go to the ChessBase.com shop and create a new account. Once you have done that, go to My Downloads. If you have never bought anything from ChessBase.com shop, it will be empty. However, there is a small + button at the top right.
Once you click on the button it asks you to enter your serial number. As you enter the serial number and press add, this product gets added to your list. Now go to ChessBase Account homepage. And login with the same credentials that you used to create your chessbase shop account. Click on the Video portal and you will find that your fritztrainer has already been added here. This is browser based so you can access it from your phone, your tablet or any device!
Please note: The Fritztrainers launched from Caruana's Ruy Lopez (in September 2019) and all of them subsequently released will work on the video portal, the older ones are not compatible with this feature.
Highly recommended Books:
The ChessBase India shop has so many books now that it is difficult to make recommendations. But before launching this sale, we rearranged our catalogue (you can find it below) so that you can get the books that you want in different categories like Openings (divided into 1.e4, 1.d4, other openings, as well as from black), Middlegames (attack and tactics, calculation, positional play) and Endgames. We also have books that deal with all phases of the game. Here we are going to recommend to you some of the best sellers in our shop.
If you are a beginner and looking for a structured way to improve, I would greatly recommend Praful Zaveri's Chess Course. It comes with 1 main book and 6 workbooks. All concepts are sufficiently drilled for you to move from a complete beginner to a level of a strong rated player.
A lot of people want to learn how to improve their endgame. There are four books that I would recommend for it. The first book that you should seriously consider is Silman's Endgame Course. The reason why this book is very good for people who are just getting acquainted with endgames, is because the author never assumes that the student knows things. He drills it down in words in the most basic form and you learn the endgames in a way that remain in your memory for a longer duration of time.
Once you have done a sizeable chunk of Silman's Endgame Course, I would recommend you to switch to 100 endgames you must know - main book and workbook:
There is a new book by Jesus De Villa which deals with Endgame Patterns that one must know. Playing endgames is a lot about pattern recognition. If you are able to understand the patterns in a deeper sense you would be able to make the best use of them in your games.
If you want to improve your positional play, then Silman's Reassess your chess is definitely something you should think about. I have created two extensive training playlists on YouTube based on what I learnt from this book - Improve your chess with IM Sagar Shah and Imbalance Theory with Comedians
If you are looking for a comprehensive course to become a strong player and improve your overall chess understanding in all phases of the game, then a very good course is Yusupov's 10-book series called Build up your chess, Boost your chess and Chess Evolution.
If you want to understand the mechanism behind each and every tactic in a deeper sense, you should definitely work with Martin Weteschnik's book on Understanding Chess Tactics. Through this book I realized how a pin actually works, how you need three pieces in a line. I knew it intuitively, but it was this book that broke it down into words.
Amruta absolutely loves this book and always tells me to recommend it to anyone who is serious about chess. It has a very unique way to teaching you different openings through pawn structures. And it is so much more than just an opening book - Chess Structures - A grandmaster guide by Mauricio Flores, is sure to give you new tools in your arsenal when it comes to understanding different pawn structures and what plans you should adopt.
Konstantin Landa and Sakaev's two books on positional play have been very well received by players all across the world. If you are looking to improve your positional play, you should definitely look into this one:
AI engines are changing the way we play chess. Alpha Zero games of beating Stockfish created quite a wave a few years ago. This is well documented in the book Game Changer by Matthew Sadler. Now a new book has been written by Sadler. It's called the Silicon Road to Chess Improvement. The English GM tries to explain how you can learn from the ideas of the top computer programs and use them in your own games.
Jacob Aagaard's books for long have received critical acclaim not just from improving players, but also from grandmasters. If you are a player who is rated above 2000 Elo FIDE, you might want to seriously start working on his books. (Vol.2 on positional play can be used by lower rated players also).
If you have always wondered how Vishy Anand managed to win three World Championship matches in 2008, 2010 and 2012, then you must read Anand Files. Vishy is nothing short of a CEO, managing a team of workers who are all singularly trying to get most work done before the big clash - the World Championship Match!
Nigel Short has played the World Championship with Kasparov in 1993. For many years he was considered as one of the best players in the world. He has travelled extensively all across the world playing in several open tournaments. Recently he wrote a book called Winning for Quality Chess. Nigel's idea was that instead of focusing only on his best games, he would chose his 8 best events and cover all the games from that event. His idea is to show the readers how a tournament is won, how someone handles ups and downs during the course of a tournament. It's a fresh concept.
One of my recent favourites is Think like a Super-GM by Michael Adams and Philip Hurtado. 40 positions are given in the book and players from all levels - from 1300 to Super GMs try the same position and record their thought process. With time stamps also given it shows how fast or slow player of a specific level thinks. It will help you to compare your thinking to players of various levels, including super GM Michael Adams, who solves each of the positions and also discusses in depth. It can help you to understand the gaps in your thinking.
If you want to understand how Magnus Carlsen has evolved as a player, there would be no better material than this one:
If you want to improve your calculation, you should definitely get the book by R.B. Ramesh. Ramesh is the current trainer of some of the best talents of India including Praggnanandhaa, Karthikeyan, Aravindh Chithambaram. The book is not at all easy by any means, but it is sure to make you a better calculator if you work with it seriously.
The all time classic - Woodpecker Method. The book has 1100 puzzles. This is how you should work with it. Get the book and aim to solve it in 1 month. Once you have finished it, open it again and try to finish it in 15 days. Once done, do it again in 7 days, then 3 and finally you should reach a stage where you can complete all the 1100 positions in a day. But I would know all the answers already, you may ask. The point is to make these patterns stick to your mind. It's just like how a woodpecker creates a hole in the wood - constant pecking! The woodpecker method can help you to become tactically stronger and learn a lot of patterns if you follow this advice given by the authors.
If you are looking books of the highest quality, coming straight of the mind of one of the greatest thinkers of our era, you must seriously consider 4 books written by Boris Gelfand. Boris would have extensive calls and online sessions with Jacob Aagaard and together the duo have written 4 books that can help even the strongest of players in the world.
If a book is written by players of the calibre of Jan Markos and David Navara, you must pay attention to it.
While all the books above were related to improving your chess, if you want to get something which you can just place in your living room on your coffee table and flip through the book at peace, we highly recommend you this book which covers Magnus Carlsen life in a series of pictures! Beautiful book!
Recommendations based on Level
We decided to add some of the most popular books, softwares based on your Elo. Sometimes we have added a few products in multiple rating categories because we feel that a ChessBase 17 is useful for a player who is 1500-2000, also for 2000-2200 and also for 2200 and above!
Check out the recommendations here
Softwares:
| | | | |
| --- | --- | --- | --- |
| Name | Price | GST @ 18% | Total amount |
| Essentials | INR | | Total INR |
| ChessBase 17 | 3558 | 640.44 | 4198.44 |
| ChessBase 17 upgrade from CB16 (valid CB 16 serial key required) | 3149 | 566.82 | 3715.82 |
| Mega Database 2023 | 5084 | 915.12 | 5999.12 |
| Mega Database 2023 - Upgrade from Mega Database 2022 | 1991 | 358.38 | 2349.38 |
| ChessBase 17 + Mega Database 2023 Combo | 7627 | 1372.86 | 8999.86 |
| ChessBase 17 Upgrade + Mega Database 2023 Upgrade | 5139 | 925.02 | 6064.02 |
| ChessBase 17 Mega Pack (CB 17 + Mega 2023 + CB Account + CBM + Ducats) | 9322 | 1677.96 | 10999.96 |
| ChessBase 17 Premium Pack ( CB17 + Mega 2023 +CB Account + CBM + Power Fritz 18 + Opening Encyclopaedia) | 15699 | 2825.82 | 18524.82 |
| Mega Database 2023 - Upgrade from Mega Database any year | 3388.98 | 610.02 | 3999.00 |
| ChessBase Account Premium (1 year) | 1499 | 269.82 | 1768.82 |
| ChessBase Account Premium (3 months) | 499 | 89.82 | 588.82 |
| 200 ducats | 1650 | 297.00 | 1947.00 |
| Power Fritz 18 | 2899 | 521.82 | 3420.82 |
| Power Fritz 18 upgrade from Fritz 18 | 1439.83 | 259.17 | 1699.00 |
| ChessBase 17 and Power Fritz 18 Combo | 6185.59 | 1113.41 | 7299.00 |
| Fritz Powerbook 2023 | 2799 | 503.82 | 3302.82 |
| Fritz & Chesster: Learn to play Chess | 499 | 89.82 | 588.82 |
| Correspondence Database 2022 | 5999 | 1079.82 | 7078.82 |
| Daniel King: Starting chess | 999 | 179.82 | 1178.82 |
| Opening Encyclopaedia 2022 | 2999 | 539.82 | 3538.82 |
| Opening Encyclopaedia 2022 upgrade from 2021 | 1799 | 323.82 | 2122.82 |
| ChessBase India Elite Pass | 999 | 179.82 | 1178.82 |
| Fritz and Chesster - Part 2 | 499 | 89.82 | 588.82 |
| Komodo Dragon 3 NEURAL NETWORK CHESS EVALUATION | 2999 | 539.82 | 3538.82 |
| ChessBase Reader 2017 | 0 | 0.00 | 0.00 |
| Playchess windows client | 0 | 0.00 | 0.00 |
| | | | |
| ChessBase Magazine | | | |
| ChessBase Magazine 171 | 699 | 125.82 | 824.82 |
| ChessBase Magazine 172 | 699 | 125.82 | 824.82 |
| ChessBase Magazine 173 | 699 | 125.82 | 824.82 |
| ChessBase Magazine 174 | 699 | 125.82 | 824.82 |
| ChessBase Magazine 175 | 699 | 125.82 | 824.82 |
| ChessBase Magazine 176 | 699 | 125.82 | 824.82 |
| ChessBase Magazine 177 | 699 | 125.82 | 824.82 |
| ChessBase Magazine 178 | 699 | 125.82 | 824.82 |
| ChessBase Magazine 179 | 699 | 125.82 | 824.82 |
| ChessBase Magazine 180 | 699 | 125.82 | 824.82 |
| ChessBase Magazine 181 | 699 | 125.82 | 824.82 |
| ChessBase Magazine 182 | 699 | 125.82 | 824.82 |
| ChessBase Magazine 183 | 699 | 125.82 | 824.82 |
| ChessBase Magazine 184 | 699 | 125.82 | 824.82 |
| ChessBase Magazine 185 | 699 | 125.82 | 824.82 |
| ChessBase Magazine 186 | 699 | 125.82 | 824.82 |
| ChessBase Magazine 187 | 699 | 125.82 | 824.82 |
| ChessBase Magazine 188 | 699 | 125.82 | 824.82 |
| ChessBase Magazine 189 | 699 | 125.82 | 824.82 |
| ChessBase Magazine (CBM) 190 | 699 | 125.82 | 824.82 |
| ChessBase Magazine (CBM) 191 | 699 | 125.82 | 824.82 |
| ChessBase Magazine (CBM) 192 | 699 | 125.82 | 824.82 |
| Chessbase Magazine (CBM ) 193 | 699 | 125.82 | 824.82 |
| ChessBase Magazine (CBM ) 194 | 699 | 125.82 | 824.82 |
| ChessBase Magazine(CBM) 195 | 699 | 125.82 | 824.82 |
| ChessBase Magazine ( CBM) 196 | 699 | 125.82 | 824.82 |
| ChessBase Magazine (CBM) 197 | 699 | 125.82 | 824.82 |
| ChessBase Magazine (CBM) 198 | 699 | 125.82 | 824.82 |
| ChessBase Magazine (CBM) 199 | 699 | 125.82 | 824.82 |
| ChessBase Magazine (CBM) 200 | 699 | 125.82 | 824.82 |
| ChessBase Magazine (CBM) 201 | 699 | 125.82 | 824.82 |
| ChessBase Magazine (CBM) 202 | 699 | 125.82 | 824.82 |
| ChessBase Magazine (CBM) 203 | 699 | 125.82 | 824.82 |
| ChessBase Magazine (CBM) 204 | 699 | 125.82 | 824.82 |
| ChessBase Magazine (CBM) 205 | 699 | 125.82 | 824.82 |
| ChessBase Magazine (CBM) 206 | 699 | 125.82 | 824.82 |
| ChessBase Magazine (CBM) 207 | 699 | 125.82 | 824.82 |
| ChessBase Magazine (CBM) 208 | 699 | 125.82 | 824.82 |
| ChessBase Magazine (CBM) 209 | 699 | 125.82 | 824.82 |
| ChessBase Magazine (CBM) 210 | 699 | 125.82 | 824.82 |
| ChessBase Magazine-1 Year subscription ( 6 copies) | 2999 | 539.82 | 3538.82 |
| | | | |
| Power Play by Daniel King | | | |
| Power Play 1 - Mating Patterns | 999 | 179.82 | 1178.82 |
| Power Play 2 - Attacking the king | 999 | 179.82 | 1178.82 |
| Power Play 3 - Pawn storm | 999 | 179.82 | 1178.82 |
| Power Play 4 - Start Right | 999 | 179.82 | 1178.82 |
| Power Play 5 - Pawns | 999 | 179.82 | 1178.82 |
| Power Play 6 - Pawns | 999 | 179.82 | 1178.82 |
| Power Play 7 - Improve your pieces | 999 | 179.82 | 1178.82 |
| Power Play 8 - Knights and Bishops | 999 | 179.82 | 1178.82 |
| Power Play 9 - major pieces vs. minor pieces | 999 | 179.82 | 1178.82 |
| Power Play 10 - Calculation | 999 | 179.82 | 1178.82 |
| Power Play 11 - Defence | 999 | 179.82 | 1178.82 |
| Power Play 12 - The Hedgehog | 999 | 179.82 | 1178.82 |
| Power Play 13 - The squeeze | 999 | 179.82 | 1178.82 |
| Power Play 14 - Test Your Tactics | 999 | 179.82 | 1178.82 |
| Power Play 15 - Practical Pawn Endgames | 999 | 179.82 | 1178.82 |
| Power Play 16 - Test Your Rook Endgames | 999 | 179.82 | 1178.82 |
| Power Play 17 - Attack with 1.e4 | 999 | 179.82 | 1178.82 |
| Power Play 18: The Sicilian Najdorf - a repertoire for Black | 999 | 179.82 | 1178.82 |
| Power Play 19: Attack with 1.e4 - Part 2 | 999 | 179.82 | 1178.82 |
| Power Play 20: Test Your Attacking Chess | 999 | 179.82 | 1178.82 |
| Power Play 21: A repertoire for black against the Anti-Sicilians | 999 | 179.82 | 1178.82 |
| Powerplay 22: A Repertoire for Black with the French Defence | 999 | 179.82 | 1178.82 |
| Power Play 23: A Repertoire for black with the Queen's Gambit Declined | 999 | 179.82 | 1178.82 |
| Power Play 24: A repertoire for black against the Catalan | 999 | 179.82 | 1178.82 |
| Power Play Vol.23 and 24 | 1799 | 323.82 | 2122.82 |
| Powerplay 25: Queen pawn repertoire against Offbeat lines | 999 | 179.82 | 1178.82 |
| Power Play Strategy package - 6 DVDs by Daniel King | 4999 | 899.82 | 5898.82 |
| Power Play Attack package - 6 DVDs by Daniel King | 4999 | 899.82 | 5898.82 |
| Powerplay 26: Checkmate Challenge – essential knowledge | 999 | 179.82 | 1178.82 |
| Power Play 27: The King's Gambit By Daniel King | 999 | 179.82 | 1178.82 |
| Powerplay 28: Tactic Toolbox King's Gambit by Daniel King | 999 | 179.82 | 1178.82 |
| Power Play Vol. 27 and 28 (Combo) | 1899 | 341.82 | 2240.82 |
| Power Play 1-28 Combo Offer | 21499 | 3869.82 | 25368.82 |
| | | | |
| Chess Endames by Karsten Mueller | | | |
| Chess Endgames 1 - Basic knowledge for beginners | 999 | 179.82 | 1178.82 |
| Chess Endgames 2 - Rook Endgames | 999 | 179.82 | 1178.82 |
| Chess Endgames 3 - major piece endgames | 999 | 179.82 | 1178.82 |
| Chess Endgames 4 - Strategical Endgames | 999 | 179.82 | 1178.82 |
| Chess Endgames 5 - Endgame Principles Activity & Initiative | 999 | 179.82 | 1178.82 |
| Chess Endgames 6 - Endgame Principles Domination & Prophylaxis | 999 | 179.82 | 1178.82 |
| Chess Endgames 7 - Endgame Principles Weaknesses & Fortresses | 999 | 179.82 | 1178.82 |
| Chess Endgames 8 - Practical Rook Endgames | 999 | 179.82 | 1178.82 |
| Chess Endgames 9 - Rook and Minor Piece | 999 | 179.82 | 1178.82 |
| Chess Endgames 10 - Rook and two minor pieces | 999 | 179.82 | 1178.82 |
| Chess Endgames 11 - Rook against Bishop | 999 | 179.82 | 1178.82 |
| Chess Endgames 12 - Rook vs Knight | 999 | 179.82 | 1178.82 |
| Chess Endgames 13 - Double rook endings | 999 | 179.82 | 1178.82 |
| Chess Endgames 14 - The golden guidelines of endgame play | 999 | 179.82 | 1178.82 |
| Chess Endgames 1 to 14 | 9999 | 1799.82 | 11798.82 |
| Endgames of the World Champions from Fischer to Carlsen | 999 | 179.82 | 1178.82 |
| Endgames of the World Champions Vol. 2 - from Steinitz to Spassky by Dr. Karsten Müller | 999 | 179.82 | 1178.82 |
| Claus-Dieter Meyer / Karsten Müller: Magical Chess Endgames | 999 | 179.82 | 1178.82 |
| | | | |
| Master Class | | | |
| Master Class Vol.01: Bobby Fischer | 999 | 179.82 | 1178.82 |
| Master Class Vol.02: Mikhail Tal | 999 | 179.82 | 1178.82 |
| Master Class Vol.03: Alexander Alekhine | 999 | 179.82 | 1178.82 |
| Master Class Vol.04: Jose Raul Capablanca | 999 | 179.82 | 1178.82 |
| Master Class Vol.05: Emanuel Lasker | 999 | 179.82 | 1178.82 |
| Master Class Vol.06: Anatoly Karpov | 999 | 179.82 | 1178.82 |
| Master Class Vol.07: Garry Kasparov | 999 | 179.82 | 1178.82 |
| Master Class Vol.08: Magnus Carlsen | 999 | 179.82 | 1178.82 |
| Master Class Vol.09: Paul Morphy | 999 | 179.82 | 1178.82 |
| Master Class Vol.10: Mikhail Botvinnik | 999 | 179.82 | 1178.82 |
| Master Class Vol.11: Vladimir Kramnik | 999 | 179.82 | 1178.82 |
| Master Class Vol. 12: Viswanathan Anand | 999 | 179.82 | 1178.82 |
| Master Class Vol. 13: Tigran Petrosian | 999 | 179.82 | 1178.82 |
| MASTER CLASS VOL. 14: VASILY SMYSLOV | 999 | 179.82 | 1178.82 |
| Master Class Vol.8: Magnus Carlsen - upgrade from Master Class Vol.8 - Magnus Carlsen 2nd Edition | 699 | 125.82 | 824.82 |
| Master Class Vol.8 - Magnus Carlsen 2nd Edition | 999 | 179.82 | 1178.82 |
| Master Class Vol 1-14 Combo | 11864 | 2135.44 | 13999.00 |
| | | | |
| Tactic Toolbox | | | |
| Tactic Toolbox Benoni by Mihail Marin | 999 | 179.82 | 1178.82 |
| Tactic Toolbox Grunfeld by Michal Krasenkow | 999 | 179.82 | 1178.82 |
| Tactic Toolbox Meran Variation by Robert Ris | 999 | 179.82 | 1178.82 |
| Tactic Toolbox Najdorf by Niclas Huschenbeth | 999 | 179.82 | 1178.82 |
| Tactic Toolbox Ruy Lopez / Spanish Opening by Sam Collins | 999 | 179.82 | 1178.82 |
| Tactic Toolbox Scheveningen by Lubomir Ftacnik | 999 | 179.82 | 1178.82 |
| Tactic Toolbox Semi-Slav with 5.Bg5 by Robert Ris | 999 | 179.82 | 1178.82 |
| Tactic Toolbox London System by Simon Williams | 999 | 179.82 | 1178.82 |
| Tactic Toolbox Open Sicilian by Roeland Pruijsses, Nico Zwirs | 999 | 179.82 | 1178.82 |
| The English Opening – Tactic and Strategy Toolbox by Mihail Marin | 999 | 179.82 | 1178.82 |
| Tactic Toolbox Combo (1-10) | 8699 | 1565.82 | 10264.82 |
| | | | |
| Fritz trainers | | | |
| With 1.e4 from White | | | |
| The Bishop's Opening and The Italian Game by Sergei Tiviakov | 999 | 179.82 | 1178.82 |
| The Classical French - Main Line by Rustam Kasimdzhanov | 999 | 179.82 | 1178.82 |
| Evans Gambit for the new generation by Simon Williams | 999 | 179.82 | 1178.82 |
| The Modern Scotch Opening by Parimarjan Negi | 999 | 179.82 | 1178.82 |
| The new McCutcheon by Rustam Kasimdzhanov | 999 | 179.82 | 1178.82 |
| English Attack by Daniel Gormally | 999 | 179.82 | 1178.82 |
| Fighting against Caro Kann with the advance variation by Viktor Bologan | 999 | 179.82 | 1178.82 |
| 3.Nd2 against the French by Sergei Tiviakov | 999 | 179.82 | 1178.82 |
| King's Gambit Vol.1 by Simon Williams | 999 | 179.82 | 1178.82 |
| Kings Gambit Vol.2 by Simon Williams | 999 | 179.82 | 1178.82 |
| How to crack the Berlin Wall with 5.Re1 | 999 | 179.82 | 1178.82 |
| The Modern Grand Prix by Lawrence Trent | 999 | 179.82 | 1178.82 |
| Rocket Repertoire: The Four Knights by Simon Williams | 999 | 179.82 | 1178.82 |
| The popular Italian by Viktor Bologan | 999 | 179.82 | 1178.82 |
| A Classical Guide to the French Defence by Yannick Pelletier | 999 | 179.82 | 1178.82 |
| Smash the Sicilian with the Smith-Morra Gambit by Michael Rahal | 999 | 179.82 | 1178.82 |
| The Baffling 2.b3 against the Sicilian by Lawrence Trent | 999 | 179.82 | 1178.82 |
| How Bobby Fischer battled the Sicilian by Adrian Mikhalchishin | 999 | 179.82 | 1178.82 |
| Tactic Toolbox Ruy Lopez / Spanish Opening by Sam Collins | 999 | 179.82 | 1178.82 |
| Navigating the Ruy Lopez Vol.1 by Fabiano Caruana | 999 | 179.82 | 1178.82 |
| Navigating the Ruy Lopez Vol.2 by Fabiano Caruana | 999 | 179.82 | 1178.82 |
| Navigating the Ruy Lopez Vol.3 by Fabiano Caruana | 999 | 179.82 | 1178.82 |
| Navigating the Ruy Lopez Vol.1-3 by Fabiano Caruana | 2799 | 503.82 | 3302.82 |
| The Scheveningen Sicilian by Lubomir Ftacnik | 999 | 179.82 | 1178.82 |
| How to play the Ruy Lopez with Qe2 by Sergei Tiviakov | 999 | 179.82 | 1178.82 |
| A modern approach against the Sicilian Vol.1: The Rossolimo Variation By Jan Werle | 999 | 179.82 | 1178.82 |
| A modern approach against the Sicilian Vol.2: The Moscow Variation By Jan Werle | 999 | 179.82 | 1178.82 |
| The Rossolimo and Moscow Variation Bundle By Jan Werle (Vol 1 and Vol 2 Combo) | 1899 | 341.82 | 2240.82 |
| How to slay the Sicilian Vol.1 - 2...d6 by Roeland Pruijsses, Nico Zwirs | 999 | 179.82 | 1178.82 |
| How to slay the Sicilian Vol.2 - 2...Nc6 by Roeland Pruijsses, Nico Zwirs | 999 | 179.82 | 1178.82 |
| How to slay the Sicilian Vol.3. - 2...e6 and others by Roeland Pruijsses, Nico Zwirs | 999 | 179.82 | 1178.82 |
| The Open Sicilian Bundle by Roeland Pruijsses, Nico Zwirs | 2999 | 539.82 | 3538.82 |
| Tactic Toolbox Open Sicilian by Roeland Pruijsses, Nico Zwirs | 999 | 179.82 | 1178.82 |
| The Closed Sicilian by IM Andrew Martin | 999 | 179.82 | 1178.82 |
| The Scotch Game by Svitlana Demchenko | 999 | 179.82 | 1178.82 |
| | | | |
| Against 1.e4 from Black | | | |
| The Fashionable Caro-Kann Vol.1 by Vidit Gujrathi | 999 | 179.82 | 1178.82 |
| The Fashionable Caro-Kann Vol.2 by Vidit Gujrathi | 999 | 179.82 | 1178.82 |
| Vidit Gujrathi fashionable Vol.1+2 by Vidit Gujrathi | 1899 | 341.82 | 2240.82 |
| Complex Najdorf by Viktor Bologan | 999 | 179.82 | 1178.82 |
| A Gambit Guide through the Open Game Vol.1 by Erwin l'Ami | 999 | 179.82 | 1178.82 |
| A Gambit Guide through the Open Game Vol.2 by Erwin l'Ami | 999 | 179.82 | 1178.82 |
| A Gambit Guide through Open game Vol.1 + 2 by Erwin l'Ami | 1799 | 323.82 | 2122.82 |
| Tactic Toolbox Scheveningen by Lubomir Ftacnik | 999 | 179.82 | 1178.82 |
| Tactic Toolbox Najdorf by Niclas Huschenbeth | 999 | 179.82 | 1178.82 |
| The Berlin Wall by Viktor Bologan | 999 | 179.82 | 1178.82 |
| The Black Lion - an aggressive version of the Philidor Defense by Simon Williams | 999 | 179.82 | 1178.82 |
| The Classical Sicilian by Mihail Marin | 999 | 179.82 | 1178.82 |
| The Ruy Lopez Breyer Variation by Pavel Eljanov | 999 | 179.82 | 1178.82 |
| The Spanish Fianchetto by Sam Collins | 999 | 179.82 | 1178.82 |
| The modern Two Knights by Erwin l'Ami | 999 | 179.82 | 1178.82 |
| The French Defence for Tournament Player by Nicholas Pert | 999 | 179.82 | 1178.82 |
| The Modern Pirc by Viktor Bologan | 999 | 179.82 | 1178.82 |
| Open games with …Bc5 by Sam Collins | 999 | 179.82 | 1178.82 |
| Strike first with the Scandinavian by Christian Bauer | 999 | 179.82 | 1178.82 |
| Ruy Lopez: Attack with the Schliemann by Sam Collins | 999 | 179.82 | 1178.82 |
| The Sniper by Charlie Storey | 999 | 179.82 | 1178.82 |
| The Sicilian Dragon Vol. 1: Main Line with 9.Bc4 by Peter Heine Nielsen | 999 | 179.82 | 1178.82 |
| The Sicilian Dragon Vol. 2: All Lines except 9.Bc4 by Peter Heine Nielsen | 999 | 179.82 | 1178.82 |
| Play the Pirc like a Grandmaster Vol. 1: Positional lines by Mihail Marin | 999 | 179.82 | 1178.82 |
| Play the Pirc like a Grandmaster Vol. 2: Attacking lines by Mihail Marin | 999 | 179.82 | 1178.82 |
| Play the Pirc like a Grandmaster Vol. 1-Vol. 2 by Mihail Marin (Combo) | 1899 | 341.82 | 2240.82 |
| The Sicilian Taimanov-Scheveningen by Alejandro Ramirez | 999 | 179.82 | 1178.82 |
| Wesley So: My Black Secrets in the Modern Italian | 1299 | 233.82 | 1532.82 |
| The surprising Sicilian - Shock your opponent with an early ...Qb6 | 999 | 179.82 | 1178.82 |
| The Accelerated Dragon - a sharp weapon against 1.e4 by Nadezhda Kosintseva | 999 | 179.82 | 1178.82 |
| The reliable Petroff by Daniel Fernandez | 999 | 179.82 | 1178.82 |
| The Shining Sveshnikov Sicilian by Erwin l'Ami | 999 | 179.82 | 1178.82 |
| Nicholas Pert: A Sicilian Stunner - The Kalashnikov | 999 | 179.82 | 1178.82 |
| The Shining Sveshnikov Sicilian by Erwin l'Ami And Nicholas Pert: A Sicilian Stunner - The Kalashnikov Combo | 1899 | 341.82 | 2240.82 |
| The Nasty Nimzowisch Defence By Christian Bauer | 999 | 179.82 | 1178.82 |
| Mastering the Sicilian Najdorf by Yannick Pelletier | 999 | 179.82 | 1178.82 |
| Chris Ward: Sicilian Dragon: The Real Deal Part 1: Understanding The Dragon | 999 | 179.82 | 1178.82 |
| A Nightmare for the Najdorf by Sergei Tiviakov | 999 | 179.82 | 1178.82 |
| A Black Repertoire versus the Anti-Sicilians by Nicholas Pert | 999 | 179.82 | 1178.82 |
| The flexible Panov by Nico Zwirs | 999 | 179.82 | 1178.82 |
| The flexible Open Spanish by Sipke Ernst | 999 | 179.82 | 1178.82 |
| A Complete Black Repertoire versus the English, 1...e5 by Nicholas Pert | 999 | 179.82 | 1178.82 |
| The Catalan vs. the Semi-Slav, Chebanenko and Triangle by Mihail Marin | 999 | 179.82 | 1178.82 |
| The Fianchetto Scandinavian by Nico Zwirs | 999 | 179.82 | 1178.82 |
| The smooth Scandinavian Defence with 3...Qd8 by Robert Ris | 999 | 179.82 | 1178.82 |
| Top Choice Repertoire: Play the French Defence Vol.1 by Rustam Kasimdzhanov | 999 | 179.82 | 1178.82 |
| Top Choice Repertoire: Play the French Defence Vol.2 by Rustam Kasimdzhanov | 999 | 179.82 | 1178.82 |
| Top Choice Repertoire: Play the French Defence Vol.1 & 2 by Rustam Kasimdzhanov | 1899 | 341.82 | 2240.82 |
| Sicilian Dragon: The Real | 999 | 179.82 | 1178.82 |
| Sicilian Dragon: The Real Deal! Part 3 by Chris Ward | 999 | 179.82 | 1178.82 |
| Sicilian Dragon: The Real Deal! Part 2 and 3 by Chris Ward | 1899 | 341.82 | 2240.82 |
| Sicilian Dragon: The Real Deal! Part 1-3 by Chris Ward | 2899 | 521.82 | 3420.82 |
| The French Defence - Structures, Tactics and plans Vol.1 by Mihail Marin | 999 | 179.82 | 1178.82 |
| The French Defence - Structures, Tactics and plans Vol.2 by Mihail Marin | 999 | 179.82 | 1178.82 |
| The French Defence - Structures, Tactics and plans Vol.1 +2 by Mihal Marin | 1899 | 341.82 | 2240.82 |
| | | | |
| With 1.d4 from White | | | |
| Solid and safe against the Indian openings: Play the Fianchetto by Nicholas Pert | 999 | 179.82 | 1178.82 |
| Beat the Queens Indian by Simon Williams | 999 | 179.82 | 1178.82 |
| Trompowsky for the attacking player by Timur Gareyev | 999 | 179.82 | 1178.82 |
| Winning against King's Indian - With the main line by Mihail Marin | 999 | 179.82 | 1178.82 |
| Winning against the Classical Slav by Mihail Marin | 999 | 179.82 | 1178.82 |
| A dynamic weapon against the QGD - 5.Bf4 | 999 | 179.82 | 1178.82 |
| Meeting the Gambits Vol.2 - Gambits after 1.d4 by Andrew Martin | 999 | 179.82 | 1178.82 |
| An Attacking Repertoire with 1.d4! Vol. 1 | 999 | 179.82 | 1178.82 |
| An Attacking Repertoire with 1.d4! Vol. 2 | 999 | 179.82 | 1178.82 |
| Attacking Repertoire with 1.d4!, Vol 1 & 2 by Nick Pert | 1899 | 341.82 | 2240.82 |
| Tactic Toolbox Benoni by Mihail Marin | 999 | 179.82 | 1178.82 |
| Tactic Toolbox Semi-Slav with 5.Bg5 by Robert Ris | 999 | 179.82 | 1178.82 |
| Simon Williams: The Colle–Koltanowski System | 999 | 179.82 | 1178.82 |
| Simon Williams: The Torre Attack | 999 | 179.82 | 1178.82 |
| The wicked Veresov Attack by Andrew Martin | 999 | 179.82 | 1178.82 |
| The London System with 2.Bf4 Reloaded by Simon Williams | 999 | 179.82 | 1178.82 |
| Tactic Toolbox London System by Simon Williams | 999 | 179.82 | 1178.82 |
| London System with 2.Bf4 Reloaded and Tactic Toolbox London System by Simon Williams -Combo | 1899 | 341.82 | 2240.82 |
| An Attacking Repertoire with 1.d4 Vol.3 by Nicholas Pert | 999 | 179.82 | 1178.82 |
| An Attacking Repertoire with 1.d4! Vol. 1-3 by Nicholas Pert (Combo) | 2799 | 503.82 | 3302.82 |
| The Saemisch Variation against the King's Indian and Benoni by Jan Werle | 999 | 179.82 | 1178.82 |
| The Barry Attack by IM Andrew Martin | 999 | 179.82 | 1178.82 |
| 3.h4 against the King's Indian and Grünfeld by Sipke Ernst | 999 | 179.82 | 1178.82 |
| Attacking with the Jobava London System by Elisabeth Pähtz | 999 | 179.82 | 1178.82 |
| The Catalan vs. the Semi-Slav, Chebanenko and Triangle by Mihail Marin | 999 | 179.82 | 1178.82 |
| | | | |
| Against 1.d4 from Black | | | |
| A strategic weapon against 1.d4: The Queen's Indian Defense by Viktor Bologan | 999 | 179.82 | 1178.82 |
| King's Indian: A modern approach by Viktor Bologan | 999 | 179.82 | 1178.82 |
| The Semi Slav by Peter Heine Nielsen | 999 | 179.82 | 1178.82 |
| The Ragozin Defense by Alejandro Ramirez | 999 | 179.82 | 1178.82 |
| The Blumenfeld Gambit - A sharp weapon in the Benoni by Andrew Martin | 999 | 179.82 | 1178.82 |
| The solid Slav Defence by Nicholas Pert | 999 | 179.82 | 1178.82 |
| The Dutch Stonewall- A fighting repertoire against 1.d4 by Erwin L'Ami | 999 | 179.82 | 1178.82 |
| The Tactical Chigorin by Simon Williams | 999 | 179.82 | 1178.82 |
| The Blumenfeld Gambit - A sharp weapon in the Benoni by Andrew Martin | 999 | 179.82 | 1178.82 |
| The Beasty Botvinnik Variation in the Semi-Slav! by Erwin l'Ami | 999 | 179.82 | 1178.82 |
| A lifetime repertoire against 1.d4 -Play the Nimzo by Kasimdzhanov | 999 | 179.82 | 1178.82 |
| Bulletproof repertoire against 1.d4 (pack of 6 by l'Ami, King, Kasimdzhanov) | 4999 | 899.82 | 5898.82 |
| The Amazing Albin Counter-Gambit by Lawrence Trent | 999 | 179.82 | 1178.82 |
| The Vienna variation - a reliable and ambitious variation by Pelletier | 999 | 179.82 | 1178.82 |
| The aggressive Classical Dutch by Nick Pert | 999 | 179.82 | 1178.82 |
| Tactic Toolbox Grunfeld by Michal Krasenkow | 999 | 179.82 | 1178.82 |
| Tactic Toolbox Meran Variation by Robert Ris | 999 | 179.82 | 1178.82 |
| The Anti-London System | 999 | 179.82 | 1178.82 |
| Queen's Indian Defence - The Modern Approach by Sergei Tiviakov | 999 | 179.82 | 1178.82 |
| The Benko Gambit Explained By Erwin l'Ami | 999 | 179.82 | 1178.82 |
| Rustam Kasimdzhanov: The Benoni is back in business | 999 | 179.82 | 1178.82 |
| A lifetime repertoire: play the Nimzo Indian by Rustam Kasimdzhanov And Rustam Kasimdzhanov: The Benoni is back in business (Combo) | 1899 | 341.82 | 2240.82 |
| Erwin l'Ami: The Tarrasch Defence - A complete repertoire against 1.d4, 1.c4 and 1.Nf3 | 999 | 179.82 | 1178.82 |
| The Exciting Budapest Gambit by Simon Williams | 999 | 179.82 | 1178.82 |
| Power openings: Grunfeld Defence Volume 1 - Systems with cxd5 by Markus Ragger | 999 | 179.82 | 1178.82 |
| Power openings: Grunfeld Defence Volume 2 - Systems without cxd5 by Markus Ragger | 999 | 179.82 | 1178.82 |
| Power openings: Grunfeld Defence Vol. 1 & Vol.2 by Markus Ragger | 1898 | 341.64 | 2239.64 |
| A Complete Black Repertoire against 1.d4 by Robert Ris | 999 | 179.82 | 1178.82 |
| A Complete Black Repertoire against 1.Nf3 & 1.c4 by Robert Ris | 999 | 179.82 | 1178.82 |
| A Complete Black Repertoire against 1.d4, 1.Nf3 & 1.c4 by Robert Ris | 1898 | 341.64 | 2239.64 |
| | | | |
| Other openings | | | |
| The English Opening Vol.1 by Simon Williams | 999 | 179.82 | 1178.82 |
| The English Opening Vol.2 by Simon Williams | 999 | 179.82 | 1178.82 |
| The Hedgehog - a universel system against 1.c4 and 1.Nf3 by Yannick Pelletier | 999 | 179.82 | 1178.82 |
| Reti - A Repertoire for White by Viktor Bologan | 999 | 179.82 | 1178.82 |
| Wesley So: My Secret Weapon: 1.b3 | 1299 | 233.82 | 1532.82 |
| Wesley So Opening package: 1.b3 and Black Secrets in the Modern Italian | 2499 | 449.82 | 2948.82 |
| A black repertoire against Offbeat Openings - Nick Pert | 999 | 179.82 | 1178.82 |
| How to combat rare lines as Black by Sergei Tiviakov | 999 | 179.82 | 1178.82 |
| Winning with the King's Indian Attack by Viktor Bologan | 999 | 179.82 | 1178.82 |
| A Black Repertoire against Offbeat Openings by Nicholas Pert | 999 | 179.82 | 1178.82 |
| The Bombastic Bird's - an energetic and exciting repertoire after 1.f4 by Lawrence Trent | 999 | 179.82 | 1178.82 |
| Marin's English Love – A complete repertoire for White after 1.c4 Vol 1 | 999 | 179.82 | 1178.82 |
| Marin's English Love – A complete repertoire for White after 1.c4 Vol 2 | 999 | 179.82 | 1178.82 |
| Marin's English Love – A complete repertoire for White after 1.c4 Vol 1 + Vol 2 | 1899 | 341.82 | 2240.82 |
| Mastering Pattern Recognition in the Opening by Robert Ris | 999 | 179.82 | 1178.82 |
| Fundamentals of Chess Opening By Qiyu Zhou | 999 | 179.82 | 1178.82 |
| The English Opening – Tactic and Strategy Toolbox by Mihail Marin | 999 | 179.82 | 1178.82 |
| The Grünfeld Formula by Andrew Martin | 999 | 179.82 | 1178.82 |
| The Hippopotamus system of defence by IM Andrew Martin | 999 | 179.82 | 1178.82 |
| | | | |
| Other DVDs | | | |
| Learn from the Classics by Sagar Shah | 999 | 179.82 | 1178.82 |
| How to exchange pieces by Elisabeth Paehtz | 999 | 179.82 | 1178.82 |
| Improve your chess with Tania Sachdev | 999 | 179.82 | 1178.82 |
| Improve your tactics with Tania Sachdev | 999 | 179.82 | 1178.82 |
| Vishy Anand Combo: Vol.1+2 | 1799 | 323.82 | 2122.82 |
| Vishy Anand: My Career Vol.1 | 999 | 179.82 | 1178.82 |
| Vishy Anand: My Career Vol.2 | 999 | 179.82 | 1178.82 |
| Pawn structures you should know by Adrian Mikhalchishin | 999 | 179.82 | 1178.82 |
| Chess Player's mating guide Vol.1: King in the centre by Robert Ris | 999 | 179.82 | 1178.82 |
| The Chess Player's Mating Guide Vol.2 - Weakened kingside by Robert Ris | 999 | 179.82 | 1178.82 |
| Pattern Recognition and Typical plans by Adrian Mikhalchishin | 999 | 179.82 | 1178.82 |
| Strengthen your chess foundation by Nisha Mohota | 999 | 179.82 | 1178.82 |
| The Art of Positional Exchange Sacrifice by Sergei Tiviakov | 999 | 179.82 | 1178.82 |
| The Art of Defence by Sergei Tiviakov | 999 | 179.82 | 1178.82 |
| Typical mistakes by 1800-2000 players by Nicholas Pert | 999 | 179.82 | 1178.82 |
| Typical mistakes by 1600-1900 players by Nicholas Pert | 999 | 179.82 | 1178.82 |
| Typical mistakes by 1000-1600 players by Nicholas Pert | 999 | 179.82 | 1178.82 |
| Realizing an advantage by Sergei Tiviakov | 999 | 179.82 | 1178.82 |
| Calculation training by Robert Ris | 999 | 179.82 | 1178.82 |
| Extreme Calculation Training by Robert Ris | 999 | 179.82 | 1178.82 |
| Power Strategy 1 - From the Opening to the Middlegame by Mihail Marin | 999 | 179.82 | 1178.82 |
| Power Strategy 2 - The Middlegame - Static Positions by Mihail Marin | 999 | 179.82 | 1178.82 |
| Strategy Training: How to Make a Plan by Robert Ris | 999 | 179.82 | 1178.82 |
| Pieces, Pawns and Squares By Adrian Mikhalchishin | 999 | 179.82 | 1178.82 |
| Strike like the world champions By Oliver Reeh | 999 | 179.82 | 1178.82 |
| Learning from the World Champions By Sergei Tiviakov | 999 | 179.82 | 1178.82 |
| The White Sniper by Charlie Storey | 999 | 179.82 | 1178.82 |
| Fundamentals of Chess Tactics By Qiyu Zhou | 999 | 179.82 | 1178.82 |
| Fundamentals of Chess Opening By Qiyu Zhou And Fundamentals of Chess Tactics By Qiyu Zhou Combo ( Pack of 2 DVDs) | 1799 | 323.82 | 2122.82 |
| Understanding Middlegame Strategies Vol.1 - Dynamic Pawns by Ivan Sokolov | 999 | 179.82 | 1178.82 |
| Understanding Middlegame Strategies Vol.2 - Practical Play by Ivan Sokolov | 999 | 179.82 | 1178.82 |
| Understanding Middlegame Strategies Vol.1 and 2 by Ivan Sokolov | 1899 | 341.82 | 2240.82 |
| Understanding Middlegame Strategies Vol.3 - The Hedgehog by Ivan Sokolov | 999 | 179.82 | 1178.82 |
| Understanding Middlegame Strategies Vol.4 - Dynamic pawn structures by Ivan Sokolov | 999 | 179.82 | 1178.82 |
| Understanding Middlegame Strategies Vol.3 und 4 - The Hedgehog/Dynamic pawn structures by Ivan Sokolov | 1899 | 341.82 | 2240.82 |
| Understanding Middlegame Strategies Vol.1-4 by Ivan Sokolov | 3799 | 683.82 | 4482.82 |
| Understanding Middlegame Strategies Vol.5 - Sicilian Rossolimo and Maroczy Structures by Ivan Sokolov | 999 | 179.82 | 1178.82 |
| Understanding Middlegame Strategies Vol.6 - Ruy Lopez Structures by Ivan Sokolov | 999 | 179.82 | 1178.82 |
| Understanding Middlegame Strategies Vol.5 & Vol.6 by Ivan Sokolov | 1899 | 341.82 | 2240.82 |
| Understanding Middlegame Strategies Vol.1-6 by Ivan Sokolov | 5499 | 989.82 | 6488.82 |
| Practical chess strategy: The Bishop By Merijn van Delft | 999 | 179.82 | 1178.82 |
| Calculation Training in Attack & Defence Vol.1 by Robert Ris | 999 | 179.82 | 1178.82 |
| Calculation Training in Attack & Defence Vol.2 by Robert Ris | 999 | 179.82 | 1178.82 |
| Calculation Training in Attack & Defence Vol.1 & Vol.2 by Robert Ris | 1899 | 341.82 | 2240.82 |
| Calculation Training Booster by Robert Ris | 999 | 179.82 | 1178.82 |
| Calculation Training in Attack & Defence Vol.1 & Vol.2 with Calculation Training Booster by Robert Ris | 2849 | 512.82 | 3361.82 |
| Key Concepts of Chess - Pawn Structures Vol.1 by Herman Grooten | 999 | 179.82 | 1178.82 |
| Key Concepts of Chess - Pawn Structures Vol.2 by Herman Grooten | 999 | 179.82 | 1178.82 |
| Key Concepts of Chess - Pawn Structures Vol.1 and 2 by Herman Grooten | 1899 | 341.82 | 2240.82 |
| Winning Chess Strategies Vol.1 - The Art of Sacrifices and Initiative by Romain Edouard | 999 | 179.82 | 1178.82 |
| Winning Chess Strategies Vol. 2 – The Initiative: Train Yourself! by Romain Edouard | 999 | 179.82 | 1178.82 |
| Winning Chess Strategies Vol.1 and 2 by Romain Edouard | 1899 | 341.82 | 2240.82 |
| Move by move - (how to) get into a master's mind! by Daniel King, Robert Ris, Simon Williams | 999 | 179.82 | 1178.82 |
| Understanding Material Imbalances by Svitlana Demchenko | 999 | 179.82 | 1178.82 |
| Chess Classics - games you must know by Dorian Rogozenco | 999 | 179.82 | 1178.82 |
| Master Class Tactics - Train your combination skills! Vol.1 by Oliver Reeh | 999 | 179.82 | 1178.82 |
| Master Class Tactics - Train your combination skill | 999 | 179.82 | 1178.82 |
| Master Class Tactics - Train your combination skills! Vol.1 and Vol. 2 by Oliver Reeh | 1899 | 341.82 | 2240.82 |
| The 4 Player Types standard model by Luis Engel / Karsten Müller | 999 | 179.82 | 1178.82 |
| | | | |
| ChessBase Classics | | | |
| My Path to the Top by Vladimir Kramnik | 999 | 179.82 | 1178.82 |
| How I became World Champion Vol.1 1973-1985 by Garry Kasparov | 999 | 179.82 | 1178.82 |
| How to play the Najdorf Vol. 1 by Garry Kasparov | 999 | 179.82 | 1178.82 |
| How to play the Najdorf Vol. 2 by Garry Kasparov | 999 | 179.82 | 1178.82 |
| How to play the Najdorf Vol. 3 by Garry Kasparov | 999 | 179.82 | 1178.82 |
| How to play the Najdorf Vol. 1 to 3 by Garry Kasparov | 2799 | 503.82 | 3302.82 |
| How to play the Queen's Gambit by Garry Kasparov | 999 | 179.82 | 1178.82 |
| Greatest Hits Vol. 1 by Nigel Short | 999 | 179.82 | 1178.82 |
| Greatest Hits Vol. 2 by Nigel Short | 999 | 179.82 | 1178.82 |
| Greatest Hits Vol. 1 and 2 by Nigel Short | 1899 | 341.82 | 2240.82 |
| ChessBase Classics ( 8 DVD Combo) | 7199 | 1295.82 | 8494.82 |
| How to study the classics by Adrian Mikhalchishin | 999 | 179.82 | 1178.82 |
| | | | |
| Free Products | | | |
| 1st ChessBase India show with GM Vishnu Prasanna | 0 | 0.00 | 0.00 |
| 2nd ChessBase India show with GM Vishnu Prasanna | 0 | 0.00 | 0.00 |
| 3rd ChessBase India show with GM Jacob Aagaard | 0 | 0.00 | 0.00 |
| 4th ChessBase India show with GM R.B. Ramesh | 0 | 0.00 | 0.00 |
| 5th ChessBase India show with GM Abhijeet Gupta | 0 | 0.00 | 0.00 |
| 6th ChessBase India show with GM Eugene Torre | 0 | 0.00 | 0.00 |
| 7th ChessBase India show with GM Utut Adianto | 0 | 0.00 | 0.00 |
| 8th ChessBase India show with IM Alina l'Ami | 0 | 0.00 | 0.00 |
| 9th ChessBase India show with IM R. Praggnanandhaa | 0 | 0.00 | 0.00 |
| 10th ChessBase India show with GM Abhijit Kunte | 0 | 0.00 | 0.00 |
| 12th ChessBase India show with GM Ian Rogers | 0 | 0.00 | 0.00 |
| 13th ChessBase India show with Pentala Harikrishna | 0 | 0.00 | 0.00 |
| 14th ChessBase India show with GM Srinath Narayanan | 0 | 0.00 | 0.00 |
| 14th ChessBase India show with Vidit Gujrathi | 0 | 0.00 | 0.00 |
| 15th ChessBase India show with Nihal Sarin | 0 | 0.00 | 0.00 |
| Shatranj by Niklesh Jain | 0 | 0.00 | 0.00 |
Books
Accessories
---