16-year-old Divya Deshmukh clinches MPL 47th National Women Chess Championship 2022
WGM Divya Deshmukh (MAH) drew her final round game against IM Soumya Swaminathan (PSPB) to clinch MPL 47th National Women Chess Championship 2022. She finished a full point ahead of the competition. WIM Sakshi Chitlange (MAH), WIM Priyanka Nutakki (AP) and WGM Srija Seshadri (TN) scored 7.0/9 each. They were placed second to fourth according to tie-breaks. Divya finished third in the 2019 edition. She became the fifth-youngest woman to win National Women 2022, tying the record with Humpy at the age of 16 years. Sakshi and Priyanka Nutakki scored a WGM-norm each. Priyanka Nutakki became India's 23rd Woman Grandmaster. Photo: IA Suresh Chandra Sahoo
Divya ties the record with Humpy
Vasanti Khadilkar, Jayshree Khadilkar and Rohini Khadilkar - the Khadilkar sisters who dominated the first decade (1974-83) of the National Women's championship, won their first ever National Women's championship at the age of 13 years. Saritha Reddy won it in 1987 at the age of 15 years. Koneru Humpy won the National championship in 2003 when she was 16. Divya also won it at the age of 16 years. We will have a separate article on Priyanka Nutakki becoming India's 23rd Woman Grandmaster.
Padmini - Priyanka Nutakki: 0.5-0.5
IM Padmini Rout (PSPB) did not go easy on WIM Priyanka Nutakki (AP). The former National champion tested the new WGM of India.
32.Be2 threatening Bc4 would have made things extremely difficult for Black to survive. Fortunately for her, White did not find it and opted for 32.hxg6+ Kxg6 33.Rg1 Rh1 34.Bxa7 Rxc2 35.Kxc2 Rh2+ 36.Be2 allowed Black to save the game and salvage a draw eventually.
Arpita - Sakshi: 1-0
WIM Sakshi Chitlange (MAH) needed a win against WIM Arpita Mukherjee (WB) to earn her final WGM-norm. The game was heading towards until the latter blundered.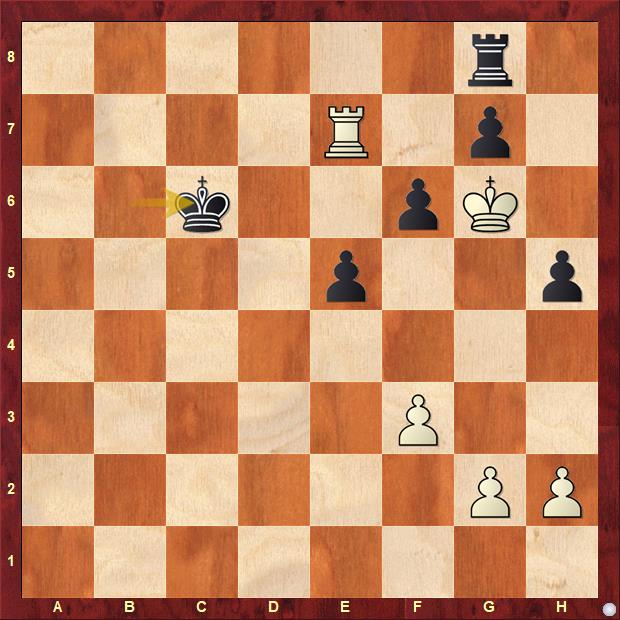 In a Rook ending with 3 vs 4 pawns, it is a relatively easy draw. Almost anything and everything leads to a draw here, 40.Kf5/Kxh5/h4 everything is okay, except 40.Rxg7 which allows Black to create a passed pawn on the e-file Rxg7+ 41.Kxg7 f5 and it's over for White.
Photo Gallery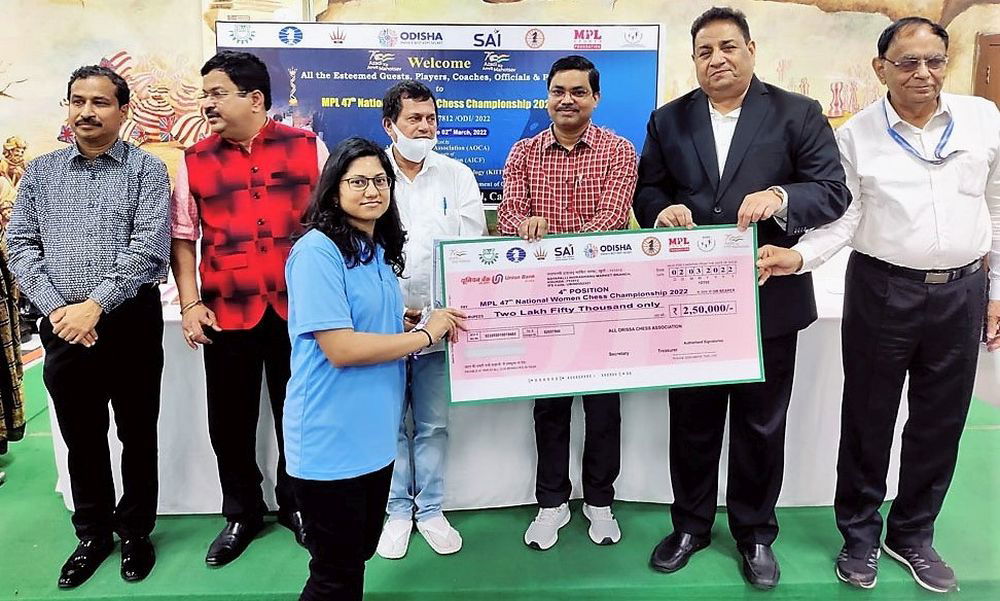 For more Round 9 photos, click here.
A total of 102 players including 5 IMs, 8 WGMs and 10 WIMs took part in this tournament organized by All Odisha Chess Association. The event took place at KIIT at Bhubaneswar, Odisha from 25th February to 2nd March 2022. The nine-round Swiss league tournament has a time control of 90 minutes + 30 seconds increment from move no.1
Replay Round 9 games
Round 9 results
Final standings
| | | | | | | | | | | | | |
| --- | --- | --- | --- | --- | --- | --- | --- | --- | --- | --- | --- | --- |
| Rk. | SNo | | Name | FED | Rtg | Club/City | Pts. | TB1 | TB2 | TB3 | TB4 | TB5 |
| 1 | 8 | WGM | Divya Deshmukh | IND | 2301 | MAH | 8,0 | 47,5 | 51,5 | 46,50 | 0,0 | 7 |
| 2 | 19 | WIM | Chitlange Sakshi | IND | 2205 | MAH | 7,0 | 48,5 | 53,0 | 37,25 | 0,0 | 6 |
| 3 | 9 | WIM | Priyanka Nutakki | IND | 2301 | AP | 7,0 | 48,0 | 52,0 | 38,00 | 0,0 | 6 |
| 4 | 16 | WGM | Srija Seshadri | IND | 2219 | TN | 7,0 | 46,5 | 51,0 | 38,75 | 0,0 | 6 |
| 5 | 5 | IM | Soumya Swaminathan | IND | 2360 | PSPB | 6,5 | 51,0 | 55,5 | 38,50 | 0,0 | 4 |
| 6 | 1 | IM | Vaishali R | IND | 2403 | TN | 6,5 | 50,5 | 54,5 | 32,75 | 0,0 | 5 |
| 7 | 6 | IM | Padmini Rout | IND | 2350 | PSPB | 6,5 | 45,5 | 50,0 | 35,00 | 0,0 | 4 |
| 8 | 4 | WGM | Gomes Mary Ann | IND | 2361 | PSPB | 6,5 | 44,0 | 48,0 | 32,75 | 0,0 | 5 |
| 9 | 14 | WIM | Priyanka K | IND | 2227 | TN | 6,5 | 43,0 | 47,0 | 32,25 | 0,0 | 6 |
| 10 | 15 | WIM | Parnali S Dharia | IND | 2224 | MAH | 6,5 | 42,5 | 47,0 | 33,25 | 0,0 | 6 |
---