Divya Deshmukh on the verge of winning MPL 47th National Women Chess Championship 2022
WGM Divya Deshmukh (MAH) registered her seventh consecutive victory at MPL 47th National Women Chess Championship. She defeated the top seed IM Vaishali (TN). Now she just needs a draw in the final round against IM Soumya Swaminathan (PSPB) to win the tournament. In a battle former National Women champions, Soumya drew with IM Padmini Rout (PSPB). WIM Priyanka Nutakki (AP) scored her second hat-trick of the event by winning against WGM Pratyusha Bodda (AP). WIM Arpita Mukherjee (WB) had an interesting draw with WGM Mary Ann Gomes (PSPB). IM Bhakti Kulkarni (Goa) suffered third loss of the event, against WIM Sakshi Chitlange (MAH). Round 9 starts today at 10:00 a.m. IST. Photo: IA Suresh Chandra Sahoo
Only Priyanka Nutakki can tie the score
WIM Priyanka Nutakki is the only player who can catch Divya. The only scenario where Priyanka can win the tournament is, Priyanka beats Padmini Rout in the final round and Soumya beats Divya. Then also, if Priyanka's tie-break stays ahead as it is now, she can clinch the championship.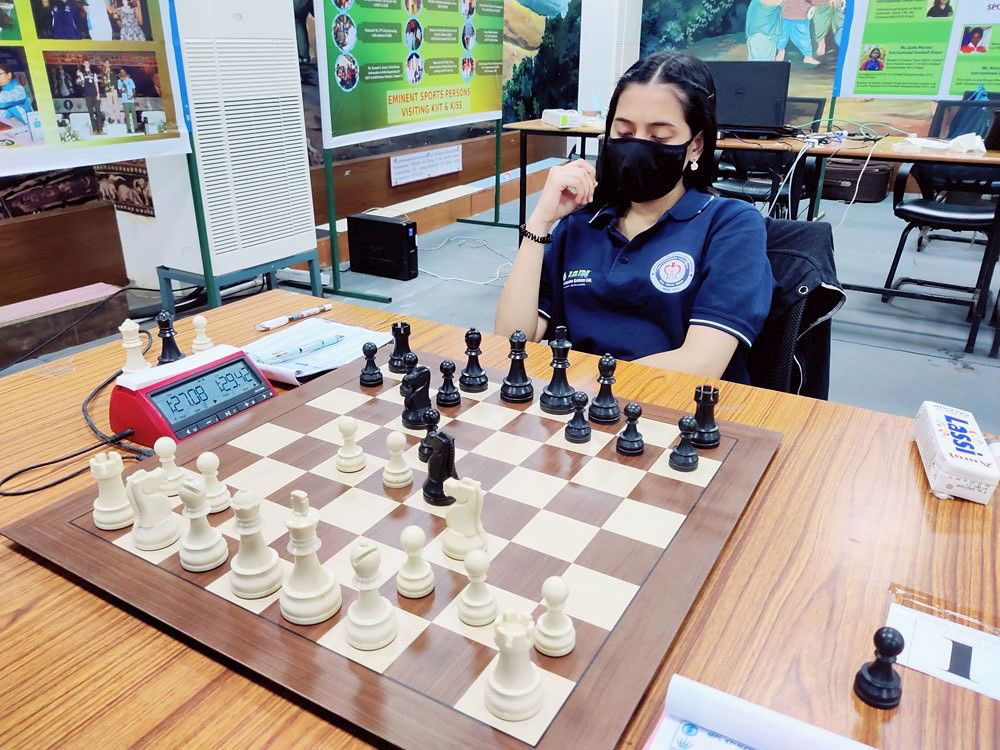 Vaishali - Divya: 0-1
IM Vaishali (TN) got into trouble early in the opening against WGM Divya Deshmukh (MAH).
Things seem to have gone terribly wrong for White. Petroff's defense is relatively quiet where Black generally equalizes with ease, however Divya certainly was better prepared in this opening. 10...Ng3 11.Qa4 Bxc3+ 12.bxc3 Nxf1 not Nxh1. Now White needed to play 13.Kxf1 idea Kg1 and put the king into safety. 13.Rxf1 stranded the king at the center of the board where it was the subject of Black's attacks. 13...0-0-0 14.cxd5 Rxd5 15.c4 Ra5 16.Qb3 Nb4 17.Kd2 Nc2 18.Ra2 Rxa3 and eventually the passed a-pawn became the deciding factor in Black scoring a victory.
Priyanka Nutakki - Pratyusha: 1-0
WIM Priyanka Nutakki (AP) scored her second hat-trick as she beat WGM Pratyusha Bodda (AP).
In a balanced position, Black made a big mistake 20...Ne4. Find out the winning continuation for White.
Arpita - Mary: 0.5-0.5
WIM Arpita Mukherjee (WB) had an interesting and prolonged draw in a Queen vs Rook and Bishop endgame against WGM Mary Ann Gomes (PSPB).
Computer will say White is winning after 28.axb6+ Rxb6 29.Rxb6 Kxb6 30.Rb1+ Ka7 31.Rb7+ Qxb7 32.Bxb7 Kxb7. However, for a human to convert that position for White is not at all easy, especially when the defender is a strong player like Mary. Even if you insert 28.Qg4 Bd4 before taking on b6, it hardly makes a difference.
Sakshi - Bhakti: 1-0
IM Bhakti Kulkarni (Goa) suffered her second consecutive and third loss of the event, against WIM Sakshi Chitlange (MAH).
19...f6 traps her own knight at h5 as now it has no safe squares to go. 20.Bh2 Bh6 21.g4 e5 22.dxc5 d4 23.Nd1 Ng7 24.Bg1 White is not rushing into capturing the bishop Bg5 25.gxf5 and it's all over for Black.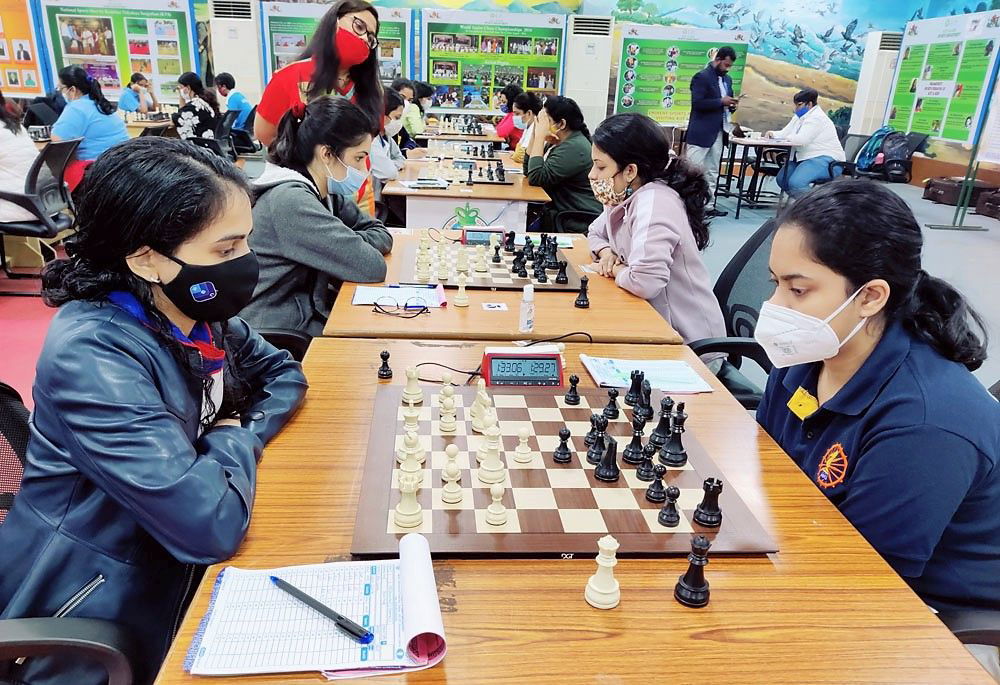 For more Round 8 photos, click here.
A total of 102 players including 5 IMs, 8 WGMs and 10 WIMs are taking part in this tournament organized by All Odisha Chess Association. The event is taking place at KIIT at Bhubaneswar, Odisha from 25th February to 2nd March 2022. The nine-round Swiss league tournament has a time control of 90 minutes + 30 seconds increment from move no.1
Replay Round 8 games
Round 8 results
Round 9 pairings
---