MPL National Teams 2023 R5-6: Defending champions AAI in domination mode
The defending champion, AAI (Airports Authority of India) defeated the top seed PSPB in Round 5 Open. The reigning Asian Junior Open champion, scored the key victory over GM Vaibhav Suri to ensure AAI scores a 2.5-1.5. In the sixth round, they defeated RSPB convincingly 3.5-0.5 and moved to 11/12, two points ahead RSPB A, Odisha and PSPB. RSPB A denied PSPB a win as their match ended in a draw. In the Women's event, AAI decimated Maharashtra 4-0 to jump into the lead. Tamil Nadu A went down 0.5-3.5 against PSPB allowing them to get into the lead with AAI at 7/8 each. Round 7 Open and Round 5 Women starts today at 10 a.m. IST. Photo: Aditya Sur Roy
Women: AAI and PSPB move ahead of Maharashtra
Maharashtra's sole lead did not last for long as AAI and PSPB registered victories by big margins to move to the top of the standings. Maharashtra will now face PSPB in Round 5 while AAI is up against Telangana.
Open Round 5: PSPB - AAI: 1.5-2.5
The top seed PSPB seemed wobbly since the first round. They lost their first match of the event against the defending champions, AAI (Airports Authority of India). Three games ended in draws. The sole victory was scored by the reigning Asian Junior Open champion, IM Harshavardhan G B (2428) over GM Vaibhav Suri (2606).
Harshavardhan - Vaibhav
Position after 25.Ne4!
Harshavardhan played a fantastic move 25.Ne4! Rhd8 26.Nd6+ forcing Black to lose the bishop pair. 25...Bxd6 26.Rxd3 Be7 27.Ra3 and White very nicely went on to convert his advantage into a full point without giving him any opportunity to fight back.
Surya - Sankalp
Sankalp was winning the rook, knight and few pawns endgame. Having less time on tthe clock prevented him from executing 45...Re3+! 46.Rxe3 Nc4+ 47.Kf5 Nxe3+ 48.Ke5 a4 49.Nd3 Nxc2 50.h5 a3 51.Nc1 Ne1 and Black is winning. This win wouldn't have changed the overall outcome of the match. However, it would have given AAI more game points which they might need as a tie-breaker.
Round 6: AAI - RSPB B: 3.5-0.5
GM Aravindh Chithambaram (2613), GM Abhimanyu Puranik (2596) and IM Harshavardhann G B (2428) won their respective games. Only GM Sankalp Gupttatt (2504) drew with GM Deepan Chakkravarthy (2439). This win increased AAI's lead by two points as they moved to 11/12.
RSPB A - PSPB: 2-2
IM Vignesh N R (2490) and IM Aronyak Ghosh (2530) drew with GM B Adhiban (2610) and GM Karthikeyan Murali (2626) respectively. However, Karthikeyan could have won in the sharp queen and rook endgame. GM Visakh N R (2548) and GM Surya Sekhar Ganguly (2582) scored win each for their teams RSPB A and PSPB, over GM G N Gopal (2589) and GM Swapnil Dhopade (2496) respectively.
Karthikeyan - Aronyak
White needed to play 47.c6 and after which Black has no defense, whether Black takes on c6 or not. The game continued 47.Kg3 Qf7 and Aronyak managed to salvage a draw and save a crucial half point.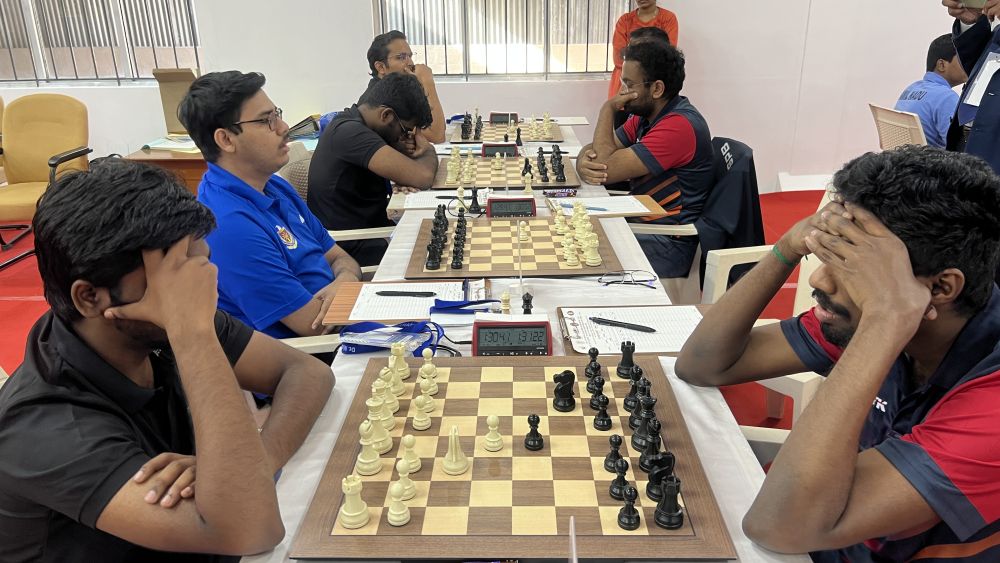 Akash - Sreyas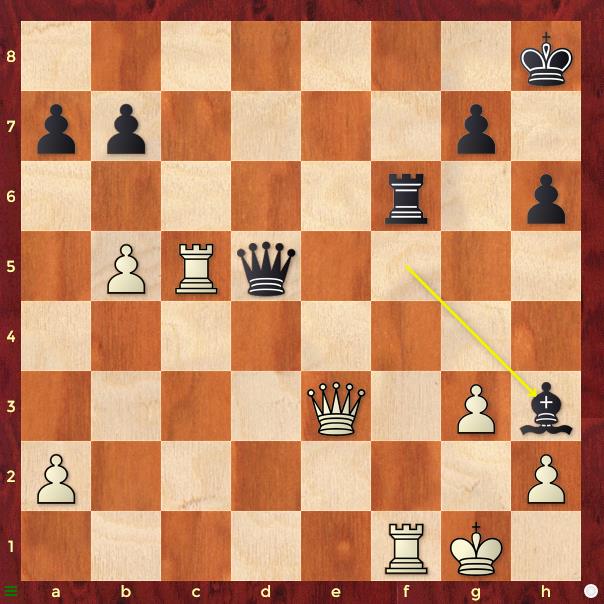 FM Sreyas Payyappart (KER B, 2105) has made a deadly threat 29...Bh3! There is only way for White to save the game. Can you find it? GM Akash G (TN B, 2495) could not and lost the game after 30.Rc8+ Kh7. This win helped Kerala B to draw the match with the all GM team, Tamil Nadu B.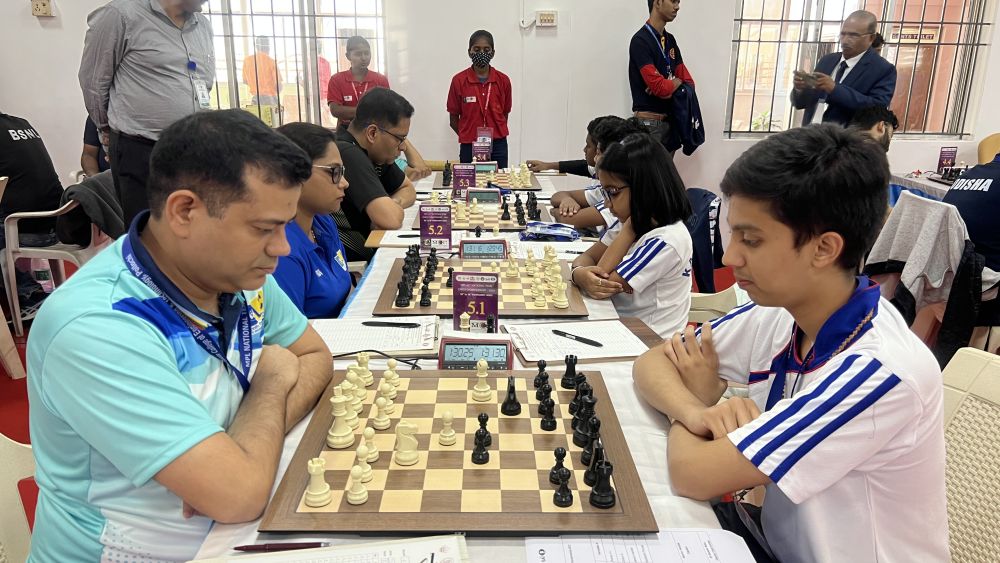 Women Round 4: AAI - MAH: 4-0
AAI whitewashed Maharashtra 4-0. WGM Vantika Agrawal (2370), WGM Divya Deshmukh (2363), WIM Arpita Mukherjee (2185) and WIM Priyanka K (2177) - all four of them scored convincing victories over their respective opponents.
For more photos, please click at the respective links. Round 5 Open and Round 4 Women, and Round 6 Open.
Replay Round 5-6 Open games
Replay Round 4 Women games
Round 6 Open results
No.
SNo
Team
MP
Res.
:
Res.
MP
Team
SNo
1
2
AAI
9
3½
:
½
8
RSPB B
5
2
3
RSPB A
8
2
:
2
8
PSPB Men
1
3
4
Tamil Nadu B
7
2
:
2
7
Kerala B
13
4
6
Odisha A
7
4
:
0
7
Madhya Pradesh
15
5
8
LIC
6
3½
:
½
6
Karnataka A
25
6
10
Tamil Nadu D
6
1
:
3
6
Tamil Nadu C
9
7
20
Haryana A
6
2½
:
1½
6
Bihar B
21
8
16
Pondicherry
5
2½
:
1½
5
Telangana
7
9
14
Kerala A
5
2½
:
1½
4
BSNL
17
10
22
Tamil Nadu E
4
½
:
3½
4
Karnataka B
11
11
12
Bihar A
4
1½
:
2½
4
Andhra Pradesh B
24
12
23
SSCB
4
1
:
3
4
Tamil Nadu A
18
13
19
DASCB
2
3
:
1
2
Haryana B
28
14
26
Himachal A
2
1
:
3
2
Himachal B
30
15
27
Andhra Pradesh A
2
4
:
0
0
Himachal C
29
Standings after Round 6
| | | | | | | | | | | | |
| --- | --- | --- | --- | --- | --- | --- | --- | --- | --- | --- | --- |
| Rk. | SNo | Team | Games | + | = | - | TB1 | TB2 | TB3 | TB4 | TB5 |
| 1 | 2 | AAI | 6 | 5 | 1 | 0 | 11 | 0 | 19 | 244,3 | 47 |
| 2 | 3 | RSPB A | 6 | 3 | 3 | 0 | 9 | 0 | 17 | 237 | 42,5 |
| 3 | 6 | Odisha A | 6 | 4 | 1 | 1 | 9 | 0 | 16,5 | 199 | 42 |
| 4 | 1 | PSPB Men | 6 | 4 | 1 | 1 | 9 | 0 | 14,5 | 226 | 35,5 |
| 5 | 8 | LIC | 6 | 4 | 0 | 2 | 8 | 0 | 16 | 172 | 42 |
| 6 | 4 | Tamil Nadu B | 6 | 3 | 2 | 1 | 8 | 0 | 15,5 | 195 | 39,5 |
| 7 | 5 | RSPB B | 6 | 4 | 0 | 2 | 8 | 0 | 15 | 209,8 | 36,5 |
| 8 | 9 | Tamil Nadu C | 6 | 4 | 0 | 2 | 8 | 0 | 13,5 | 176,5 | 34,5 |
| 9 | 20 | Haryana A | 6 | 4 | 0 | 2 | 8 | 0 | 13,5 | 155,5 | 35,5 |
| 10 | 13 | Kerala B | 6 | 3 | 2 | 1 | 8 | 0 | 13 | 152,8 | 36 |
Round 7 Open pairings
No.
SNo
Team
MP
Res.
:
Res.
MP
Team
SNo
1
6
Odisha A
9
:
11
AAI
2
2
1
PSPB Men
9
:
8
Haryana A
20
3
9
Tamil Nadu C
8
:
9
RSPB A
3
4
5
RSPB B
8
:
8
Tamil Nadu B
4
5
13
Kerala B
8
:
8
LIC
8
6
14
Kerala A
7
:
7
Pondicherry
16
7
15
Madhya Pradesh
7
:
6
Tamil Nadu D
10
8
11
Karnataka B
6
:
6
Bihar B
21
9
24
Andhra Pradesh B
6
:
6
Tamil Nadu A
18
10
25
Karnataka A
6
:
5
Telangana
7
11
30
Himachal B
4
:
4
Bihar A
12
12
17
BSNL
4
:
4
Andhra Pradesh A
27
13
19
DASCB
4
:
4
Tamil Nadu E
22
14
29
Himachal C
0
:
4
SSCB
23
15
28
Haryana B
2
:
2
Himachal A
26
Round 4 Women results
No.
SNo
Team
MP
Res.
:
Res.
MP
Team
SNo
1
2
AAI Women
5
4
:
0
6
Maharashtra Women A
3
2
6
Tamil Nadu Women A
4
½
:
3½
5
PSPB Women
1
3
5
Telangana Women
4
4
:
0
4
Odisha Women A
7
4
4
Tamil Nadu Women B
3
4
:
0
3
Tamil Nadu Women C
10
5
8
Tamil Nadu Women D
2
1½
:
2½
2
Andhra Pradesh Women
11
6
12
Himachal Women B
2
½
:
3½
2
Kerala Women
9
7
14
Himachal Women A
0
2
:
2
0
Himachal Women C
13
Standings after Round 4
Round 5 Women pairings
No.
SNo
Team
MP
Res.
:
Res.
MP
Team
SNo
1
1
PSPB Women
7
:
6
Maharashtra Women A
3
2
2
AAI Women
7
:
6
Telangana Women
5
3
7
Odisha Women A
4
:
5
Tamil Nadu Women B
4
4
9
Kerala Women
4
:
4
Andhra Pradesh Women
11
5
10
Tamil Nadu Women C
3
:
4
Tamil Nadu Women A
6
6
13
Himachal Women C
1
:
2
Tamil Nadu Women D
8
7
14
Himachal Women A
1
:
2
Himachal Women B
12
---