MPL National Teams 2023 R4: PSPB emerges sole leader
PSPB managed to beat RSPB B by a minimum margin to emerge sole leader 8/8 at MPL 42nd National Team Chess Championship Open 2023. GMs Karthikeyan Murali and Surya Sekhar Ganguly scored the wins for PSPB. AAI and RSPB A, are close behind at 7/8. Both teams are yet to suffer a single game loss. Bihar B scored an upset victory over LIC by 1-3. The batte of the top two teams in the Women's event ended in a draw. IM Padmini Rout and WGM Divya Deshmukh scored wins for PSPB and AAI respectively. Today is the last double round for the Open section. Round 5 Open and Round 4 Women starts today at 10 a.m. IST. Photo: Aditya Sur Roy
Women: Maharashtra makes a strong start
WIM Arpita Mukherjee had a great opportunity to win against WGM Mary Ann Gomes. She could not make the most of it. Maharashtra defeated Tamil Nadu B 3-1 to gain sole lead 6/6. They are yet to lose a single game so far.
Open Round 4: RSPB B - PSPB: 1.5-2.5
GM Karthikeyan Murali (2626) and GM Surya Sekhar Ganguly (2582) scored the wins against IM P Shyam Nikhil (2487) and IM Sayantan Das (2468) respectively. IM Arghyadip Das (2403) drew with GM Adhiban B (2610) and GM Deepan Chakkravarthy (2439) won the sole game for RSPB B against GM G N Gopal (2589).
Arghyadip - Adhiban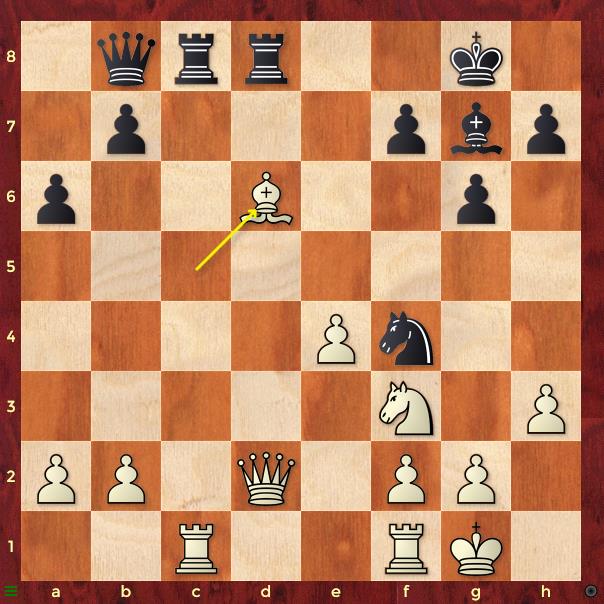 Position after 21.Bd6!
Arghyadip found a nice tactical resource 21.Bd6! It was the only move for White and it forces the exchange of a bunch of pieces 21...Rxc1 22.Bxb8 Rxd2 23.Rxc1 Ne2+ 24.Kf1 Nxc1 25.Nxd2 Nxa2. The resultant minor piece endgame is balanced and it is no trouble for either side to draw the game. Adhiban kept trying in the eventual knight endgame but Arghyadip defended well.
Deepan - Gopal
Deepan found a nice move 18.Nxe5!. He responded 18...Nxf2 with 19.Rd4 Rf6 20.Nf7+ Kg8 21.Nh6+ Kh8 22.Qd5 and now Black needed to play Rdf8. It was certainly not easy to find it. 22...gxh6 fragmented Black's position.
Position after 40.Rxd5
Black does not have to exchange the rooks immediately. First 40...Bd8 was required to ensure the white king does not get to invade after the trade of rooks and a6 which is what happened in the game. 40...Rxd5+ 41.Kxd5 Bd8 42.a6 bxa6 43.Kc6 and White is winning.
AAI - Telangana: 3-1
GM Abhimanyu Puranik (2596) and GM Sankalp Gupta (2504) defeated FM K Ramu (2233) and Bharat Kumar Reddy Poluri (2211). GM Aravindh Chithambaram (2613) and the reigning Asian Junior Open champion, IM Harshavardhan G B (2428) was held to a draw by FM Vinay Kumar Matta (2205) and Arjun Adireddy (2187) respectively.
Aravindh - Vinay
After sacrificing his queen for a rook and bishop, GM Aravindh Chithambaram eventually gave up an exchange, ending with a bishop pair against FM Vinay Kumar Matta's queen. The position was playable, thus the final exchange by White. The game ended in a draw as there was no way for Black to break through White's fortress.
Women Round 3: PSPB - AAI: 2-2
IM Padmini Rout (2389) scored the sole win for PSPB, against WGM Vantika Agrawal (2370). WGM Divya Deshmukh scored the equalizer victory over IM Soumya Swaminathan (2308). WGM Mary Ann Gomes (2334) and WIM Isha Sharma (2213) drew with WIM Arpita Mukherjee (2185) and WIM Priyanka K (2177) respectively. Arpita had good chances to win against Mary Ann, however she missed it.
Padmini - Vantika
Black's position is already difficult to defend. 41...Qc3 did not help her case. 42.Qa2 Qd4 43.Qa8 is winning for White. Padmini went for the humane 42.c5 clearing the diagonal for the queen. 42...Qxc5 43.Qa6 Qc7 44.Qb5 Be7?? 45.Qe8 Qd8 46.Qf7+ Kh6 47.Bf5 the checkmate threat is unstoppable.
Divya - Soumya
Soumya was significantly better for the majority of the middlegame. She needed to play on her advantage and push the pawns. 27...c5 was a better option than Qc5 28.Rxe5 Rxe5 29.a4 Bc4 30.Qg4 Qf8 31.h4 White started turning things around. 31...Re4 32.h5 Qh8 33.Qg5 Re5 34.Qe7 Rxh5+ 35.Nxh5 and it's over for Black.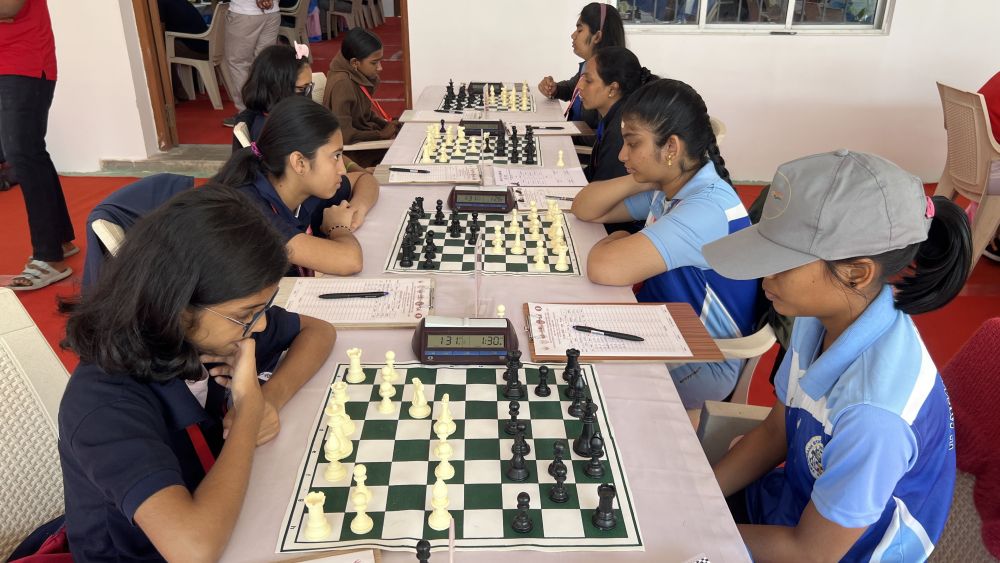 For more photos, Round 4 Open and Round 3 Women, please click here.
Replay Round 4 Open games
Replay Round 3 Women games
Round 4 Open results
No.
SNo
Team
MP
Res.
:
Res.
MP
Team
SNo
1
5
RSPB B
6
1½
:
2½
6
PSPB Men
1
2
2
AAI
5
3
:
1
5
Telangana
7
3
13
Kerala B
5
0
:
4
5
RSPB A
3
4
4
Tamil Nadu B
4
3½
:
½
4
Bihar A
12
5
8
LIC
4
1
:
3
4
Bihar B
21
6
20
Haryana A
4
1
:
3
4
Tamil Nadu C
9
7
15
Madhya Pradesh
3
2½
:
1½
4
Tamil Nadu E
22
8
6
Odisha A
3
2½
:
1½
3
Pondicherry
16
9
14
Kerala A
3
2½
:
1½
2
Karnataka B
11
10
10
Tamil Nadu D
2
4
:
0
2
SSCB
23
11
26
Himachal A
2
1
:
3
2
BSNL
17
12
18
Tamil Nadu A
2
4
:
0
2
Andhra Pradesh A
27
13
25
Karnataka A
2
2½
:
1½
2
DASCB
19
14
30
Himachal B
0
0
:
4
0
Andhra Pradesh B
24
15
28
Haryana B
0
3
:
1
0
Himachal C
29
Standings after Round 4
| | | | | | | | | | | | |
| --- | --- | --- | --- | --- | --- | --- | --- | --- | --- | --- | --- |
| Rk. | SNo | Team | Games | + | = | - | TB1 | TB2 | TB3 | TB4 | TB5 |
| 1 | 1 | PSPB Men | 4 | 4 | 0 | 0 | 8 | 0 | 11 | 109,5 | 26,5 |
| 2 | 2 | AAI | 4 | 3 | 1 | 0 | 7 | 1 | 13 | 119 | 32,5 |
| 3 | 3 | RSPB A | 4 | 3 | 1 | 0 | 7 | 1 | 13 | 119 | 32 |
| 4 | 5 | RSPB B | 4 | 3 | 0 | 1 | 6 | 0 | 11,5 | 97,5 | 28,5 |
| 5 | 4 | Tamil Nadu B | 4 | 3 | 0 | 1 | 6 | 0 | 11,5 | 84,5 | 30 |
| 6 | 9 | Tamil Nadu C | 4 | 3 | 0 | 1 | 6 | 0 | 9,5 | 68,5 | 23 |
| 7 | 21 | Bihar B | 4 | 3 | 0 | 1 | 6 | 0 | 8,5 | 67,8 | 21,5 |
| 8 | 15 | Madhya Pradesh | 4 | 2 | 1 | 1 | 5 | 0 | 10 | 53 | 22,5 |
| 9 | 14 | Kerala A | 4 | 2 | 1 | 1 | 5 | 0 | 9,5 | 53,3 | 22 |
| 10 | 7 | Telangana | 4 | 2 | 1 | 1 | 5 | 0 | 9 | 88,5 | 23,5 |
Round 5 Open pairings
No.
SNo
Team
MP
Res.
:
Res.
MP
Team
SNo
1
1
PSPB Men
8
:
7
AAI
2
2
3
RSPB A
7
:
6
Tamil Nadu B
4
3
9
Tamil Nadu C
6
:
6
RSPB B
5
4
21
Bihar B
6
:
5
Kerala B
13
5
7
Telangana
5
:
5
Odisha A
6
6
15
Madhya Pradesh
5
:
5
Kerala A
14
7
18
Tamil Nadu A
4
:
4
LIC
8
8
22
Tamil Nadu E
4
:
4
Tamil Nadu D
10
9
12
Bihar A
4
:
4
Haryana A
20
10
17
BSNL
4
:
4
Karnataka A
25
11
16
Pondicherry
3
:
2
DASCB
19
12
11
Karnataka B
2
:
2
Andhra Pradesh A
27
13
23
SSCB
2
:
2
Himachal A
26
14
24
Andhra Pradesh B
2
:
2
Haryana B
28
15
29
Himachal C
0
:
0
Himachal B
30
Round 3 Women results
No.
SNo
Team
MP
Res.
:
Res.
MP
Team
SNo
1
1
PSPB Women
4
2
:
2
4
AAI Women
2
2
3
Maharashtra Women A
4
3
:
1
3
Tamil Nadu Women B
4
3
9
Kerala Women
2
½
:
3½
2
Telangana Women
5
4
11
Andhra Pradesh Women
2
0
:
4
2
Tamil Nadu Women A
6
5
7
Odisha Women A
2
3½
:
½
2
Himachal Women B
12
6
13
Himachal Women C
0
½
:
3½
1
Tamil Nadu Women C
10
7
8
Tamil Nadu Women D
0
4
:
0
0
Himachal Women A
14
Standings after Round 3
| | | | | | | | | | | | |
| --- | --- | --- | --- | --- | --- | --- | --- | --- | --- | --- | --- |
| Rk. | SNo | Team | Games | + | = | - | TB1 | TB2 | TB3 | TB4 | TB5 |
| 1 | 3 | Maharashtra Women A | 3 | 3 | 0 | 0 | 6 | 0 | 11 | 70,5 | 26,5 |
| 2 | 2 | AAI Women | 3 | 2 | 1 | 0 | 5 | 1 | 10 | 65 | 24,5 |
| 3 | 1 | PSPB Women | 3 | 2 | 1 | 0 | 5 | 1 | 9,5 | 70 | 24,5 |
| 4 | 5 | Telangana Women | 3 | 2 | 0 | 1 | 4 | 0 | 8 | 36,5 | 20 |
| 5 | 6 | Tamil Nadu Women A | 3 | 2 | 0 | 1 | 4 | 0 | 8 | 20 | 20 |
| 6 | 7 | Odisha Women A | 3 | 2 | 0 | 1 | 4 | 0 | 7 | 15,8 | 18 |
| 7 | 4 | Tamil Nadu Women B | 3 | 1 | 1 | 1 | 3 | 0 | 5,5 | 32,8 | 12,5 |
| 8 | 10 | Tamil Nadu Women C | 3 | 1 | 1 | 1 | 3 | 0 | 5,5 | 11,5 | 15,5 |
| 9 | 8 | Tamil Nadu Women D | 3 | 1 | 0 | 2 | 2 | 0 | 5,5 | 10,3 | 15 |
| 10 | 9 | Kerala Women | 3 | 1 | 0 | 2 | 2 | 0 | 4,5 | 6 | 11 |
| 11 | 11 | Andhra Pradesh Women | 3 | 0 | 2 | 1 | 2 | 0 | 4 | 22 | 9 |
| 12 | 12 | Himachal Women B | 3 | 1 | 0 | 2 | 2 | 0 | 4 | 7 | 9 |
| 13 | 13 | Himachal Women C | 3 | 0 | 0 | 3 | 0 | 0 | 1 | 4,8 | 3,5 |
| 14 | 14 | Himachal Women A | 3 | 0 | 0 | 3 | 0 | 0 | 0,5 | 3,5 | 1 |
Round 4 Women pairings
No.
SNo
Team
MP
Res.
:
Res.
MP
Team
SNo
1
2
AAI Women
5
:
6
Maharashtra Women A
3
2
6
Tamil Nadu Women A
4
:
5
PSPB Women
1
3
5
Telangana Women
4
:
4
Odisha Women A
7
4
4
Tamil Nadu Women B
3
:
3
Tamil Nadu Women C
10
5
8
Tamil Nadu Women D
2
:
2
Andhra Pradesh Women
11
6
12
Himachal Women B
2
:
2
Kerala Women
9
7
14
Himachal Women A
0
:
0
Himachal Women C
13
---