MPL National Teams 2023 R1: Srihari astonishes Adhiban
18-year-old Srihari L scored the biggest upset of the first round at MPL 42nd National Team Chess Championship Open 2023. The teenager earned his biggest win of his career against GM Adhiban. His teammate of Pondicherry, Umashankar A was also winning against GM G N Gopal. However, he settled for a draw by perpetual check. PSPB Men's team barely managed to avoid a draw and won their first round against Ponndicherry 2.5-1.5. AAI, RSPB B and RSPB A scored whitewash wins in the Open. Among the Women, PSPB, AAI and Maharashtra scored 4-0 wins with ease. Today is the first of the two double rounds. Round 2 starts today at 10 a.m. IST. Photo: Aditya Sur Roy
PSPB makes a shaky start in the Open
The National team championship is the strongest team event of the country. Since we do not have any leagues yet, this event provides a great opportunity for the youngsters to face the stalwarts. Pondicherry's biggest hope for a future IM and GM, Srihari L who currently has one IM-norm in his bag, seized his chance when it was presented to himself in the very first round.
PSPB - Pondicherry: 2.5-1.5
Pondicherry's top player, 18-year-old Srihari L (2268) scored a huge victory over the Asian Continental 2022 Bronze medalist, GM B Adhiban (
Black did not bother saving the c5-pawn. Instead, he wanted the e-file for his rook at e8. 26...Bf6 27.Rxc5 Re2 28.Re1 Rxe1+ 29.Qxe1 Qxf4 Black did not get to control the e-file for long but he surely got another piece into the attack - queen. 30.Qf2 Qg4 31.h3 Qg6 32.Nd6?? Bh4-+
32...Bh4! launches a deadly double attack on both White's queen and knight. There was already a checkmate threat looming on g2. White had to drop the knight and he resigned in five more moves.
Gopal - Umashankar
GM G N Gopal (2589) had a sharp position against Umashankar A (1888). White went wrong 32.Nf6 creating an opportunity for Black to gain White's queen. 32...Ba2+ 33.Kc2 Rxc3+ Black could have played it in the previous move also 34.Rxc3 Bxd5 35.Nxd5 Qh4 36.Ree3 Qa4+ 37.Kc1 Qa1+ 38.Kc2 Qa4+ and the game was drawn due to perpetual check. Black could have pushed for a win 37...f4.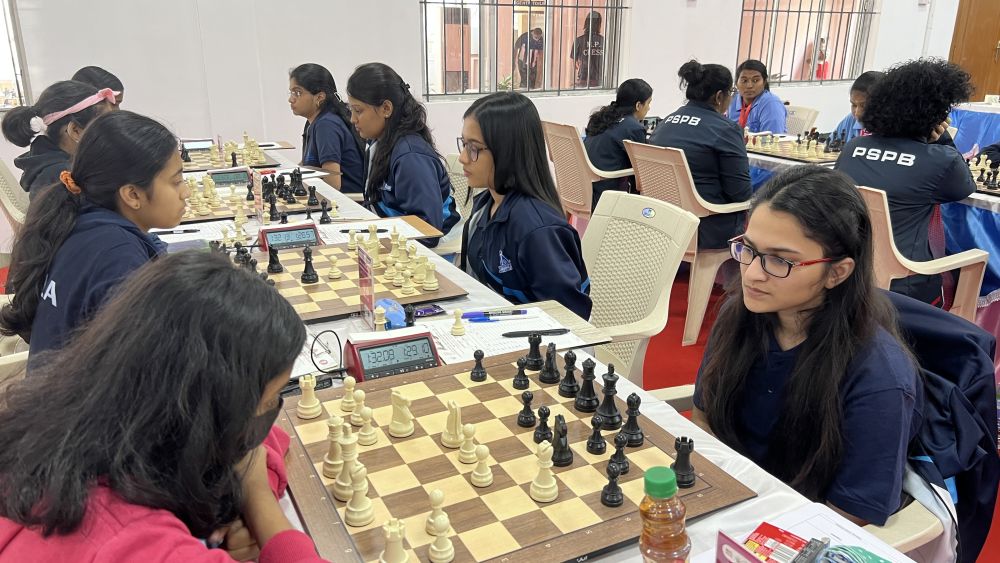 Priyanka - Athira
54...Kd3! is the only way for Black to save the game whereas 54...Kb1 loses the game which is what Athiraj A J (TN D, 1370) played against WIM Priyanka K (AAI, 2177).
D V Sundar, former Vice President of FIDE was the Chief Guest for the inauguration ceremony. He made the inaugural first move of the championship, together with Dr. M. Manickam, Chairman of MCET and President of Tamil Nadu State Chess Association. Muali, Head of Programs, All India Radio and Doordarshan, Coimbatore and M Raghu Kumar, District Youth Welfare and Sports Officer were the guests of honour. MS Gopakumar IA, rating officer of AICF, R Ananatharam, Vice President, Tamil Nadu State Chess Association, IA V Vijayaraghavan, R K Balagunashekaran, Joint Secretaries of TNSCA were the other dignitaries present.
For more photos, please click at the respective links: Technical Meeting, Inauguration Ceremony and Round 1.
Replay Round 1 Open games
Replay Round 1 Women games
Round 1 Open results
No.
SNo
Team
MP
Res.
:
Res.
MP
Team
SNo
1
1
PSPB Men
0
2½
:
1½
0
Pondicherry
16
2
17
BSNL
0
0
:
4
0
AAI
2
3
3
RSPB A
0
4
:
0
0
Tamil Nadu A
18
4
19
DASCB
0
½
:
3½
0
Tamil Nadu B
4
5
5
RSPB B
0
4
:
0
0
Haryana A
20
6
21
Bihar B
0
½
:
3½
0
Odisha A
6
7
7
Telangana
0
3½
:
½
0
Tamil Nadu E
22
8
23
SSCB
0
0
:
4
0
LIC
8
9
9
Tamil Nadu C
0
4
:
0
0
Andhra Pradesh B
24
10
25
Karnataka A
0
1½
:
2½
0
Tamil Nadu D
10
11
11
Karnataka B
0
4
:
0
0
Himachal A
26
12
27
Andhra Pradesh A
0
½
:
3½
0
Bihar A
12
13
13
Kerala B
0
3½
:
½
0
Haryana B
28
14
29
Himachal C
0
0
:
4
0
Kerala A
14
15
15
Madhya Pradesh
0
4
:
0
0
Himachal B
30
Round 2 Open pairings
No.
SNo
Team
MP
Res.
:
Res.
MP
Team
SNo
1
8
LIC
2
:
2
PSPB Men
1
2
2
AAI
2
:
2
Tamil Nadu C
9
3
10
Tamil Nadu D
2
:
2
RSPB A
3
4
4
Tamil Nadu B
2
:
2
Karnataka B
11
5
12
Bihar A
2
:
2
RSPB B
5
6
6
Odisha A
2
:
2
Kerala B
13
7
14
Kerala A
2
:
2
Telangana
7
8
16
Pondicherry
0
:
2
Madhya Pradesh
15
9
24
Andhra Pradesh B
0
:
0
BSNL
17
10
18
Tamil Nadu A
0
:
0
Karnataka A
25
11
26
Himachal A
0
:
0
DASCB
19
12
20
Haryana A
0
:
0
Andhra Pradesh A
27
13
28
Haryana B
0
:
0
Bihar B
21
14
22
Tamil Nadu E
0
:
0
Himachal C
29
15
30
Himachal B
0
:
0
SSCB
23
Round 1 Women results
No.
SNo
Team
MP
Res.
:
Res.
MP
Team
SNo
1
1
PSPB Women
0
4
:
0
0
Tamil Nadu Women D
8
2
9
Kerala Women
0
0
:
4
0
AAI Women
2
3
3
Maharashtra Women A
0
4
:
0
0
Tamil Nadu Women C
10
4
11
Andhra Pradesh Women
0
2
:
2
0
Tamil Nadu Women B
4
5
5
Telangana Women
0
4
:
0
0
Himachal Women B
12
6
13
Himachal Women C
0
0
:
4
0
Tamil Nadu Women A
6
7
7
Odisha Women A
0
3½
:
½
0
Himachal Women A
14
Round 2 Women pairings
No.
SNo
Team
MP
Res.
:
Res.
MP
Team
SNo
1
5
Telangana Women
2
:
2
PSPB Women
1
2
2
AAI Women
2
:
2
Odisha Women A
7
3
6
Tamil Nadu Women A
2
:
2
Maharashtra Women A
3
4
4
Tamil Nadu Women B
1
:
0
Tamil Nadu Women D
8
5
10
Tamil Nadu Women C
0
:
1
Andhra Pradesh Women
11
6
14
Himachal Women A
0
:
0
Kerala Women
9
7
12
Himachal Women B
0
:
0
Himachal Women C
13
---