MPL National Teams 2023 R2-3: Kishan Kumar stuns Deepan Chakkravarthy
Kishan Kumar of Bihar A scored the biggest upset of the second round at MPL 42nd National Team Chess Championship Open 2023. He defeated the GM Deepan Chakkravarthy (RSPB B), who has a wealth of knowledge. Kumar Gaurav held the reigning Commonwealth champion, IM P Shyam Nikhil to a draw. On the top board, WGM Swati Ghate (LIC) held GM Vaibhav Suri (PSPB) to a draw. Although the latter was losing in the endgame. GM G N Gopal (PSPB) scored a crucial victory over GM Pranesh M, to ensure his team PSPB wins over Tamil Nadu B. In the Women's event, the top three teams - PSPB, AAI and Maharashtra won their second round convincingly. Round 4 Open and Round 3 Women starts today at 10 a.m. IST. Photo: Aditya Sur Roy
Gopal pulls through for PSPB
GM G N Gopal ensured his team PSPB remains in the lead with RSPB at 6/6 after the third round. The leaders will face each other in the fourth round. PSPB will face AAI in the Women. Maharashtra will go against Tamil Nadu B team.
Open Round 2: LIC - PSPB: 2.5-1.5
GM B Adhiban (2610), GM Karthikeyan Murali (2626) and GM Surya Sekhar Ganguly (2582) scored wins over IM Dinesh K Sharma (2211), WGM Kiran Manisha Mohanty (2063) and GM Sriram Jha (2315) respectively. GM Vaibhav Suri (2606) sacrificed an exchange in the endgame against WGM Swati Ghate (2028) which had less than desired effect.
Vaibhav - Swati
Position after 29...Bxc5
White opted to sacrifice the exchange 30.Rxd5!? Bxg1 31.Nxf5 Re2+ 32.Kd3 Rxa2 33.h5 White had enough compensation. However, few inaccuracies later, White landed himself in a pickle.
White does not have any threat currently in the above position. Black needed to push her passed pawn 51...a5 as the rooks are not enough to make a checkmate threat or win the game. Eventually, Black returned the exchange and the game ended in a draw.
Women Round 2: Telangana - PSPB: 0.5-3.5
Natura Bethi (1531), Sarayu Velpula (1899) and Sneha Bharathakoti (1475) lost to IM Eesha Karavade (2294), IM Padmini Rout (2389) and WIM Isha Sharma (2213) respectively. WCM Kheerthi Ganta (1836) held IM Soumya Swaminathan (2308) to a draw, although the former had a substantial positional advantage.
Kheerthi - Soumya
One of the best opportunities White had in the game was after 28...Be7. 29.Nxe7+ Rxe7 30.Bf1 Qh5 31.Qc6 Bb7 32.Qxd6 would have put Black on the verge of a loss.
Round 3 Open: PSPB - Tamil Nadu B: 2.5-1.5
GM G N Gopal (2589) scored the sole win for PSPB against GM Pranesh M (2504). This win ensured PSPB beat Tamil Nadu B 2.5-1.5.
Gopal - Pranesh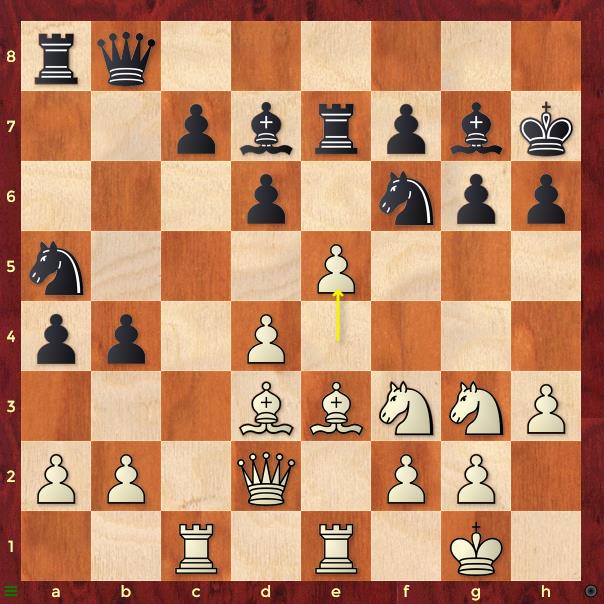 Black was already misplaying the position by making moves on the queenside without making any impact. 20...Re7 completely ended things as 21.e5 disintegrated Black's position completely. 21...Nd5 22.Nh5 Nxe3 23.Rxe3 Qb6 24.Nf6+ and Black's position fell apart.
For more photos, please click at the respective links: Round 2 Open and Women and Round 3 Open.
Replay Round 2-3 Open games
Replay Round 2 Women games
Round 3 Open results
No.
SNo
Team
MP
Res.
:
Res.
MP
Team
SNo
1
1
PSPB Men
4
2½
:
1½
4
Tamil Nadu B
4
2
3
RSPB A
4
2
:
2
4
AAI
2
3
5
RSPB B
4
3½
:
½
3
Odisha A
6
4
7
Telangana
3
2½
:
1½
3
Madhya Pradesh
15
5
13
Kerala B
3
3
:
1
3
Kerala A
14
6
19
DASCB
2
0
:
4
2
LIC
8
7
9
Tamil Nadu C
2
2½
:
1½
2
Tamil Nadu A
18
8
21
Bihar B
2
2½
:
1½
2
Tamil Nadu D
10
9
11
Karnataka B
2
1
:
3
2
Haryana A
20
10
23
SSCB
2
1
:
3
2
Bihar A
12
11
17
BSNL
2
1
:
3
2
Tamil Nadu E
22
12
24
Andhra Pradesh B
0
1½
:
2½
1
Pondicherry
16
13
25
Karnataka A
0
4
:
0
0
Haryana B
28
14
29
Himachal C
0
1
:
3
0
Himachal A
26
15
27
Andhra Pradesh A
0
4
:
0
0
Himachal B
30
Standings after Round 3
| | | | | | | | | | | | |
| --- | --- | --- | --- | --- | --- | --- | --- | --- | --- | --- | --- |
| Rk. | SNo | Team | Games | + | = | - | TB1 | TB2 | TB3 | TB4 | TB5 |
| 1 | 5 | RSPB B | 3 | 3 | 0 | 0 | 6 | 0 | 10 | 67 | 24,5 |
| 2 | 1 | PSPB Men | 3 | 3 | 0 | 0 | 6 | 0 | 8,5 | 64,8 | 20,5 |
| 3 | 2 | AAI | 3 | 2 | 1 | 0 | 5 | 0 | 10 | 60 | 25 |
| 4 | 3 | RSPB A | 3 | 2 | 1 | 0 | 5 | 0 | 9 | 51 | 22 |
| 5 | 13 | Kerala B | 3 | 2 | 1 | 0 | 5 | 0 | 8,5 | 40 | 22,5 |
| 6 | 7 | Telangana | 3 | 2 | 1 | 0 | 5 | 0 | 8 | 59 | 21 |
| 7 | 8 | LIC | 3 | 2 | 0 | 1 | 4 | 0 | 8,5 | 34,3 | 20,5 |
| 8 | 12 | Bihar A | 3 | 2 | 0 | 1 | 4 | 0 | 8 | 46 | 19 |
| 9 | 4 | Tamil Nadu B | 3 | 2 | 0 | 1 | 4 | 0 | 8 | 41,3 | 21,5 |
| 10 | 22 | Tamil Nadu E | 3 | 2 | 0 | 1 | 4 | 0 | 7,5 | 20 | 18,5 |
Round 4 Open pairings
No.
SNo
Team
MP
Res.
:
Res.
MP
Team
SNo
1
5
RSPB B
6
:
6
PSPB Men
1
2
2
AAI
5
:
5
Telangana
7
3
13
Kerala B
5
:
5
RSPB A
3
4
4
Tamil Nadu B
4
:
4
Bihar A
12
5
8
LIC
4
:
4
Bihar B
21
6
20
Haryana A
4
:
4
Tamil Nadu C
9
7
15
Madhya Pradesh
3
:
4
Tamil Nadu E
22
8
6
Odisha A
3
:
3
Pondicherry
16
9
14
Kerala A
3
:
2
Karnataka B
11
10
10
Tamil Nadu D
2
:
2
SSCB
23
11
26
Himachal A
2
:
2
BSNL
17
12
18
Tamil Nadu A
2
:
2
Andhra Pradesh A
27
13
25
Karnataka A
2
:
2
DASCB
19
14
30
Himachal B
0
:
0
Andhra Pradesh B
24
15
28
Haryana B
0
:
0
Himachal C
29
Round 2 Women results
No.
SNo
Team
MP
Res.
:
Res.
MP
Team
SNo
1
5
Telangana Women
2
½
:
3½
2
PSPB Women
1
2
2
AAI Women
2
4
:
0
2
Odisha Women A
7
3
6
Tamil Nadu Women A
2
0
:
4
2
Maharashtra Women A
3
4
4
Tamil Nadu Women B
1
2½
:
1½
0
Tamil Nadu Women D
8
5
10
Tamil Nadu Women C
0
2
:
2
1
Andhra Pradesh Women
11
6
14
Himachal Women A
0
0
:
4
0
Kerala Women
9
7
12
Himachal Women B
0
3½
:
½
0
Himachal Women C
13
Standings after Round 2
Round 3 Women pairings
No.
SNo
Team
MP
Res.
:
Res.
MP
Team
SNo
1
1
PSPB Women
4
:
4
AAI Women
2
2
3
Maharashtra Women A
4
:
3
Tamil Nadu Women B
4
3
9
Kerala Women
2
:
2
Telangana Women
5
4
11
Andhra Pradesh Women
2
:
2
Tamil Nadu Women A
6
5
7
Odisha Women A
2
:
2
Himachal Women B
12
6
13
Himachal Women C
0
:
1
Tamil Nadu Women C
10
7
8
Tamil Nadu Women D
0
:
0
Himachal Women A
14
---