Harsha Bharathakoti dominates 24th HZ University of Applied Sciences Open 2022
GM Harsha Bharathakoti started 24th HZ University of Applied Sciences Open with three consecutive wins. He lost the fourth round game to FM Shreyas Royal (ENG). The 21-year-old did not let that loss deter him. He went on to win the next five games to finish a full point ahead of the field 8/9. Seven players scored 7/9. Former World Champion GM Ruslan Ponomariov (UKR) and IM Liam Vrolijk (NED) was placed second and third according to tie-breaks. Top three prizes were €2000, €1300 and €800 each. Harsha becomes the second Indian after K Sasikiran (2004 and 2010) to win this event which has been won by the likes of Ivan Sokolov, Rustam Kasimdzhanov, Michal Krasenkow, Fabiano Caruana, Baadur Jobava and Loek van Wely among others. Photo: Official site
Harsha's first tournament triumph of the year
This is Harsha's fourth podium finish and first tournament victory of the year. Earlier this year, he finished third at 19th Delhi International GM Open 2022, second at Paris IdF Masters and third at Czech Open Rapid last month. He has had several top ten finishes in this year. A tournament triumph finally will certainly boost his confidence and encourage him to do well in his upcoming events.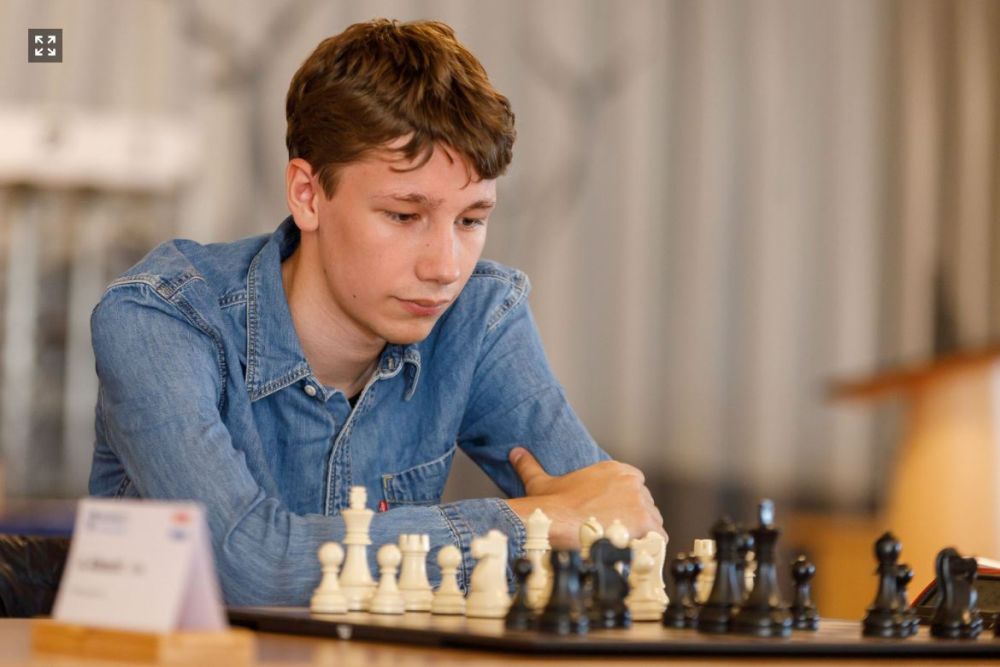 Beerdsen - Harsha, Round 8
Generally, it might seem like 41.Rf7 is a good idea as White gets connected passed pawns on the g and h-file after Bxc3 42.Rxh7. However, it is certainly difficult to promote it because Black has a bishop pair which is much stronger than the lone rook.
A total of 203 players including 8 GMs and 6 IMs from 14 countries across the world took part in this eight-day nine-round Rating tournament. The event was organized by Hans Groffen, Corné Boogaard and others at HZ University of Applied Sciences, Vlissingen from 7th to 13th August 2022. The time control for the tournament was 90 minutes for 40 moves, 30 minutes extra for remainder of the game and 30 seconds increment per move from move 1.
Replay all games
Final standings
| Rank | Name | Score | Fed. | M/F | Rating | TPR | W-We | Mutual | BH | SB | PS | 1 | 2 | 3 | 4 | 5 | 6 | 7 | 8 | 9 |
| --- | --- | --- | --- | --- | --- | --- | --- | --- | --- | --- | --- | --- | --- | --- | --- | --- | --- | --- | --- | --- |
| 1 | GM Harsha Bharathakoti | 8.0 | IND | M | 2557 | 2638 | +0.81 | 0.0 | 50.5 | 44.0 | 39.0 | 1 | 1 | 1 | 0 | 1 | 1 | 1 | 1 | 1 |
| 2 | GM Ponomariov, Ruslan | 7.0 | UKR | M | 2642 | 2607 | -0.17 | . | 55.5 | 42.0 | 38.5 | 1 | 1 | 1 | ½ | 1 | ½ | 1 | ½ | ½ |
| 3 | IM Vrolijk, Liam | 7.0 | NED | M | 2464 | 2603 | +1.80 | . | 55.0 | 41.25 | 38.0 | 1 | 1 | 1 | ½ | 1 | ½ | ½ | 1 | ½ |
| 4 | IM Beerdsen, Thomas | 7.0 | NED | M | 2513 | 2490 | -0.03 | . | 55.0 | 40.5 | 37.5 | 1 | 1 | 1 | ½ | ½ | 1 | 1 | 0 | 1 |
| 5 | GM Baklan, Vladimir | 7.0 | UKR | M | 2582 | 2522 | -0.35 | . | 54.5 | 41.0 | 37.0 | 1 | 1 | ½ | 1 | 1 | ½ | ½ | ½ | 1 |
| 6 | Grutter, Tim | 7.0 | NED | M | 2246 | 2490 | +2.80 | . | 53.0 | 39.75 | 36.0 | 1 | 1 | ½ | 1 | 1 | 0 | ½ | 1 | 1 |
| 7 | GM Ikonnikov, Vyacheslav | 7.0 | FID | M | 2493 | 2571 | +1.13 | . | 52.5 | 39.25 | 38.5 | 1 | 1 | 1 | 1 | ½ | ½ | ½ | 1 | ½ |
| 8 | FM Pham, Khoi | 7.0 | NED | M | 2376 | 2355 | +0.02 | . | 51.5 | 38.5 | 35.5 | 1 | 1 | 1 | 0 | 1 | ½ | ½ | 1 | 1 |
| 9 | GM Lalith Babu M R | 6.5 | IND | M | 2549 | 2545 | +0.31 | . | 56.0 | 38.0 | 39.0 | 1 | 1 | 1 | 1 | ½ | 1 | ½ | ½ | 0 |
| 10 | FM Royal, Shreyas | 6.5 | ENG | M | 2375 | 2442 | +1.07 | . | 53.5 | 36.25 | 36.5 | 1 | 1 | 1 | 1 | 0 | 1 | 0 | 1 | ½ |
| 11 | IM Dhulipalla Bala Chandra Pr | 6.5 | IND | M | 2431 | 2416 | +0.18 | . | 52.5 | 37.0 | 35.0 | 1 | 1 | 1 | 0 | ½ | 1 | 1 | ½ | ½ |
| 12 | FM De Jong, Tom | 6.5 | NED | M | 2191 | 2332 | +1.53 | . | 52.5 | 36.25 | 34.0 | 1 | 1 | = | 1 | ½ | ½ | 0 | 1 | 1 |
| 13 | GM Santiago, Yago De Moura | 6.5 | BRA | M | 2490 | 2524 | +0.82 | . | 52.0 | 35.25 | 37.5 | 1 | 1 | 1 | 1 | ½ | ½ | ½ | ½ | ½ |
| 14 | FM Sorbe, Stephane | 6.5 | FRA | M | 2353 | 2363 | +0.47 | . | 52.0 | 34.5 | 35.0 | 1 | 1 | 1 | ½ | 0 | 1 | 1 | 0 | 1 |
| 15 | GM Schoppen, Casper | 6.5 | NED | M | 2507 | 2386 | -0.93 | . | 51.5 | 36.0 | 35.0 | 1 | 1 | 1 | ½ | ½ | ½ | ½ | ½ | 1 |
Links
---