World Team 2022 SF: Uzbekistan wins and eyes another Gold
India drew with Uzbekistan in the first duel of the Semifinal. The 44th Chess Olympiad Gold medalist team, Uzbekistan won the second duel by a minimum margin 2.5-1.5 to advance to the Finals. They will face China to battle for the Gold. GM S L Narayanan showcased his consistency once again as he defeated GM Shamsiddin Vokhidov on both occassions. GM Vidit Gujrathi and GM Nihal Sarin lost and drew a game each. On the fourth board, GM Sethuraman S P lost in the first duel and GM K Sasikiran drew in the second. India will face Spain in the 3rd-4th place match to fight for Bronze today from 5:30 and 8:30 p.m. IST in a duel. Photo: FIDE/Mark Livshitz
India to face Spain for the Bronze medal
Just like Uzbekistan, China also drew their first duel with Spain. However, they won the second duel convincingly 3-1 without losing a single game.
Duel 1: Uzbekistan - India: 2-2
GM Vidit Gujrathi (2662) survived a tough game against GM Nodirbek Yakubboev (2563). Despite being significantly worse for the better part of the game, Vidit managed to salvage a draw. GM Nihal Sarin (2616) drew his game with GM Javokhir Sindarov (2454). GM S L Narayanan (2673) scored the sole victory for the team against GM Shamsiddin Vokhidov (2568). GM Sethuraman S P (2545) could not seize his advantage and lost to GM Jakhongir Vakhidov (2507).
Vokhidov - S L Narayanan
Black was already better due to White's d2-bishop being completely blindsided by the black pawns on dark squares. 30.Qg4 gave Black a tempo Nh6 31.Qd7 Rd8 32.Qa4 Nf5 33.Bc1 h6 34.Ra8 Rxa8 35.Qxa8+ Kh7 36.Bb2 Qg6 37.Qa1 Nh4 38.Qf1 e4! and Black converted his advantage into a win comfortably.

Duel 2: India - Uzbekistan: 1.5-2.5
S L Narayanan defeated Shamsiddin Vokhidov again. Vidit and Nihal lost to Yakubboev and Sindarov respectively. Sasikiran drew with Vakhidov.
S L Narayanan - Vokhidov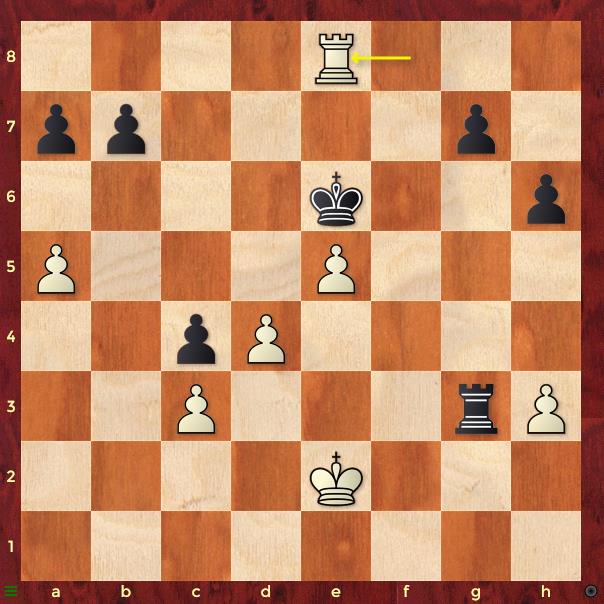 Which is the correct square for the king? Black went 35...Kd7 36.Rb8 Kc7 37.Rg8 Kd7 38.h4 Ke6 39.Re8+ Kf5 40.d5 and White won the game in the next few moves.
GM Ivan Sokolov after his team Uzbekistan advanced to the Finals, tweeted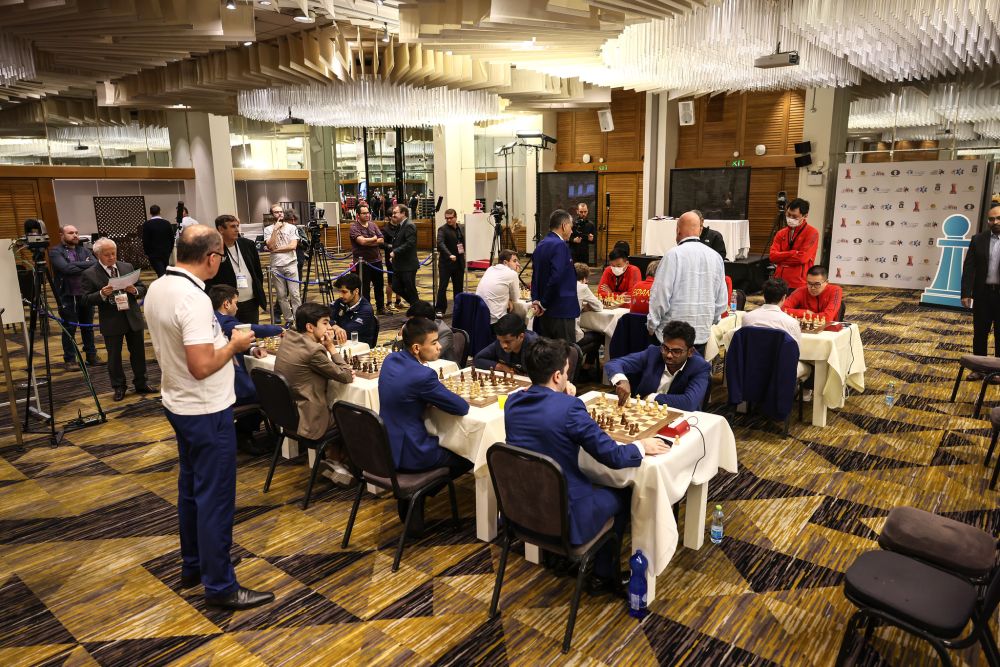 Replay Semifinal games
Semifinal results
Semifinal - Round 2 (2022/11/24)
No.
Team
Game 1
Game 2
Game 3
MatchPts.
5
Spain
2
1
1
6
China
2
3
3
8
Uzbekistan
2
2,5
3
4
India
2
1,5
1
3rd-4th place and Final pairings
3rd Place Playoff - Round 3 (2022/11/25)
No.
Team
Game 1
Game 2
Game 3
MatchPts.
4
India
0
5
Spain
0
Final - Round 3 (2022/11/25)
No.
Team
Game 1
Game 2
Game 3
MatchPts.
6
China
0
8
Uzbekistan
0
Schedule
The Knockout stage comprises a duel starting at 6:30 and 9:30 p.m. IST from 23rd to 25th November 2022. In case of a tie, tie-breaks will take place at 12 a.m. IST. having the time control 3 minutes + 2 seconds increment. For more details, check the tournament regulations.
Time Control
The time control is 45 minutes + 10 seconds increment for the entire game.
Links
---