World Team 2022 QF: India knocks out France in tie-breaks
India defeated France 2.5-1.5 in the Quarterfinal tie-breaks to advance to the Semifinals of World Team Chess Championship 2022. Vidit Gujrathi set the tone for the day as he defeated the reigning World Blitz champion, Maxime Vachier-Lagrave on top board in the first duel. S L Narayanan won against Laurent Fressinet convincingly, while Nihal Sarin and K Sasikiran drew their respective games. France retorted in the second duel with same score 1-3. Thus, tie-breaks was enforced where Vidit drew with MVL, Nihal and S L Narayanan scored key victories to ensure India advances to the next stage. India will face the 44th Chess Olympiad Gold medalist Uzbekistan in the Semifinals today from 6:30 and 9:30 p.m. IST in a duel. Photo: FIDE/Mark Livshitz
Team effort by India
The top two Indian teams drew with Uzbekistan in the 44th Chess Olympiad 2022. Four of them are taking part here - Vidit Gujrathi, K Sasikiran, S L Narayanan and Nihal Sarin. Uzbekistan is missing their top player - current World Rapid champion, Nodirbek Abdusattorov. They might have started the tournament with a loss but defeated India convincingly in the group stage. Now is a good time for India to avenge the loss and advance to the Final in a perfect way.
Duel 1: France - India: 1-3
GM Vidit Gujrathi (2662) set the tone for the day as he defeated the reigning World Blitz champion, GM Maxime Vachier-Lagrave (2775).
Vachier-Lagrave - Vidit
20.Rad1 turned out to be a significant positional mistake Bxg2 21.Kxg2 Qe4+ 22.Kh2 Rxd1 23.Rxd1 Qf3 24.Qe1 Ne4. Black gained a firm grip on the position and it became quite difficult for the Frenchman to get out of this precarious position. Vidit scored an important win on the top board.
Fressinet - S L Narayanan
White made a strange decision to retreat his knight to b1. Perhaps the idea was to meet Rxd5 with Nc3. He most probably missed 33...Rb5 which is what was played in the game. 34.Rc2 Rxd5 35.Nc3 Ra5 and Black converted his extra pawn advantage into a win smoothly.
Sasikiran - Gharamian
White was winning for the better part of the endgame. White's h5 passed pawn is very strong. Find out the best way to win for White.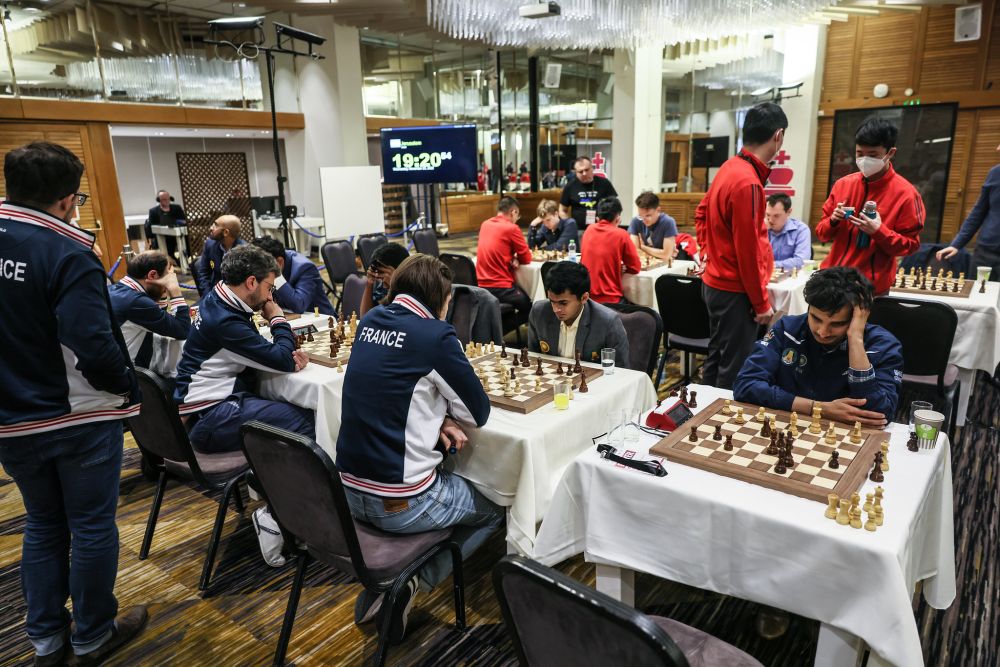 Duel 2: India - France: 1-3
Both Maxime Vachier-Lagrave and Laurent Fressident avenged their respective losses from the first duel. Nihal Sarin and K Sasikiran made solid draws. The score was the same 1-3. France bounced back and forced tie-breaks.
Tie-breaks: India - France: 3-1
Vidit Gujrathi drew with Maxime Vachier-Lagrave. Nihal Sarin and S L Narayanan scored the key victories over Jules Moussard and Laurent Fressinet. K Sasikiran lost to Maxime Lagarde. Thus, India beat France 2.5-1.5 in the Quarterfinals tie-breaks to advance to the Semifinals and set up a clash with Uzbekistan.
Jules - Nihal
Nihal made a thematic sacrifice 19...Nxb2 20.Kxb2 Na4+ 21.Ka2 Nxc3+ 22.Rxc3 Rxc3 23.Bd2 Qa5 24.Bxc3 Qxc3 and Black gained a decisive advantage. The pressure of the situation made Nihal prolong the win, eventually he handled things quite well and scored a very important win for the team.
S L Narayanan - Fressinet
White continued the fight and waited for his opponent to make a mistake. Eventually he did 48...g5 49.h7 Kf7 50.Ra8 Rxh7?? 51.Rxa7+ and it's over for Black.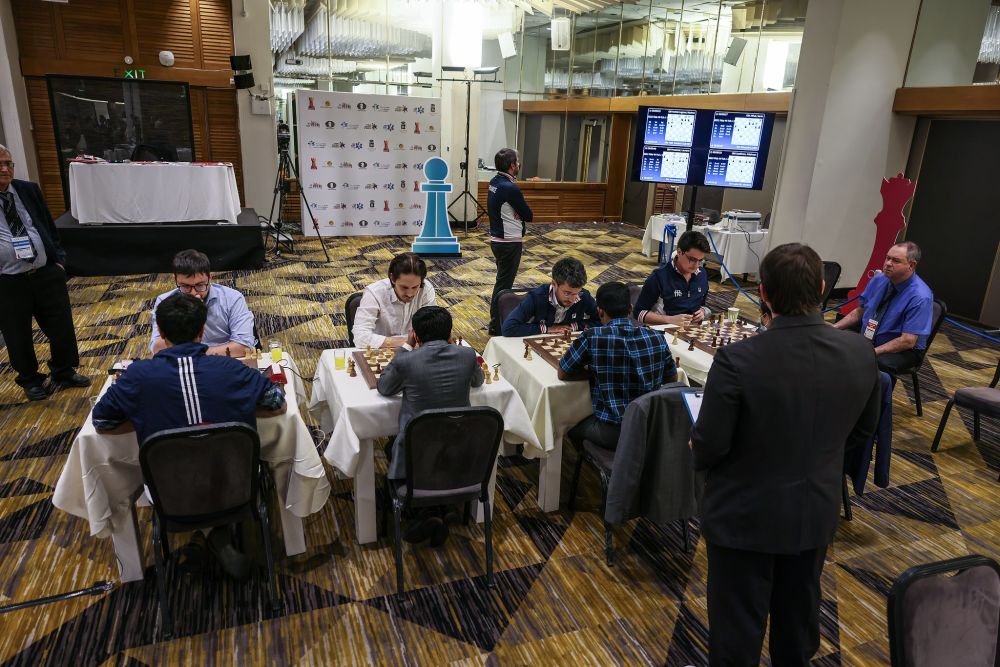 Photo Gallery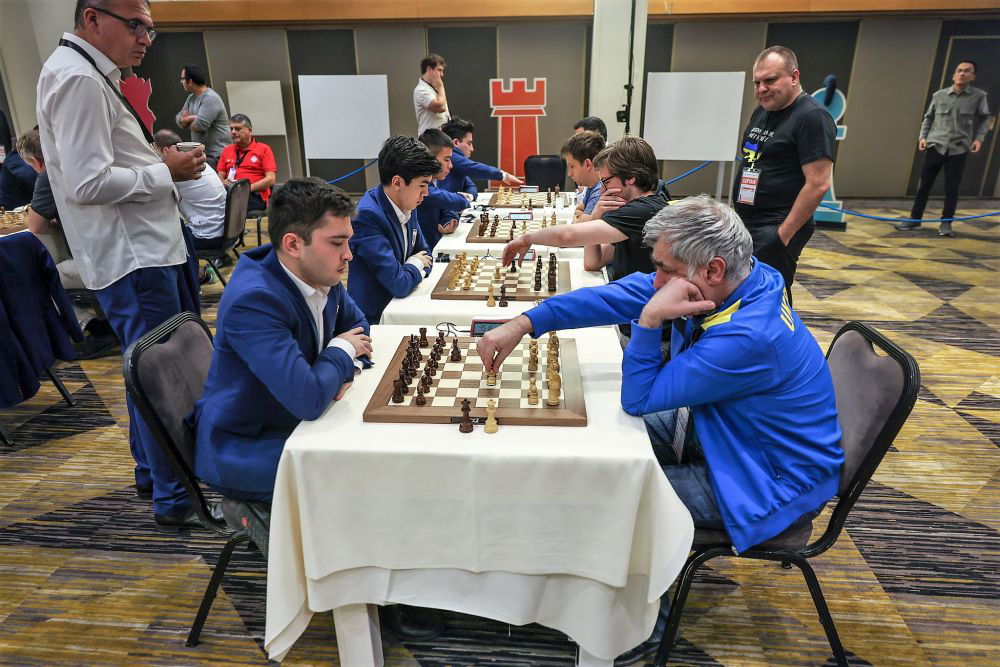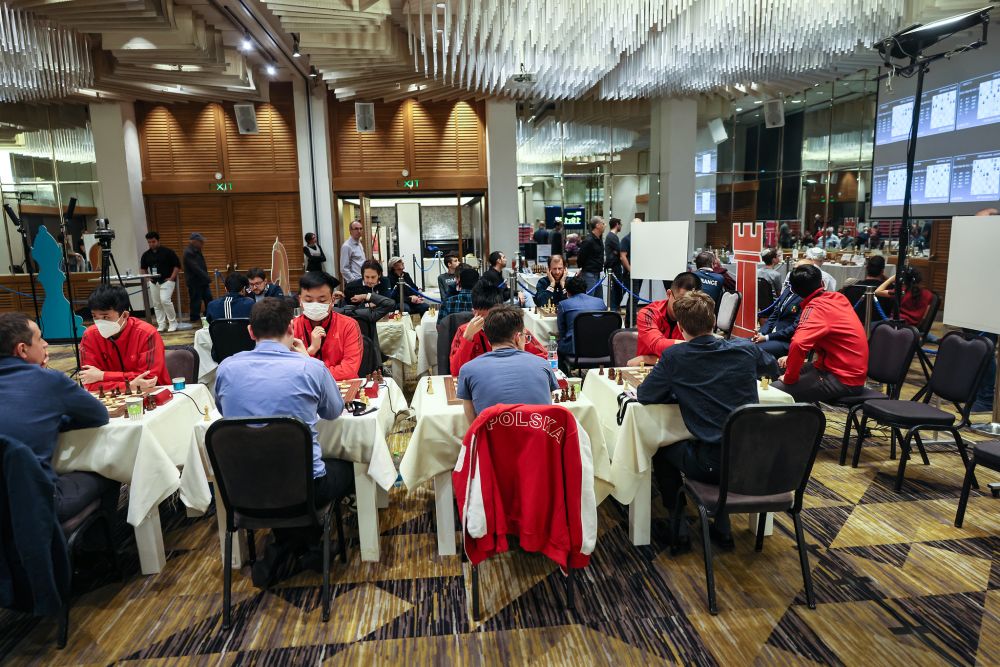 Replay Quarterfinal games
Quarterfinal results
No.
Team
Game 1
Game 2
Game 3
MatchPts.
6
China
2,5
2
3
7
Poland
1,5
2
1
5
Spain
2
2,5
3
2
Azerbaijan
2
1,5
1
3
Ukraine
1
1,5
0
8
Uzbekistan
3
2,5
4
1
France
1
3
1,5
2
4
India
3
1
2,5
4
Semifinal pairings
No.
Team
Game 1
Game 2
Game 3
MatchPts.
5
Spain
0
6
China
0
8
Uzbekistan
0
4
India
0
Schedule
The Knockout stage comprises a duel starting at 6:30 and 9:30 p.m. IST from 23rd to 25th November 2022. In case of a tie, tie-breaks will take place at 12 a.m. IST. having the time control 3 minutes + 2 seconds increment. For more details, check the tournament regulations.
Time Control
The time control is 45 minutes + 10 seconds increment for the entire game.
Links
---