World Team 2022 R3-4: A mixed day for India
India defeated Azerbaijan in the third round of World Team Chess Championship 2022. Vidit Gujrathi's great turnaround against Shakhriyar Mamedyarov proved to be the key win which earned the team the first victory of the event. However, India suffered a crushing defeat against the 44th Olympiad Gold medalist team Uzbekistan. Even without the reigning World Rapid champion, Nodirbek Abdusattorov, the team is quite strong under the guidance of Ivan Sokolov. India must score against the USA in the fifth round today starting at 6:30 p.m. IST. A win guarantees a spot in the Knockout stage, whereas a draw will leave things into others' hands. Photo: FIDE/Mark Livshitz
Vidit secures victory for India against Azerbaijan
China, France and Ukraine in Group A and Uzbekistan in Group B have already advanced to the Quarterfinals. Spain is highly likely to be the fourth team in Group A as they should not have any trouble beating South Africa in the final round of the Group stage.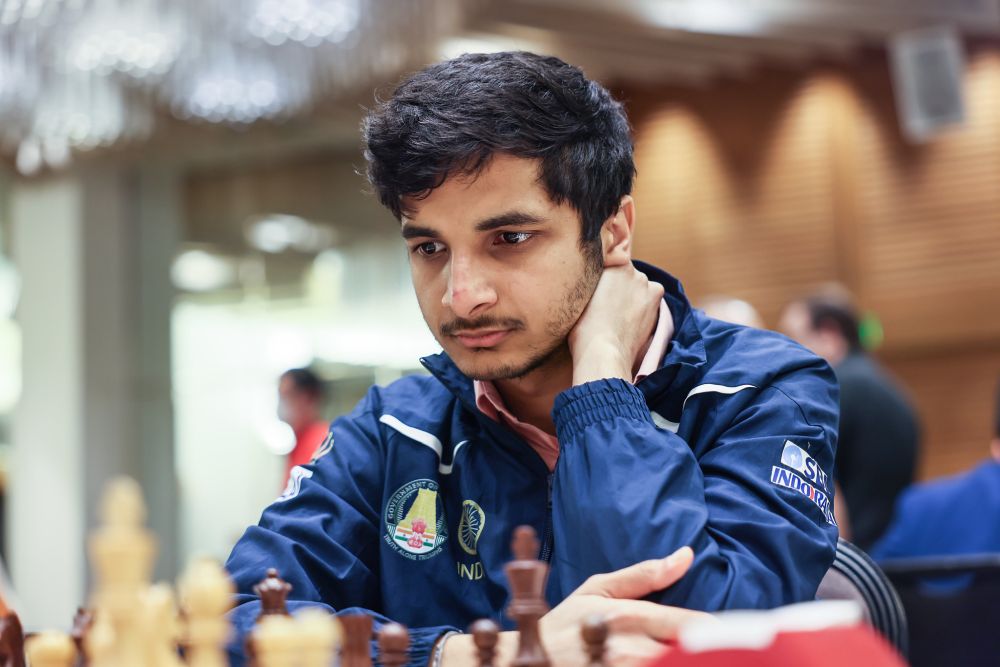 Round 3: Azerbaijan - India: 1.5-2.5
GM Shakhriyar Mamedyarov (2747) got himself in control against GM Vidit Gujrathi (2662). However, Vidit kept fighting and waited for his opportunity. Mamedyarov's aggressive attack did not work out.
Mamedyarov - Vidit
The knight sacrifice to clear up the path for the queen and create a battery on the g-file does not work. 29.Ne4 fxe4 30.Qg2 Nxf4! an excellent double attack 31.Qxg7+ Rxg7 32.Rxg7+ Kf8 33.Rf7+ Ke8 34.Rxf4+ Qxh5 and White has nothing left to continue the attack.
Guseinov - S L Narayanan
36.Rxa4 allowed Black to make a break e3 37.Rb4 exf2+ 38.Kxf2 Re2+ 39.Kf1 and now Black needed to go h5 and Be6 to help f-pawn promote. 39...Rc2 40.b3 Rc1+ 41.Kf2 Rc2+ 42.Kf1 and the game soon ended in a draw by perpetual check.
Round 4: India - Uzbekistan: 0.5-3.5
The 44th Olympiad Gold medalist, GM Nodirbek Yakubboev (2563) made a sound exchange sacrifice against GM Vidit Gujrathi (2662) in the endgame.
Vidit - Yakubboev
30...Rxe5 31.dxe5 d4 32.Nh2 d3 33.Rd1 Ng5 34.Kg2 d2 35.e6 Qxe6 36.Rxd2 Kxh7 37.Rd4 Bxf3+! an excellent sacrifice which means Black is now behind a whole rook but the passed f-pawn ensured that Black regained his lost rook. A final moment blunder in the tricky queen endgame cost White the full point.
Sindarov - Nihal
White was winning in the above position if he played 42.Rh5 instead of 42.d6. It allowed Black to save the game via 42...Rd2 42.Ke1 Qg2 43.Rg1 Re2+ 44.Kd1 Rd2+ 45.Kc1 Rxc2+ White would have left without a choice but to accept the perpetual check, taking the rook would result in White's loss. The draw would not have changed the overall outcome of the match though.
Ivan Sokolov tweeted on his team securing a spot in the Quarterfinals
Photo Gallery
Replay Group A Round 3-4 games
Replay Group B Round 3-4 games
Group A standings after Round 4
Round 5 pairings
Round 5 on 2022/11/22 at 1500
No.
Team
Team
Res.
:
Res.
1
South Africa
Spain
:
2
China
France
:
3
Ukraine
Netherlands
:
Group B standings after Round 4
Round 5 pairings
Round 5 on 2022/11/22 at 1500
No.
Team
Team
Res.
:
Res.
1
Azerbaijan
Israel
:
2
Uzbekistan
Poland
:
3
United States
India
:
Schedule
Pool stage: 20th November - Round 1 at 6:30 p.m. IST and Round 2 at 9:30 p.m. IST.
21st November - Round 3 at 6:30 p.m. IST and Round 4 at 9:30 p.m. IST.
22nd November - Round 5 at 6:30 p.m. IST.
The Knockout stage comprises a duel starting at 6:30 and 9:30 p.m. IST from 23rd to 25th November 2022. In case of a tie, tie-breaks will take place at 12 a.m. IST. having the time control 3 minutes + 2 seconds increment. For more details, check the tournament regulations.
Time Control
The time control is 45 minutes + 10 seconds increment for the entire game
Links
---