World Team 2022 R5: Vidit and S L Narayanan propel India to the Quarterfinals
USA suffered a crushing defeat against India 1-3 in the fifth round of World Team Chess Championship 2022. Vidit Gujrathi and S L Narayanan scored emphatic victories over Hans Niemann and Varuzhan Akobian respectively. Both wins were scored with the black pieces. While Vidit launched a solid attack on the kingside, Narayanan showed his fantastic positional understanding. Nihal Sarin drew his game comfortably and Sethuraman S P escaped all difficulties to salvage a draw. India will face France in the Quarterfinals in a duel starting at 6:30 and 9:30 p.m. IST today. Reigning World Blitz champion, Maxime Vachier-Lagrave vs Vidit is probably going to be one of the most anticipated matches of the event. Photo: FIDE/Mark Livshitz
India set to clash with France today
Spain joined China, France and Ukraine in Group A and Azerbaijan, India and Poland joined Uzbekistan in Group B in the Knockout stage. It will be China vs Poland, Spain vs Azerbaijan, Ukraine vs Uzbekistan and France vs India in the Quarterfinals.
USA - India: 1-3
GM Vidit Gujrathi (2662) got a comfortable position early in the middlegame against GM Hans Niemann (2599).
Hans - Vidit
It is not easy to defend this especially as White's pieces are all over the board. There is a lack of coordination. 26.Re2 g3 crippling White's kingside further. Black needn't open up the g-file with gxh3 as it would have helped White only to defend his king and attack Black's vulnerable king. 27.Rxb7 a5 28.Qb6 Rxb7 29.Qxb7 Qf5 securing the c8-square for the rook. 30.Qc7 Rc8 31.Qe5 Qxe5 32.dxe5 Ne4 and it goes without saying that Black is winning here, thanks to White's bishop taking a nap at f1 and White's weak backrank.
Akobian - S L Narayanan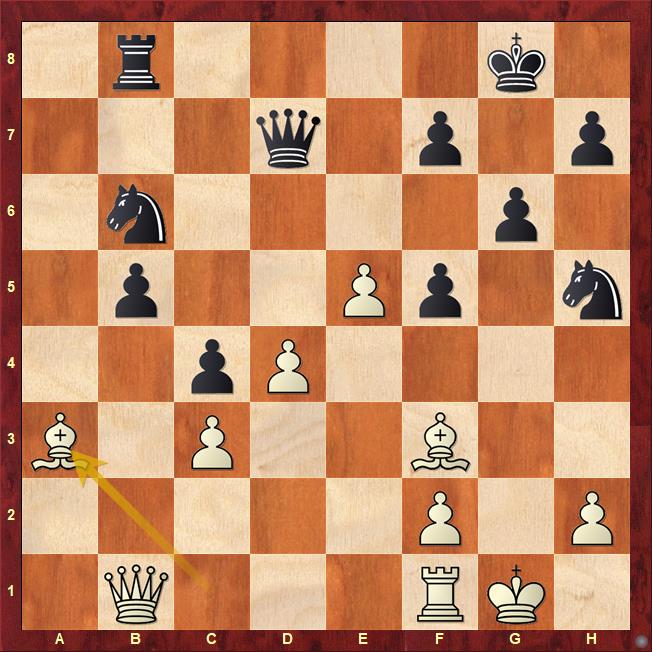 26.Ba3 allowed Black to jump his knight to f4. 26...Nf4 27.Bd6 Rc8 28.Qa1 Nh3+ 29.Kh1 Ng5 30.Bg2 f4 31.f3 Nd5 and S L Narayanan just weaved magic with knights showcasing his fantastic positional understanding winning the game.
Ivanchuk - Jorden
Vasyl Ivanchuk is a genius, a former World Rapid and Blitz champion. He is also an artist. So when he makes a beautiful move like this, it certainly delights the chess universe. The outcome of the game is not important here.
Photo Gallery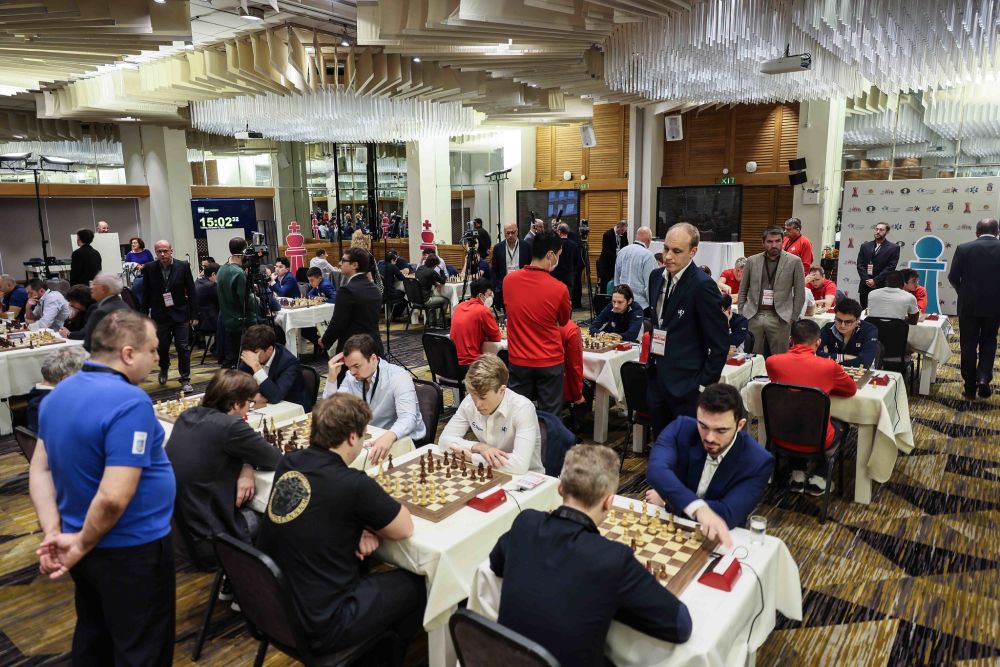 Replay Group A Round 5 games
Replay Group B Round 5 games
Group A standings after Round 5
Group B standings after Round 5
Quarterfinal pairings
Quarterfinal - Round 1 (2022/11/23)
No.
Team
Game 1
MatchPts.
6
China
0
7
Poland
0
5
Spain
0
2
Azerbaijan
0
3
Ukraine
0
8
Uzbekistan
0
1
France
0
4
India
0
Schedule
The Knockout stage comprises a duel starting at 6:30 and 9:30 p.m. IST from 23rd to 25th November 2022. In case of a tie, tie-breaks will take place at 12 a.m. IST. having the time control 3 minutes + 2 seconds increment. For more details, check the tournament regulations.
Time Control
The time control is 45 minutes + 10 seconds increment for the entire game.
Links
---