Comedians on Board 3 comes to an end with Joel D'Souza as the champion
The Comedians on Board III was one of the largest ever online chess events to be held. It lasted for three days from 19th to 21st of November 2020. 32 of the best stand-up comedians of India played chess in a knock-out tournament. The event was so massively followed that the live concurrent viewership went as high as 74,000 people! At the end of three gruelling days of chess it was Joel D'Souza who came out as the champion of the event. Vaibhav Sethia finished second and third place went to Samay Raina. In this article IM Sagar Shah takes you through the final day of the event with analysis of the semi-finals and finals as well as interviews of the first three placed finishers.
After an intense day one and two of Comedians on Board III, we were left with only four participants for the final day. The semi-finals of the event consisted of four very different personalities:
1. Samay Raina - the dynamic, natural player who loves to play free flowing chess
2. Joel D'Souza - the trash talker who always rises to the big occasion and doesn't have any nerves
3. Vaibhav Sethia - Calm, cool, composed and one who has played over 10,000 games online!
4. Anirban Dasgupta - the man who started playing chess at the age of 32 and who loves to attack!
Before the games began we witnessed three exhibition matches. Two of them were between Angad Singh Ranyal, the find of the tournament and the famous Indian cricketer Yuzvendra Chahal. Yuzvendra, who is now one of the best bowlers in the Indian cricket team, was at one point a chess player and a very good one! He had won the under-12 National Championships.
Yuzvendra showed why he was such a strong player by beating Angad Singh Ranyal in both the games without any difficulties.
Game 1
Game 2
As the first game ended very quickly, it was decided that another game would be played. Even in this one, Yuzi managed to win quite effortlessly!
2nd Exhibition Match
Balraj was winning the game, but in the end forgot about the three-fold repetition rule. The game between Dosti (Friendship) and Dhandha (work) rightfully ended in a draw!
Semi-final no.1: Vaibhav Sethia vs Anirban Dasgupta
Vaibhav Sethia and Anirban Dasgupta are excellent friends of each other. In the game Anirban decided to begin with the London System. Anirban tried to curb his attacking instincts. But in the end he had to revert to his original self and decided to unleash himself by 0-0-0. His position soon turned into a losing one. There were still some practical complications, but Vaibhav navigated them well. The game ended when Anirban blundered his queen. Vaibhav advanced to the finals.
Anirban Dasgupta vs Vaibhav Sethia
Semi Final 02 - Curbing the Arrogance?!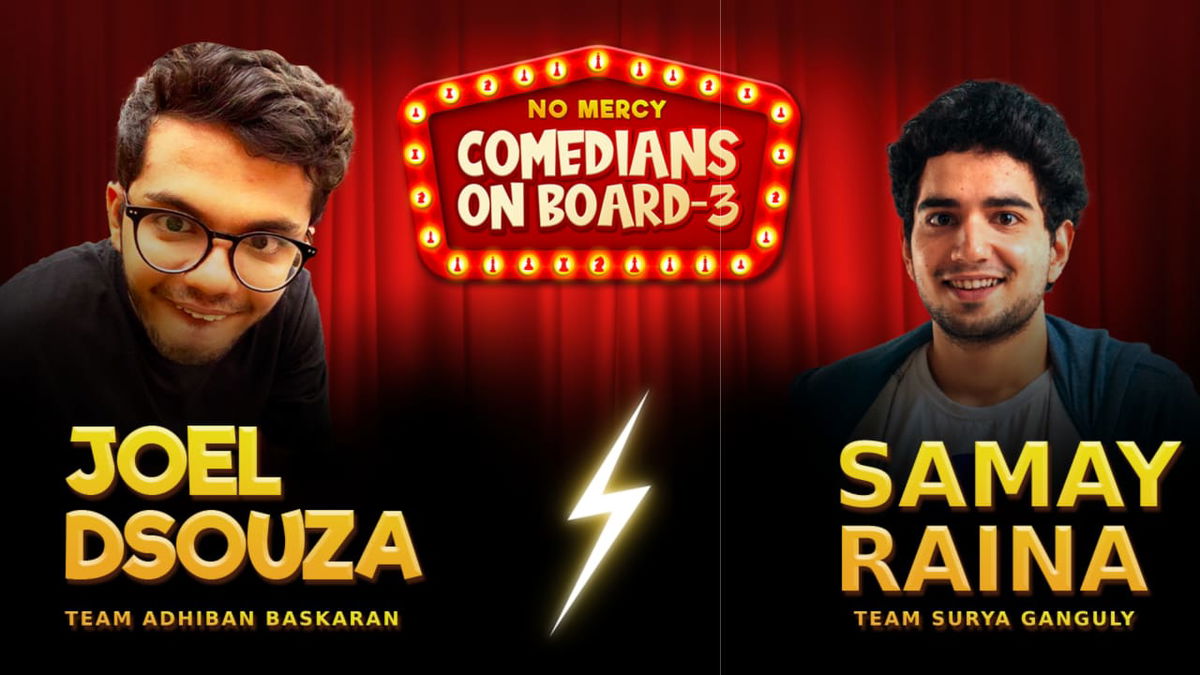 This game lived up to its semi-finals stature and could surely be called as one of the finest duels of the entire event. The rivalry between Samay and Joel always leads to exciting games. Joel blundered a piece in the opening, Samay did not spot it and after a while landed in an inferior position. Samay defended well and Joel wasn't able to breakthrough. When time started to run low, Samay got ambitious about his position and rightly so! He was very close to winning the game, but with no increment on the clock and just 20 seconds left, he blundered. Joel was quick to spot the win, sacrificed his knight and took home the full point and a berth in the semi-finals.
Samay Raina vs Joel D'Souza
The time scramble resulted in Samay missing a win and Joel keeping his nerves and advancing to the finals!
Samay vs Joel analyzed by IM Sagar Shah
The battle for the third spot
In the battle for the third spot, it was Samay Raina who overcame Anirban's resistance to bring home the full point. The game had its own set of exciting moments, especially in the opening because Anirban played the Danish Gambit, where Samay was not very well prepared.
Anirban Dasgupta vs Samay Raina
We asked Samay how it felt to finish third in the event. Speaking to ChessBase India he said, "It doesn't feel great. I couldn't sleep the entire night. Scenes of...Ne8+ in the endgame against Joel and picking up the g7 pawn or winning the bishop on move seven that Joel had offered me keep playing in my head. I still cannot get over the fact that I lost that game. It feels quite horrible to be honest."
Joel D'Souza wins it all
The finals was set up between Joel D'souza and Vaibhav Sethia. Vaibhav opened the game with 1.e4 and Joel responded with his favourite Caro Kann 1...c6. Vaibhav went for 2.f4 and after d5 e5, Joel responded very professionally with ...h5!
Vaibhav Sethia vs Joel D'Souza
Vaibhav went for Rxg3 hxg3 and Nf3 but already his position was beyond salvation. Joel made no further mistakes and went on to win the tournament!
Speaking to ChessBase India about his victory, Joel Dsouza mentions, "It's been really great. I have been buzzing ever since I won. I have never really won a sports event in my life. This is the first time and I faced a lot of difficult opponents. To overcome them and win the tournament feels really great."
In order to win the tournament Joel had to beat Aishwarya MRJ in round 1, Sapan Verma in round 2, Angad Singh Ranyal in the Quarter Finals, Samay Raina in the Semis and Vaibhav Sethia in the finals. Which was the toughest game for him out of all of these? "My game against Angad was the most difficult one for me in this tournament, especially because I didn't expect him to play so well. All my time before the event went in preparing against Biswa, Vaibhav and Samay. Angad played theory for nearly six moves which is really cool considering that I played 1.d4. And he was also moving very quickly, which didn't allow me to fight for the time advantage which was one of my strategies for the event. He was a pawn up and a had a winning position, even my skewer had failed. But somewhere I managed to get my rook to e6 and then he blundered his rook and I won the game! The games against Samay and Vaibhav were tough, but even when I made mistakes in them, I didn't realize that I was making them. While against Angad, I had all the time the feeling that I was worse."
Recently a huge chess boom has occurred in the country and comedians have been a big part of that. What does Joel feel about it? "I am generally such a big sports fan. And seeing that chess is becoming mainstream is amazing. I am a Tottenham fan and when they are playing the biggest of teams, even they do not have numbers that Comedians on Board III witnessed. 75,000 people watching a game live is huge! Chess can be considered as a serious sport, can be considered nerdy. With the comedians coming in, I believe it has become more palatable for the audience at large. Chess is a sport that I know how to play and finding a new audience is just great news for myself and also for the sport!"
For Vaibhav, how did it feel finishing 2nd? "Considering I was knocked out in the first rounds of Comedians On Board 1 and 2, I am more than happy to have reached the finals. I've loved playing chess a little more extensively in the past few months and while winning it would have been amazing, I am glad to have landed the 2nd position. " Vaibhav is very happy at how the entire Comedians on Board event has developed over three editions. "Comedians on Board is one of the most exciting things I have been part of ever. This 3rd edition was yet again better than the already high expectations and was exponentially more entertaining for both, the players and the audience. I specially love watching games like the one between Kusha and Kaneez where the players keep alternating between completely winning positions. Those are absolute thrillers. Not to forget, the stellar commentary by Samay and Sagar which was so apt and funny. I remember, at one point, Samay said Abish's King is going to come out to castle with opponent's rook. I could not stop laughing!"
Samay Raina on COB3
After three days of action packed Comedians on Board III, we caught up with Samay. "I am very happy with the completion of the event. There is always a void in your life when such a big tournament comes to an end. But overall I am superexcited with how things went and I am looking forward to hosting more such events. I had not expected that so many people would tune in to watch it LIVE. The first time I did comedians on board we had roughly around 1000 people watching it live. Then second edition had a much higher viewership and it went to 27,000. This time I was expecting there would be around 40,000 people watching it, but at some points it went as high as 74,000+ people! I felt very happy seeing this and I think that chess is becoming more and more popular as days pass."
Who are the people who played a critical role in the success of the event? "I would like to thank all the comedians who gave their time and effort to take part in this. I must not forget my laptop which played a very critical role (laughs!). If it was not for Sagar, we could not have done it. There were mentors training so hard before the event. I would like to thank each one of them - Surya, Srinath, Soumya, Vidit, Adhiban, Amruta, Niklesh and Rakesh. We also had a story line where the interest in the event went up by a notch. Everything just fell in place."
"It's not possible to have a successful event without the sponsors. I would like to thank chess.com, Graphy, Mama Earth and Turnip Live for making this event possible."
Did Samay feel that the overall level of play in COB 3 had improved from COB2? "Definitely! Some games were too good - mine vs Joel, Angad played great games, Nishant Tanwar played a fine game against Tanmay. And we mustn't forget GM Abish Mathew who always stands apart from the crowd. In COB 1 we had no idea as to what we were doing. In COB 2 we were figuring out how to play better and in COB3 we were at the peak of our game! All these things sound good now, but in retrospect when we will reach COB4 and look at these games, I am sure we will be very animated just like how we are right now looking at COB2 games."
Now that COB3 has ended, what's next on the agenda? "I am always looking forward to doing new things. I am a very restless guy and keep planning something all the time. Right now we have the Skilling Open going on. We will plan something after that. As long as there are sponsors and people are willing to put in money, we will always keep doing more and more events!"
Replay the videos
How did you enjoy the Comedians on Board 3? Let us know about it in the comments section below!
---