CBIJ #10: Golden lads of Indian chess - Savitha Shri and Dev Shah
The 10th edition of CBIJ (ChessBase India Juniors) brings to you the latest and exciting content on the juniors of India. Read on about the Nationals U-11, and the winners Dev Shah and Savitha Shri, and find out more on their unique chess journeys so far. This is the first national title for Dev, while for Savitha this one is third in a row! We have added a new member to the ChessBase India Juniors editorial team! Arhan Anand from Bangalore, who will be our expert annotator! Arhan has not only annotated a few games in this article but also contributed about his experience at the under-11 nationals. What does a Chess player, who is also a mother, have to say when her child performs poorly? Last but not the least, express your views on the 'current affairs' of the chess world via the Trivia section.
Dev Shah from Mumbai and Savitha Shri from Chennai shine at the Nationals U-11
Savitha Shri:
Savitha is the winner of this years U-11 Nationals, just like last year! She played some fine chess to come 1st ahead of a tough crowd. She is also Commonwealth gold medalist, U-12 2018. Here is an interview with her below:
Avathanshu Bhat (AB): You just won the Nationals U-11 in the Girls category section. Congratulations on that! How did you feel when you knew for sure that you won it?
Savitha Shri (SS): Last round win confirmed the championship, because of my better Bucholz (head to head). I have won three consecutive nationals titles, first in U-9 at Jalandhar in 2016, second in U-11 at Pune in 2017, and now in Karaikudi U-11, 2018.
AB: What preparation did you go through for this all-important tournament?
SS: Before the championship, I attended RB Ramesh's chess camp at his academy. Otherwise, there is nothing much to prepare.
AB: Who all would you give credit to for this achievement?
SS: The credit goes to God, my coach, my family members and well-wishers.
AB: Who is your idol? Why?
SS: My idols are Harika Dronavalli and Humpy Koneru, because these two players are very strong in women chess in India.
AB: What are your strengths? What about weaknesses?
SS: I think my strength is middle-games, I'm not sure about my weaknesses.
AB: Who are your closest friends in the chess circuit?
SS: My friend and schoolmate Rakshitta Ravi is my closest friend.
AB: What are your other hobbies?
SS: My other hobby is reading novels, books and watching movies.
AB: How does school help you with chess?
SS: School is helping me very much by giving leaves for tournaments and preparations. I could not have asked for more.
AB: Is there anyone else in your family that is also professionally into chess?
SS: My brother used to be a good chess player, but now the doesn't play as much.
AB: Lastly, why do you love chess?
SS: I love chess because it is fun. I am happy to share with you played that I played with World Champion GM Magnus Carlsen when I was five at Chennai, 2013.
Here is Savitha's best game at the BCC Open in April, against her opponent Alezander Matzies, rated much higher than her! Note the depth of her calculation for every move!
Dev Shah:
He is the winner of the U-11 open section at the Nationals 2018. We were overdue for an interview with this whiz kid, and sure enough, the answers we received were rather well put for his age. This chubby-cheeked boy has unique skill with the game. I met him in Sunway Sitges International Chess Festival in 2017 with his mother, who is a dentist. He played some fine chess there! Find below the interview with the lad, and marvel at the answers provided by him!
Avathanshu Bhat (AB): You just won the Nationals U-11 in the Open category section. Congratulations on that! How did you feel when you knew for sure that you won it?
Dev Shah (DS): Actually I was thrilled when I came to know I won the Nationals. It was a dream come true for me as in the U-7 and U-9 Nationals, I was a runner-up each time. However, this time I won the gold and I am very happy!
AB: Your last round in the Nationals was against CM Shahil Dey, which was a crucial game. Were you tensed? How was it for you?
DS: For the last round, I was leading by Buccholz, so I knew that a win or a draw, both would fetch me the title. Hence I was very calm and comfortable before the round. From the starting it was good (I had a slight edge) and then we both agreed to a draw as we knew that it would eventually lead to a draw.
Dev Shah's games from National under-11 annotated by Arhan Anand:
AB: What preparation did you go through for this all-important tournament?
DS: The national Championship is very tough and nerve-wracking. Everyone comes prepared as the top two players of every state participate in this prestigious tournament and every game is important. Proper preparation, health and fitness and mental ability to go through ups and downs are vital.
AB: Who all would you give credit to for this achievement?
DS: I would like to give credit to my coach GM Shardul Gagare and his father, Annasaheb Gagare and GM RB Ramesh. I also thank my family, parents and sister for their love and support.
AB:. Who is your idol? Why?
DS: Magnus Carlsen is my idol, as I like his ease at attack and defense.
AB: What do you think are your strengths? What about weaknesses?
DS: My strengths are that I am calm and composed and can handle pressure. My weakness would be that I am sometimes unable to win a crucial game
AB: What do you like to do for entertainment?
DS: I like to relax by playing sports like Table Tennis, Cricket and Football. My favourite movie is James Bourne, an action movie. I like chess books by Jacob Aagard, such as Practical chess defense, as it is very nice. Otherwise, I prefer autobiographies, like those of Sachin Tendulkar, Chris Gayle and AB De villiers.
AB: You have won many awards, including the prestigious National Child Award some years ago. What do you have to say about that?
DS: I am passionate about chess, and I am fortunate to win States, Nationals, World and Commonwealth. I practiced very hard for these, and I think National Child Award is the reward for hardwork and perseverance.
AB: Who are your closest friends in the chess circuit?
DS: Raahil Mullick is my closest chess friend; we go to same school as well!
AB: How does school help you with chess? What about classmates?
DS: My journey would not be possible without the unconditional support from my school, Dhirubai Ambani International School (DAIS). Teachers and schoolmates are helpful as they let me catch up to the work I have missed when attending the tournaments.
AB: Is there anyone else in your family that is also professionally into chess?
DS: My sister, Jahnvi Shah, has an Elo of 1531 and is also a National level chess player
AB: What do you do after a tough loss?
DS: I try to walk, calm myself, do yoga and meditation. I forget about the loss, and look forward to next game
AB: I believe your mother is a doctor, right? I often see her accompany you to tournaments. How does she manage that?
DS: It is very tough for her and I respect her for that. I thank her for all she has done for me. She is the closest person to me. I have no words! (smiles)
AB: Lastly, why do you love chess? What made you like the game?
DS: I don't know why I liked chess, but I cant imagine myself living without it. Every time I digress from chess, the love for the game brings me back with more enthusiasm and rigor. I thank god for all my achievements so I can continue my journey with same vigor.
Special Note:
We would like to add a special note, and welcome Arhan Anand, our new team member to ChessBase India Juniors team. Arhan is now the Expert annotator and will bring you some of the best games with his thoughts and analysis from the world of Junior chess.
Arhan Anand was also present at the Nationals U-11 and scored 7.5 out of 11. He is the one who annotated Dev's games (above) in this article. Here is his account on his experience at the Under-11 Nationals 2018, Karikudi.
My experience at National under-11, 2018
By Arhan Anand
The tournament was organized in "Chettinad Public School" that served as an excellent venue. I would love to visit it for future tournaments. Given the venue was away from most of the hotels the organizers had arranged for pickup and drop that was very helpful. The food provided at the venue was wholesome. The tournament was held in individual classrooms instead of one big playing hall, a pleasant change. It relaxed me due to the lack of very formal atmosphere. Despite the very hot weather in Karaikudi we could focus on the game due to the nice venue and arrangements.

I could experience the local culture and cuisine during evenings, loved the food at Hotel Annalakshmi. I also experienced for the first time travelling without either of my parents but with my friend Abhinav and his dad.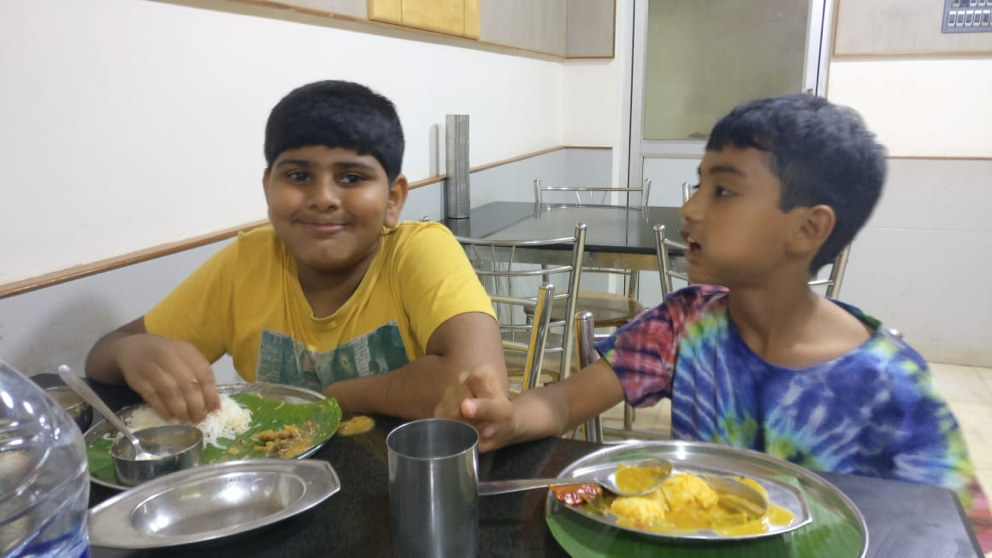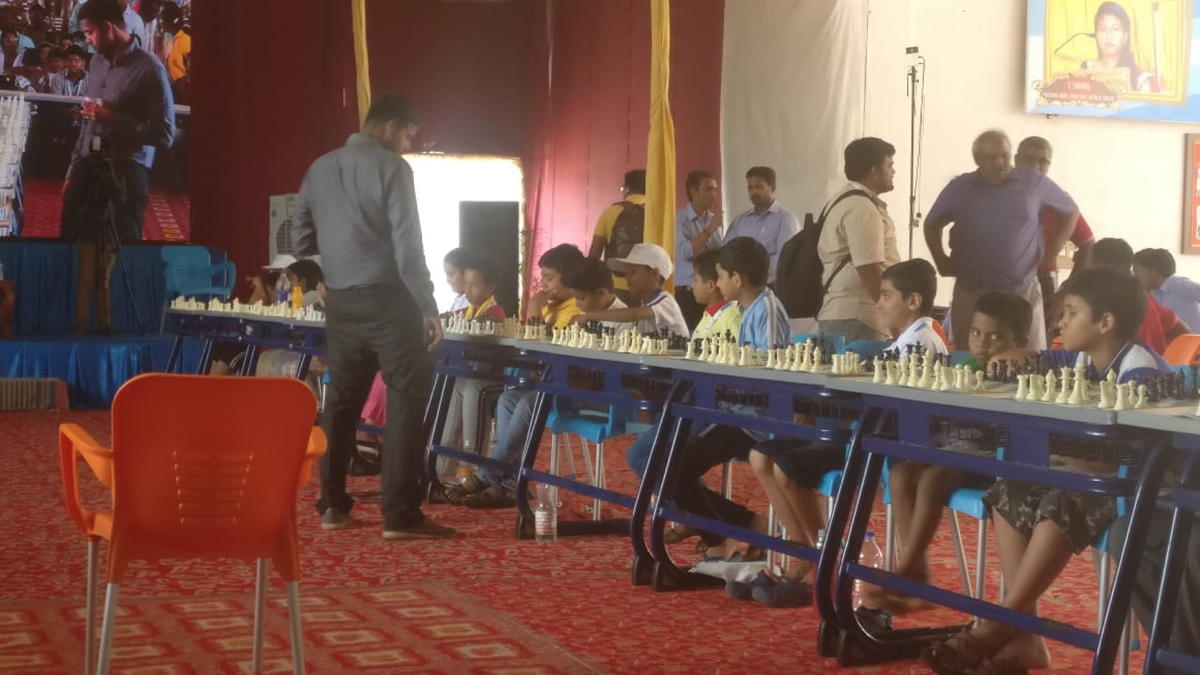 We have expanded the team!
From being the only person working for the last nine editions of ChessBase India Juniors, I am pleased to announce that the next editions (including this one) will see a great quality rise in chess content because of the expert annotations by Arhan Anand. You will also see write ups by Arhan (like the one above). He is the current under-10 commonwealth gold medalist and an extremely passionate chess player. All those who would like to confirm that fact, can click here and check his 20 minutes video with IM Sagar Shah where he speaks about his win against Om Kadam at the Commonwealth 2018.
We would like to have a strong team with juniors with different expertise. If you think you have something that can enhance our articles further, then do write to us at chessbaseindiajuniors@gmail.com
Editor's Pick:
Chess players, and even Juniors, have the mental resolve that it takes to go through tough losses. They have to, otherwise they wouldn't stand for long in Chess! Same goes for all people associated, like the parents and the coaches. WIM Sai Meera, mother of Rakshitta Ravi, went through a similar phase back at the SBI AICF International WGM Chess tournament. Rakshitta had one of the worst tournaments of her life. She scored 0.5/11 and was struggling to win her games. But her mother stood by her side like a rock. Here is her interview after that tournament ended:
It was painful event for Rakshitta. However, instead of becoming mocked at, she has become an inspiration for a huge number of players across social media. The way she picked up after something that bad was commendable. Recently she showed how losses are good for your game, by scoring her 2nd WIM norm at the Pardubice Open 2018 in Czech Republic. If you hang on in your losses and learn from it, success isn't too far. Thank you Rakshitta and Sai Meera for teaching us this important lesson.
Trivia:
Hello there! Welcome to the Trivia section. Last time, we asked the following question: "How have coaches influenced you?" The winner was Prince Upadhyay. He sent the following answer:
"Coaches are the one who gives us a way to progress in right direction with extra efforts to improve our game and weakness. They mainly influence us by implementing new ideology in chess and also in players game. Coaches also recommend books at a specific time and level because if they don't, then we will not focus on a specific book and will read all the books half without understanding. So coaches are the one who makes a world champion. At the end I will say that "A Coach and a Student can change the world".
Good job! As promised, please send some of your recent games to chessbaseindiajuniors@gmail.com, and have it assessed by IM Sagar Shah!
This edition's trivia:
"It is showering GMs in India at the moment, with the average age for becoming a GM getting smaller and smaller. Gukesh has a chance of becoming a GM and the youngest one too. Do you think he can make the record? Explain why you think so. If not, who do you think has a better chance at it?"
Start typing your views and let others know about your thoughts on the topic!
About the author:
Avathanshu Bhat has been writing about chess for well over a year now. He has published innumerable articles on ChessBase India and his reports have been well received by the audience. He is the editor-in-chief of ChessBase India Juniors. His main intention is to bring the best junior players of our country into the limelight with his writings. Here is some of the work he has done in the past:
G. Akash wins the Grand Hyderabad affair
10-year-old boy's deep calculation (64,000+ hits on Youtube)
12-year-old chessentrepreneur Avathanshu Bhat
Hemant Sharma becomes International Master
Champion from Chudamani - IM Sidhant Mohapatra
Blindfold simul by Timur Gareyev
---